DEPARTMENT NEWS
Hyannis Promotion

TRAINING CAPTAIN JEFF LAMOTHE
Hyannis recently promoted Lt Jeff Lamothe to the position of Training Captain
replacing retired Capt Brian Lawrence.
Congratulations.

Nov 30, 2021
Hyannis Captain Retiring

CAPTAIN BRIAN LAWRENCE
Hyannis Training Captain / Paramedic Brian Lawrence has announced his pending
retirement Oct 19, 2021. He began his career 33+ years ago with the Sandwich Fire
and the past 20 years with Hyannis. Congratulations.

Sept 24, 2021
Hyannis Firefighter Retirement


FIREFIGHTER TIM SIMPKINS
Hyannis Firefighter Tim Simpkins retired July 9, 2021 after some 30 years of service with the Hyannis Fire Department. He also served with the Eastham Fire Department prior to that.
Congratulations.

July 15, 2021
Hyannis Firefighter Retirement

FIREFIGHTER MATT MILLS
Firefighter/Paramedic Matt Mills has retired after some 25 years of service. He began service in 1986 as a Call Firefighter in Lakeville (son of a Lakeville Chief). He got a fulltime position with Bourne Fire in 1997 and with Hyannis in 2001. Congratulations an best wishes in retirement.

Dec 28, 2020
Hyannis Deputy Chief




DEPUTY CHIEF ERIC KRISTOFFERSON
Hyannis promoted Eric Kristofferson to serve as Deputy Chief (Acting since June 2019),
Nate Coughlan to Captain of Group C, FF John Daily to Lieutenant, and
Dustin "Dusty" Cabral to Lieutenant.
Promotions were made official on October 8, 2020. Congratulations!

October 2020
Hyannis Lieutenant Retires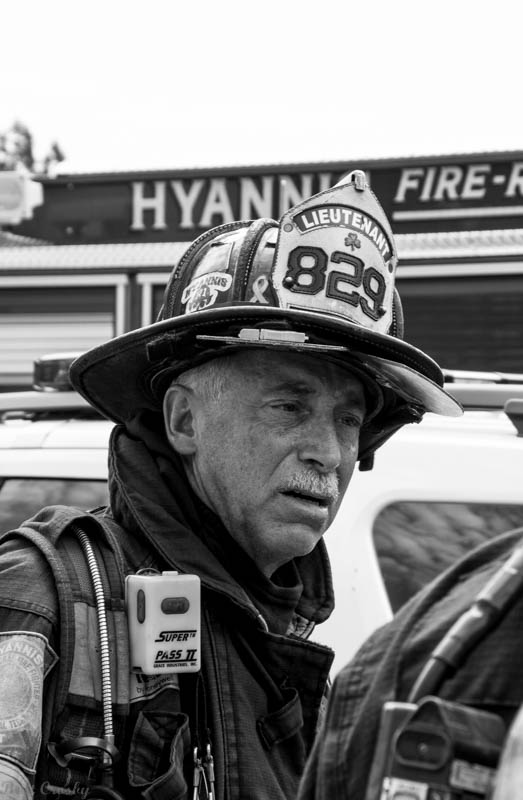 LT ROBERT HENNESSY
Hyannis Lt/EMT Robert Hennessy retired after 34 years of service with
the Hyannis FD on June 30, 2020. Congratulations and be safe!

July 3, 2020
Hyannis Firefighter Retirement


HYANNIS FIREFIGHTER/PARAMEDIC ANDY KLEAMENAKIS
Hyannis Firefighter/Paramedic Andy Kleamenakis is retiring effective at 00:00 Hrs on January 1, 2020 after 29+ years of service with Hyannis FD. Congratulations and Best Wishes "Operator K"! Be Safe, Healthy, and Happy for many years to come!

Dec 18, 2019
Hyannis Promotions

HYANNIS FIRE DEPARTMENT
The Hyannis Fire Department has promoted Lt David Webb to the new position of Captain of Fire Prevention and Emergency Planning. He has served as a Firefighter/Paramedic and Lieutenant. He also served on the Building Committee for the new Fire Station and Firefighters Memorial Park.
Congratulations Captain!
The new Hyannis Shifts Officers are as follows:
A - Shift: Capt Jeff Huska, Lt KC Pike, Lt Ryan Clough
B - Shift: Capt Greg Dardia, Lt Jeff Lemothe, Actg Lt John Dailey
C - Shift: Actg Capt Nate Coughlan, Lt Robert Hennessy, Lt Paul Medeiros
D - Shift: Capt Mark Storie, Lt Peter Nagorka, Lt Jon Talin
The department Administrative Secretary is now Kelly Foley.
Fire Prev Secretary Sara French.
Congrats to all.
Nov 25, 2019
Hyannis Retirement
DEBE SCHIAVI
Hyannis FD Administrative Assistant Debe Schiavi is retiring after more than 16 years
in that position. She served Fire Chiefs Harold Brunelle and Peter J Burke Jr and was
very much involved in smooth operation of the department behind the scenes.
A LAST DAY COFFEE will be from 0900-1200 on Aug 22, 2019 at the station.
Congratulations and best wishes in your retirement!

July 2019
Hyannis Retired Captain Passes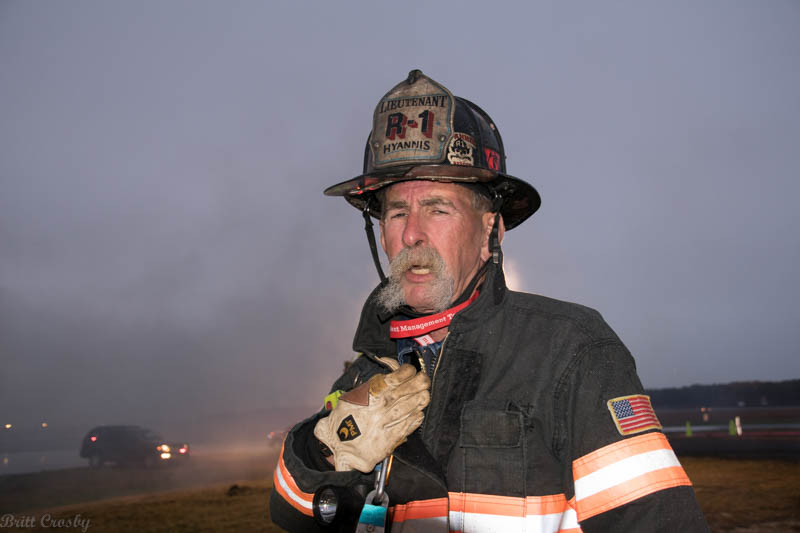 Captain Thomas Kenney
Retired Captain/Paramedic Thomas Kenney, age 65, passed away on June 5, 2019 after a brief battle with cancer. He was a member of the Hyannis FD for 36+ years, serving as a paramedic in Hyannis since 1982. A true leader and expert in EMS and Heavy Rescue, he loved teaching and training others to be the best at what they did. He served on the MA-TF1 FEMA USAR Team and was among the first into New York on 9-11-01.
Rest in Peace TK.
June 5, 2019
Services for Captain Kenney were held on June 10 & 11, 2019
Hyannis Deputy Retiring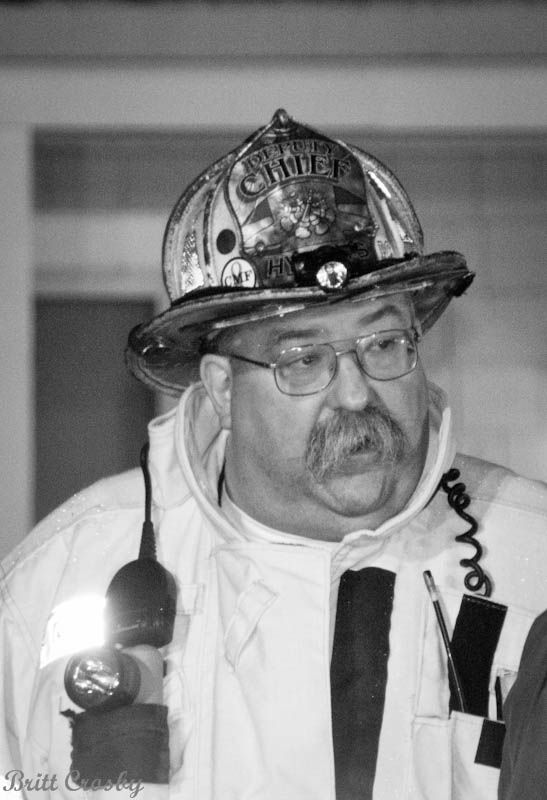 DEPUTY DEAN MELANSON
Deputy Chief Dean Melanson "Car 802" announced his pending Retirement from the Hyannis FD on May 31, 2019. His 44 years in the fire service began in 1975 when he became an Auxiliary Firefighter in Acton, MA and a call firefighter in 1977. In 1980 he joined the Stow, MA FD as a call firefighter. On January 1, 1985 he became a fulltime member of the Hyannis FD as the Lt/Fire Prevention Officer. He moved on to a Shift Lt in Feb 1990, Shift Captain in Aug 1998, and to Deputy Chief in Jan 1999. As Deputy he remained very active in fire prevention and was almost always in command at fires and other major incidents for 20 years as Deputy. In January 2017 he became Acting Fire Chief with the retirement of Chief Brunelle. In July, he moved back into the Deputy role where he has continued to work under Fire Chief Peter Burke Jr..

Deputy Melanson has also been very involved in education, with Mass Fire Academy and is currently heading the Fire Science Program at CCCC. He also recently became a Grandfather! Congratulations Dean on an outstanding career. Your leadership, voice, and presence at so many incidents over the years was reassuring and will long be remembered. Enjoy retirement and all it has in store!

May 2, 2019
Hyannis Promotions
NEW CAPTAINS
Hyannis has announced the following promotions:
Lt Brian Lawrence promoted to the Training Captain position
with the retirement of Capt Tom Kenney.
FF Paul Medeiros will be promoted to Lieutenant.
Hyannis also recently promoted Lt Jeffery Huska to Capain,
Peter Nagorka and Ryan Clough to Lieutenants.
Congrats to all!

Oct 2018
Hyannis Training Captain Retires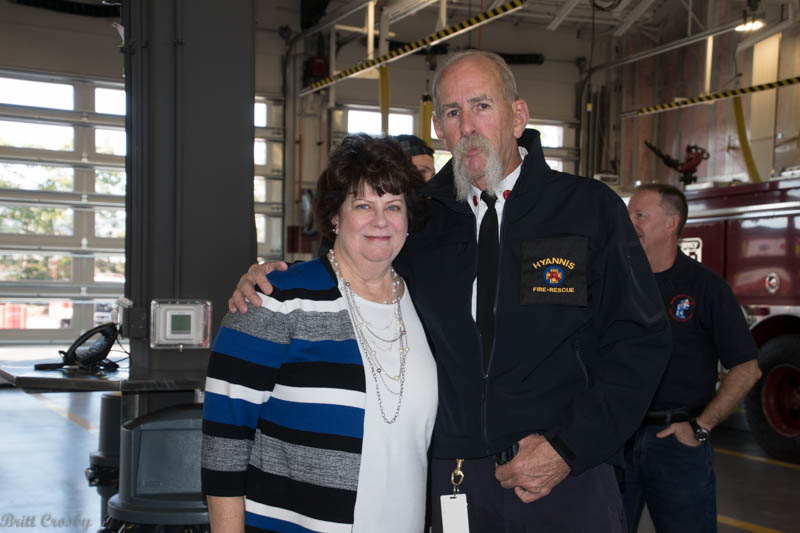 Hyannis Training Captain Thomas Kenney
Hyannis Training Captain and long time paramedic Tom Kenney retired
October 19, 2018 after 36 with Hyannis Fire Department.
He served with Boston EMS prior to coming to the Cape and was one of
the first paramedics in Boston.
He was a founding member of the Hyannis Honor Guard and the
Massachusetts FEMA USAR Team MA-TF1 that responded to the
World Trade Center in New York City on September 11, 2001.
His career and teaching are legendary and world renowned.
Congratulations!
Oct 2018
RETIREMENT PARTY
The retirement party for TK was held on Nov 3, 2018.
Hyannis Promotions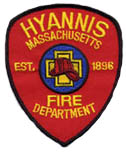 The Hyannis Fire Department has promoted Lt Jeffery Huska to Captain on "A" Shift
filling the vacancy created by the recent retirement of Capt Eric Farrenkopf.
Hyannis also promoted Peter Nagorka (D shift) and Ryan Clough (A Shift) to Lieutenant
positions created by the retirement of Lt Kevin Black and the promotion of Lt Huska to Captain.
FF Gregory Shopshire was recently promoted to Fire Prevention Officer
replacing retired Capt FPO Bill Rex.
Congratulations to all!

Sept 2018
Hyannis Last Supper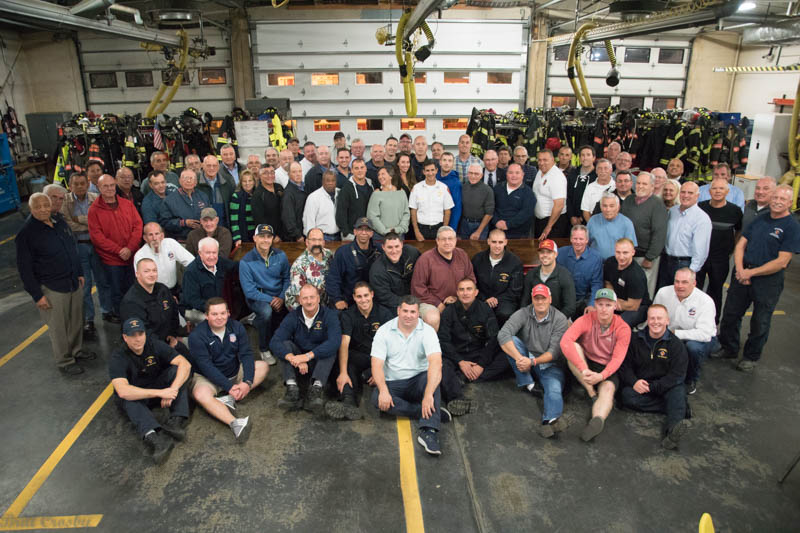 HYANNIS FIREFIGHTERS
Hyannis Firefighters past and present gathered at the Hyannis Fire Station
one last time for a dinner on September 24, 2018 as the old Station that has
been home since about 1965 is about to close forever and be torn down to
make room for the final phase of construction on the new station next door.
Sept 2018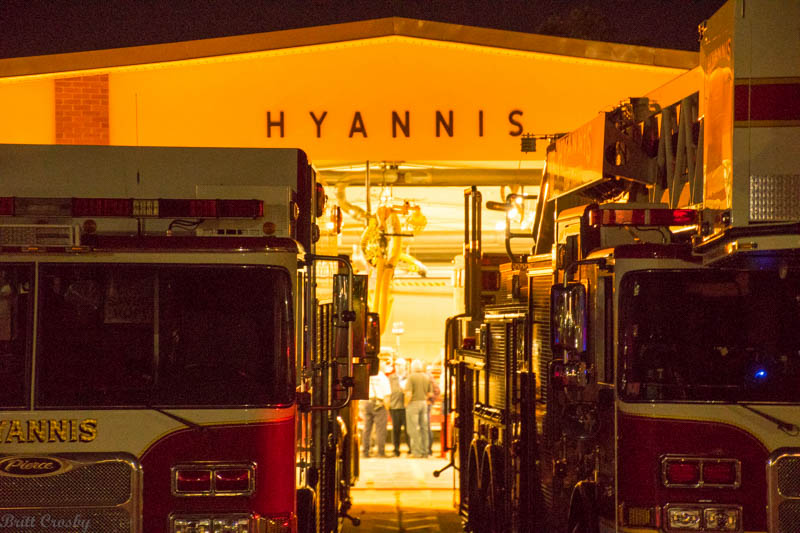 Hyannis Lieutenant Retires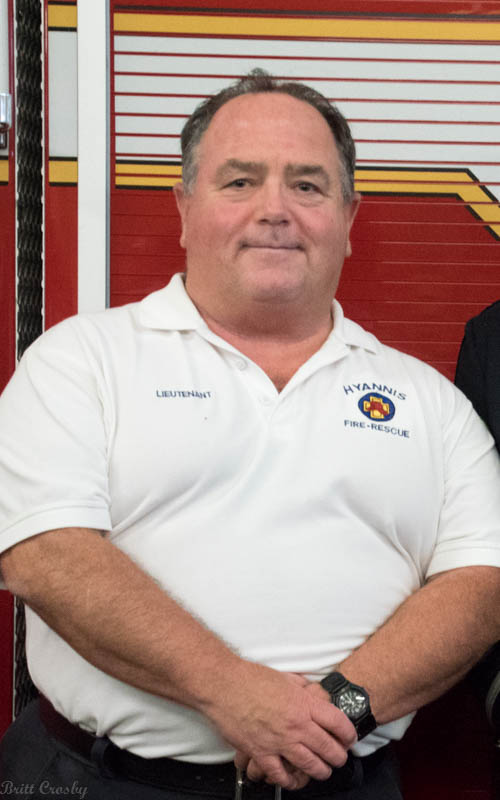 Hyannis Lieutenant Kevin Black
retiring in Aug 2018.
Hyannis Captain/FPO Retires
Hyannis Captain / Fire Inspector retiring
Aug 2018
Hyannis Retired Lt Passes
Retired Lt/Paramedic Rick Knowlton
Retired Hyannis Lt/Paramedic and Director of Cape & Islands EMS since 2015
passed away August 4, 2018, age 59, after a tough battle with cancer.
He retired from Hyannis in 2015 after 32 years of service.
He was a founding member of the Hyannis Honor Guard.
Services held Aug 9 & 10, 2018
Aug 2018
STICK WITH RICK
August 10, 2018
Hyannis Captain Retires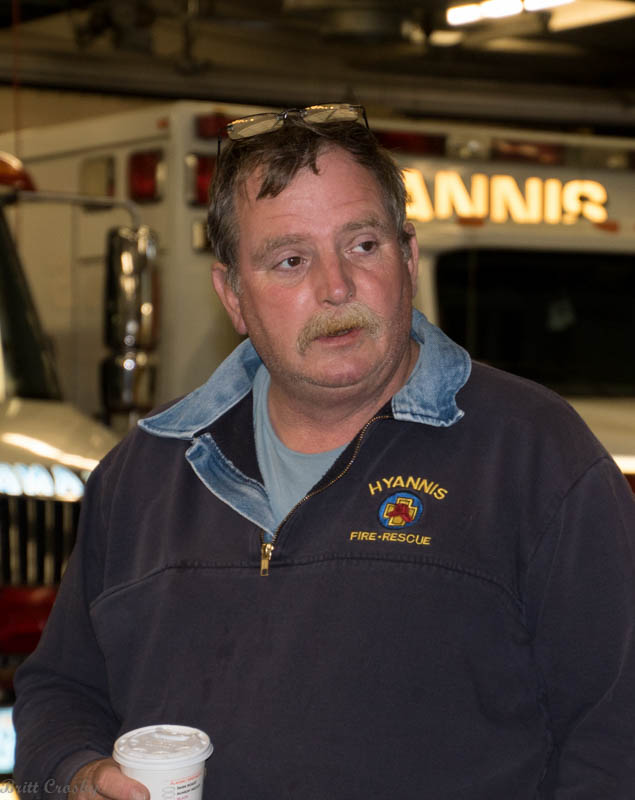 Hyannis Captain Eric Farrenkopf
Retired after 45 years on the Department
July 24, 2018.
Hyannis Dispatching Moves to Barnstable Police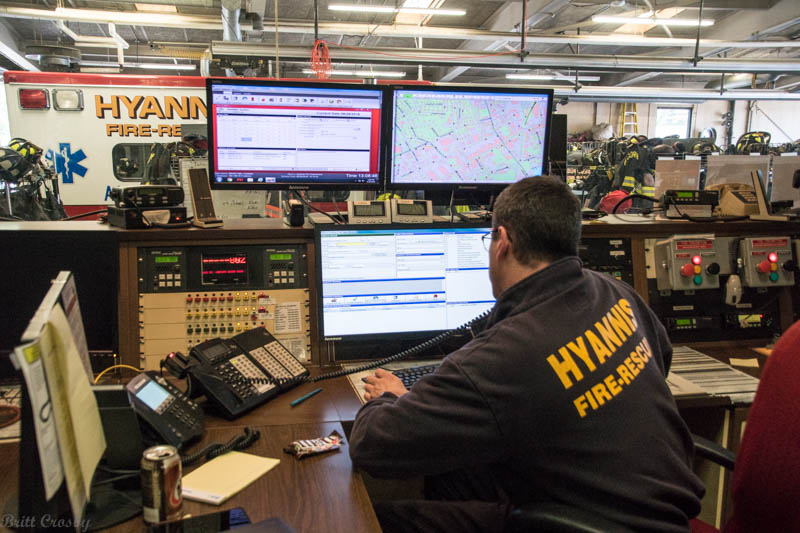 HYANNIS COMMUNICATIONS
Hyannis Fire Dispatching officially transferred over to Barnstable Police
Communications Center on June 28, 2018.
June 2018
Hyannis Update
A lot of things are happening at the Hyannis FD these days.

Car 3
The department recently put the Shift Commander, Captain or Lieutenant,
in Car 803 (Car 3) on a fulltime basis. Previously the officer rode on an
Engine or Ambulance. The change enables the officer to more effectively
run the shift and incidents.
June 2018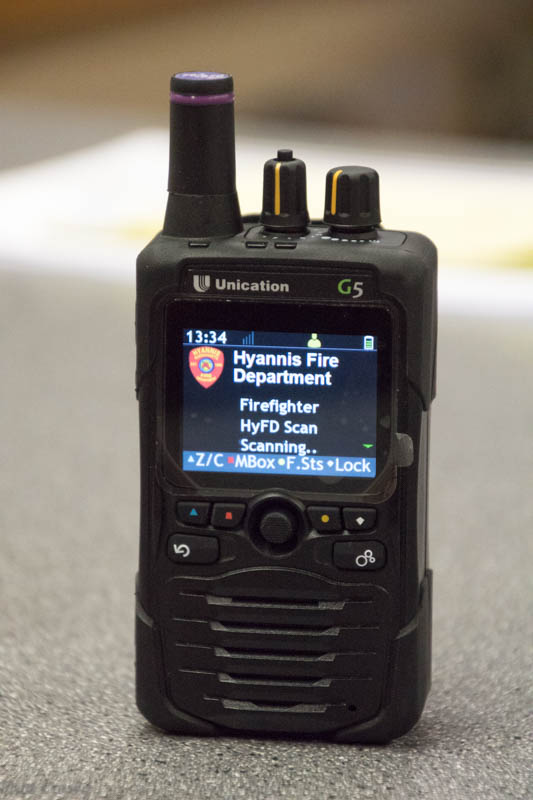 New Radios
The department recently issued all members new radios
which replace the old pagers carried by personnel for recalls.
The 8 channel radio receivers have a variety of settings allowing
personnel to be alerted by group or all call. The Unication G5
radios are small and are able to monitor a variety of frequencies
including 400 mhz UHF and 800 mhz frequencies.
June 2018
New SCBA
Hyannis recently took delivery of all brand new Scott 5.5 SCBA.
The 5500 psi 45 minute bottles represent the latest in safety and
technology. Each Engine carries 5 packs, the Tower and Heavy
Rescue has 6 packs and lots of spare cylinders. SCBA are also
carried in ambulances and all cars.
June 2018
Hyannis Retirement
DAVE MEDEIROS
Long time Hyannis FD Station Maintenance man David Medeiros is retiring
after 29 years of service. Congratulations and best wishes.

June 2018
Hyannis Retired Captain Passes

HYANNIS RETIRED CAPTAIN JACK GRANT
Retired Captain John "Jack" Grant has passed away June 24, 2018.
He worked a long career with the Hyannis FD including a brief time as acting Deputy.

June 2018
Hyannis Promotions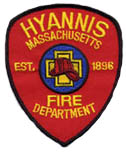 Hyannis recently promoted Lt. Tim Lanman III to Fire Prevention Officer.
FF David Webb has been promoted to Lieutenant.
FF/Paramedic Donald Holigan has retired after many years of service.
Congrats to all!

Dec 2017
Hyannis Former Chief Passes
Hyannis Retired Chief David Chisholm
Retired Chief David Chisholm, age 80, passed away on
October 26, 2017. He served as the Hyannis Chief
10 years from 1988 to 1997.
Hyannis Lt/FPO Retires
Hyannis Lt/Fire Prevention Officer John Cosmo
Hyannis Lieutenant/Fire Prevention Officer John Cosmo retired
Sept 21, 2017 after 31 years of service with Hyannis.
He was one of the founding members on the Hyannis Honor Guard.
Sept 2017
Hyannis Training New Tower 1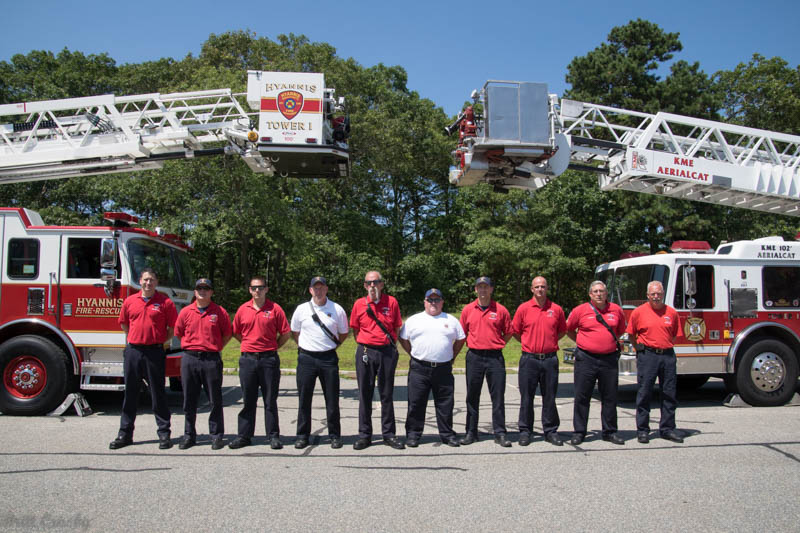 TOWER TRAINING
Hyannis Firefighters participated in training classes on the new Pierce Tower Ladder.
July 2017
Hyannis New Fire Chief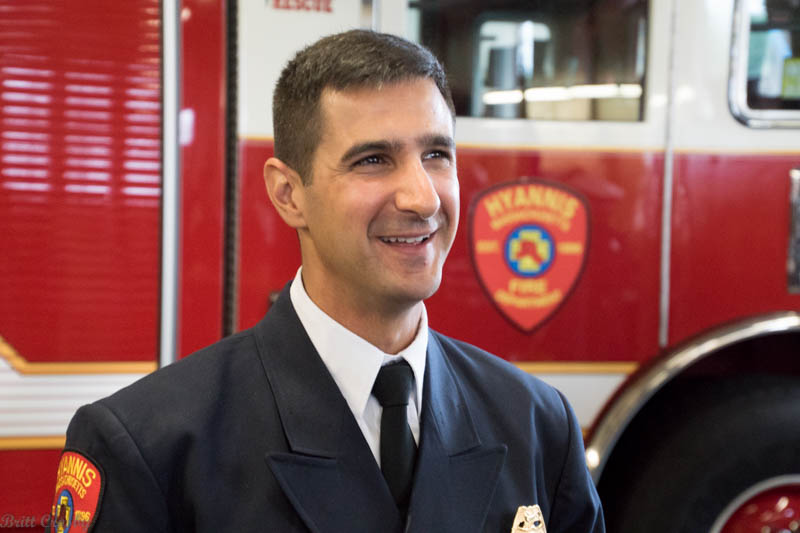 Hyannis Fire Chief Peter Burke Jr
Hyannis Fire Department's new Fire Chief was sworn in July 24, 2017.
He becomes the 11th Fire Chief in the history of Hyannis Fire District since 1896.
July 2017
Hyannis Acting Positions
Captain Eric Farrenkopf is serving as Acting Deputy Chief.
Lt. Kevin Black is serving as Acting Capt Company A
FF David Webb is serving as Acting Lt Company B

March 2017

Hyannis Firefighter Retires
Hyannis Firefighter Barry Pina
Hyannis Firefighter Barry Pina retired January 20, 2017 after some 42 years
in the fire service with Hyannis and COMM FDs. He started in 1975 at COMM
and joined the Hyannis Fire Department in 1983.
Congratulations!
Jan 2017
Hyannis Firefighter Receives State Award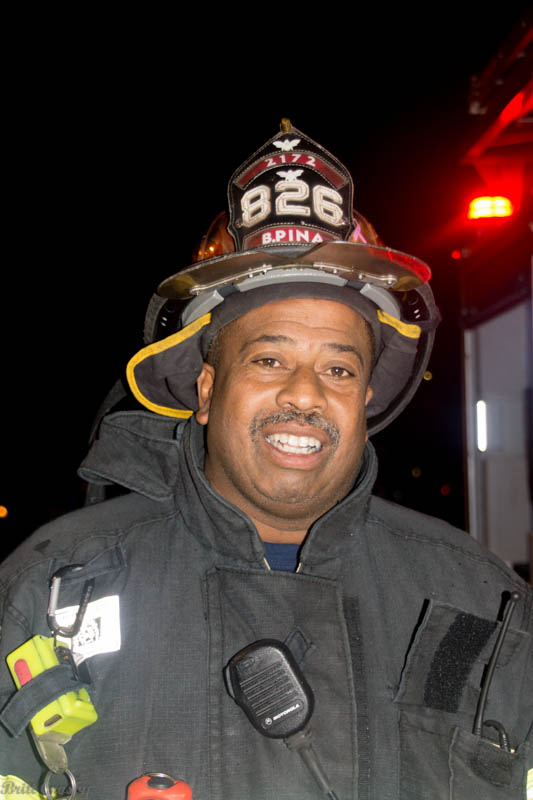 HYANNIS FIREFIGHTER BARRY PINA
Congratulations to Hyannis Firefighter Barry Pina for receiving the 2016 Norman Knight Award for Excellence in Community Service on Tuesday November 29, 2016 at the 27th Firefighter of the Year Awards ceremony in Worcester. FF Pina entered the fire service in 1975 as a call firefighter for COMM FD. He has served fulltime with the Hyannis FD for 32 years. His commitment to coordinating the MDA Fill the Boot program is credited with raising over $300,000 for Muscular Dystrophy research. Barry has been active in many other areas including being part of the Barnstable County Critical Incident Stress Team, teaching CPR for many years, and much more. FF Pina is scheduled to retire in January 2017. Congratulations Barry!
Dec 2, 2016
Hyannis Acting Chief
Hyannis Deputy Dean Melanson
Hyannis Deputy Chief Dean Melanson is serving as the Acting Fire Chief
with the retirement of Chief Harold Brunelle.
Nov 2016
Hyannis Fire Chief Retires
Hyannis Fire Chief Harold Brunelle
Hyannis Fire Chief Harold Brunelle retired on Oct 31, 2016.
He joined the Hyannis Fire Department in 1972.
He served as Chief 18 years from 1998 to 2016.
Oct 2016
Hyannis New Captain
Captain Greg Dardia
Hyannis recently promoted Lt Greg Dardia to Captain.
Congratulations.
Jan 2016

Hyannis Promotions and New Shift Assignments


HYANNIS FIRE DEPT
Hyannis recently made several permanent appointments and promotions and has rearranged personnel on shifts.

Congratulations to Captain Gregory Dardia, Lt Jeffery Lamothe, Lt Nate Coughlin and Lt "KC" Pike who were all made official in Nov 2015.
"A" SHIFT
Captain Eric Farrenkopf
Lt Thomas Lanman
Lt Keffery Lamothe
"B" SHIFT
Captain Gregory Dardia
Lt Jeffery Huska
Lt Kevin Black
"C" SHIFT
Captain Eric Kristofferson
Lt Robert Hennessy
Lt Nate Coughlin
"D" SHIFT
Captain Mark Storie
Lt Brian Lawrence
Lt Kenyon "KC" Pike
"E" SHIFT (DAY SHIFT)
Fire Chief Harold Brunelle
Deputy Chief Dean Melanson
Training Captain Thomas Kenney
Fire Prev Capt William Rex
Fire Prev Lt John Cosmo
EMS Supervisor Michael Medeiros
Master Mechanic Ronald Buscemi
Posted Dec 4, 2015
Hyannis Retired Firefighter Passes
Brett D. Grandaw
Former Hyannis Firefighter / Paramedic Brett Grandaw, age 55,
passed away on November 18, 2015.
Brett started out in Canton, NY and became a paramedic at Northeastern
University. He joined the Hyannis FD and served for 23 years as a firefighter
and paramedic, also serving with the MA-TF-1 FEMA team for 17 years,
which included deployment to the bombing at the 1996 Atlanta Summer Olympics
and to New York City on 9-11-01 for the World Trade Center collapses .
After leaving the Hyannis FD, he went on to get a degree in Mortuary Science
from the State University of New York at Canton and served as a Licensed
Funeral Director working with the Seymour Funeral Home in Potsdam, NY.
Brett also continued to serve on the Pierrepont Volunteer FD as the First
Assistant Chief and as a New York State Fire Instructor until his death.
His passing came after a brief hospitalization at the Canton-Potsdam Hospital.
Visiting will be Monday Nov 23, 2015 from 1300-1600 and 1900-2100 at
the Seymour Funeral Home, 4 Cedar St, Potsdam, NY.
The mass and burial will be Tuesday Nov 24, 2014 at 1100 hrs
at St. Mary's Catholic Church, Canton, NY followed by a private internment
at the St. Mary's Cemetery in Canton.
Brett was a good friend, a good firefighter, and a good paramedic.
He leaves behind two children, Samuel and Natalie, as well as many
family and friends.

Nov 2015
Hyannis Promotions
HYANNIS FIRE DEPT
With the recent retirements of Lt Richard Knowlton and FF Richard McCormack, there have been several promotions and hirings.

Captain William Rex has moved from Shift D to Fire Prevention.
Lt. Thomas Kenney has been promoted to the departments new Training Captain.
Lt Robert Hennessy is Acting Captain on Group D
FF Andrew Kleamenakis is Acting Lt on Group B
FF Jeffery Lamothe is Acting Lt on Group A
FF Jonathan Talin is Acting Lt on Group C
Hyannis hired former Plymouth FD Mechanic Ronald Buscemi as the new Dept Master Mechanic.
Several new firefighters were hired to replace those who retired or were promoted.

Aug 2015


Hyannis Lieutenant Retires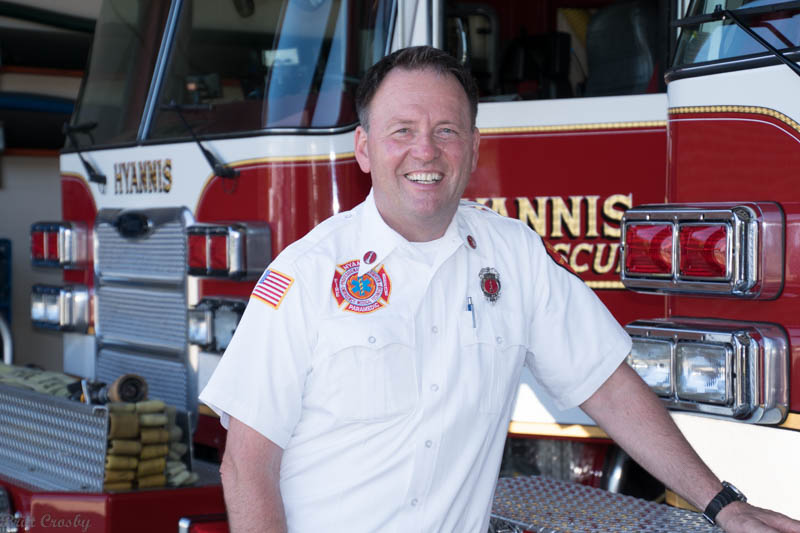 Lt Rick Knowlton
Hyannis Lt Richard Knowlton retired June 30, 2015
after more than 32 years of service with Hyannis FD.
Congrats!
June 2015
Hyannis Captain Promotion
HYANNIS PROMOTION
Mark Storie will be promoted from Lieutenant to Captain replacing Captain Farrenkopf.
Brian Lawrence to be promoted to Lieutenant.
Jan 2015
Hyannis Captain Retirement
HYANNIS CAPTAIN RETIRES
Captain Craig Farrenkopf of the Hyannis FD will be retiring with some 45 years of service in December 2014. He became call firefighter in 1969 and a fulltime firefighter in 1972. He is a founding member of the Hyannis FF IAFF Local 2172. He has served many years as a Captain. "Captain Craig" is one of a family of firefighters including his father Richard who served as a Hyannis Fire Chief, his brother Rick who retired as a Dennis Captain, brother Eric who is also a Hyannis Captain, and brother Kent who is Deputy Chief in Harwich.
Dec 2014
Hyannis Retired Firefighter Passes
Retired Firefighter Robert McGorty
Hyannis Firefighter and frequent dispatcher Bob McGorty passed away
on October 9, 2014. He was 72. He served Hyannis FD for 32 years
and was one of the most recognized voices on the radio.
KCD 454 and Code Red among the favorites.
Rest in Peace.
Oct 2014
Hyannis Promotions
Lt Norman "Spanky" Sylvester was promoted to Fire Prevention Officer
filling the position created by the retirement of Lt Don Chase in July 2013.
Fire Prevention Officer John Cosmo was promoted to Lt FPO.
FF Greg Dardia was promoted to Lieutenant.
All of these promotions took place in recent months.

Posted March 2014.
Hyannis Mechanic Retires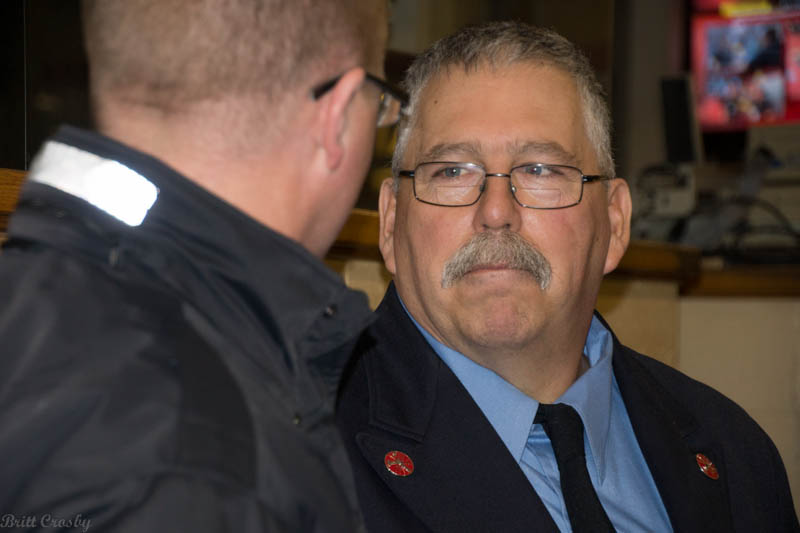 Hyannis Firefighter / Master Mechanic Richard Randall
Served the Hyannis Fire Department over 24 years ago.
Retired Feb 3, 2014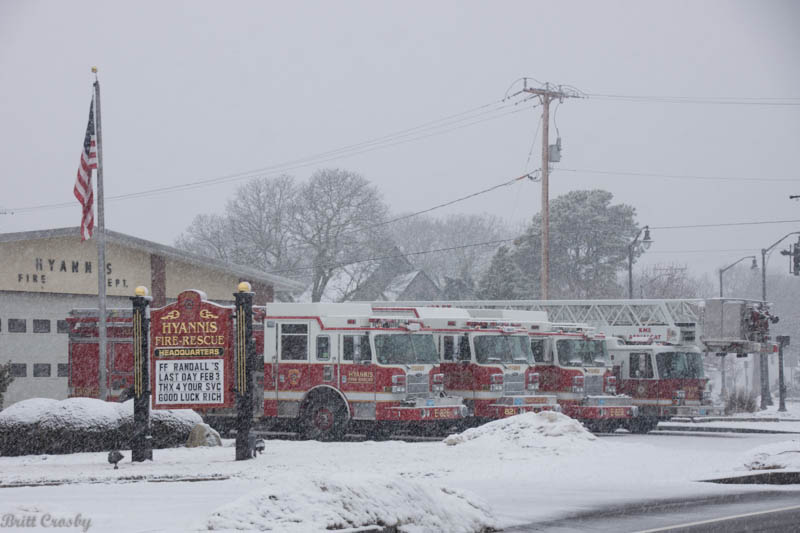 Hyannis Retirement
CONGRATULATIONS!
Hyannis Fire Department Fire Prevention Officer Lt Donald Chase
retired after 34 years of service to the Hyannis Fire District on July 2, 2013.
Fire Chief Harold Brunelle and Deputy Chief Dean Melanson were among the
many who wished "Lt Don" well on his last day of work!
July 2013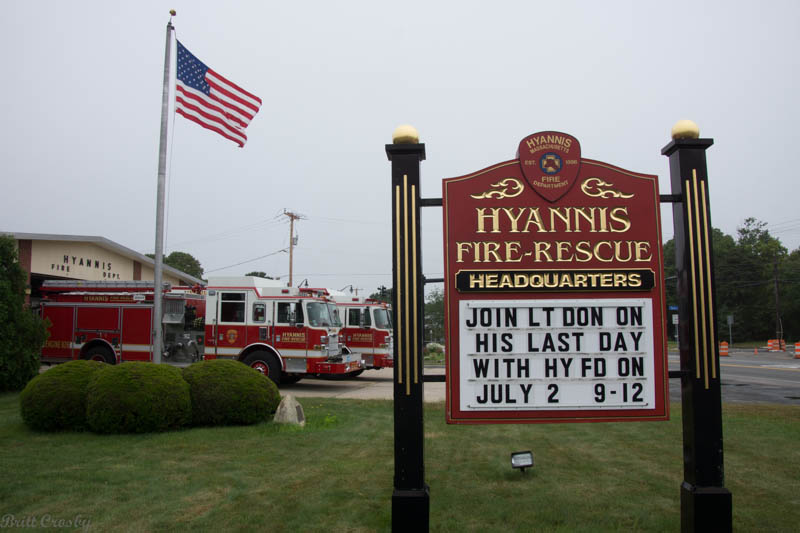 Hyannis Newest Apparatus
Hyannis Personnel with new Heavy Rescue 821
Dec 2012
Hyannis Retired Firefighter Passes
Hyannis Firefighter Danny Clough
Retired March 19, 2011
after 36 years with the Hyannis FD.
Sadly, Danny passed away unexpectedly 7 months later
on October 19, 2011
Oct 2011
Hyannis Sept 11 - 10 Year Anniversary
10 Year Anniversary
Hyannis Fire Department
Remembrance of the September 11, 2001 Attacks
Sept 11, 2011
Hyannis Firefighter Retires
Hyannis Firefighter "Rescue" Dan Clough
Retired March 19, 2011
after 36 years with the Hyannis FD.
Mar 2011

Firefighter Danny Clough was pump operator of first in Engine 823
at the 2 Alarm fire at 39 Pearl Street on Friday March 18, 2011,
his last night shift before retiring!
Hyannis Retired Chief Passes
Hyannis retired Fire Chief Richard Farrenkopf
Father of Hyannis Captains Craig and Eric, Dennis Captain Richard,
and Harwich Captain (Deputy) Kent Farrenkopf.
Passed away January 2011
Jan 2011
Hyannis Lt Retires
Hyannis Lieutenant Roger Cadrin
Retired December 2010
after 38 years of service with Hyannis FD
Dec 2010


Hyannis Looses A Friend


Hyannis Fire Department
Regrets to announce the passing of 12 year Hyannis Fire Department
Mascot and Dalmatian "C.J." on Saturday June 25, 2005.
C.J. had become quite sick in recent months and firefighters had to
make the difficult decision recently to euthanize the station mascot.
C.J. will be missed by all the guys and the many children who looked
forward to seeing "The Fire Dog" on visits to the fire station.

Hyannis Fire Radio - 868.2125
Hyannis FD had a number of concerns with the Cape's 800 mhz trunked radio system. In building coverage was not satisfactory in a number of major buildings within Hyannis including Cape Cod Hospital, the Cape Cod Mall, Barnstable High School, and others. As a result Hyannis experimented with a number of options ranging from low band repeaters to 400 mhz to 800 mhz options. Hyannis has now (June 2002) begun simulcasting its communications on both 33.94 and a NEW 868.2125 conventional channel. Hyannis retains its 800 mhz trunked talkgroup as well as its 460.625 channel. More to follow.... June 2002.

Hyannis Fire Department - Busiest on Cape!
Once again, HYFD is the Cape's busiest Fire Department. Hyannis responded to 5,657 runs in 2001, an increase of 370 runs over the 5,287 runs in 2000. This is a 7% increase in runs making it an average of 15.5 runs a day.

Hyannis runs with 11 personnel per shift, one of them serving as a dispatcher.



Hyannis Tower 829 displays the colors in the weeks following Sept 11, 2001. Several HYFD personnel responded as part of MA-TF1 FEMA team to the WTC spending 8 days at ground zero.