Sandwich Car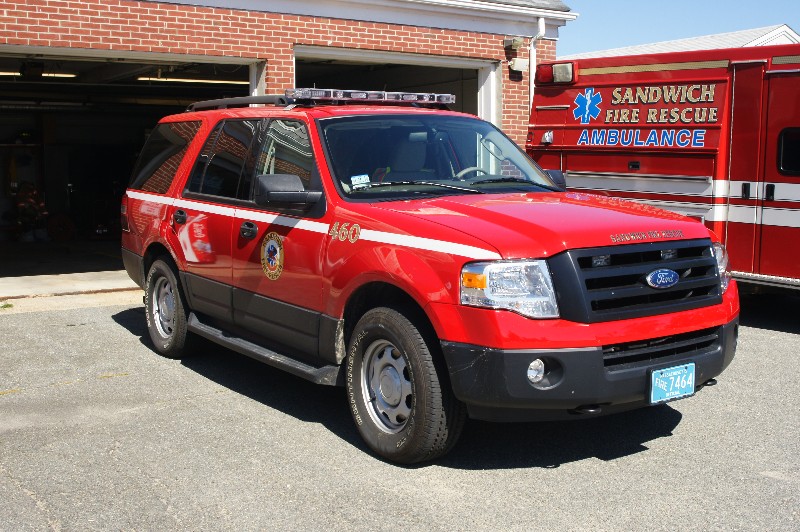 Sandwich Car 460
2010 Ford Expedition SUV
Duty Officer
Aug 2010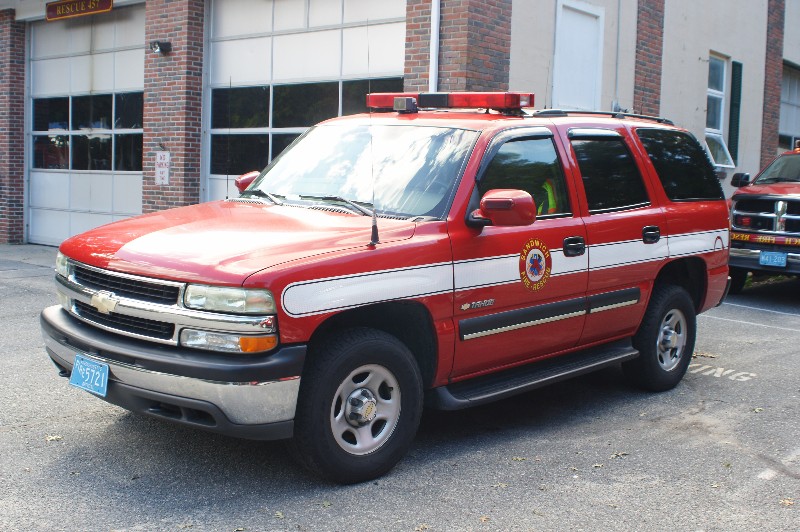 Sandwich Car 455
2003 Chevy Tahoe
Formerly Car 460
Reassigned Aug 2010

Sandwich Ambulance



Sandwich Ambulance 457
2009 Ford E450 / Horton Type III
Jan 2010



Sandwich Forestry
Sandwich Forestry 468
2010 Ford F350XL 4x4 pickup truck
225 gallon skid tank / pump
In service Sept 2009

Sandwich Engine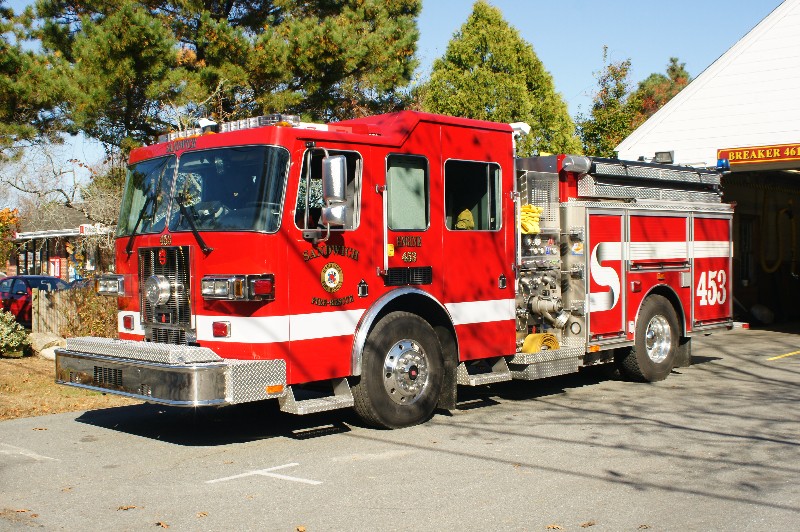 Sandwich Engine 453
2009 Sutphen 1500/750/40 Pumper
Nov 2009
Sandwich Engine 452
1994 KME Renagade 1250/750/100 Pumper
Formerly Engine 453
Reassigned as Engine 452 in Nov 2009

Sandwich Ambulance




Sandwich Ambulance 459
2008 Ford E450 / Horton Type III
Dec 2008

Sandwich Car
Sandwich Car 442
2008 Ford Taurus
Deputy Chief Car
Aug 2008

Sandwich Future Breaker


Future Sandwich Breaker
1993 International AWD chassis / former Otis Mil Tanker
to become a brush breaker
2008/2009?



Sandwich Tanker

Sandwich Tanker 464
(2008) 1987 Mack R Chassis / 2002 Fire One
400 gpm / 2000 gals / 200A
Built summer 2008
Replaced 1980 Military 6x6 chassis tanker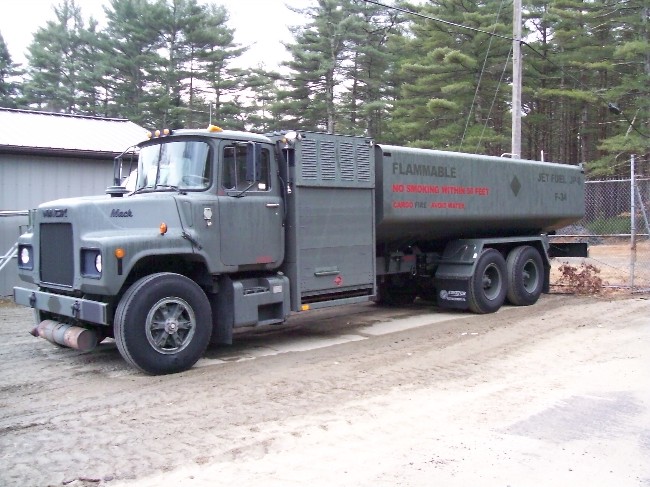 Future Sandwich Tanker 464
Sandwich picked up a couple surplus apparatus chassis recently.
This 1987 Mack former tanker will have the tank removed and
the chassis shortened. The tank and pump from the current Tanker 464
will be placed on this chassis, replacing the present chassis.
JN photo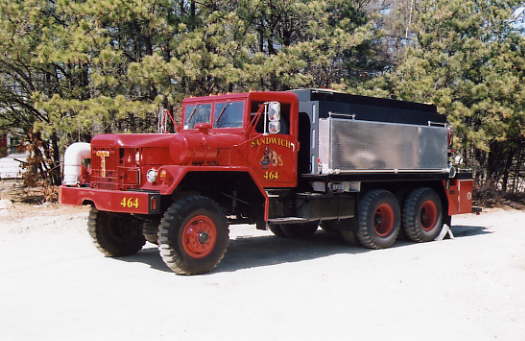 Replaced this military chassis

Sandwich New Car


Sandwich Car 442
2008 Ford Taurus SEL Deputy Car


Sandwich New Ambulance


Sandwich Ambulance 456
2007 Ford E450 / Horton Type III Ambulance
New 4th Ambulance
Delivered Aug 2007

Sandwich New Rescue Pumper

Sandwich has ordered a new Sutphen Rescue Pumper to be delivered in late
2006 or early 2007. The rescue pumper will have a 1500 gpm pump, carry 750 gals, and
have a foam system, as well as rescue tools.
The new engine is expected to replace Engine 1 at HQ. The present Engine 1 (KME)
would probably be reassigned to Station 3. The present Engine 3 (Pierce) would
probably be assigned to Station 2. The present Engine 2 (Maxim) would be retired.

Sandwich Car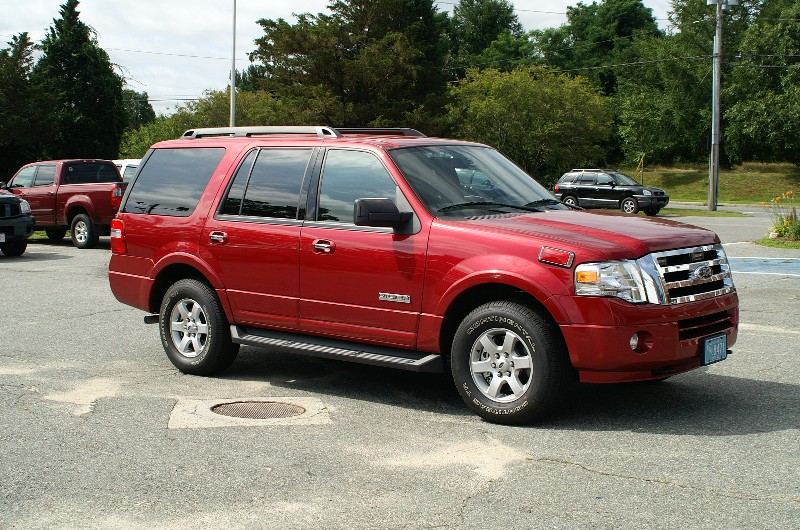 Car 443
2007 Ford Expedition 4x4 SUV
EMS Officer


Sandwich Car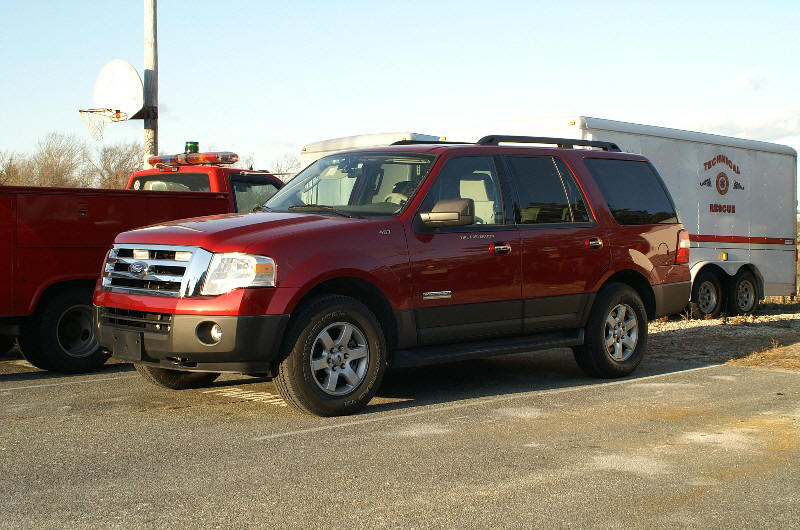 Car 467
2007 Ford Explorer
Fire Prevention
Feb 2007
Sandwich Apparatus
New 467 - 2006 Ford Explorer for Fire Prevention
Replaces black 2000 Ford LTD sedan taken out of service already
Car 443 - 1999 Ford Explorer formerly used as EMS officer vehicle
will be reassigned as a utility vehicle at station 3.
Car 440 - the 2004 Dodge Ram pickup presently serving as a utility vehicle
at Station 3, will be reassigned to Station 1. The skid tank/pump from the
former 468 will be put into 440 making it a Forestry vehicle.
Forestry 468 - The 1995 GMC Utility-Pickup Forestry unit
will be taken out of service
Nov 2006

Sandwich Car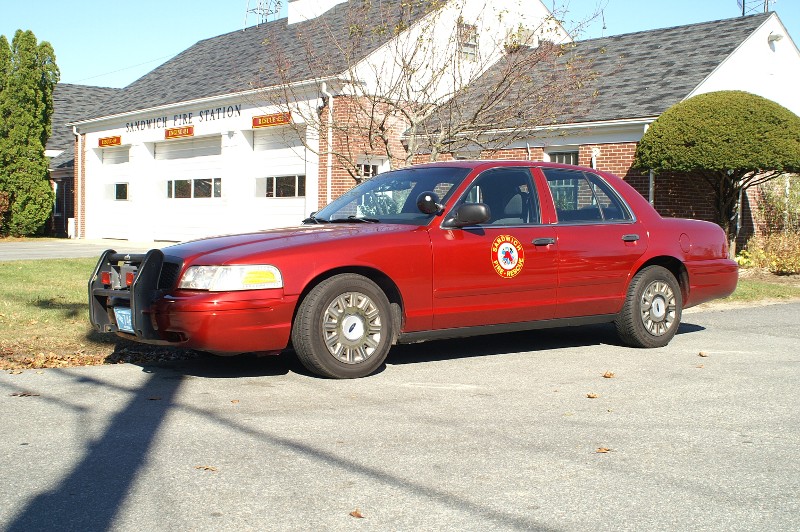 Car 442
2004 Ford LTD former cruiser
Used by EMS officer
Oct 2006

Sandwich Ambulance Refurb

Ambulance 458
2006 Ford E450 / 2000 Braun Type III Ambulance
Refurbished 2006.
Back in service Nov 2006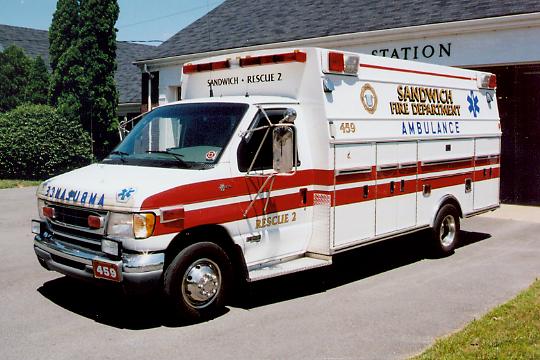 Original look

Sandwich New Chief Car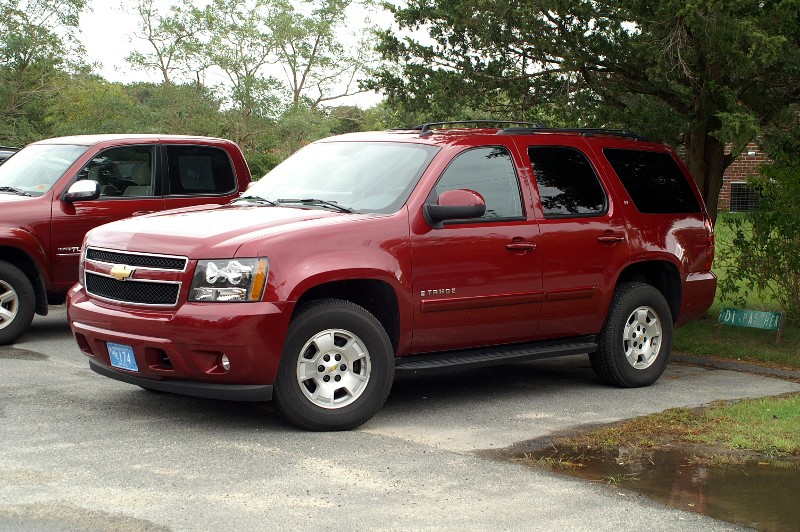 Car 441
2006 Chevy Tahoe 4x4 SUV Fire Chief Car
New chief's car replaced 2001 Ford LTD cruiser damaged in MVA during
summer of 2006.

Sandwich DEP Spill Trailer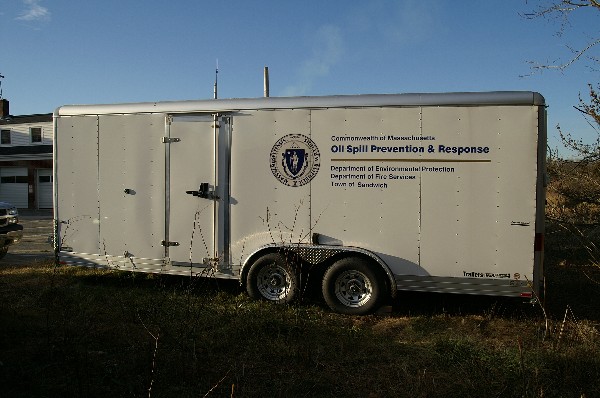 Sandwich has received one of the Massachusetts DEP Spill Containment Trailers.
Nov 2005

Sandwich New Pickup Truck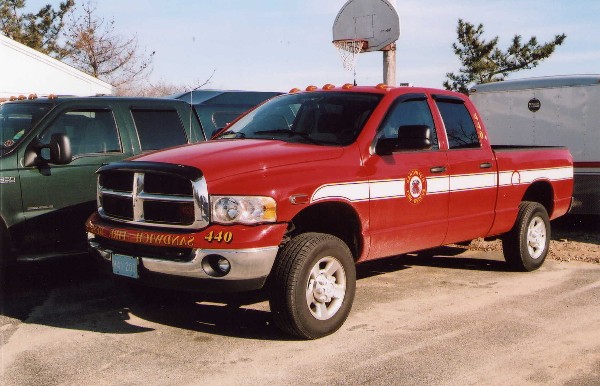 Car 440
2004 Dodge Ram 2500 4x4 extended cab Pickup Truck
To replace the 1988 GMC pickup at Station 3
September 2004

Sandwich New Foam Tanker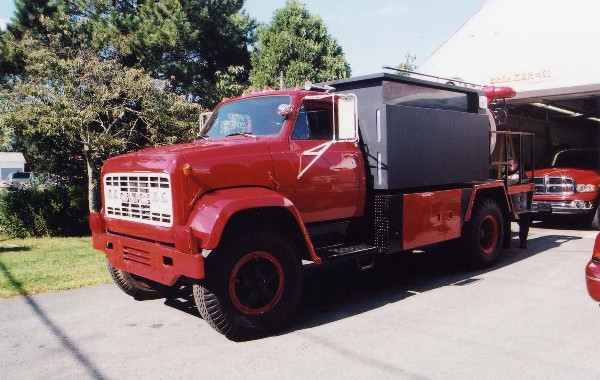 Foam Tanker 465
1973 GMC 7500 / 2004 Foam Tanker
1500 gallon 1% ATC Class B Foam tank
3000 gpm Foam Deckgun
Chassis was originally Sandwich Tanker 1
To go into service Sept 2004 at Station 2

Sandwich New Air / Lighting Unit

Almost completed March 2005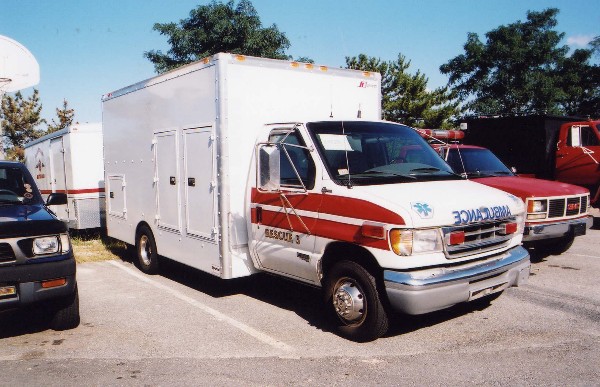 Air 449
1999 Ford E450 chassis / 2004 Superior
Multi-bottle 6000 psi Cascade Air System
11,000 KW Generator / Lighting plant
Formerly 1999 Rescue 457 chassis
Delivered Aug 2004


Sandwich Ambulance Refurbished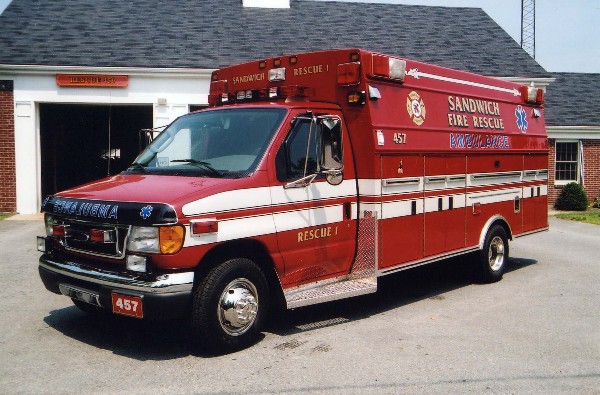 Rescue 457
2004 Ford E450 chassis / 1999 Braun Type III Ambulance
Refurbished by Lifestar

Sandwich Breaker Retired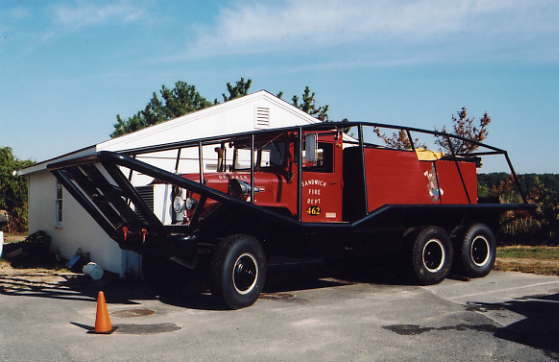 Breaker 462
1967 Kaiser MIL 6x6 Brush Breaker Retires.
Sandwich back down to 2 breakers until a new 462
is built at some time in the future.

Sandwich Breaker Refurbished


Breaker 463
2003 Refurb of 1953 Studebaker 6x6 Brush Breaker.
New motor, transmission, 1000 gallon poly water tank, new pump, bodywork, etc...
The work was done in house by Sand FD FF Keith Lehmann, the second major
breaker project in the past few years. B463 is now back at Station 3.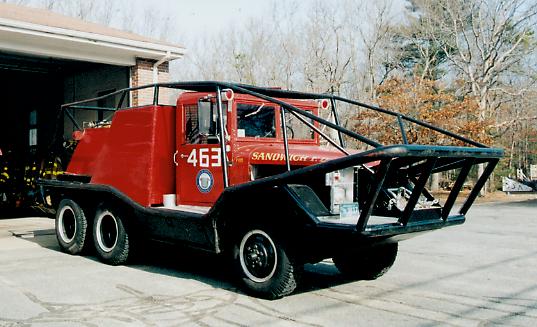 Breaker 463 as it looked prior to the refurbishing.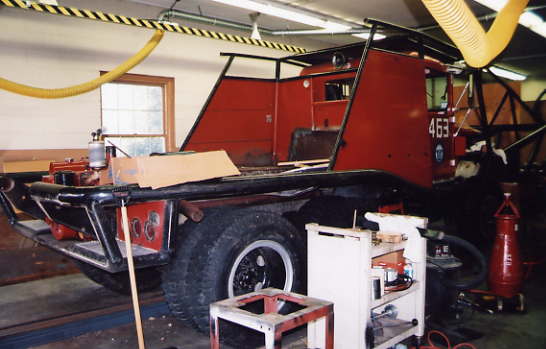 Breaker 463 during renovations Nov 2002.
Ambulance Plans
Rescue 457 will be sent out soon to be rechassied.
The 1999 Ford E450 chassis is expected to come back and be used
for a future air supply / lighting vehicle.
Fall 2003
New Sandwich Fire Dept SUV


Car 460
2003 Chevy Tahoe 4x4 SUV
Shift Commander
In service Sept 2003
The former Patrol 460 (1995 GMC pickup) has been re-designated as Patrol 468.


Sandwich Fire Department Trailers


Haz Mat & Tech Rescue
2002 Wells Cargo trailers for Haz Mat / Pollution Control
and Technical / High Angle rescue
June 2003

Sandwich EMS Vehicle


Car 443
199 Ford Explorer SUV
EMS Officer. June 2003
Formerly Fire Prevention 467.
Sandwich Fire Prevention


Car 467
2002 Ford LTD Crown Victoria
June 2003.


Sandwich's "New" Look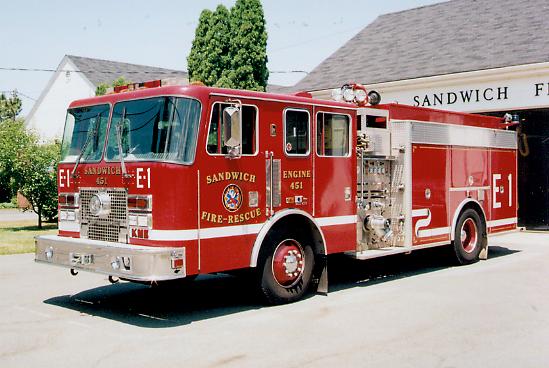 Sandwich Fire Department added stripes and large numbers to their apparatus over the
past year or so. Here is Engine 451 (E-1).


Sandwich Fire Department's New Tanker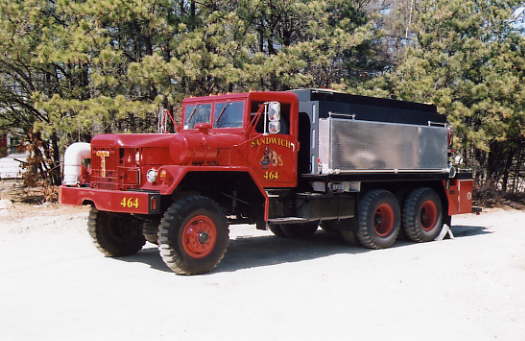 Tanker 464
Nov 2002
This 1980 AM General Military 6x6 5 Ton / 2002 Fire One Tanker
was delivered in October 2002. It will be Tanker 464 at Station 2.
The new tanker has 2000 gallon water tank, 200 gallon Class A foam tank,
and 400 gpm pump. There are 10" quick dump valves on rear both sides.
It also has a 2100 gallon folding tank.
The new tanker is at Station 2 East Sandwich.
The new Tanker 464 officially went into service in June 2003.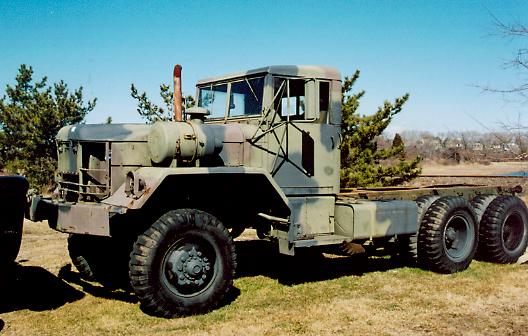 Future Tanker 464
Former military chassis March 2002 Photo


Sandwich Fire Department's New Breaker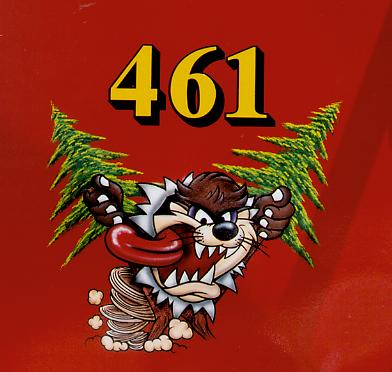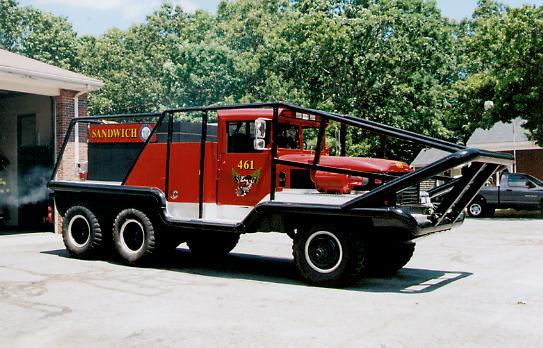 Breaker 461
In Service May 2002
Sandwich Firefighter / Mechanic Keith Lehmann designed and built the new breaker.
Breaker 461
1978 Military 6x6 5 ton / 2002 Sandwich FD built Brush Breaker
250 gpm pump & roll - 1000 gals
(diesel / standard)

B461 was under construction for several years.
(New Breaker on March 2, 2002)
Sandwich Refurbishing Rescue 459
Rescue 459
July 2002
Sandwich has sent their 1997 Ford/Braun Type III Ambulance
out to be re-chassied and refurbished with 2002 chassis.
It is back with 2002 Ford E450 Chassis / refurbished by Life Star.
Nov 2002.