DEPARTMENT NEWS
DEPUTY LISA ALBINO
History was made on January 14, 2022 as Captain/Paramedic
Lisa Albino was officially promoted to Deputy Chief of the Eastham
Fire Department becoming the first female to serve as a Chief Fire
Officer on Cape Cod.
Jan 2022
The promotional ceremony also recognized a new Captain and Lieutenants
EASTHAM FIRE CHIEF


EASTHAM FIRE CHIEF DAN KEANE
Dan Keane became the 8th permanent Fire Chief in Eastham
on November 19, 2021. He has served as Eastham's Deputy
Chief since 2017. Chief Kent Farrenkopf retired after serving
the past 6 years as Chief.
Nov 2021

EASTHAM FIRE CHIEF RETIRING
EASTHAM FIRE CHIEF KENT FARRENKOPF
Fire Chief Kent Farrenkopf announced that he will be retiring
in November 2021 after serving Eastham for the last 6 years.
Prior to coming to the Eastham Fire Department he had served
the Harwich Fire Department for 32 years, including many years
as a Captain and 4 years as Deputy.
Congratulations.
Sept 30, 2021

Eastham Promotion
LIEUTENANT DONNY WATSON
Eastham Lieutenant Eric Hilferty retired in Sept 2021.
FF Donny Watson has been promoted to Lieutenant.
Sept 28, 2021



Eastham Promotions
CAPTAIN VANBUSKIRK
Eastham Fire Department Captain William Pilzecker retired in Oct 2020.
After a promotional process and new contract, the following officers
have been promoted.
CAPTAIN Ryan VanBuskirk (G-1)
LT Maurice Wiley (G-4)
LT Kurt Fisher (G-3)
LT Rachael Topal (G-2)
LT Eric Hilferty (G-1)
Jan 12, 2021




Eastham Retirement
EASTHAM RETIREMENT
Eastham Firefighter/Paramedic Barbara Francke has
retired after 31 years of service effective June 30, 2020.

Eastham Promotion
CAPTAIN MORSE
Eastham has promoted Kyle Morse to serve as the Captain of Group 4
replacing retired Captain Bill Sprague.
Jan 8, 2020



Eastham Retirement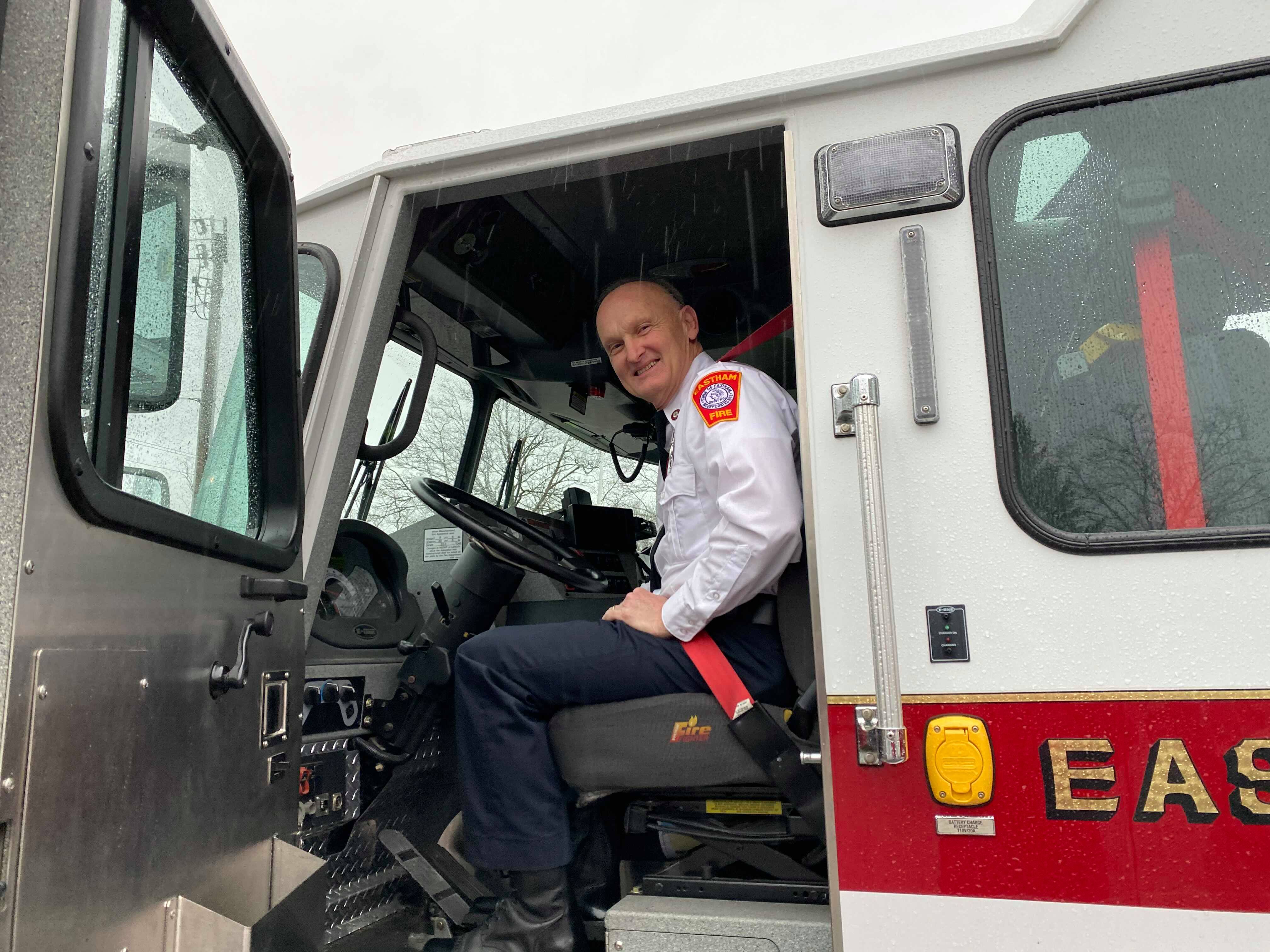 CAPTAIN WILLIAM "BILL" SPRAGUE
Eastham Fire Department Captain Bill Sprague is retiring after 40 years of service.
He began as a Call Firefighter in 1979. He became a paramedic in 1982 and was
hired Fulltime in 1989. He was promoted to Captain in 2001.
Congratulations!
Dec 30, 2019



Safer Grant
HIRING 4 FIREFIGHTERS
Eastham Fire Department received a SAFER grant enabling the department
to hire (4) additional personnel bringing the shift strength up from 4 to 5.
Effective January 2018



Eastham Deputy
EASTHAM DEPUTY CHIEF
Eastham hired Dan Keane to serve as Deputy Fire Chief.
Keane was previously a member of the Sandwich Fire Department
for 16 years servings as firefighter/paramedic, Lieutenant, and in Fire
Prevention. He began his fire service career with the Cotuit Fire Dept.
He will fill the deputy position which has been vacant for several
years. He will be sworn in Sept 5, 2017. Congratulations.
August 14, 2017
New Eastham Fire Chief
NEXT EASTHAM FIRE CHIEF
Harwich Deputy Fire Chief Kent Farrenkopf has been selected to serve
as the next Fire Chief in Eastham starting in November 2015.
Farrenkopf served as the Harwich Deputy since 2011 and as
shift Captain, Lieutenant, and firefighter for many years prior.
Chief Farrenkopf will be sworn in in Eastham Nov 20, 2015.
Eastham Chief Retires
EASTHAM FIRE CHIEF RETIRING
Eastham Fire Chief Mark Foley will retire in mid November. He has served as Chief
since February 2014 and served as Deputy Chief for a few years prior. He started
out with the Yarmouth FD and has been active in the County Fire Academy and on the
Retirement Board for many years. Best wishes!
EASTHAM RET. CAPT PASSES
The Eastham Fire Department
regrets to announce the passing of
retired Captain Brian P Edmunds, age 57
on April 1, 2015.
Captain Edmunds was a 34 year member of the
Eastham Fire Department and a founding member
and President of IAFF Local 2975.
He was the father of Orleans FF Doug Edmunds.
Visiting Hours
Friday April 10, 2015
17:00 - 19:00 hrs
Nickerson Funeral Home
77 Eldredge Parkway, Orleans
Services Mass
Saturday April 11, 2015
09:00 - 10:00 hrs
United Methodist Church
73 Main Street, Orleans

Eastham Retirement

CAPTAIN STEVE BURNS
Eastham Fire Department's long time Captain Steve Burns retired in July 2014.
William Pilzecker will be promoted to Captain of Group 1.
Congrats to both.
August 2014

RETIRED LT RONALD I. ALEXANDER
Retired Eastham Fire Department Lt. Ron Alexander passed away in August 2014.
He had served as Fire Inspector and was Eastham's first Paramedic,
Aug 2014



EASTHAM CHIEF


EASTHAM FIRE CHIEF
Eastham Fire Department will promoted Deputy Chief Mark Foley to serve
as the new Fire Chief.
Jan 2014


EASTHAM FIRE CHIEF RETIRED
EASTHAM FIRE CHIEF GLEN OLSON RETIRED
Fire Chief Glen Olson has been in the fire service for over 30 years.
He came up with the Eastham FD, spent a number of years with the
Hyannis Fire Department, and returned about 14 years ago to become
the Eastham Fire Chief. He has been a paramedic for many years as well.
Chief Olson retired in October 2013.
Congratulations and Best Wishes to him!

Eastham Retirement
RETIRED
Eastham Captain/Paramedic Jennifer Smith retired on Jan 2, 2012.
She joined the Orleans/Eastham Rescue on call in 1978. In 1982 she joined
the Eastham Fire Department as a Paramedic (CIEMSS Class 6).
She served 33 years, including many as a Lieutenant and Captain.
Best wishes!
Jan 2012
Eastham Runs in 2001
Eastham Fire Department responded to 1,735 incidents in 2001. This is an increase of 133 from 1,895 in 2000. An 8.3% increase in calls put Eastham at 4.8 calls a day.

NEW EASTHAM FIRE CHIEF 10-31-2000
Glenn J. Olson joined the Eastham call fire department in 1979. He was hired as a career firefighter in 1982. He became a paramedic. In 1987 Olson was promoted to Lieutenant. In 1992, Lieutenant Olson left the Eastham Fire Department to become a career fire fighter/paramedic with the Hyannis Fire Department. In 1997 Olson had an opportunity to return to his hometown department and rejoined the Eastham Fire Department. Now he has been selected as Eastham's new fire chief.
Longtime Eastham fire chief Jack Austin retired in 1998. After a long search EFD hired William Mulvey as chief. Mulvey was formerly on the New Haven, CT Fire Dept. Mulvey's reign lasted less than a year in Eastham. Long time department Captain Theodore "Ted" Mickle had
serving as Acting Chief until the selection of a permanent chief was made..
The Eastham Fire department was established in 1945. It protects 15 square miles and a year round population of 5,454 residents. The department has one fire station which is presently undergoing a long needed major rebuilding. Two pumpers, two ambulances, and a couple support units are operated by the 13 career and 5 call members. Eastham responded to 439 fire incidents and 1,245 ems responses for a total of 1,684 responses in 1999.
NEW EASTHAM DEPUTY CHIEF April 2005
Mark Foley has been named Deputy Chief in Eastham.
Deputy Foley came from the Yarmouth FD where he most recently served as Lieutenant.
Foley also serves as Asst Director of Barnstable Fire Training Academy.