APPARATUS NEWS

BARNSTABLE BOAT
BARNSTABLE MARINE 218
Barnstable recently upgraded the 1983 Boston Whaler Marine 218
with a new center console.
June 2022

BARNSTABLE
AMBULANCE
BARNSTABLE AMBULANCE 204
The new Barnstable Ambulance went in service at the end of 2021.
2021 Ford F550/Lifeline Type I Ambulance
Jan 2022
Barnstable Ambulance 204 and Ambulance 203
Jan 2022

BARNSTABLE QUINT LADDER

BARNSTABLE LADDER ARRIVES
WELCOME TO BARNSTABLE VILLAGE
The new Pierce Quint Ladder Truck 206 arrived in Barnstable
on Monday December 20, 2021.... Just in time for Christmas!

MORE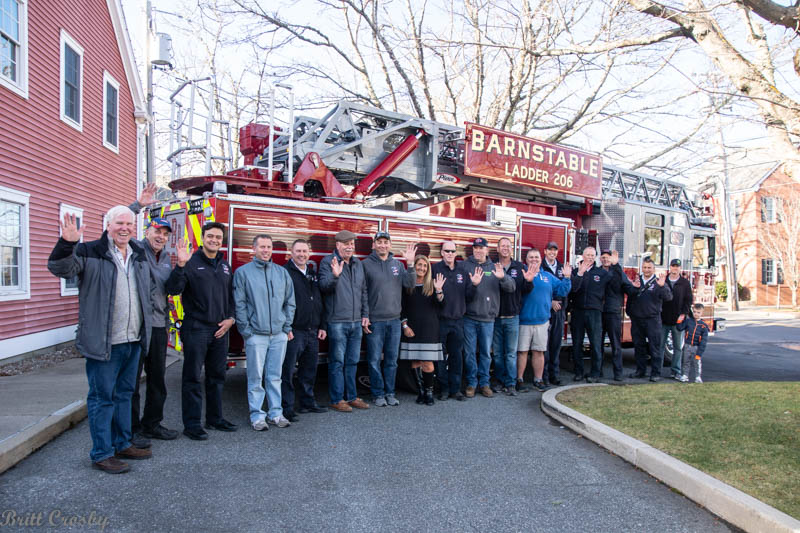 Merry Christmas from Past, Present, and Future Spirits
of the Barnstable Fire Department as they celebrate the
arrival of their new Quint Ladder Truck
on December 20, 2021.


BARNSTABLE CAR
BARNSTABLE CAR 212
2021 Chevy Tahoe 4x4 SUV
Future Duty Officer Car
First delivered Sept 2021
In Service Dec 2021

BARNSTABLE CAR
BARNSTABLE CAR 201
2019 Chevy Tahoe 4x4 SUV Fire Chief Car
Aug 2019

BARNSTABLE CAR

BARNSTABLE CAR 212
2019 (2008) Ford Explorer 4x4 SUV Utility Car
Originally Chief Car 201 2008-2019
Aug 2019


BARNSTABLE AMBULANCE
BARNSTABLE AMBULANCE 204
2018 (2007) Chevy/Lifeline Type I Ambulance
Originally West Barnstable Amb 293.
Served in Barnstable from July 2018 to Dec 2021
as a second ambulance.
July 2018

BARNSTABLE FORESTRY


BARNSTABLE FORESTRY 211
Barnstable got a LMTV to serve as a forestry truck in 2018
The Stewart & Stevenson is equipped with a 125 gpm pump
and 6o0 gallon tank. It can also serve as a high water vehicle.
2018
Former Truck

BARNSTABLE CAR


BARNSTABLE CAR 210
2017 Chevy Tahoe
Deputy Car
April 2018


Barnstable Boat
BARNSTABLE MARINE 219
2016 (2007) 25 foot Safe Boat
Former USCG - Surplus boat
Originally acquired in 2012
In service 2016

Summer 2016


Barnstable Ladder Refurbished


Barnstable Ladder 206
1992 Pierce Arrow / Smeal 105' Aerial Ladder
Being completely refurbished Fall 2012

Barnstable Boat
FUTURE BARNSTABLE BOAT
2007 25 foot Safe Boat
Former USCG - Surplus
May become new Barnstable M-219
Nov 2012

Barnstable Engine
Barnstable Engine 202
2012 Emergency One Typhoon
1500 / 730 / 10A / 40B
First with silver roof paint scheme
January 2012
Replaced 1989 Pierce Lance
Engine 202
1989 Pierce Lance 1500/750/50B
Retired 2012 (23 years)

Barnstable Forestry
"Patrol 200"
2004 Ford F250 now with forestry skid tank & pump
April 2010

Barnstable New Car



Car 210
2008 Ford Explorer 4x4 SUV Deputy Chief Car
Summer 2008

Barnstable New Car



Car 201
2008 Ford Explorer 4x4 SUV Fire Chief
Feb 2008


Barnstable New Pickup


Service 200
2006 Ford F250 4x4 4 door extended cab
Pickup Truck.
Nov 2006

Barnstable New Ambulance



Barnstable Ambulance 204 (EMS 334)
2006 Ford E450 / Braun Type III Ambulance
Delivered Mar 2006 - In Service May 2006.
Barnstable probably will not keep old A-203 as of May 2006.


A-203
Barnstable Lighting Plant

Barnstable has one of the five Magnum 600w Generator / Light towers
in town. Delivered Oct 2005. Barnstable has had to 'cram' the unit in
next to the boat for the winter.


Barnstable New Boat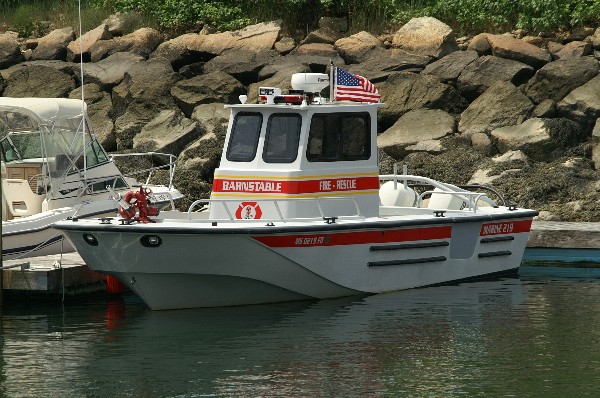 Boat 219
The Barnstable Fire Department has acquired a larger rescue boat. The 27' Boston Whaler
will enhance the department's ability to respond to water rescues in Cape Cod Bay.


Barnstable's Pickup Repainted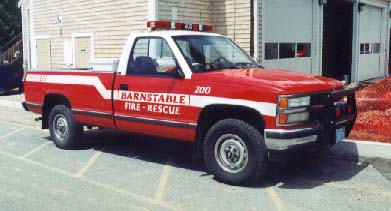 C200
The department's 1991 GMC pickup truck C-200 recently had some bodywork done and a new paint job at the Cape Cod Tech school. It came back recently with new red, white, white paint job. 11/2000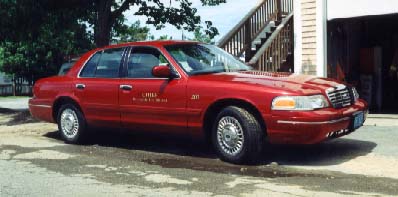 C201
The Chief is driving a 2000 Ford LTD Crown Victoria 4 door sedan, color red. Like many of the new chief cars, it has no roof light, but instead uses the "unmarked" strobe package.
E202
In late 1999/early 2000, the Barnstable FD got approval for and made Engine 202 a fully licensed ALS Pumper. It serves not only as the departments "heavy rescue unit' but can also provide advanced life support until a mutual aid ambulance arrives to transport should Barnstable's ambulance be committed elsewhere.
C210
The Barnstable Fire Department hired a full-time Deputy Chief in 1999. He is presently driving a 1999 Chevy Suburban originally purchased as a backup rescue vehicle designated as "200". This is a sharp looking vehicle and is getting much more use as a deputy vehicle.