Barnstable New Pickup


Service 200
2006 Ford F250 4x4 4 door extended cab
Pickup Truck.
Nov 2006

Barnstable New Ambulance



Barnstable Ambulance 204 (EMS 334)
2006 Ford E450 / Braun Type III Ambulance
Delivered Mar 2006 - In Service May 2006.
Barnstable probably will not keep old A-203 as of May 2006.


A-203

Barnstable Lighting Plant


Barnstable has one of the five Magnum 600w Generator / Light towers
in town. Delivered Oct 2005. Barnstable has had to 'cram' the unit in
next to the boat for the winter.


Barnstable New Boat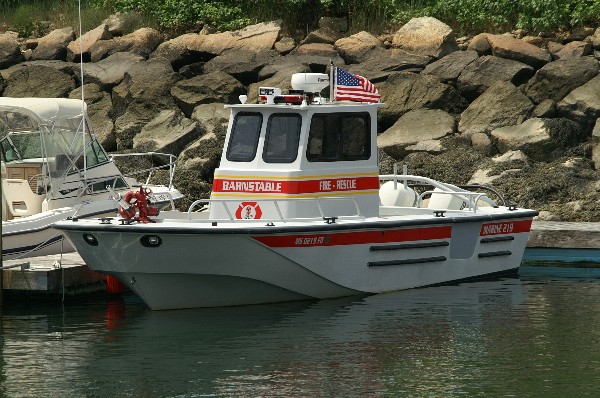 Boat 219
The Barnstable Fire Department has acquired a larger rescue boat. The 27' Boston Whaler
will enhance the department's ability to respond to water rescues in Cape Cod Bay.



Barnstable's Pickup Repainted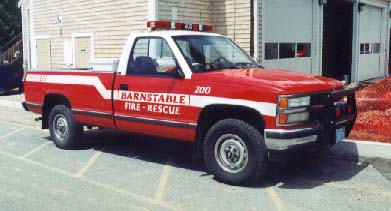 C200
The department's 1991 GMC pickup truck C-200 recently had some bodywork done and a new paint job at the Cape Cod Tech school. It came back recently with new red, white, white paint job. 11/2000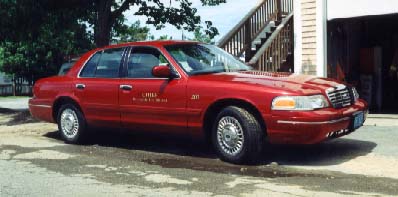 C201
The Chief is driving a 2000 Ford LTD Crown Victoria 4 door sedan, color red. Like many of the new chief cars, it has no roof light, but instead uses the "unmarked" strobe package.
E202
In late 1999/early 2000, the Barnstable FD got approval for and made Engine 202 a fully licensed ALS Pumper. It serves not only as the departments "heavy rescue unit' but can also provide advanced life support until a mutual aid ambulance arrives to transport should Barnstable's ambulance be committed elsewhere.
C210
The Barnstable Fire Department hired a full-time Deputy Chief in 1999. He is presently driving a 1999 Chevy Suburban originally purchased as a backup rescue vehicle designated as "200". This is a sharp looking vehicle and is getting much more use as a deputy vehicle.