Tanker 286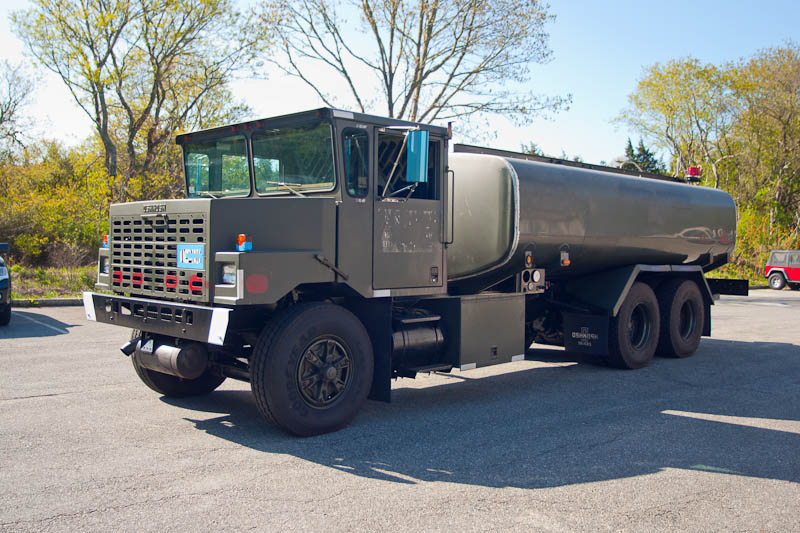 West Barnstable Tender 286
1990 Oshkosh
500 gpm / 5000 gallons
Shortened and lightened for tanker shuttle use
Photos 2011
Tanker 286
March 2010 photo

New Tanker?

Also seen behind the West Barnstable headquarters....
Oshkosh 5000 gallon former fuel tanker....
Dec 2007


West Barnstable New Ambulance
West Barnstable Ambulance 293
2007 Chevy C4500 / Lifeline Type I Ambulance
EMS 330
In service Dec 2007

West Barnstable New Pickup



Car 280
West Barnstable purchased this 2007 Chevy Silverado 2500
as Car 280. It will serve general utility purposes.
March 2007

West Barnstable "New" Quint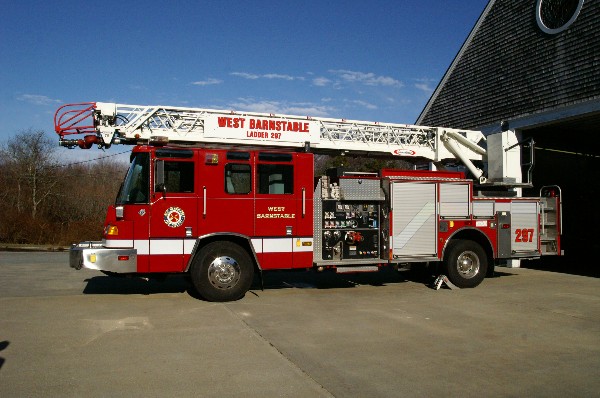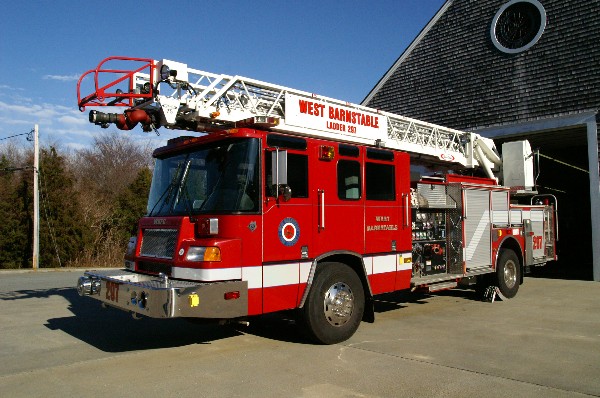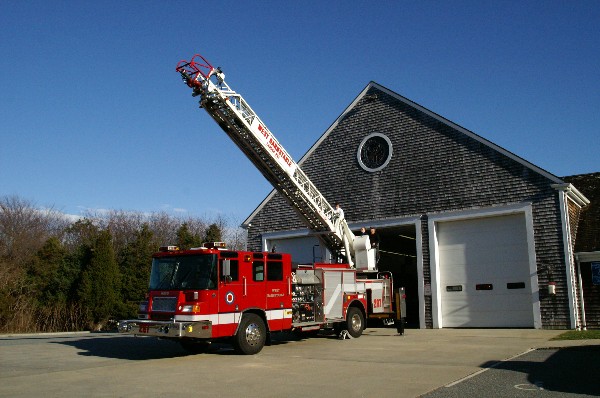 West Barnstable received a federal grant for approx $350,000 to purchase a new or
slightly used 75' Quint aerial ladder. May 2005
West Barnstable has purchased a used 2002 Pierce Quantum 75' Aerial Ladder Quint
with a 1500 gpm pump / 400 gallon tank. It was bought from Lake County, FLA.
Arrived in February 2006
To be dedicated February 26, 2006

West Barnstable Lighting Plant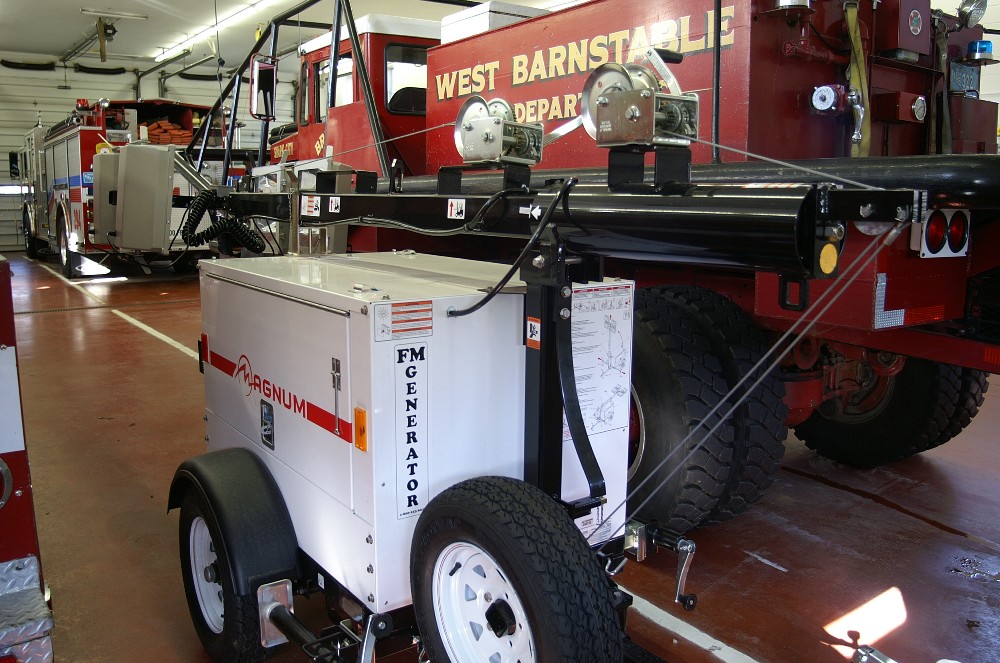 West Barnstable received one of these Magnum 6000w Generator / Light towers.
Oct 2005

West Barnstable Tanker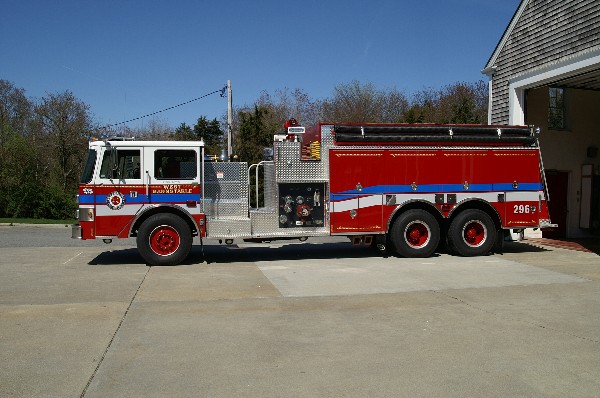 West Barnstable Tanker 296 returned to service in May 2005.
It was completely rebuilt including a new pump, water tank, body work, etc..
And the new color scheme.

West Barnstable "New" Tanker



Tanker 298
West Barnstable acquired this 1975 Dodge 3,500 gallon tanker surplus from the
Lanesborough, Mass Fire Department. The tanker is not equipped with a pump
but would be capable of dumping its tank rapidly into a dump tank. The tanker will
be in service while Tanker 296 is out being refurbished. It may even be kept after
that for the district with no water system.
January 2005
Returned to Mass Surplus following return of ET-296 in May 2005.




West Barnstable Tanker Refubishing



Tanker 296
The 1985 Pierce 2000 gpm / 3000 Gallon tanker was sent out to be completely refurbed
in January 2005. The chassie up refurb includes replacing tank, pump, some body work,
and repainting with new red-white-blue color scheme. It is expected to be back in service
in late spring 2005.




West Barnstable "New" Patrol



P-290
The new Patrol 290 was delivered in November 2004.
The 2004 Ford F350 4x4 pickup with a Knapheide utility body
is equipped with the 100 gpm / 200 gallon skid pump with class A foam system.
November 2004.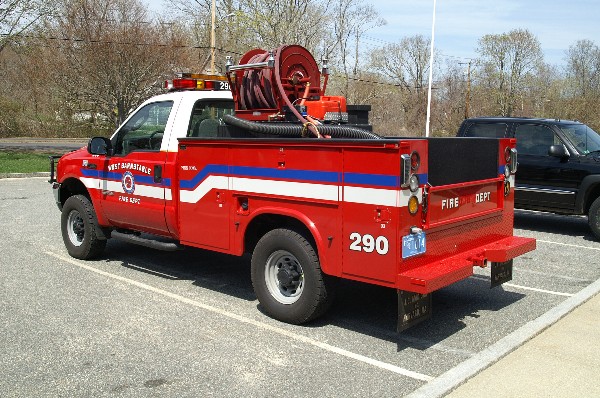 West Barnstable Truck Destroyed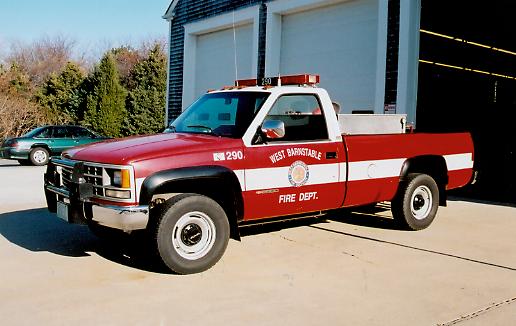 P290
Patrol 290 was destroyed when struck from behind by a tractor trailer while stopping to assist a motorist on Route 6 February 20, 2004. The driver was not seriously injured. The
department is currently using the DEM Patrol 3 truck as P290. Plans are to seek funds
for a new Ford Pickup Truck with a Utility body and pump at the 2004 Annual meeting.

Temporary P290
On loan from the DEM
West Barnstable's New CAFS Pumper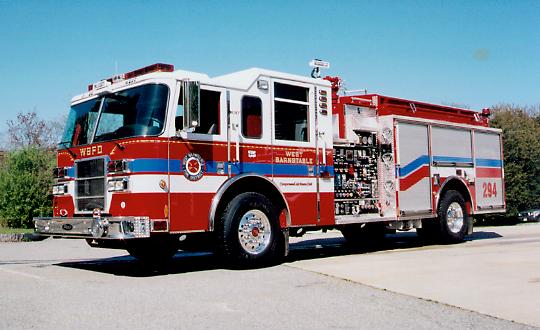 Engine 294
2002 Pierce Dash Compressed Air Foam System Pumper
1500 gpm - 750 gallons - 50 foam
Delivered May 10, 2002
Placed in service at the end of June 2002
West Barnstable Chief's New Vehicle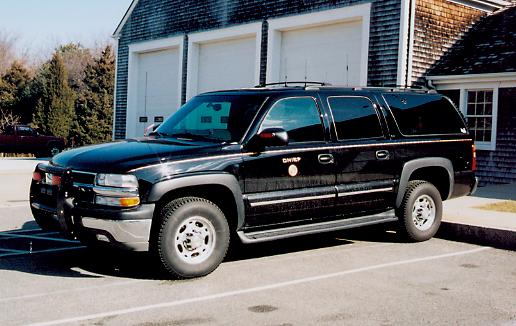 Car 291
2001 Chevy Suburban 4x4
Fire Chief John Jenkins
West Barnstable Engine 294 Retired

West Barnstable Fire Department - Engine 294 - WBFD voters approved funding on April 25, 2001 to replace their 1979 International/ Pierce 1000/1000 pumper Engine 294. The 23 year old pumper was retired and sold to an out of state department in June 2002..