Mashpee New Pickup

Car 370
2006 Ford F350 Pickup Truck with Knapheide utility body




Mashpee New Boat


Marine Unit
18' Edgewater / Yamaha 150 hp Rescue Boat
Sept 2005

Mashpee Ambulance

Rescue 362 (Acting)
1996 Chevy / Wheeled Coach Type I
In service until Mashpee's ambulance is repaired from August MVC.
This was formerly Bridgewater, MA Rescue 3
(Mashpee R-362 back in service Nov 2005)
Mashpee New Breaker 354

Breaker 354
New 2005 International 5600 10 wheel drive brush breaker built by Polymax Corp.
1000 gallon poly tank with 650 gpm Waterous pump. Also equipped with a 50 gallon
Class A foam tank. In service May 2005
Mashpee New Shift Command Vehicle


Car 350
2004 Chevy Tahoe 4x4 SUV
Shift Commander
September 2004
Mashpee Breaker Repainted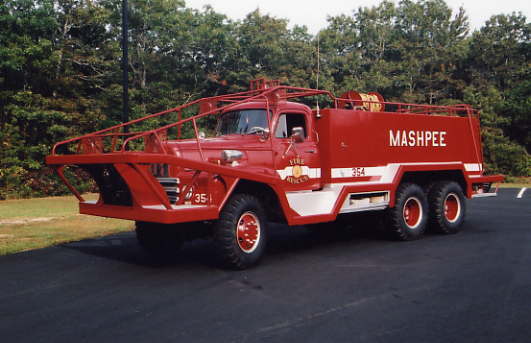 Breaker 354
Mashpee firefighters recently repaired and repainted their 1967 International / Thibault
brush breaker. The decision was made to return to the original 'all red' colors including
repainting the previously black bars.
June 2003

B354 prior to being repainted.
Mashpee New Ambulances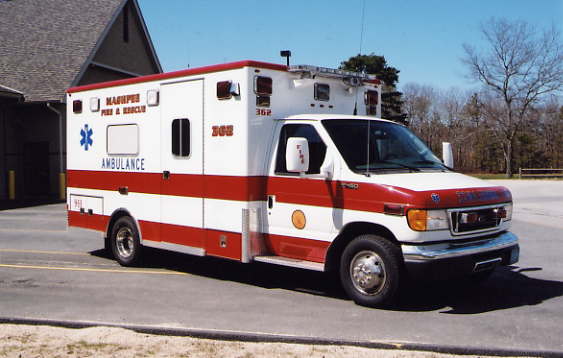 Rescue 362
Mashpee has placed (2) 2003 Ford E450 / Lifeline Type III Ambulances
in service as Rescue 361 and 362. These new rescues are identical and
replace two 'larger' style rescue vehicles.
Mashpee Haz Mat Trailer


Haz Mat Trailer
Mashpee has purchased a trailer to carry hazardous materials and spill containment
equipment. The new trailer upgrades the department's haz mat capabilities.
Mar 2003
Mashpee Fire Department New Cars


Car 371
2003 Chevy Tahoe SUV Fire Chief Car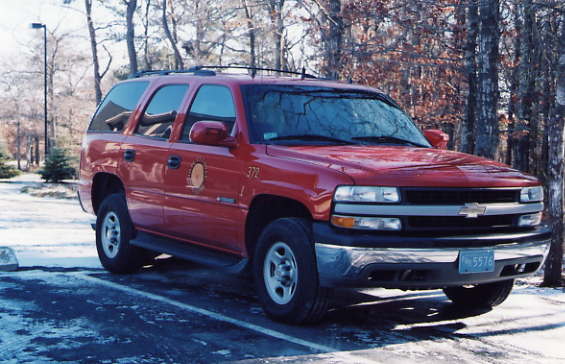 Car 372
2003 Chevy Tahoe SUV Deputy Chief Car

Nov 2002
Mashpee Fire Department Car 360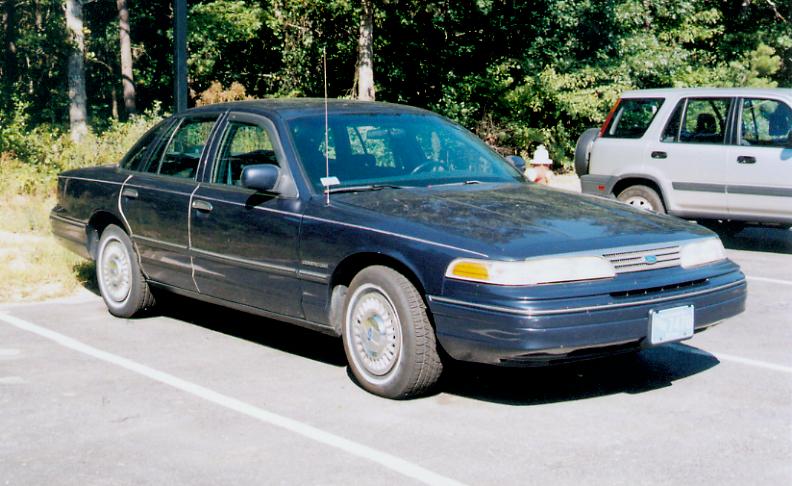 Car 360
July 2002
Mashpee FD has placed a 1994 Ford LTD cruiser in service
as Car 373. To e used as a utility vehicle. Renumber C-360.
June 2003
Mashpee Fire Department's New Ladder Tower


Tower 356
2001 Pierce Dash 100 foot Quint Aerial Tower
100' rm / 2000 gpm / 300 gallons
Went in service November 22, 2001
Delivered July 2001
The big bucket
Mashpee Fire Department's New Brush Breaker


Breaker 353
1971 GM Military 2.5 Ton / 2001 Fire One Brush Breaker
July 2001
1971 GM Military 2.5 ton with bars and tanks by FireOne.
It has a 250gpm pump - 500 gallon tank - 12 gallon Class A foam tank
It replaced a 1957 International brush breaker 353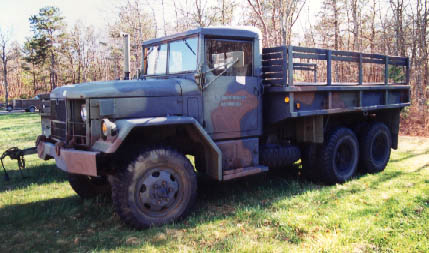 The 1971 Military 2.5 ton chassis before construction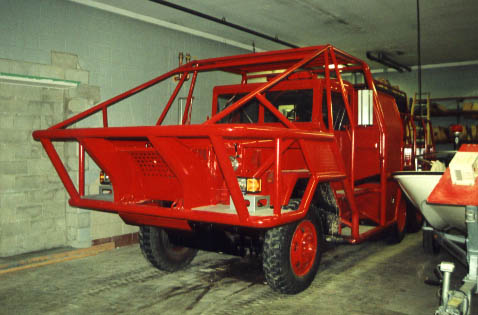 Soon after delivery March 2001.
Very red with no details

The Old B353 was a 1957 International / Maynard 750 gallon Brush Breaker.