NANTUCKET TANKER


NANTUCKET TANKER 2
Nantucket took delivery of its 2nd new tanker on April 27, 2017.
Tanker 2 is an early 2000's Stewart & Stevenson military surplus
LMTV M-1088 6x6 5 ton chassis with a 2000 gallon poly tank and
250 gpm Darley pump constructed by Fire-1 in Mendon, MA.
The truck is all wheel drive, pump & roll. Tanker 1 replaced
a 1988 GMC/FMC 250/1250 tanker at HQ and Tanker 2 will
replace an identical 1989 GMC/FMC 250/1250 tanker at
Station 2 in Siasconset.
April 27, 2017

Nantucket Ambulance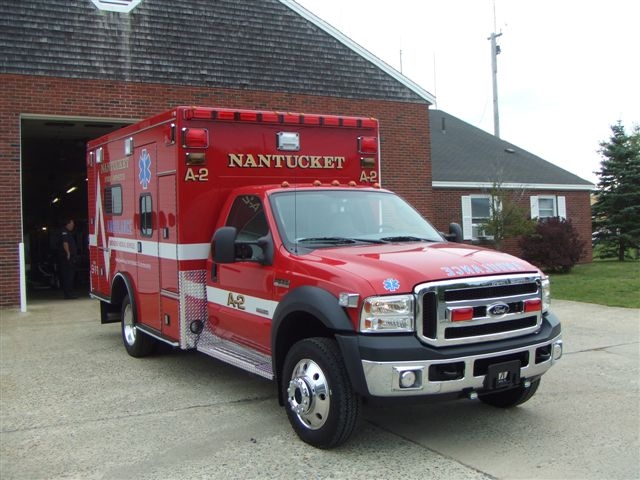 Ambulance 2
2006 Ford F450 4x4 / Road Rescue Type I
Sept 2006
Steve Murphy photo

Nantucket Apparatus Update


Nantucket Engine 2
2006 Freightliner M2 / S&S Fire Apparatus "Outland" Pumper
1000/800/20 Class A
Pump & Roll, front remote bumper turret
24',14',10' ladders
4 SCBA, Generator
Will have 1000' 5" LDH
Siasconset Station - In partial service (no 5") Nov 2006

Old Engine 2 - 1989 Ford / E-One pumper will be reassigned
as Engine 7 (it's original designation) and moved to Station 1 as
a reserve engine once new E-2 is in full service.

Tanker 2 temporarily housed in private garage in Sconset.

The 1988 FMC Engine 6 was taken out of service and not replaced.
A new Tanker will be delivered in near future.
It will be assigned to Station 1.
The older Tanker 1 and Tanker 2 will be transfered to the
Nantucket Land Bank on the Island.
The new Amb 2 has not yet been placed in service.
The dept may keep the old A-2 as a spare.
The department has several support trailers now housed in
a town owned garage at former electric company property at
2 Fairgrounds Road.
1. Haz Mat Trailer, 18' Wells Cargo, red trailer with all haz mat
equipment, suits, etc... designated Hazardous Response Unit
2. Oil Response Unit - 18' Trailer with spill response equipment
equipped by Steamship Authority.

3. Emergency Management Trailer, 18'

4. MCI Trailer, CIEMSS 25 victim trailer.

5. MDU - Mass Decon Unit trailer.

All trailers towed by Utility 4 Pickup Truck.
11/13/06

Nantucket Ladder Arrives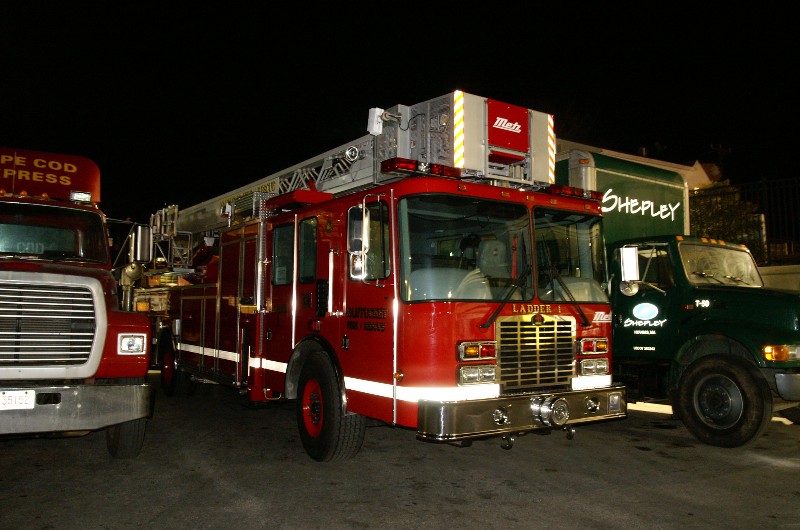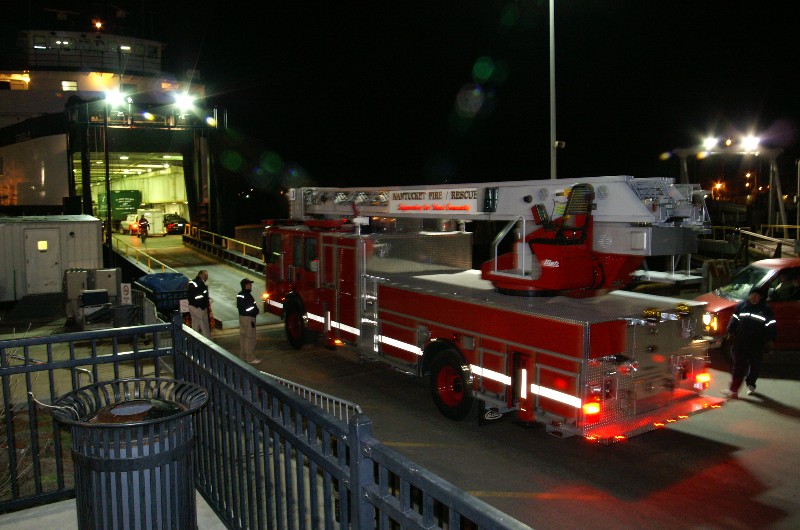 New ladder truck catches the ferry to Nantucket March 28, 2006