[ HOME ] [ News Page ] [ Barnstable County News ] [ Dukes County Fire News ] [ Plymouth County Fire News ]
[ Aquinnah Fire News ] [ Barnstable Fire News ] [ Barnstable Municipal Airport News ] [ Bourne Fire News ] [ Brewster Fire News ]
[ Cape Cod National Seashore Fire News ] [ Carver Fire News ] [ Carver EMS News ] [ COMM Fire News ] [ Chatham Fire News ]
[ Chilmark Fire News ] [ Cotuit Fire News ] [ DCR District 1 Fire News ] [ DCR District 2 Fire News ] [ Dennis Fire News ] [ Duxbury Fire News ]
[ Eastham Fire News ] [ Edgartown Fire News ] [ Falmouth Fire News ] [ Gosnold Fire News ] [ Harwich Fire News ] [ Hyannis Fire News ]
[ Kingston Fire News ] [ Lakeville Fire News ] [ Marion Fire News ] [ Mashpee Fire News ] [ MMR Fire News ] [ Mattapoisett Fire News ]
[ Middleborough Fire News ] [ Nantucket Fire News ] [ Nantucket Airport Fire News ] [ Oak Bluffs Fire News ] [ Orleans Fire News ]
[ Onset Fire News ] [ Plymouth Fire News ] [ Provincetown Fire News ] [ Rochester Fire News ] [ Sandwich Fire News ]
[ Tisbury Fire News ] [ Truro Fire News ] [ Vineyard Airport Fire News ] [ Wareham Fire News ] [ Wareham EMS News ]
[ Wellfleet Fire News ] [ West Barnstable Fire News ] [ West Tisbury Fire News ] [ Yarmouth Fire News ]

CapeCodFD.com
DEPARTMENT NEWS
Apparatus - Stations - Department - Incidents
CAPE COD NATIONAL SEASHORE
FIRE DEPARTMENT
Barnstable County
Updated
September 1, 2010

[ APPARATUS ] [ FIRE STATIONS ] [ DEPARTMENT ] [ INCIDENTS ]

APPARATUS NEWS
New CCNS Forestry Unit

CCNS Forestry 277 ?
2001 Ford F450 4x4 / 2002 Boise Mobile Equipment
200 gpm / 280 gallon water tank / Class A foam system
This new forestry unit was delivered in spring 2002.
It will be placed in service October 2002.
The new truck is expected to replace the present F277
a 1991 International.
September 2002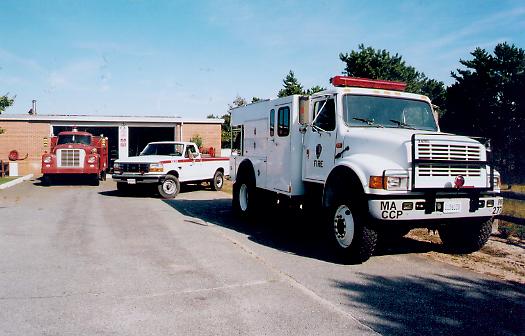 The CCNS units at Wellfleet Marconi Station.
Tanker 279, Patrol 276, Forestry 277.
September 2002.
New CCNS Water Tender
CCNS Water Tender
1984 AM General Jeep 5 Ton former Military 6x6
1000 Gallon Water Tender
Surplus military chassis aquired in 2000 and painted red/black in 2001
Not specifically used as a firefighting resource for mutual aid purposes.
Presently has no radio number assignment.
Designed to be used for controlled burn operations.
November 2001.
STATION NEWS

Cape Cod National Seashore station in Wellfleet January 2010.
Still under construction.

New Station at Cape Cod National Seashore, Wellfleet
June 2009
[ TOP ]
CapeCodFD.com