Brewster New Pickup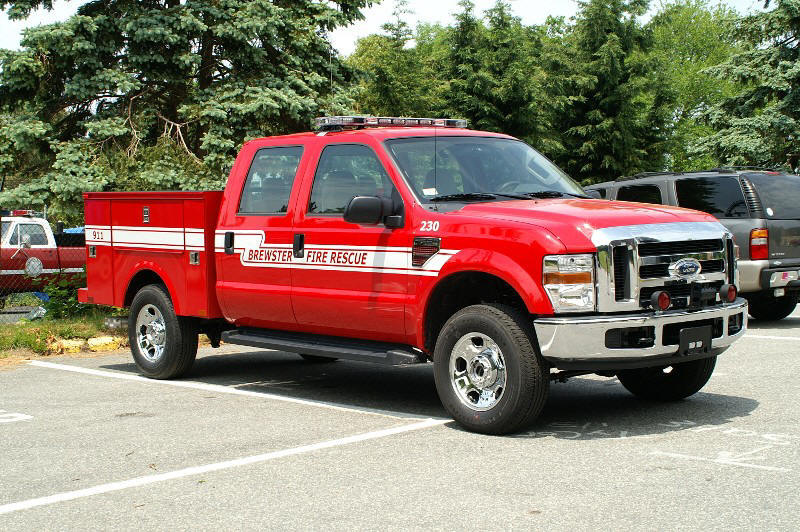 New Car 230
Brewster will replace the 1999 Dodge Pickup with a 2007 Ford F-350
4 door crew cab Pickup Truck. Expected Spring 2007
In Service May 2007


Brewster New Forestry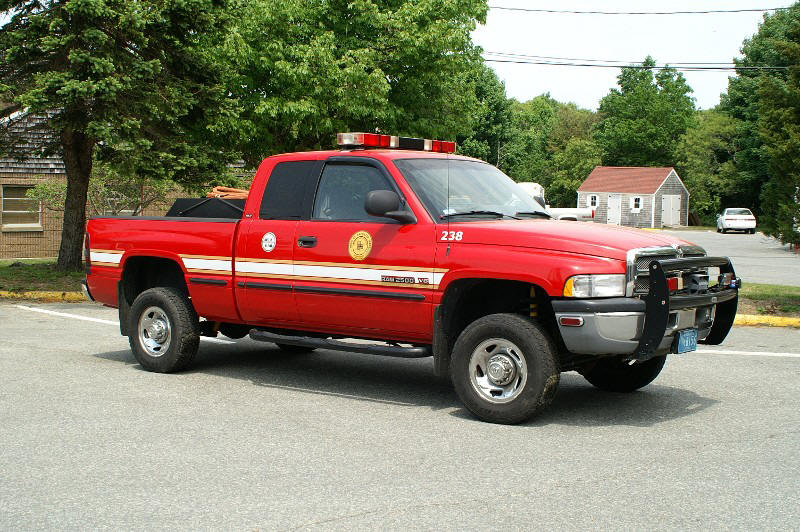 New Forestry 238
The 1999 Dodge Pickup (formerly 230) will become the new F-238
replacing the 1977 Dodge forestry truck. The old F-238 is expected to
go to Cuttyhunk when it becomes surplus from Brewster.
Spring 2007


Brewster New Ladder Truck
New Ladder 237
The bid for the new Brewster Ladder Truck has been awarded to Marion.
Marion recently built the department's new Heavy Rescue Truck.
The new ladder truck, funded with a combination of town and federal grant
funds, will have a Spartan 4 door, six person chassis. It will have a 109'
R.K. 500 lb tip load Aerial ladder with a pre-piped waterway.
The body will be built by Marion. It is expected the truck will be completed
in approximately a year.
February 2006



The 1983 American LaFrance L-237 failed its aerial inspection in 2005.
The truck has served Brewster since it was purchased in 1993 from a
department in New Jersey.
It has been taken out of service as of January 2006 and is not expected
to go back into service. It's replacement will come in approximately 1 year.
Some of the equipment has been placed on other apparatus.
Brewster will be calling for neighboring ladders as needed until
their new ladder arrives.
Feb 2006


Brewster New Car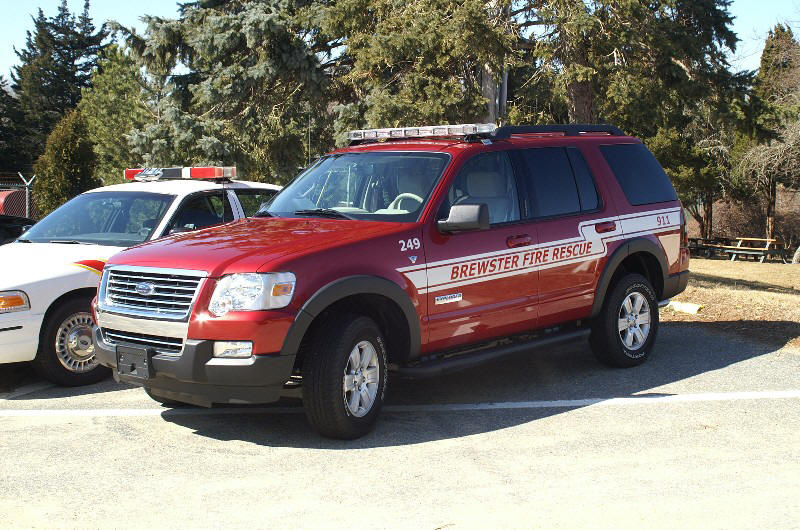 New Car 249
2007 Ford Explorer 4x4
For fire prevention & utility
March 2007

Brewster New Ambulance



New Ambulance 242
2006 Ford E450 / Lifeline Type III Ambulance (EMS 350)
Delivered March 2006
Replaced 1999 Ford / Wheeled Coach Type III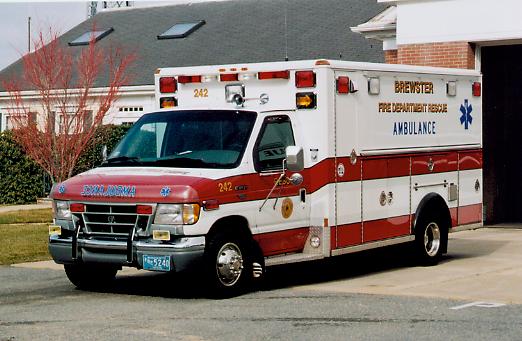 Retired 242
1999 Ford / Wheeled Coach

Brewster New Ambulance



New Ambulance 243
Brewster has placed this 2005 Ford E450 / Lifeline Type III Ambulance
in service as Ambulance 243. Nov 2005.
The ambulance was originally to be a Wheeled Coach, but the vehicle was
rejected when it was delivered for not meeting specs.


Brewster New Heavy Rescue


BREWSTER HEAVY RESCUE 241
2005 Peterbuilt / Marion 20' Walkin Heavy Rescue
250 gpm / 200 gals / 20 foam
30,000w Generator - Lighting tower
4 Bottle 6000 psi Cascade - Jaws of Life - Airbags
Winch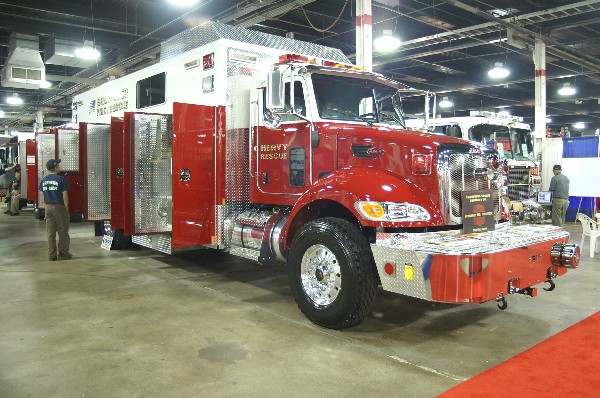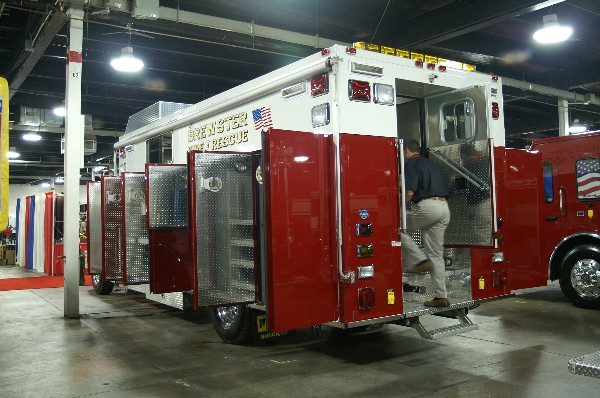 Brewster voters have approved the purchase of a new heavy rescue
truck for Rescue 241. The new truck is expected to be on a Peterbuilt
chassis with a 20' walk-in style body. Marion will build the rescue body.
Expected delivery July 2005.
To Replace this Mack / Salsbury 14' walkin
Brewster's New Breaker - Tanker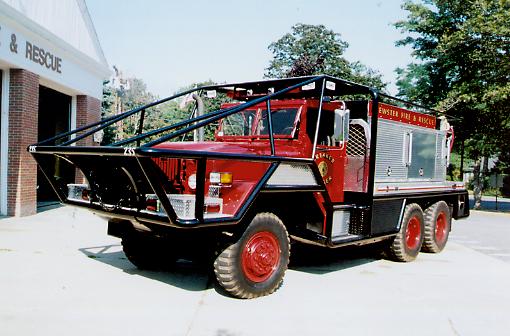 Breaker Tanker 235
1959/1991 Kaiser military 6x6 5 ton / 2002 Greenwood Fire Apparatus
Brush Breaker / Tanker
300 gpm / 1100 gallons / 20 Class A
Winch - 1500 gallon portable tank - Quick dump
The new breaker has dump valves on both sides and rear to enhance
its tanker capabilities.
Diesel - Standard

Deliverd August 2002
Brewster's new breaker started out as surplus military (left). It was prepared for
the project in February 2002 (right). The new breaker replaced a 1964 FWD/
Farrar breaker loaned to BFD by the DEM (that has been returned to DEM).
Brewster previously used 1963 Maxim former county breakers that are both
now retired.
Brewster's New Ambulance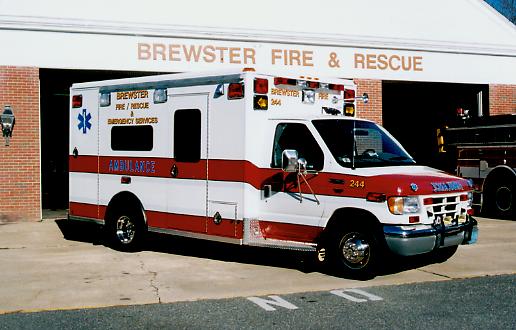 Rescue 244
(EMS 349)
2001 Ford / Wheeled Coach Type III Ambulance
In Service Dec 3, 2001
Brewster Fire Department Car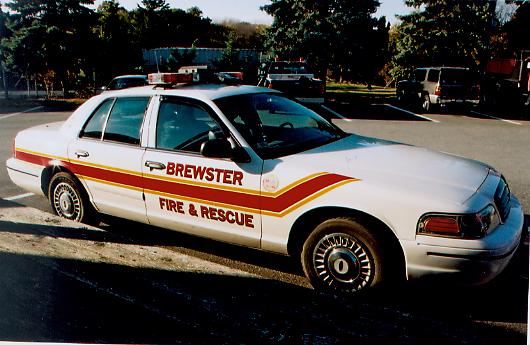 Car 249
2001
Ford LTD Cruiser
Utility car
Brewster Fire Department Pickup
Car 230
1999 Dodge Ram 4x4 Quadcab Pickup Truck