Yarmouth New Engine

Engine 42
2007 Pierce Enforcer Pumper 1500/500 CAFS Pumper
1996 E-One Engine 42 will become Engine 48 in reserve
at the new Station 3.
Delivered Dec 2007


Yarmouth New Car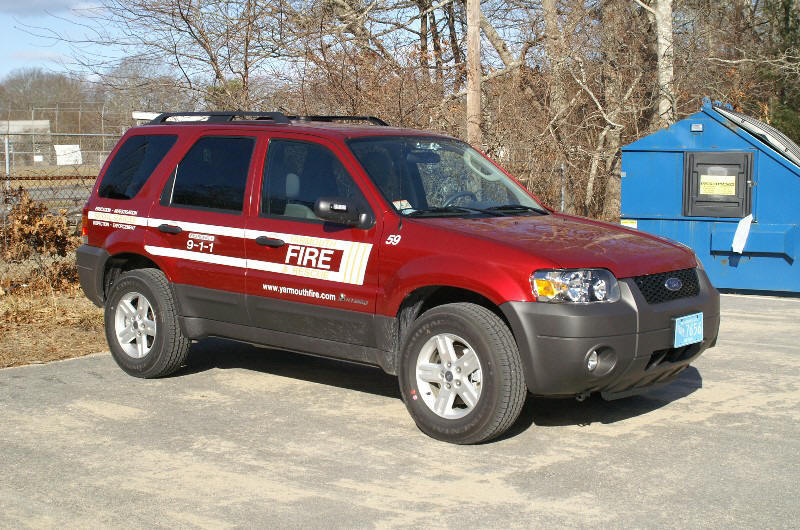 Car 59
2007 Ford Escape Hybrid
Fire Fire Prevention
Feb 2007

Yarmouth New Ambulance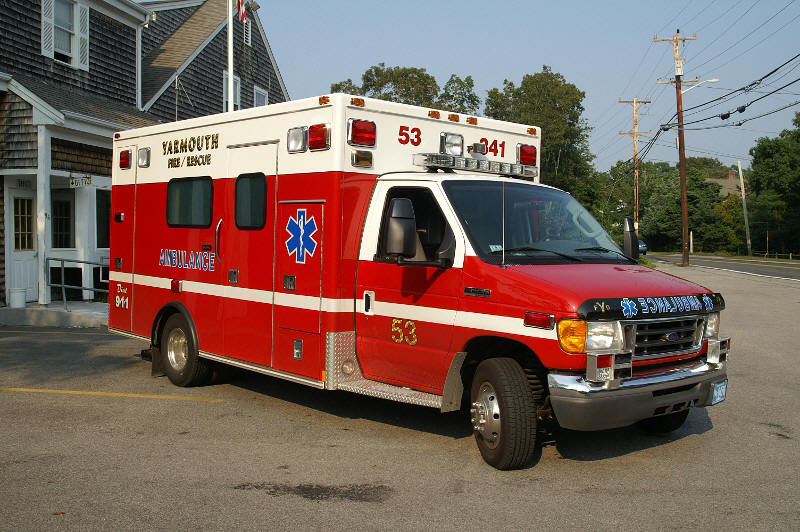 Ambulance 53
2006 Ford E450 / Medtec Type III
Delivered Aug 2006

Yarmouth New Deputy Car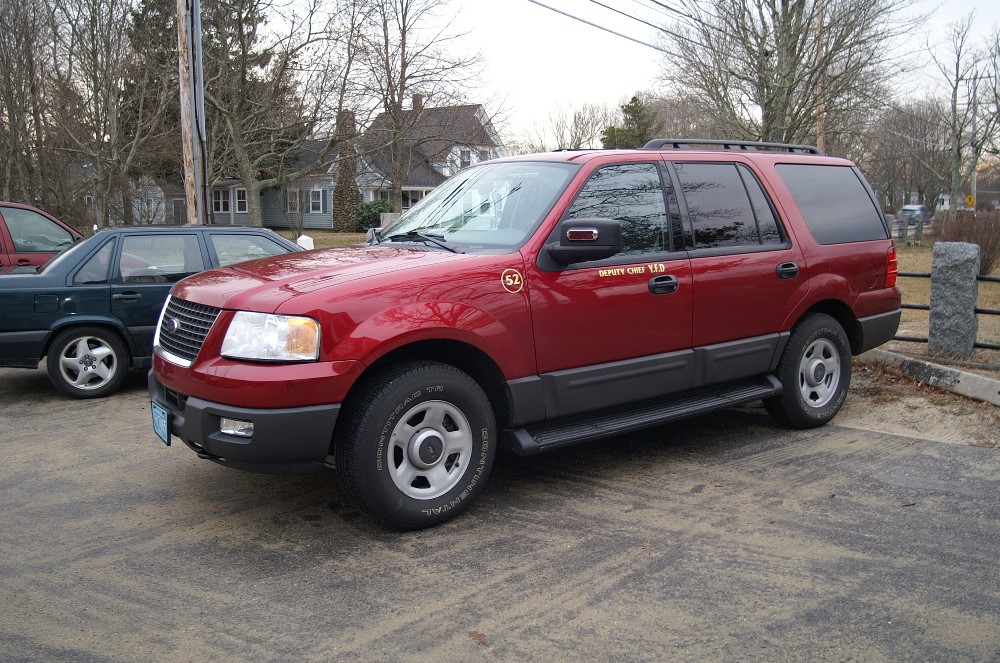 Car 52
2005 Ford Expedition, Deputy Chief Vehicle

Yarmouth New Engine



Engine 45
2005 Pierce Enforcer 1500 gpm. 500 gallon pumper
with a Husky Class A Foam system. The new engine is assigned to
Station 3 as Engine 45.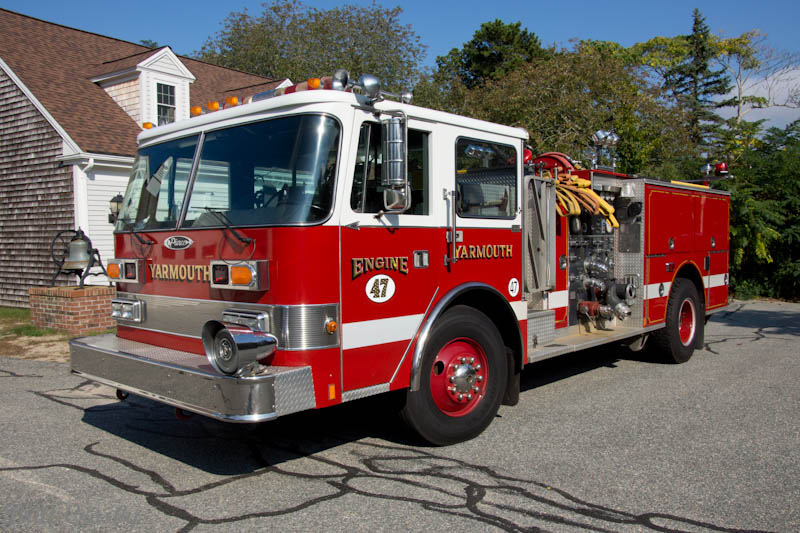 Engine 47
The 1985 Pierce Arrow has been reassigned as Eng 47
at Station 1. The 1975 Maxim F Engine 47 has retired.
Sept 2005


Yarmouth also planning to have (2) roll off containers built to replace the
Technical Rescue / Collapse Trailer and the Spill Control Trailer.
The containers will be larger than the present trailers.
They will be stored at the town DPW yard and transported as needed
by a DPW vehicle. May 2005


Yarmouth Ambulance Accident


Yarmouth Rescue 56
Involved in an MVA in August 2005 on Rte 6A, Yarmouthport.
Out of Service.
(Back in service Dec 2005)


Yarmouth New Jet Ski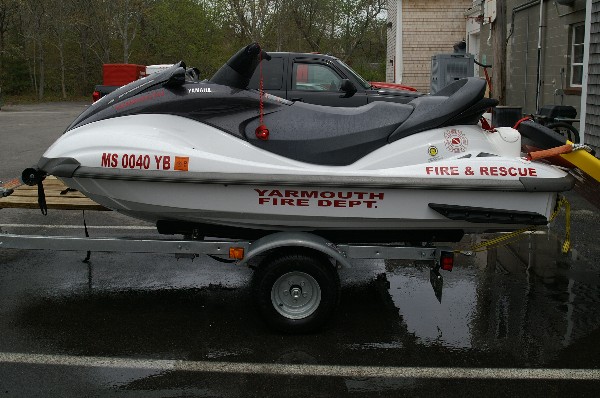 Yarmouth Marine 40-B
2005 Yamaha Jet Ski
In Service June 2005
Replaced Boston Whaler

Yarmouth New Ambulance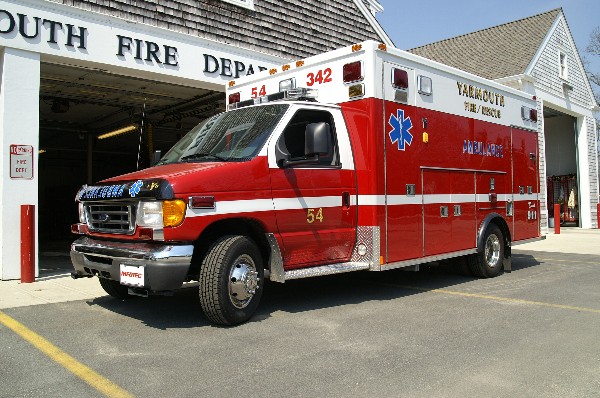 Rescue 54
2005 Ford E450 / Medtec Type III Ambulance
CMED 342
April 2005

Yarmouth New Tower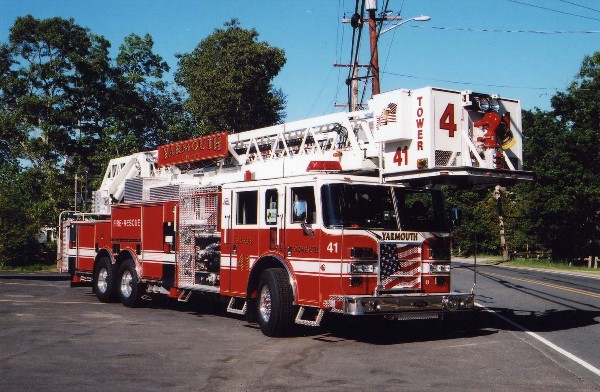 Tower 41
2004 Pierce Dash 2000/300 100' Aerial Tower
Arrived in June 2004
Expected to go in service Aug 2004
Former L-41, 1974 Seagrave sold to Rochester, MA FD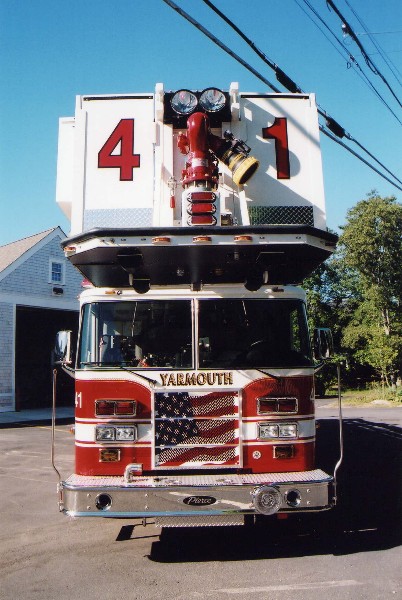 Yarmouth New Rescue


Rescue 56
2004 Ford E450 / Road Rescue Type III Ambulance
EMS 340
4th ambulance in Yarmouth
Assigned to Station 1

Engine Reassigned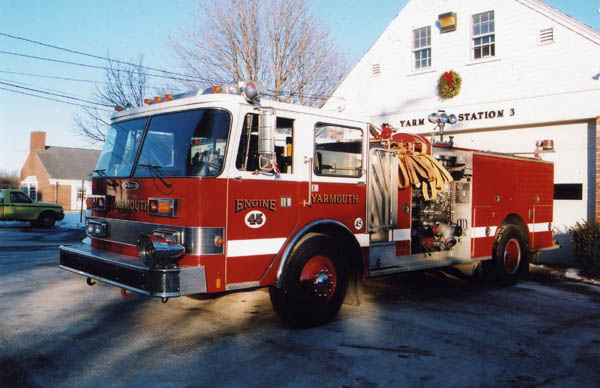 Engine 45
Engine 45 has been reassigned to the newly opened West Yarmouth Station 3.
Rescue 55 is also assigned to Station 3.

Engine 48
With the opening of the West Yarmouth station, the last 'green machine'
in Yarmouth has retired. The 1979 Ford / EOne was one of the first
Emergency One pumpers in the area.
Yarmouth Ladder Truck
A Pierce Tower Quint has been ordered to replace the 1974 Seagrave Aerial.
Yarmouth Engine 45 Refurbished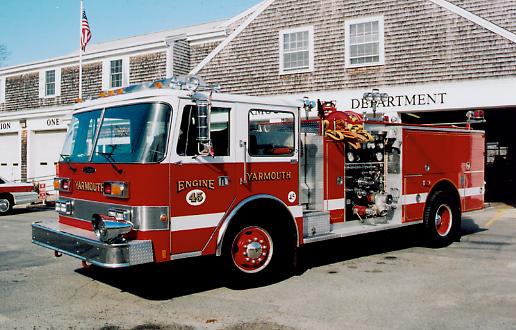 Engine 45
1985 Pierce Arrow 1000 / 500 pumper
Refurbished in 2001.
Runs 2nd due from Station #1.
Yarmouth's "new" Forestry 49
Forestry 49
1986 Chevy 4x4 Pickup
Former military surplus, converted to forestry truck in 2001
Pump and 250 gallon tank taken from F46.
Assigned to Station #2.
Yarmouth's Fire Prevention Vehicle
Car 58
2000 Ford Explorer 4x4 SUV
Fire Prevention Car
Yarmouth's Newest Rescue
Rescue 55
2000 Ford F450 Super Duty / Road Rescue Type III Ambulance
Diesel / Automatic
Similar to the 1997 Ford / E-One Type III R53 and R54.
Yarmouth Fire Department Pickup Truck
Car 57
1999 Ford F250 4x4 Pickup Truck
Utility Vehicle - Headquarters
Yarmouth Rescue Boat
Rescue Boat 1
1999 17 Foot Avon Rigid hull Inflatable Rescue Boat
70 hp Evinrude
At Yarmouth Headquarters
Yarmouth Squad 46
Squad 46
Formerly Forestry 46
1994 Ford F350 4x4 / Fire Resources Squad Truck
250 gallon water tank and pump removed in 2001
Vehicle to carry a Jaws tool, airbags, and other support materials.
Reassigned from Station 2 to Headquarters.