[ HOME ] [ News Page ] [ Barnstable County News ] [ Dukes County Fire News ] [ Plymouth County Fire News ]
[ Aquinnah Fire News ] [ Barnstable Fire News ] [ Barnstable Municipal Airport News ] [ Bourne Fire News ] [ Brewster Fire News ]
[ Cape Cod National Seashore Fire News ] [ Carver Fire News ] [ Carver EMS News ] [ COMM Fire News ] [ Chatham Fire News ]
[ Chilmark Fire News ] [ Cotuit Fire News ] [ DCR District 1 Fire News ] [ DCR District 2 Fire News ] [ Dennis Fire News ] [ Duxbury Fire News ]
[ Eastham Fire News ] [ Edgartown Fire News ] [ Falmouth Fire News ] [ Gosnold Fire News ] [ Harwich Fire News ] [ Hyannis Fire News ]
[ Kingston Fire News ] [ Lakeville Fire News ] [ Marion Fire News ] [ Mashpee Fire News ] [ MMR Fire News ] [ Mattapoisett Fire News ]
[ Middleborough Fire News ] [ Nantucket Fire News ] [ Nantucket Airport Fire News ] [ Oak Bluffs Fire News ] [ Orleans Fire News ]
[ Onset Fire News ] [ Plymouth Fire News ] [ Provincetown Fire News ] [ Rochester Fire News ] [ Sandwich Fire News ]
[ Tisbury Fire News ] [ Truro Fire News ] [ Vineyard Airport Fire News ] [ Wareham Fire News ] [ Wareham EMS News ]
[ Wellfleet Fire News ] [ West Barnstable Fire News ] [ West Tisbury Fire News ] [ Yarmouth Fire News ]

APPARATUS NEWS

WEST TISBURY CAR
WEST TISBURY CAR 710
2018 Chevy Tahoe Fire Chief
June 2021

WEST TISBURY ENGINE
WEST TISBURY ENGINE 722
2018 KME Panther 1250/1000/30/20 Pumper
June 2021

WEST TISBURY ENGINE
WEST TISBURY ENGINE 722
2018 KME Panther
1250/1000
Oct 2018

WEST TISBURY ENGINE
WEST TISBURY ENGINE 721
2015 Freightliner 4x4 / KME Rescue Pumper
1250 / 750 / 30A / 30B
Holmatro Jaws
May 2017


New West Tisbury Breaker


Breaker 731
1972 AM General / 1998 V-Tech Brush Breaker
State DCR Breaker 6 has been reassigned to West Tisbury
in place of the 1992 International / Murphy that has been there
since 1998. June 2007

New West Tisbury Breaker

Breaker 732
2006 Sterling / EJ Murphy
300 gpm / 650 gal / 20 Class A foam pro system
Went in service Oct 2006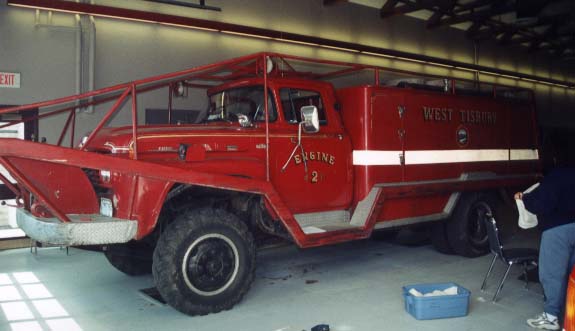 1959 Breaker to be replaced
West Tisbury is presently having a new brush breaker built.
It will be a 2006 Sterling / EJ Murphy
300 / 500 / Class A foam
Expected to be ready for June Chiefs Show in Springfield

Update 9/17/06
New Breaker still not delivered. Expected late Sept/Early Oct 2006.
The new Breaker to be on a large Sterling chassis with work done
by EJ Murphy. Expected to carry 750 gallons with class A foam.



New West Tisbury Tanker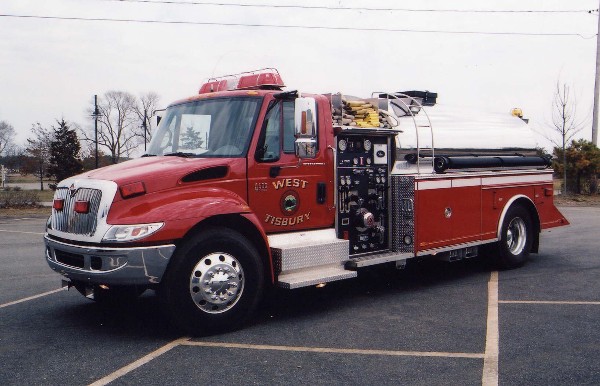 West Tisbury now operates two of these International / U.S. Tanker trucks.
T-734 is a 2003 with a 1250 gpm pump and 2100 gallon tank.
April 2004 photo
West Tisbury Fire Department's New Tanker
West Tisbury Tanker 733
2000 International 4900 / USA Tanker Apparatus Tanker
1250 gpm / 3500 gallons
Assigned to now West Tisbury Station 2.
Placed in service Winter 2001
West Tisbury Ambulance

West Tisbury - Tri-Town Ambulance Whiskey 90 - EMS 384
2001 Ford / Lifeline
June 2006 photo
STATION NEWS
New West Tisbury Station 2
April 28, 2001
West Tisbury (Martha's Vineyard) Fire Department's recently opened fire station on State Road
in the northern part of town. The spacious station houses Engine 722, Breaker 732, Tanker 733,
and Tri-Town Ambulance Whiskey 90.
The old West Tisbury Fire Station which was replaced by the new station.
[ HOME ] [ News Page ] [ Barnstable County News ] [ Dukes County Fire News ] [ Plymouth County Fire News ]
[ Aquinnah Fire News ] [ Barnstable Fire News ] [ Barnstable Municipal Airport News ] [ Bourne Fire News ] [ Brewster Fire News ]
[ Cape Cod National Seashore Fire News ] [ Carver Fire News ] [ Carver EMS News ] [ COMM Fire News ] [ Chatham Fire News ]
[ Chilmark Fire News ] [ Cotuit Fire News ] [ DCR District 1 Fire News ] [ DCR District 2 Fire News ] [ Dennis Fire News ] [ Duxbury Fire News ]
[ Eastham Fire News ] [ Edgartown Fire News ] [ Falmouth Fire News ] [ Gosnold Fire News ] [ Harwich Fire News ] [ Hyannis Fire News ]
[ Kingston Fire News ] [ Lakeville Fire News ] [ Marion Fire News ] [ Mashpee Fire News ] [ MMR Fire News ] [ Mattapoisett Fire News ]
[ Middleborough Fire News ] [ Nantucket Fire News ] [ Nantucket Airport Fire News ] [ Oak Bluffs Fire News ] [ Orleans Fire News ]
[ Onset Fire News ] [ Plymouth Fire News ] [ Provincetown Fire News ] [ Rochester Fire News ] [ Sandwich Fire News ]
[ Tisbury Fire News ] [ Truro Fire News ] [ Vineyard Airport Fire News ] [ Wareham Fire News ] [ Wareham EMS News ]
[ Wellfleet Fire News ] [ West Barnstable Fire News ] [ West Tisbury Fire News ] [ Yarmouth Fire News ]
[ TOP ]
CapeCodFD.com