West Barnstable Fire Department
Training Exercise
June 8 - 9, 2002
Photos Britton W Crosby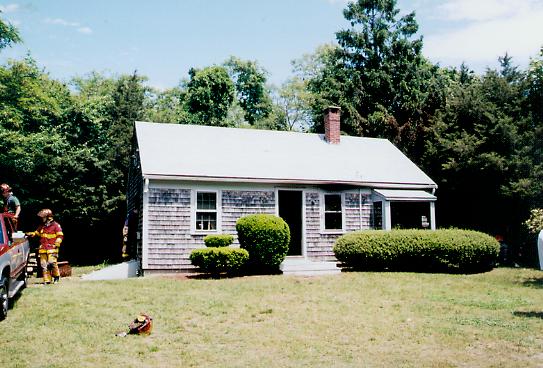 West Barnstable Fire Department recently took delivery of a new fire engine.
On Saturday and Sunday June 8-9, 2002, the WBFD put Engine 294 to work
using its new Compressed Air Foam System during numerous attack evolutions
prior to "the big burn" on Sunday afternoon. This house located on Parker Road
just off of Route 6A needed to be torn down and firefighters were fortunate to
have the opportunity for some live fire action to practice with the new pumper.
Engine Tanker 296 dumps its 3,000 gallons into the portable tank for Engine 294 to draft
from during the exercise. West Barnstable does not have a municipal water system.
WBFD firefighters apply compressed air foam to the exposures around
the house prior to lighting fires on Sunday.
Firefighters stand ready as the bedroom becomes involved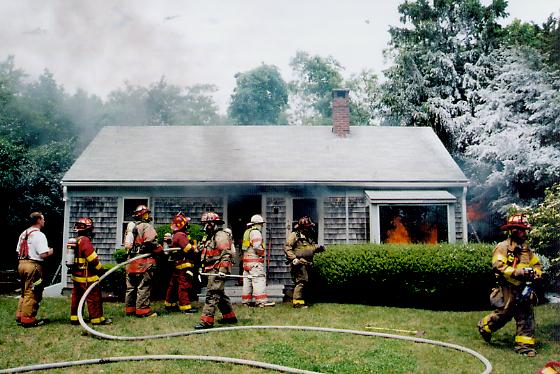 Another evolution involved the living room
Foam can be seen splashing the interior as the fire is quickly knocked down.
Crews standby as the building is ignited for the big one
that will take the building to the ground.
A quick opportunity for group pictures as the heat gets intense.
The interior is soon fully involved as firefighters continue to standby ready to protect
exposures and see what the foam will do on a fully involved structure.
A crew makes an exterior attack using foam.
The attack is successful and fire darkens quickly.
The attack is discontinued and the fire continues to burn.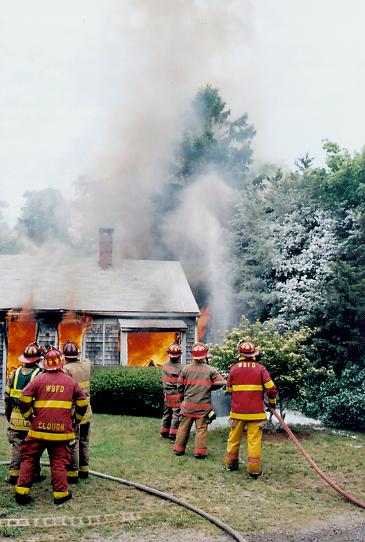 Compressed foam is applied again to the trees surrounding the
house as the radiant heat increases.
Interior is fully involved and fire is showing on side 4.
Chief John Jenkins (left), Deputy Craig Pye (center), and the West Barnstable Fire Department.