West Barnstable, Massachusetts
2 Simultaneous Multiple Alarm Structure Fires
- Both Suspicious -
First Fire @ 1847 hrs, 132 Packet Landing
Second Fire @ 1859 hrs, 2346 Meeting house Way (Rte.149)
11 May 2002 - Page 1 of 5
Photos and text by Britton W Crosby
The second of two multiple alarm fires occurred in this barn at 2346 Meetinghouse Way (Rte.149)
in West Barnstable at 1859 hours. First line being stretched by crew of ET296. Civilians were
able to rescue at least 6 horses from the barn before firefighters arrived.
Crew of ET296 preparing to attack fire.
Side 1 entrance to barn.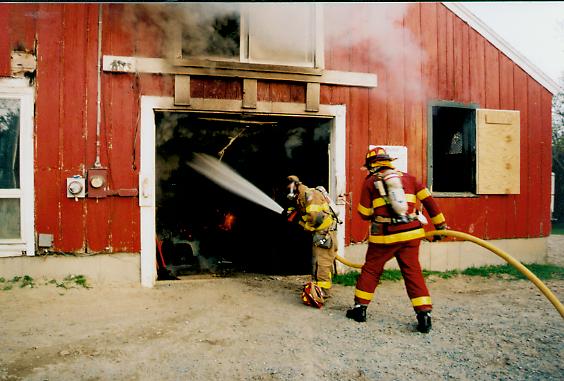 First water on fire making some progress.
The barn was approximately 100' x 50'. Interior attack underway.
Corner of Side 1/4 shown.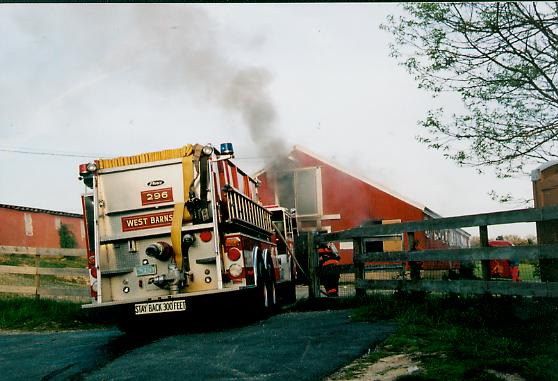 Engine -Tanker 296 was redirected to this fire while originally having been dispatched to the
first fire at 1847 hours on Packet Landing, less than a mile beyond this fire.
1847 hrs...........1st Alarm for 1st fire @ 132 Packet Landing
1855 hrs...........Smoke showing at Packets Landing Fire.
1859 hrs...........Second Fire reported, 2346 Meetinghouse Way.
1902 hrs...........2nd & 3rd Alarms Transmitted for District 2
1910 hrs...........Tanker Strike Force from Plymouth County called.
2230 hrs............Fires under control