CapeCodFD.com
ON THE ROAD AGAIN!
FALL CROSS COUNTRY TRIP 2016
September 2, 2016 - October 27, 2016
7 - OUR GREAT CROSS COUNTRY TRIP 2016
[INDEX]
[Week 1] [Week 2] [Week 3] [Week 4] [Week 5] [Week 6] [Week 7] [Week 8]
[Day 43] [Day 44] [Day 45] [Day 46] [Day 47] [Day 48] [Day 49]
WEEK 7
DAY 46
DAY 46 - OCT 17 - MONDAY
If we had a little more time, playing on Lake Powell would have been worth it. You can rent a boat and explore amazing places. Unfortunately, we need to keep moving, so it is off to New Mexico.

We left the campground at Lake Powell and visited the marina at Wahweap. Found the fireboat I was looking for and kept going across the desert, through beautiful country, and into New Mexico.

We visited Robyn's sister in Chama, NM for Night 46.

STATES: AZ, NM - (2) States today / (25) different States & (4) Provinces so far
DISTANCE: 343 miles for the Day / 8,989 miles for the Trip so far
FIREBOATS: (90) Lake Powell / Glen Canyon NRA Fireboat "The Chief"
The campground overlooking Lake Powell. Nice place to start the day.
Perhaps the biggest boat ramp I've ever seen.
Wahweap Marina
The National Park Service operates the fireboat "The Chief" on Lake Powell.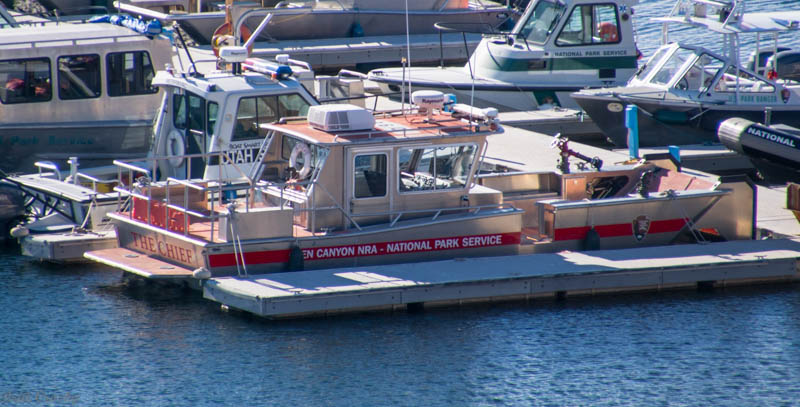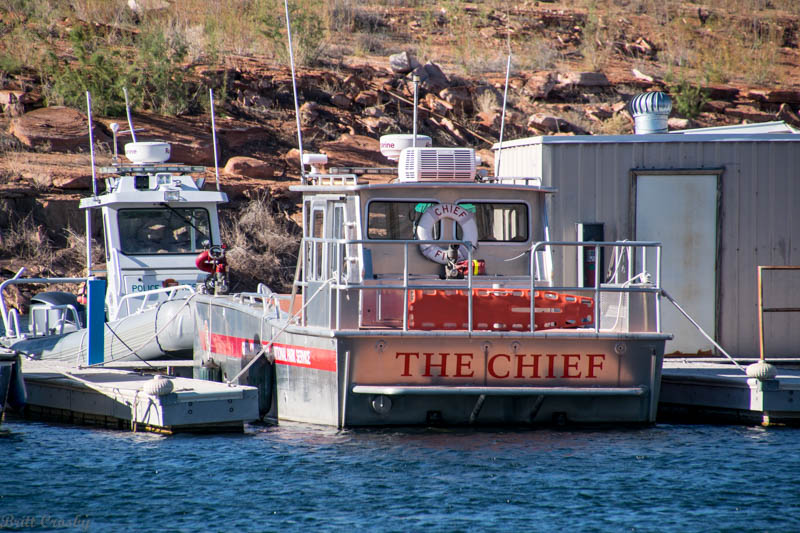 Shiprock, NM
WEEK 1
[Day 1] [Day 2] [Day 3] [Day 4] [Day 5] [Day 6] [Day 7]

WEEK 2
[Day 8] [Day 9] [Day 10] [Day 11] [Day 12] [Day 13] [Day 14]
WEEK 3
[Day 15] [Day 16] [Day 17] [Day 18] [Day 19] [Day 20] [Day 21]
WEEK 4
[Day 22] [Day 23] [Day 24] [Day 25] [Day 26] [Day 27] [Day 28]
WEEK 5
[Day 29] [Day 30] [Day 31] [Day 32] [Day 33] [Day 34] [Day 35]
WEEK 6
[Day 36] [Day 37] [Day 38] [Day 39] [Day 40] [Day 41] [Day 42]
WEEK 7
[Day 43] [Day 44] [Day 45] [Day 46] [Day 47] [Day 48] [Day 49]
WEEK 8
[Day 50] [Day 51] [Day 52] [Day 53] [Day 54] [Day 55] [Day 56]
CapeCodFD.com
2016