DAY 19 - SEPT 20 - TUESDAY
Today would be an important day. We left Pasco in southeastern Washington and drove northwest on I-82 and I-90 towards Seattle. Along the way we made a stop in Yakima and then transitioned from the high desert climate thru the mountains and a long decent through the tall evergreen Snoqualmie pass coming into the Seattle area.

We arrived at Robyn's sister's place in Bellevue where we would "camp" for the next few days while visiting the Pacific northwest. Once we got settled, we got a rental car, and I headed off into Seattle to find the fireboats. Seattle has an amazing congested waterfront and is surrounded by both fresh and salt water. At least four fireboats protect the area. We found them and got some photos while also experiencing some of the "no one is moving" traffic jams of late afternoon.

Night 19 in the camper at Bellevue, WA

STATES: WA - (1) State for the day / (20) different States and (4) Provinces so far
DISTANCE: 220 miles for the Day / 5912 miles for Trip so far
FIREBOATS: Seattle boats (15) "Chief Seattle" (16) "Fireboat 1" (17) "Leschi" (18) "Fireboat 2"
Yakima, WA Fire Station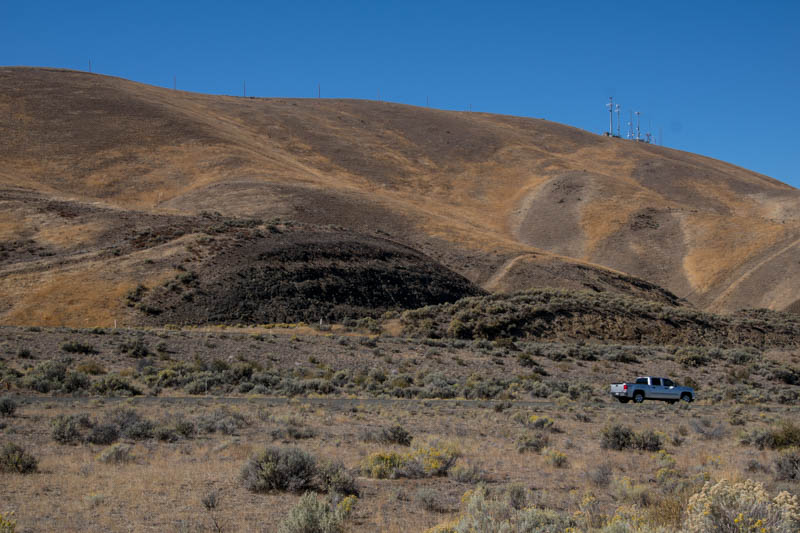 Central Washington has a high desert climate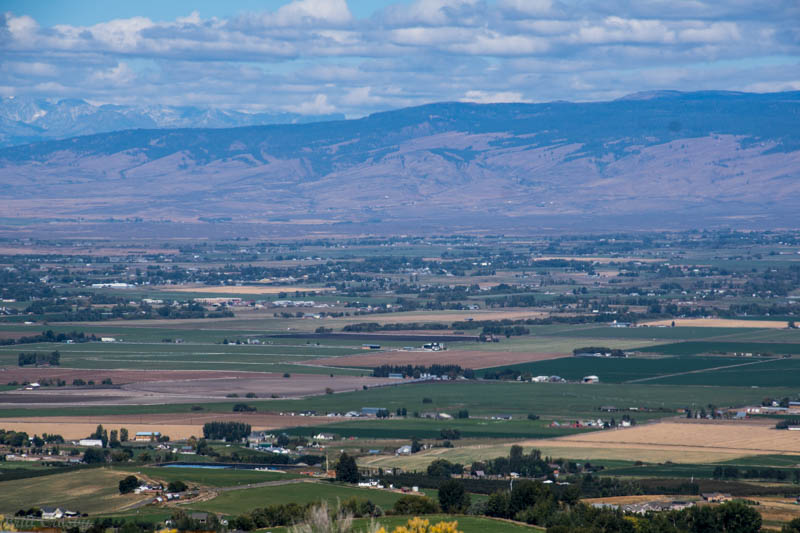 The decent down through the I-90 Snoqualmie Pass towards Seattle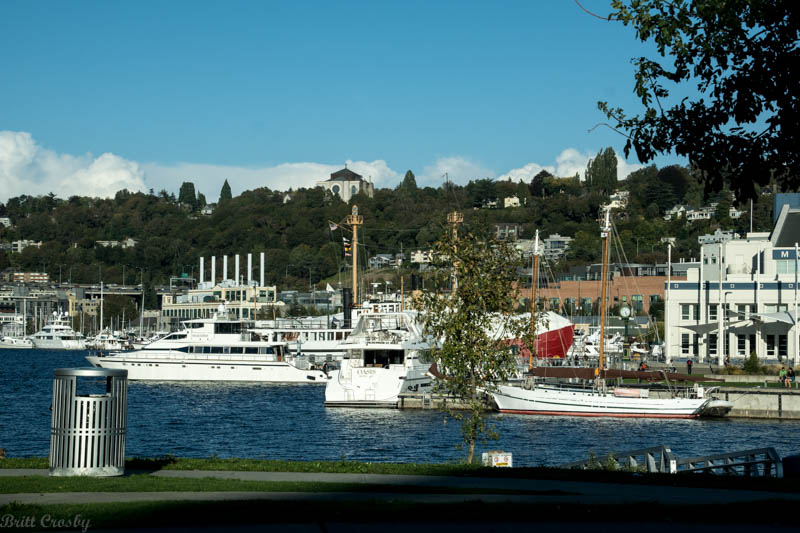 After renting a car, we headed for the Seattle waterfront
Seattle has at least two Fireboat stations.
The "Chief Seattle" and "Fireboat 1" are docked at Fisherman's Terminal
about midway between two sets of locks which connect the fresh water
Lake Washington with the salt water of Puget Sound.
These boats have primary responsibility for the fresh water areas surrounding Seattle.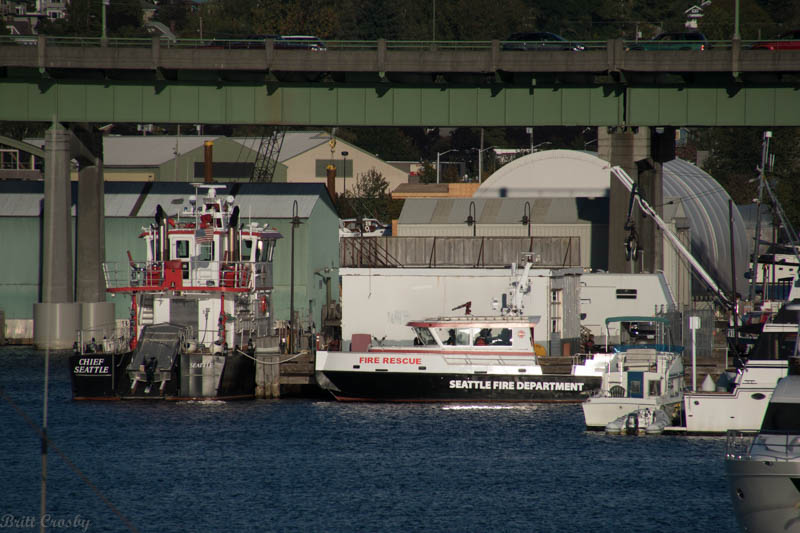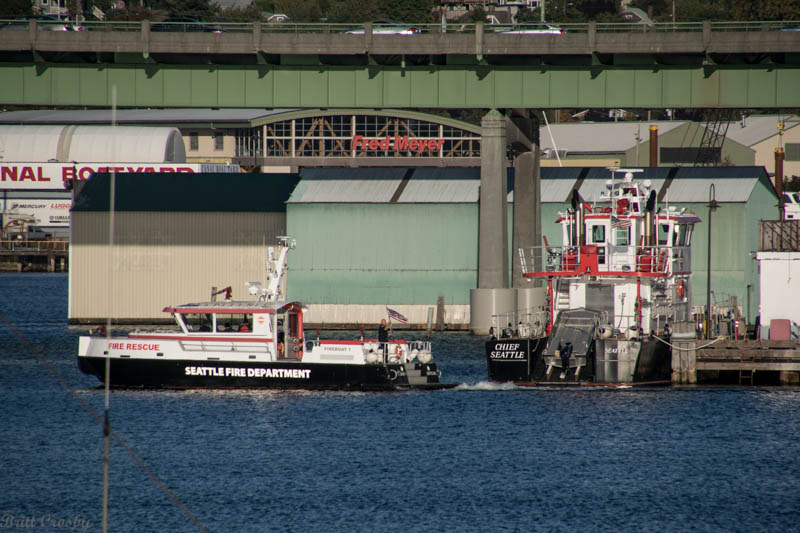 Fireboat 1 was dispatched to a boat overturned in Lake Washington
but was soon returned when everyone was reported to be safe.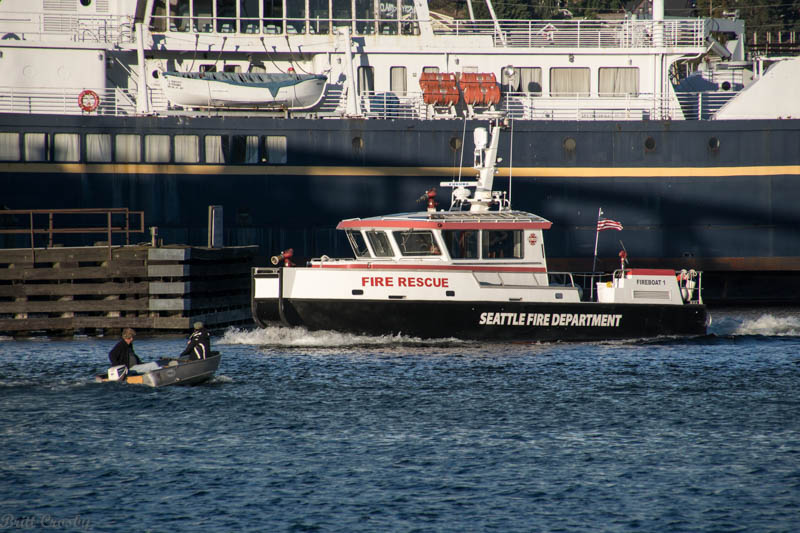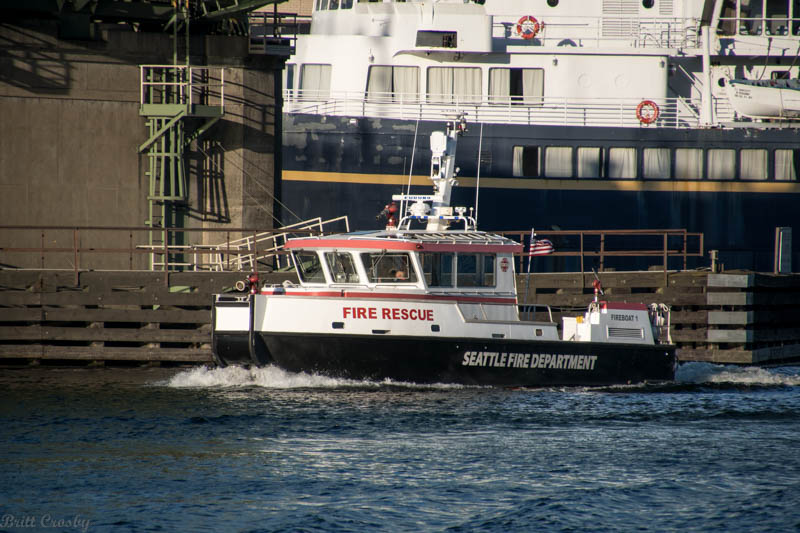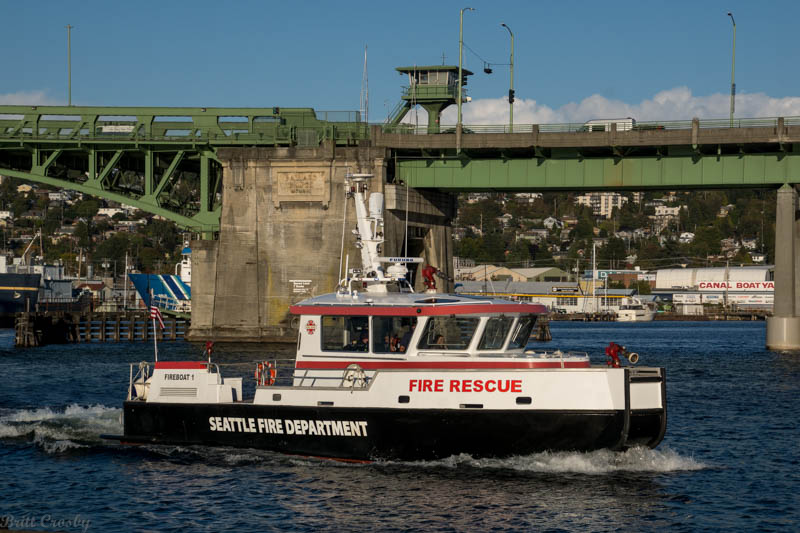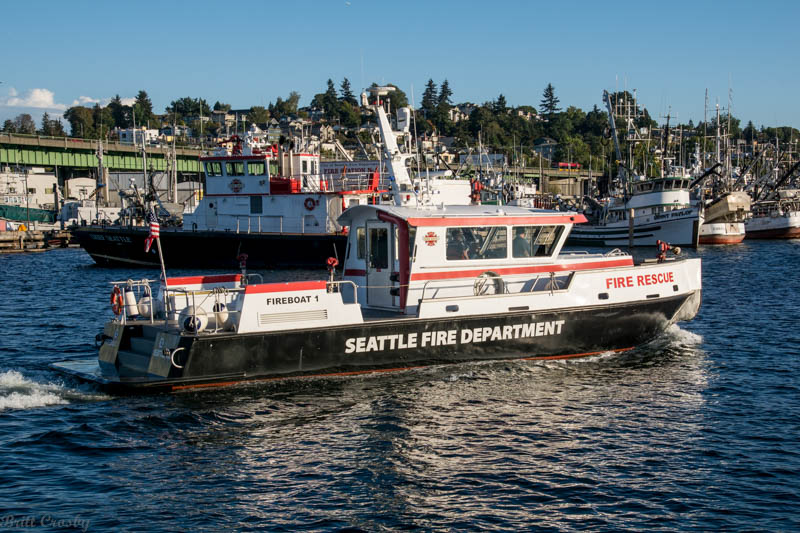 Seattle's Fireboat 1 is a 50' "fast boat" built by MetalCraft in 2006.
It can pump 6000 gpm. A similar vessel was built for Seattle's Fireboat 2
in 2014 and is assigned to the other fireboat station.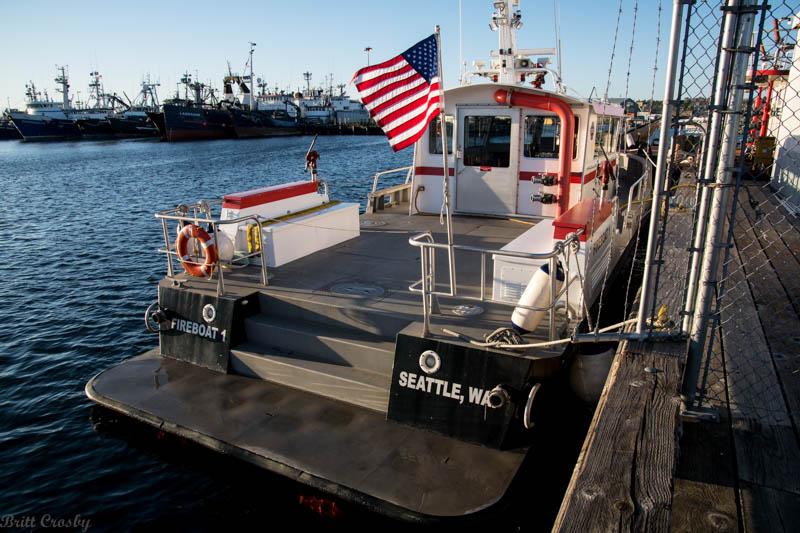 The "Chief Seattle" is a 96' long large fireboat built in 1983.
It was completely refurbished in 2013. The pumps are capable
of about 10,000 gpm. It is docked with Fireboat 1 at Fisherman's Terminal.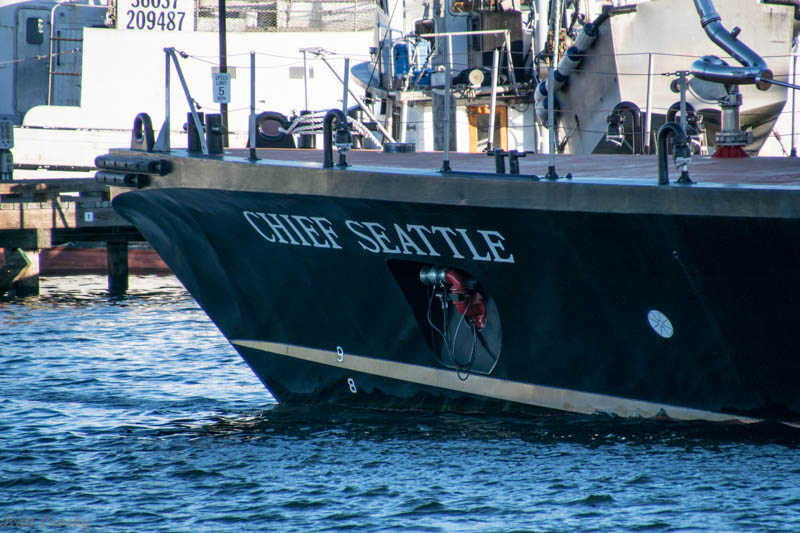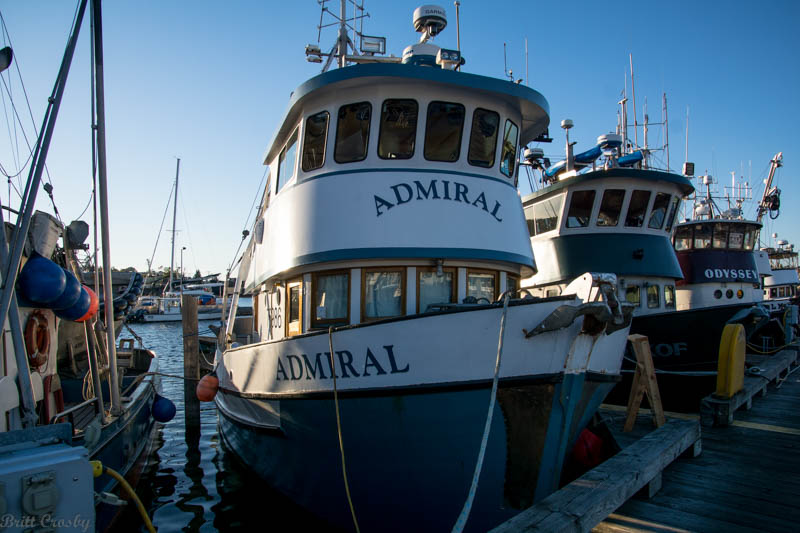 Some of the fishing boats at Fisherman's Terminal
Seattle Fire Station 20
The salt-water side of Seattle is protected by these two fireboats.
The large "Leschi" and fast boat "Fireboat 2" are normally docked
at Station 5 downtown by the ferry terminals on Alaskan Way. That
station and section of the waterfront are under renovation so these two
vessels are temporarily docked at the cruise ship piers at Smith Bay.
The "Leschi" is Seattle's largest fireboat.
Built in 2007, the 108' vessel can pump over 22,000 gpm.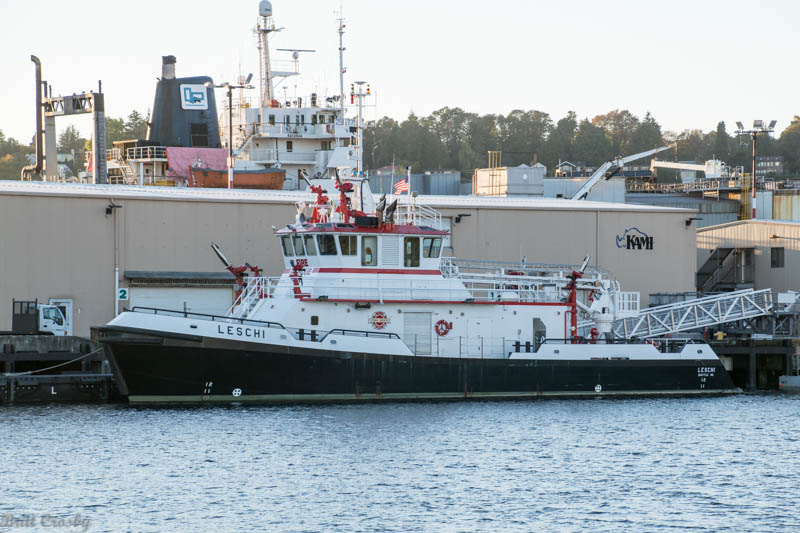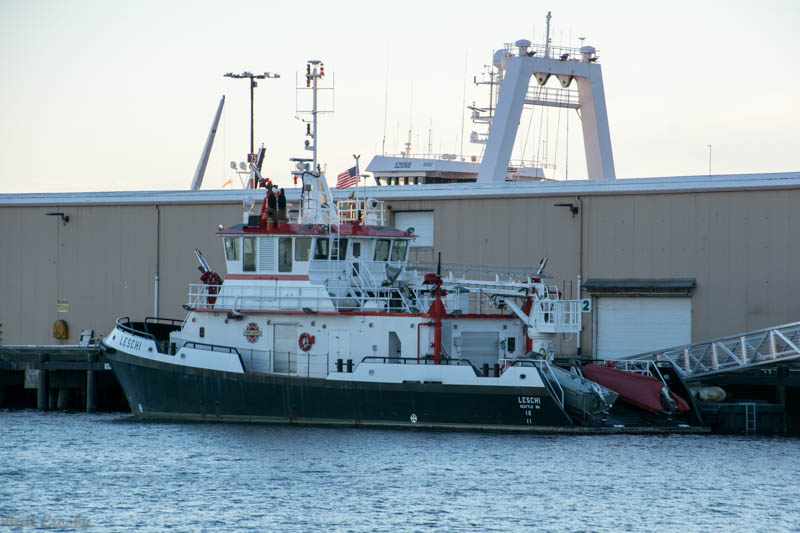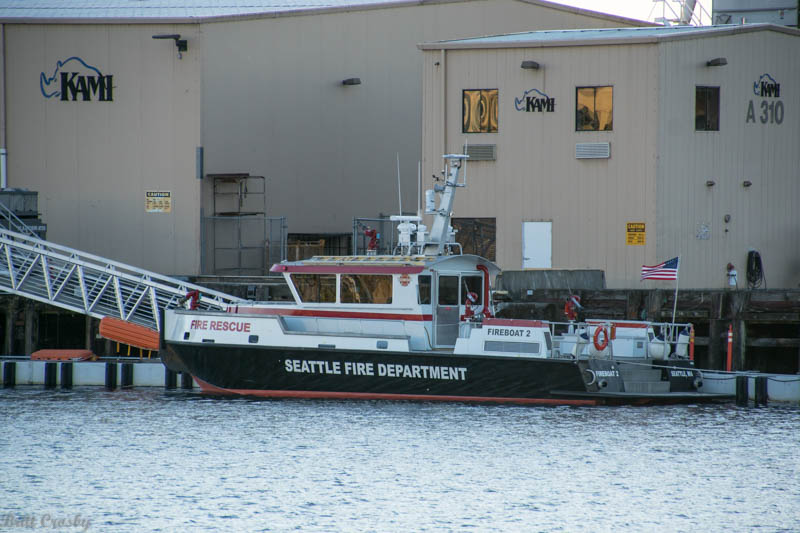 Fireboat 2 was built in 2014 and is nearly identical to Fireboat 1
at 50' in length and pumping about 7,500 gpm.
Looking back at the Seattle skyline from a point near the cruise ship terminal.
Both of Seattle's stadiums are down along the waterfront.
The NFL Seattle Seahawks play here at CenturyLink Field.
To the right is the MLB Seattle Mariner's Safeco Field.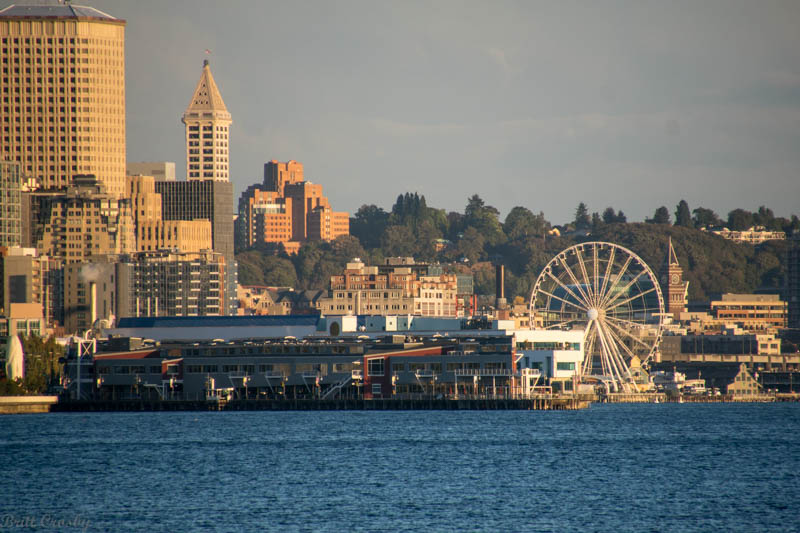 The fire department and police department's smaller boats are located along the waterfront
near the busy downtown.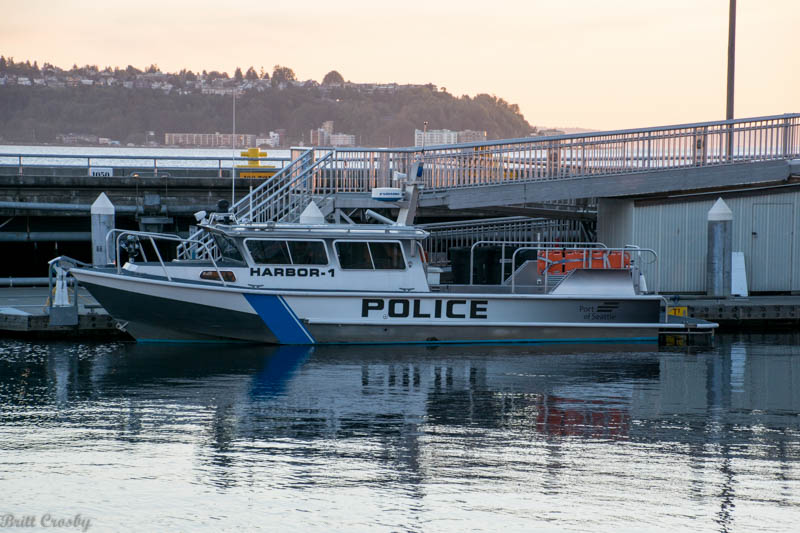 Looking off to the west of Seattle is the Olympic National Park.
The cloud formations over the mountains make for a spectacular sunset.
The sunset lights up more clouds to the east of Seattle
WEEK 1
[Day 1] [Day 2] [Day 3] [Day 4] [Day 5] [Day 6] [Day 7]

WEEK 2
[Day 8] [Day 9] [Day 10] [Day 11] [Day 12] [Day 13] [Day 14]
WEEK 3
[Day 15] [Day 16] [Day 17] [Day 18] [Day 19] [Day 20] [Day 21]
WEEK 4
[Day 22] [Day 23] [Day 24] [Day 25] [Day 26] [Day 27] [Day 28]
WEEK 5
[Day 29] [Day 30] [Day 31] [Day 32] [Day 33] [Day 34] [Day 35]
WEEK 6
[Day 36] [Day 37] [Day 38] [Day 39] [Day 40] [Day 41] [Day 42]
WEEK 7
[Day 43] [Day 44] [Day 45] [Day 46] [Day 47] [Day 48] [Day 49]
WEEK 8
[Day 50] [Day 51] [Day 52] [Day 53] [Day 54] [Day 55] [Day 56]
CapeCodFD.com
2016