DAY 8 - SEPT 9- FRIDAY
About a hundred miles or so north of Minneapolis is a place called Crosby, Minnesota. When we found that on the map, we just had to go there. We left camp at Medina, MN and headed north up Route 169, past Mille Lacs Lake and up Route 6 into the community of Crosby.

What a great little town! Nearly everything had the name on it. Researching online had revealed there is a banner with the Crosby name on it hanging over a street. Sure enough we found it. Got the pictures. The banner has a Serpent on it, which we learned was because Crosby is located on the edge of Serpent Lake. We even found the Serpent itself in the Crosby Park on the lakeshore.

Obviously we were there looking for the Crosby Fire Department, hoping to photograph it and the apparatus. How cool would that be?! Sure enough, at the corner of 1st St NW and 1st Ave NW, one block off the Main St., was the Crosby Fire Station! We knocked on the door and got no answer. It was one of those stations, while fairly good size, that did not have windows in the doors, so it was impossible to see the trucks inside. It was obviously a volunteer fire department, so we drove around a little bit in hopes of finding someone who might know someone at the FD.

We found Crosby everything... the Park, dry cleaners, antique shop, post office, police department, and even the water tank. Driving around a little, we came across the Crosby "city hall" and knew we were now in luck. They would know someone at the fire department. They were all very nice, but unfortunately, it was lunch time and unfortunately even they had no luck finding someone to meet us at the station.

Plan B, let's go back to the fire station, maybe someone does lunch there. We parked the camper out front of the station, took a few photos, and made sandwiches while we waited for someone to come by and see what we needed.

After a little while, a nice lady named Joan, who lived next door to the station, came over to see what we were up to. We had a very nice talk with her and she offered to take some pictures of us in front of the station that bore our name. Before long, she went back to her home and returned with her own camera. She said she sometimes submits pictures to the local newspaper and thought our story might be interesting. She took a few pictures and we thanked her.

Well, unfortunately, after giving it a couple hours, no one showed ever up. Out of luck and disappointed, we left the little town of Crosby, Minnesota behind and made our way west on Route 210 and then south on Route 371 towards St. Cloud.

Many times we don't know exactly where we are going to end up for the night, so it can be hard to make reservations at campgrounds. Usually that is no big deal and we get a site. The first campground we stopped at it the St Cloud area had "no sites!" Oh oh. That is not what we wanted to hear after a fairly long day on the road. But, this is Minnesota and the folks out here are real nice. They suggested an alternative campground not far away that had an opening.

We spent Night 8 in a campground at Clearwater, MN just outside St. Cloud.

STATES TODAY: MN - (1) State for the day / (14) different States so far
DISTANCE: 206 miles for the Day / 2390 miles for the Trip so far
FIREBOATS: (12) so far
Minnesota is known as the "Land of 10,000 lakes." There are actually apparently more that
11,800 lakes, 10 acres of more in size, and many more smaller, in this beautiful state.
This one is known as Mille Locs Lake. It is over 132,000 acres in size with a maximum
depth of about 42 feet. Apparently a good fishing lake from what the locals indicated.

Garrison, MN fire station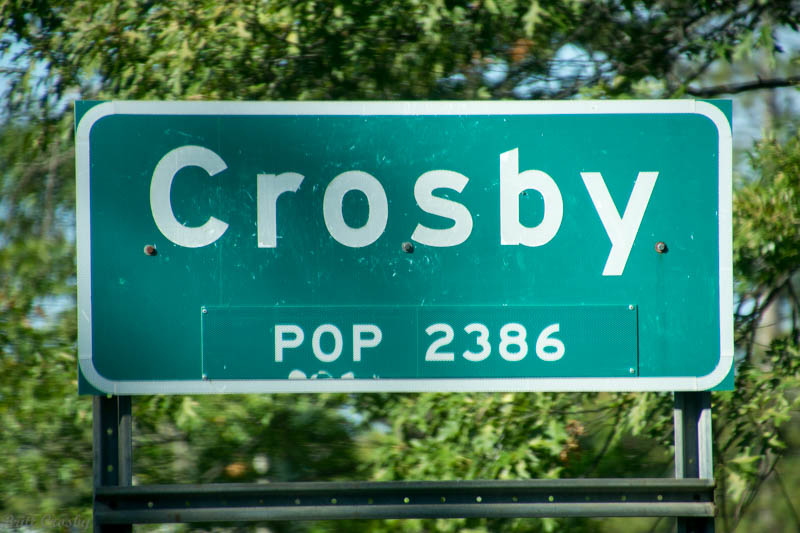 Crosby, Minnesota.... pop 2386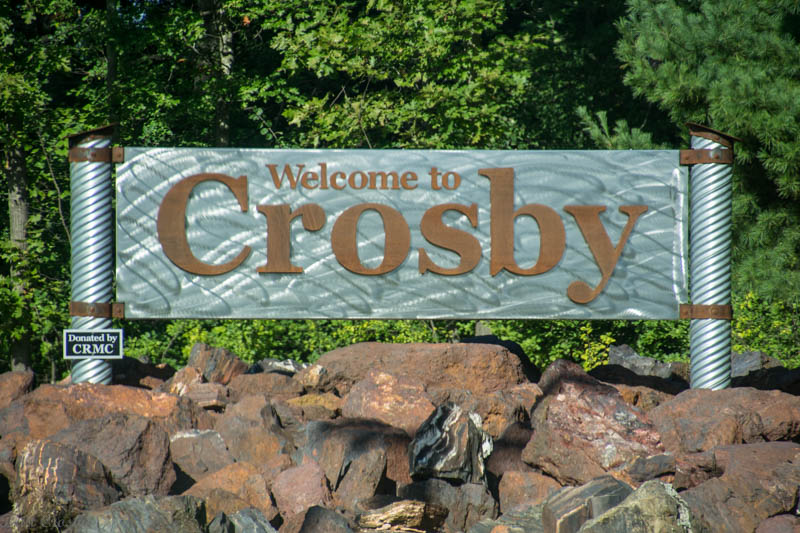 Welcome!
Main Street, Crosby
We found the Crosby banner over the street.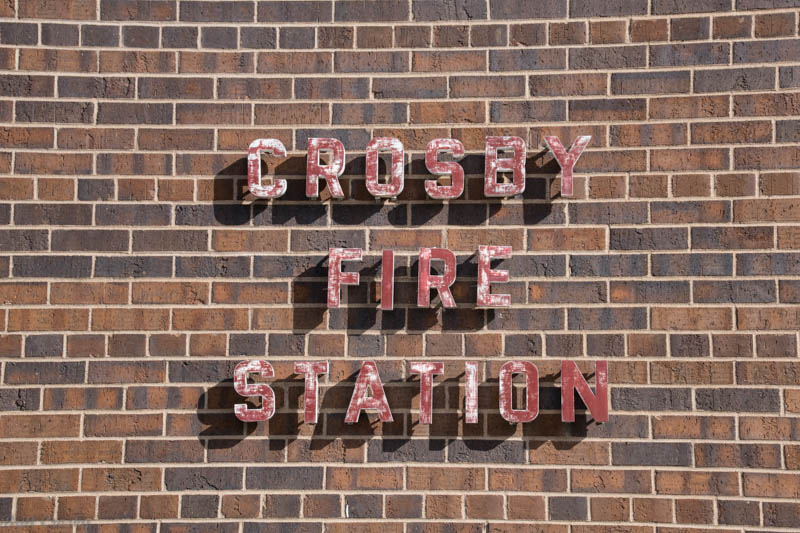 Of course we looked for and found the Crosby Fire Station,
at the corner of 1st St NW and 1st Ave NW.
Photo opportunity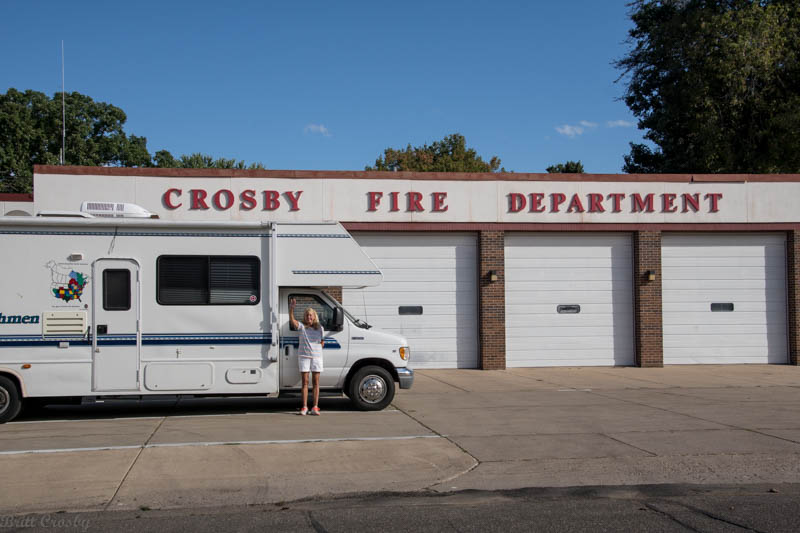 We hung around a little while hoping someone would come by....
Its a volunteer fire department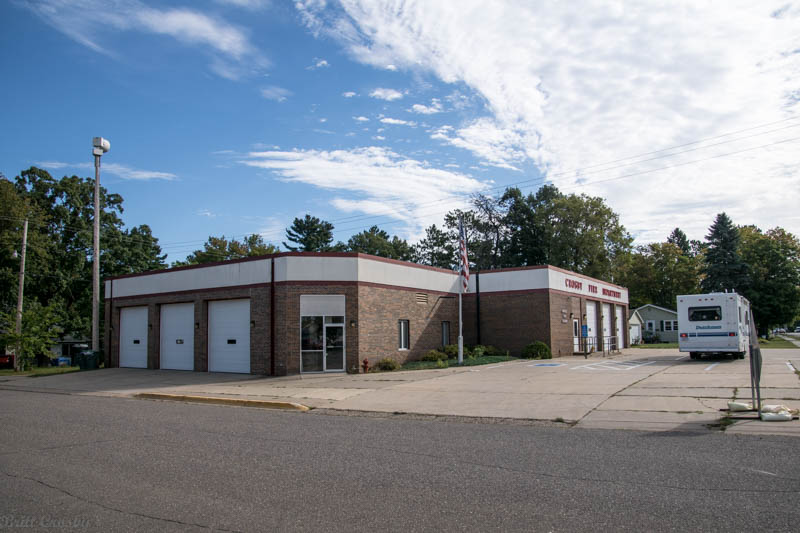 A nice lady who lived next door came out to see what all the commotion was about...
with us parked and waiting and all. When we explained our relationship to the name
of the community and the fact that we spent our careers in the fire department she got it.

She offered to take our picture which we appreciated.
Then she got her own camera and took a few shots of us to submit to the local newspaper.
Apparently we were somewhat of a big story, having the same name as the town and coming
all this way to see their fire department. We traded emails and stuff in hopes of seeing
the story if it made the paper.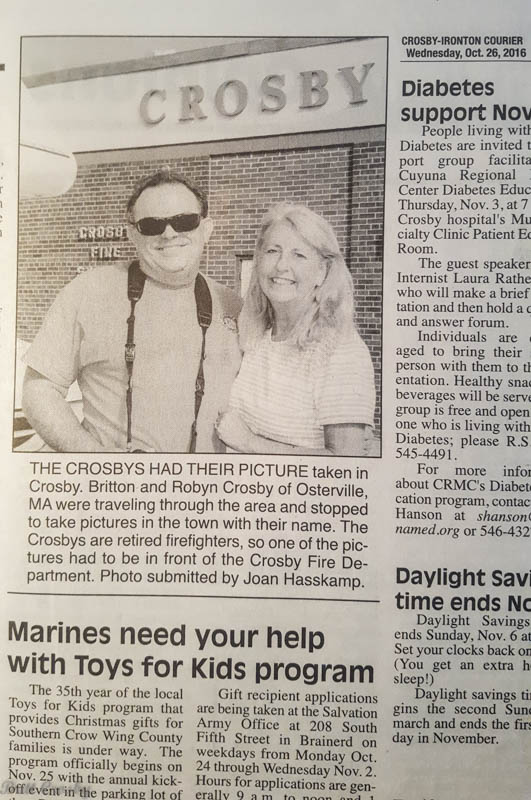 Sure enough, we made the Crosby-Ironton Courier newspaper
October 26, 2016 edition.

Our 15 minutes of fame in the middle of Minnesota.
(Is that like 7.5 minutes each, or did we get a full half hour?)
Thank you Joan for sending us the newspaper clipping!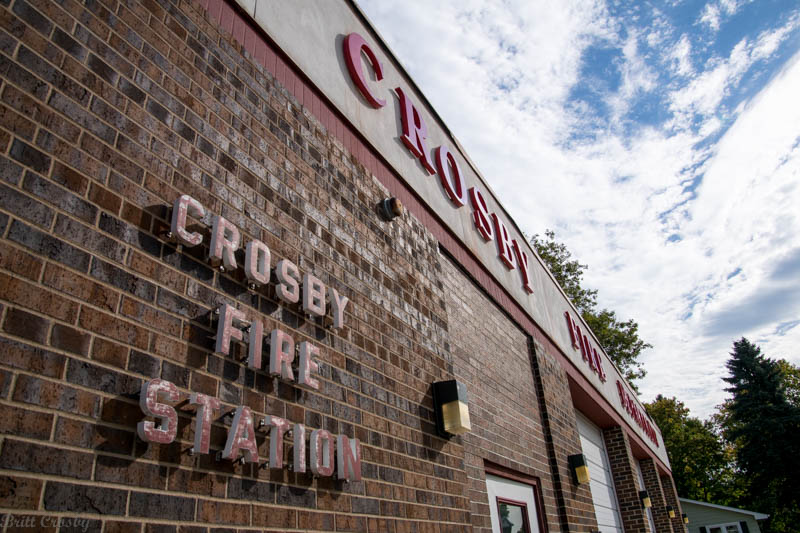 These might have been fire apparatus at one time.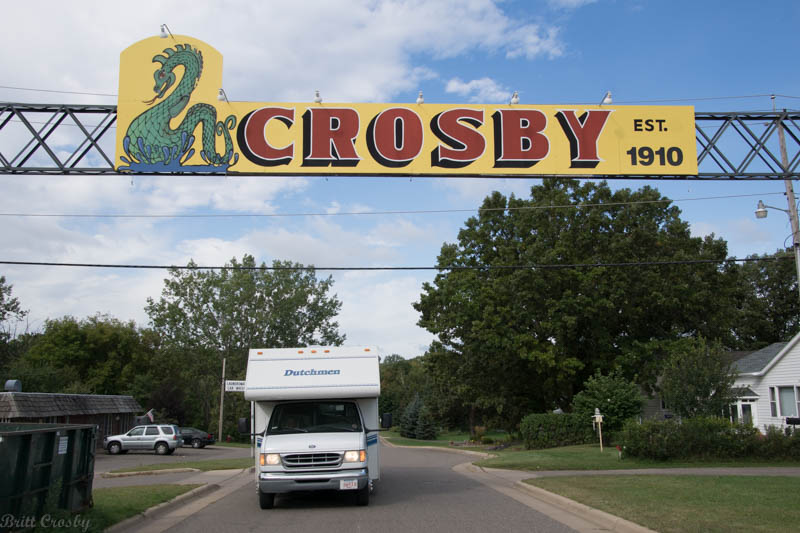 Had to just stop in the middle of the road for this photo.
Fortunately not too much traffic.
This place has everything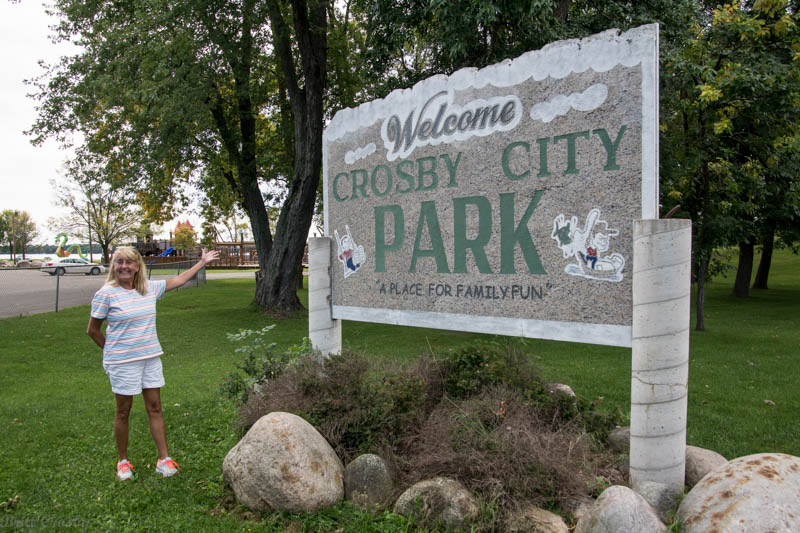 Sorry, no dogs allowed....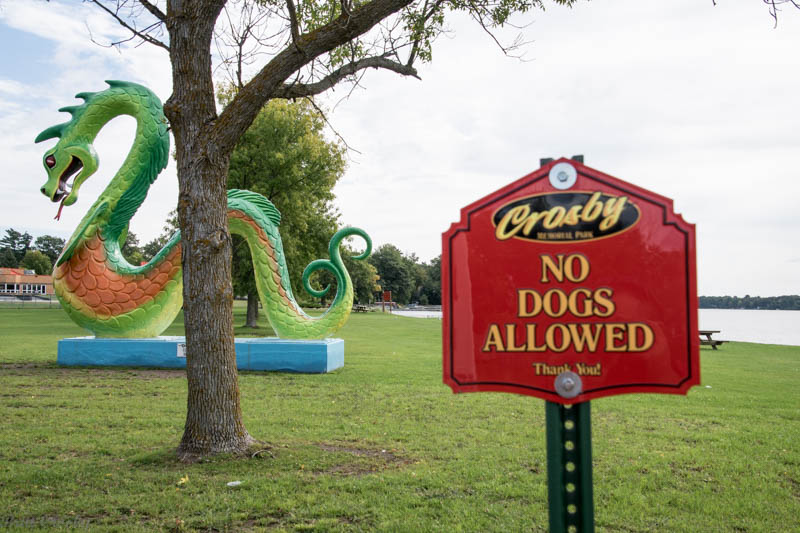 Every place needs an attraction....
Crosby is on Serpent Lake. This is the mascot.
Erected to draw visitors from all over... even Cape Cod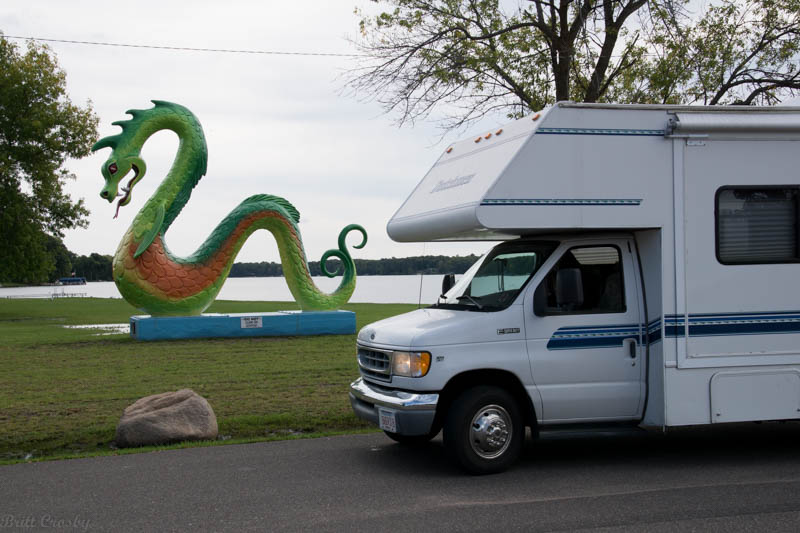 Its a historic town. There was a very tragic mining accident that killed a bunch back when.
Walking the main drag... this place is pretty cool
"Takes one to know one" so to speak.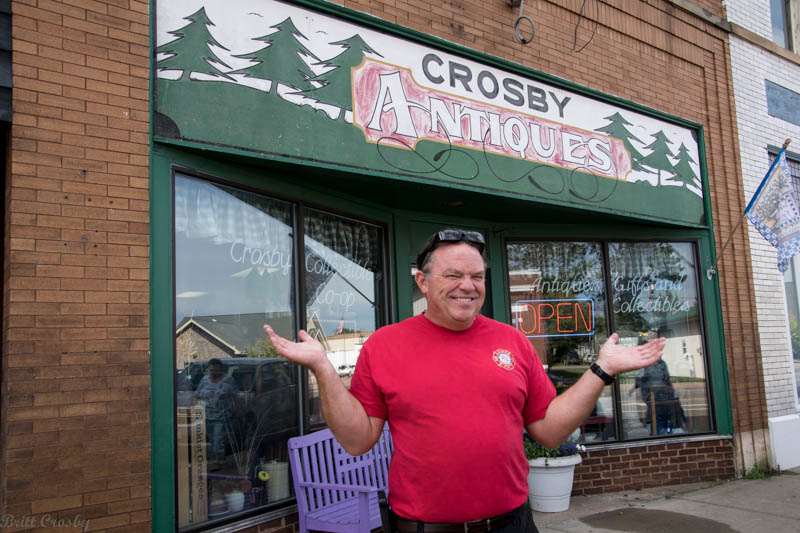 Yeah, we qualify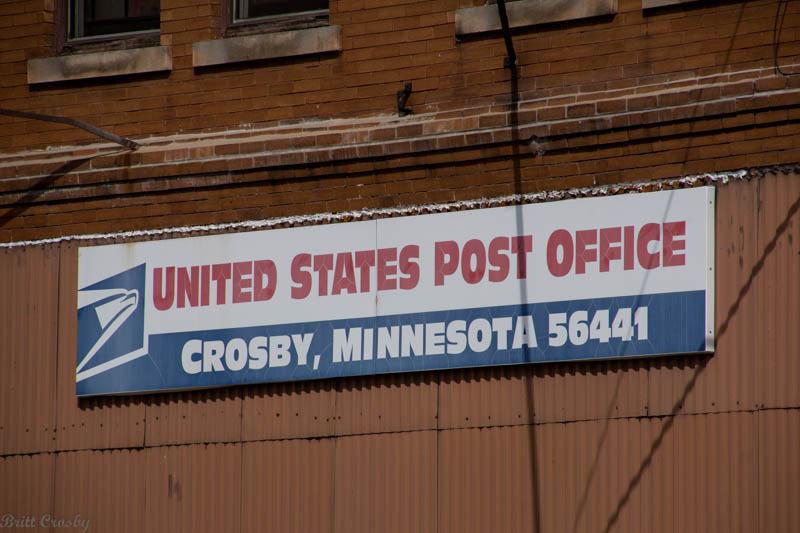 56441!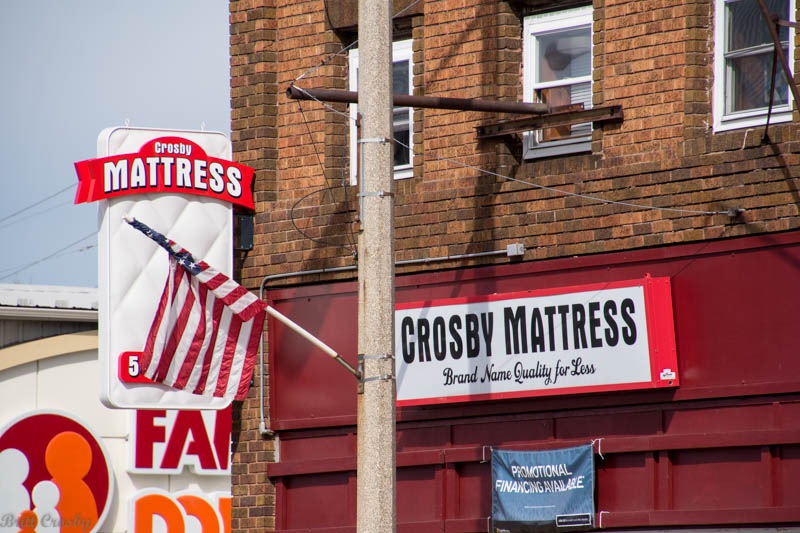 They got everything here.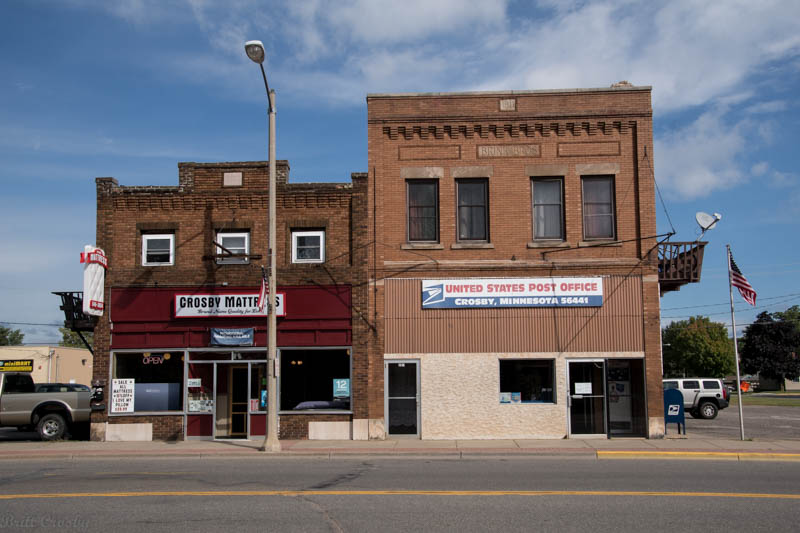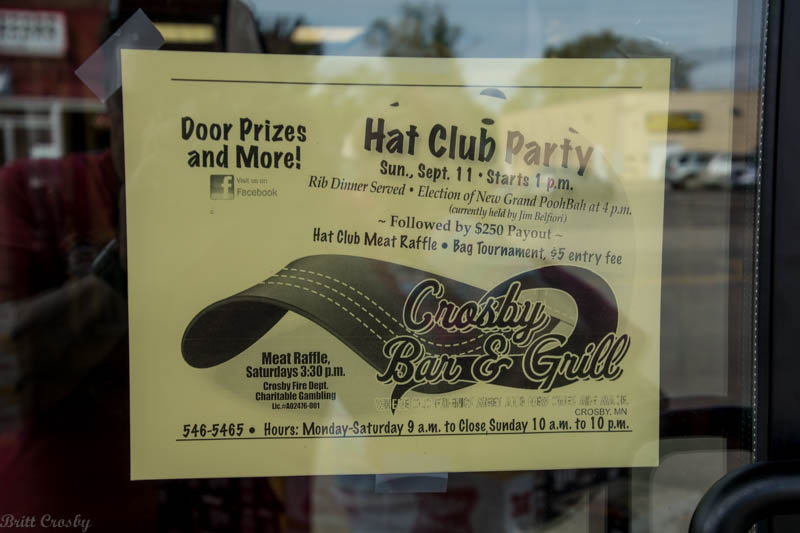 Too bad we gotta keep moving, we're gonna miss the party.
What more do you need...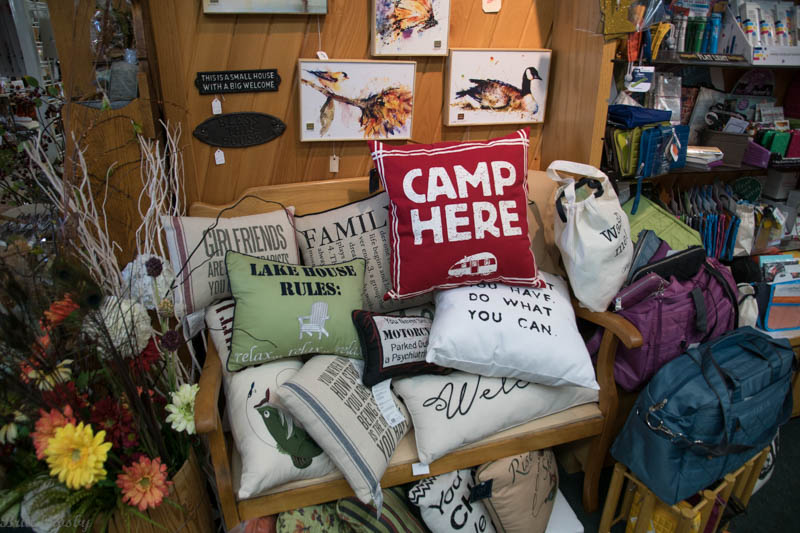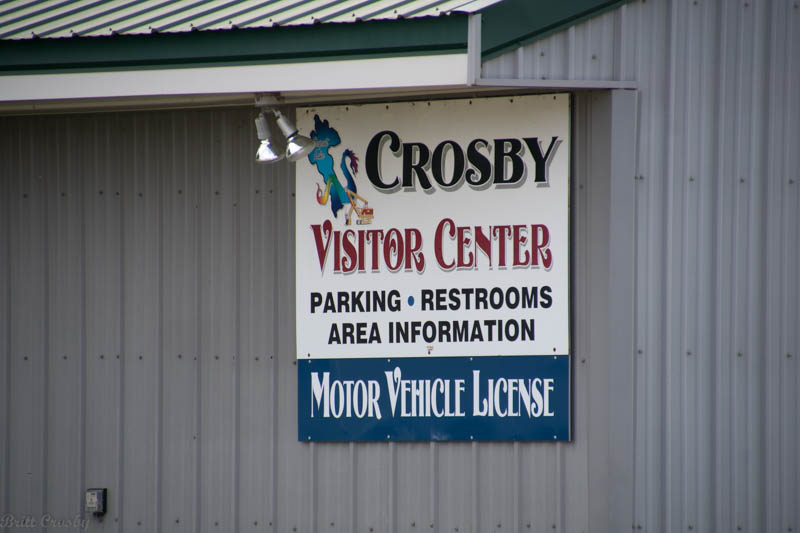 One stop shopping
We found city hall... in an attempt to find someone who might know someone...
at the fire department who might pull out a fire truck or two for a picture....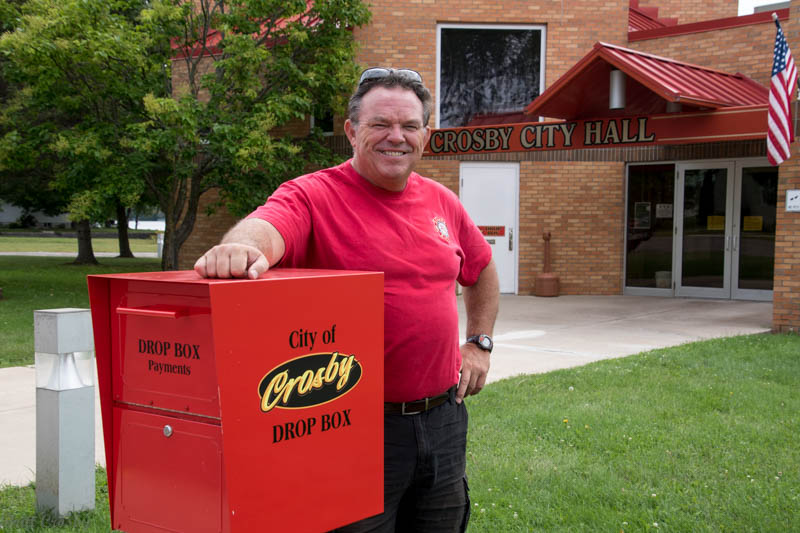 I could run for Mayor
Crosby PD Blue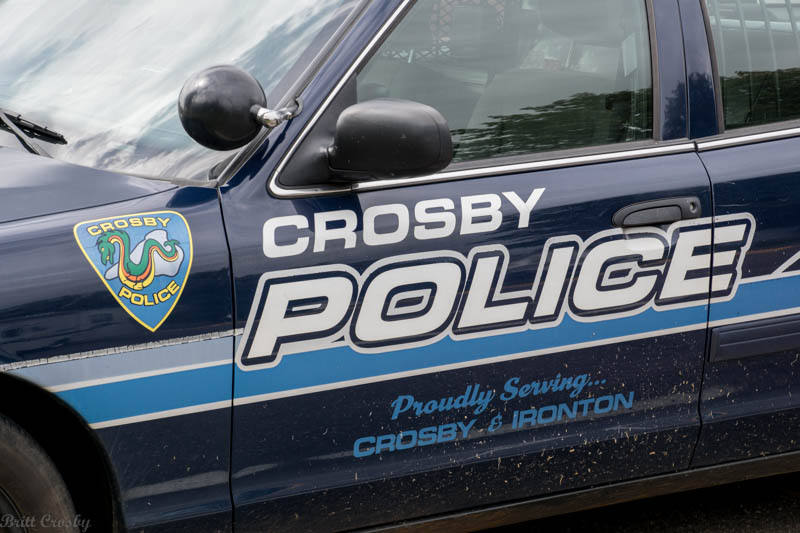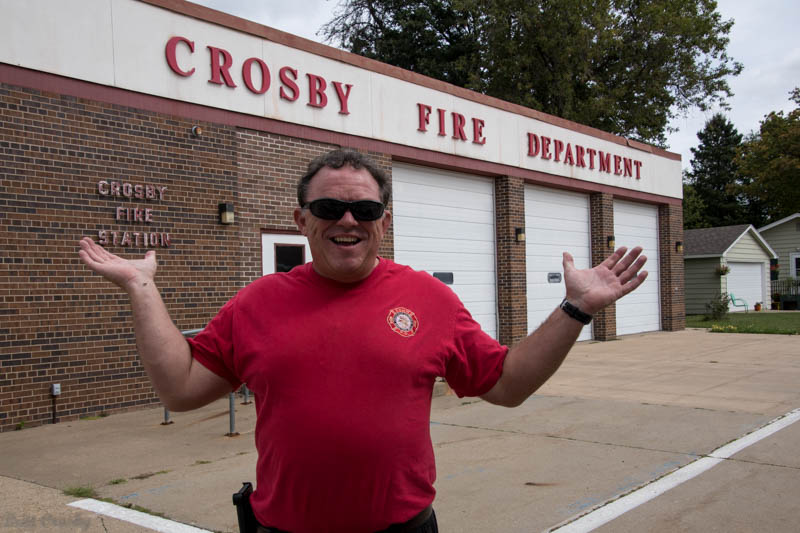 Unfortunately, we never got to see a fire engine. But we loved the station!
They even got water!
Driving around we found this vehicle and actually even knocked on a door.
No one home....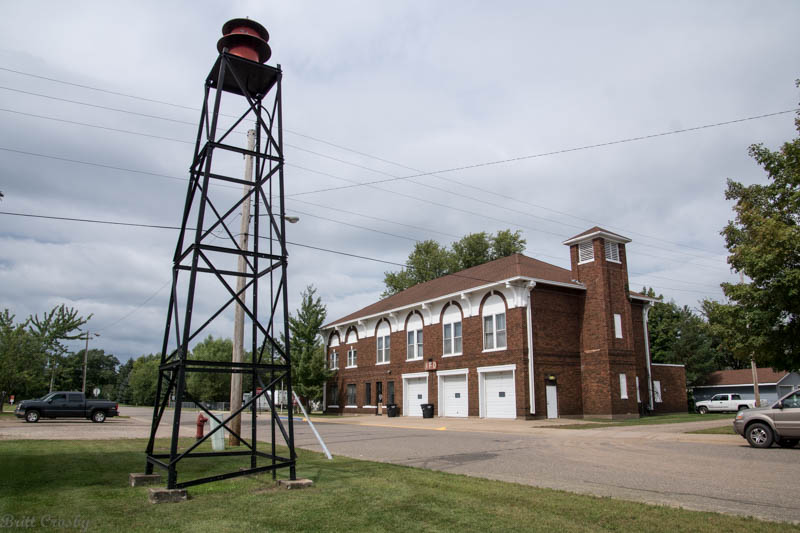 This station is located in the community of Ironton next to Crosby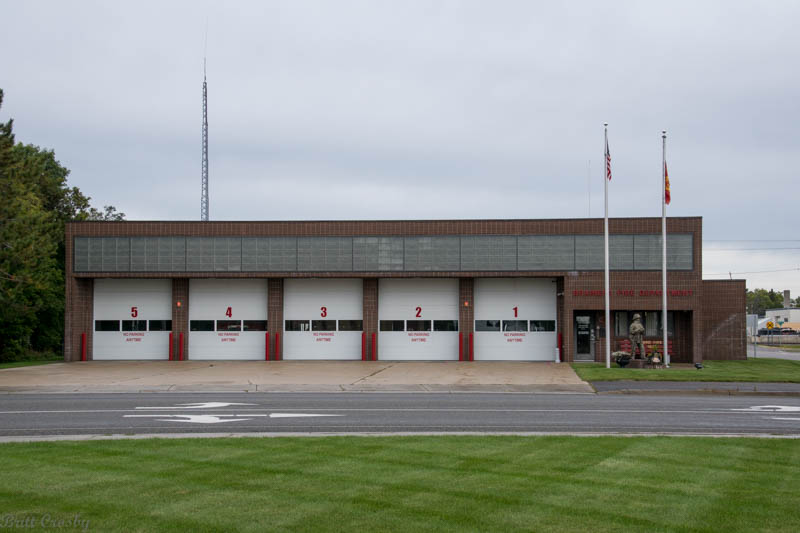 Brainerd, MN Fire Department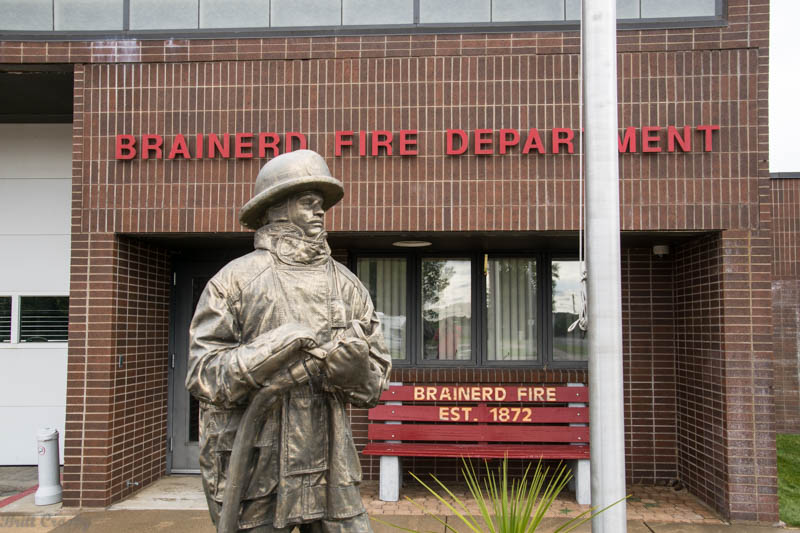 The mid west folks are very practical. Why not get the dog done while you wash the car?
WEEK 1
[Day 1] [Day 2] [Day 3] [Day 4] [Day 5] [Day 6] [Day 7]

WEEK 2
[Day 8] [Day 9] [Day 10] [Day 11] [Day 12] [Day 13] [Day 14]
WEEK 3
[Day 15] [Day 16] [Day 17] [Day 18] [Day 19] [Day 20] [Day 21]
WEEK 4
[Day 22] [Day 23] [Day 24] [Day 25] [Day 26] [Day 27] [Day 28]
WEEK 5
[Day 29] [Day 30] [Day 31] [Day 32] [Day 33] [Day 34] [Day 35]
WEEK 6
[Day 36] [Day 37] [Day 38] [Day 39] [Day 40] [Day 41] [Day 42]
WEEK 7
[Day 43] [Day 44] [Day 45] [Day 46] [Day 47] [Day 48] [Day 49]
WEEK 8
[Day 50] [Day 51] [Day 52] [Day 53] [Day 54] [Day 55] [Day 56]
CapeCodFD.com
2016