DAY 12 - SEPT 13 - TUESDAY
Based on a recommendation by our waitress at dinner last night, we set out from our campground east of Calgary and drove about 85 miles northeast of Calgary through flat prairie lands and then rather suddenly down into a canyon, to a place called Drumheller, Alberta. It is known as the "Dinosaur Capital of the World."

We found the local fire station and got a tour that included a few boats used for water rescue when the river floods. All around town are dinosaurs of one variety or another. From a distance you can see the "Largest Dinosaur in the World." The giant Tyrannosaurus Rex, built of steel and fiberglass is located in town and stands at 85 feet in height and over 150 feet in length. The climb up the inside to look out the mouth over the town was worth doing.

The world renowned Royal Tyrrell Museum of Paleontology is located here and has on display the largest collection of dinosaur fossils and displays. Well worth doing if you are ever in the area.

We made our way back across the prairie lands into Calgary and settled in to a campground west of the city within sight of the 1988 Olympic ski jump village for Night 12.

STATES/PROVINCES: AB - (1) Province today / (16) different States and (3) Provinces so far
DISTANCE: 200 miles for the Day / 3974 miles for the Trip so far
FIREBOATS: (13) Drumheller, AB
Alberta!
Calgary skyline from our campground
The campground had a nice playground.... and no kids
Come on honey... time to go!
Once again we observed more mile long trains with containers stacked double high
Beautiful prairies with wheat or other grains waiving in the wind.
On the approach to Drumheller.
This little dino stands in front of the fire station.
Looks a lot like a "BRONTO-Sky-Lift"
Heading up through the largest dinosaur
Very cool
She opted not to climb
Dino babies
Amazing displays
The naked human dude is in the upper right corner.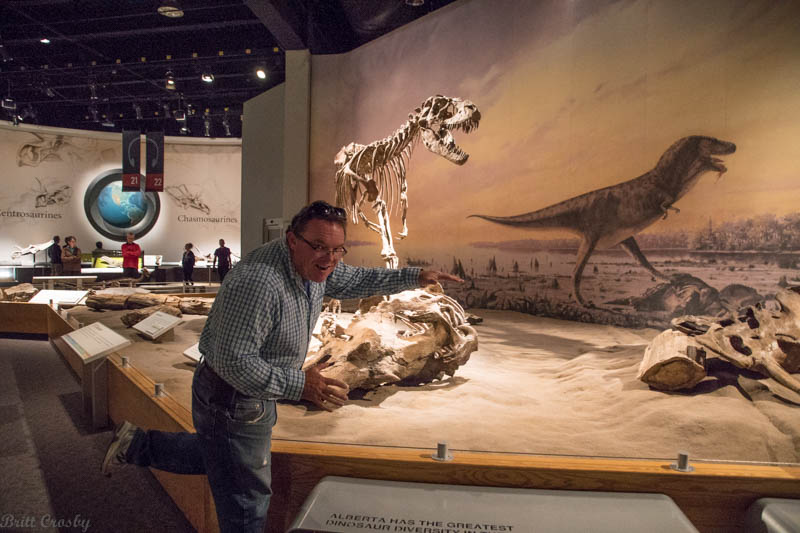 Ever wonder where you are? You need one of these.
"This biggg"
In addition to growing crops, the land is sometimes tapped for the "fossil" fuels below.
Back to Calgary and our campground
Site of the 1988 Winter Olympics
Another day winds down with the moon coming up
WEEK 1
[Day 1] [Day 2] [Day 3] [Day 4] [Day 5] [Day 6] [Day 7]

WEEK 2
[Day 8] [Day 9] [Day 10] [Day 11] [Day 12] [Day 13] [Day 14]
WEEK 3
[Day 15] [Day 16] [Day 17] [Day 18] [Day 19] [Day 20] [Day 21]
WEEK 4
[Day 22] [Day 23] [Day 24] [Day 25] [Day 26] [Day 27] [Day 28]
WEEK 5
[Day 29] [Day 30] [Day 31] [Day 32] [Day 33] [Day 34] [Day 35]
WEEK 6
[Day 36] [Day 37] [Day 38] [Day 39] [Day 40] [Day 41] [Day 42]
WEEK 7
[Day 43] [Day 44] [Day 45] [Day 46] [Day 47] [Day 48] [Day 49]
WEEK 8
[Day 50] [Day 51] [Day 52] [Day 53] [Day 54] [Day 55] [Day 56]
CapeCodFD.com
2016