DAY 42 - OCT 13 - THURSDAY
Our campground was located in the flight path of a busy airport. Having had a successful day yesterday getting pretty much all the fireboats out of the way, I thought I would see what the airport looked like. John Wayne International Airport is the busy Orange County airport located in Santa Ana, south of LA and just inland a few miles from Newport Beach.

By coincidence, I found the ARFF crew conducting morning vehicle checks. As I took a few photos through the fence, one of the guys came over and asked if I wanted to check out the station. I got the full tour by Eddie and learned of a drill scheduled for later in the afternoon. Awesome....

Having a little time, and a few more things on the list to do while we still had the rental car, I took a quick ride up into LA County, to the city of Carson. LA County Fire Station 127 was used for the 1970's TV show "Emergency" which I grew up watching. The fictional Station 51 was home to Engine 51 and Squad 51, Johnny and Roy, KMG 365, and the national introduction of Paramedics to the public which inspired many of us to go into EMS and become Paramedics. We got a picture and took a few minutes to contemplate just how important that building was to my life, and then headed back down to the waterfront.

I missed LA City Fireboat 3 and 5 yesterday, so I headed back over to Station 110 to see what was there. Fireboat 3 was at the dock and I got some good photos. Fireboat 5 still out for servicing.

It was lunch time and a stop at a little restaurant row along the Main Channel in San Pedro was perfect. Great seafood with a view of the Fireboat 2 Station! Perfect.

The ARFF drill was scheduled for 1500 hours, so I quickly (relatively in LA traffic) made my way back to John Wayne International just in time. A simulated small airplane was down at the end of the runway with 2 victims. The ARFF trucks and crews responded in and quickly made the scene safe, conducted rescues, and secured the aircraft. Well done!

The visit to southern California was everything I had hoped for. Lots of boats added. A visit with family. Sunshine and some great people. Mission accomplished. Our last night at the Campground at Newport Dunes for Night 42.

STATES: CA - (1) State today / (22) different States & (4) Provinces so far
DISTANCE: Using rental car / 7,941 miles for the Trip so far
FIREBOATS: (88) Los Angeles City Fireboat 3
ARFF Truck 5 at John Wayne International in Orange County, CA
conducting morning truck checks.
John Wayne ARFF Truck 4
The ARFF Station at John Wayne
ARFF Truck 5
ARFF Truck 3
ARFF Truck 4
A crane operated by the ARFF crew can be used to lift aircraft with flat tires
or collapse landing gear.
John Wayne himself ready to respond if needed.
--------
LA County Fire Station 127
Used by the 1970's TV show "Emergency" as Station 51.
Inspired a lot of people to go into EMS and become Paramedics.
-------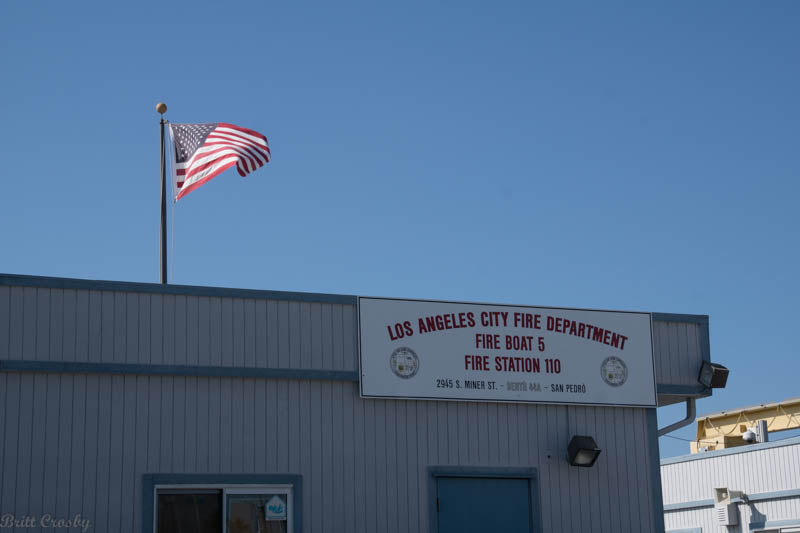 Another visit to LA City Station 110 to get some photos of Fireboat 3 filling in for Fireboat 5.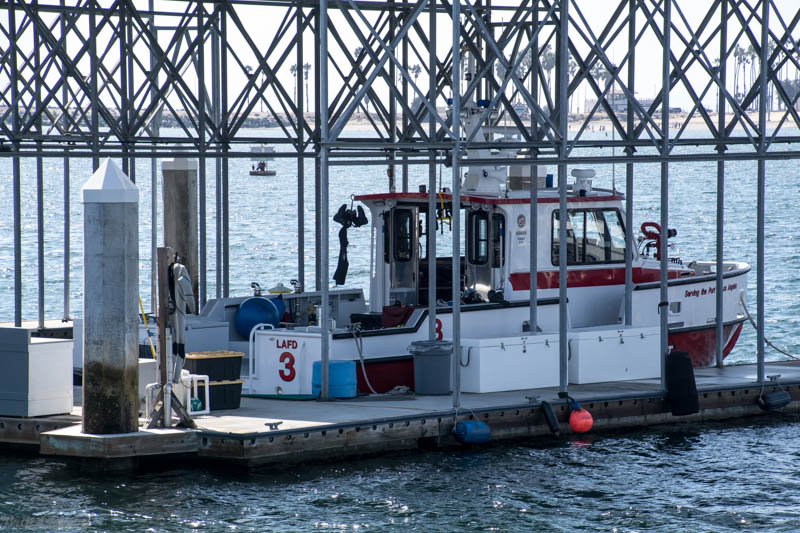 Lunch here was amazing! Right on the waterfront, with a view of Fireboat 2 station.

This is pretty much what all of the Ports of Long Beach and Los Angeles look like.
Hundreds of cranes at the terminals handling thousands and thousands of containers
full of stuff headed to a store near you some place.
Back to John Wayne International just in time to watch the ARFF drill simulating
a small aircraft down at the end of the runway with 2 victims.
My friend Eddie who gave me a great tour of the station this morning.
Thanks Eddie!
Back to the campground again for our final night here.
WEEK 1
[Day 1] [Day 2] [Day 3] [Day 4] [Day 5] [Day 6] [Day 7]

WEEK 2
[Day 8] [Day 9] [Day 10] [Day 11] [Day 12] [Day 13] [Day 14]
WEEK 3
[Day 15] [Day 16] [Day 17] [Day 18] [Day 19] [Day 20] [Day 21]
WEEK 4
[Day 22] [Day 23] [Day 24] [Day 25] [Day 26] [Day 27] [Day 28]
WEEK 5
[Day 29] [Day 30] [Day 31] [Day 32] [Day 33] [Day 34] [Day 35]
WEEK 6
[Day 36] [Day 37] [Day 38] [Day 39] [Day 40] [Day 41] [Day 42]
WEEK 7
[Day 43] [Day 44] [Day 45] [Day 46] [Day 47] [Day 48] [Day 49]
WEEK 8
[Day 50] [Day 51] [Day 52] [Day 53] [Day 54] [Day 55] [Day 56]
CapeCodFD.com
2016