CapeCodFD.com
ON THE ROAD AGAIN!
FALL CROSS COUNTRY TRIP 2016
September 2, 2016 - October 27, 2016
1 - OUR GREAT CROSS COUNTRY TRIP 2016
[INDEX]
[Week 1] [Week 2] [Week 3] [Week 4] [Week 5] [Week 6] [Week 7] [Week 8]
[Day 1] [Day 2] [Day 3] [Day 4] [Day 5] [Day 6] [Day 7]
WEEK 1
DAY 4
Columbus, Ohio Fire Department
DAY 4 - SEPT 5 - MONDAY (Labor Day)
It was a chilly start at the Streesboro, OH campground. Our drive took us to I-71 and south towards Columbus, the capital of Ohio. We visited the city and got some photos of stations and apparatus. We noticed a rear turn signal was out (never a good thing when driving a big rig around cities) so we found a Walmart and successfully repaired the tail light before driving on.

Continuing south on I-71, we made a visit to the Great American city of Cincinnati, OH located on the Ohio River. The Reds were actually playing the Mets at the Great American Ball Park down by the river, which by the way has a great river walk park. Looked like a fun place to watch a game, but again, we got places to go and stuff to do, so we passed on going to the game.

Across the river from Cincinnati is the city of Covington, Kentucky. We headed over and took a few pictures of their fireboat on the Ohio River with the Reds ball park in the background.

Next, it was off to Louisville, KY. Also located on the Ohio River, we found the Louisville fire and rescue boats, checked out the KFC "Yum" Center, and got a picture of the camper in front of a huge baseball bat at "Louisville Slugger."

We crossed the river once again, into southern Indiana and a campground at Clarksville, IN for Night 4.

STATES TODAY: OH, KY, IN - (3) States today / (10) different states so far
DISTANCE: 364 miles for the Day / 1138 miles for the Trip so far.
FIREBOATS: (3) Covington, KY. (4&5) Louisville, KY.
A big DISPATCH sign over Columbus, OH.
Columbus, Ohio capital city
Columbus, OH Fire Station 1 - a Big house.
This great looking old fire station 16 is now a museum in Columbus. Unfortunately closed today.
Columbus Fire Station 3
Cincinnati Reds at "Great American Ball Park"
The Ohio River looking across to Kentucky.
The Covington, KY Fireboat across the river from the ball park.
It seems every river city has a showboat or paddle wheeler.
Covington, KY Fireboat 1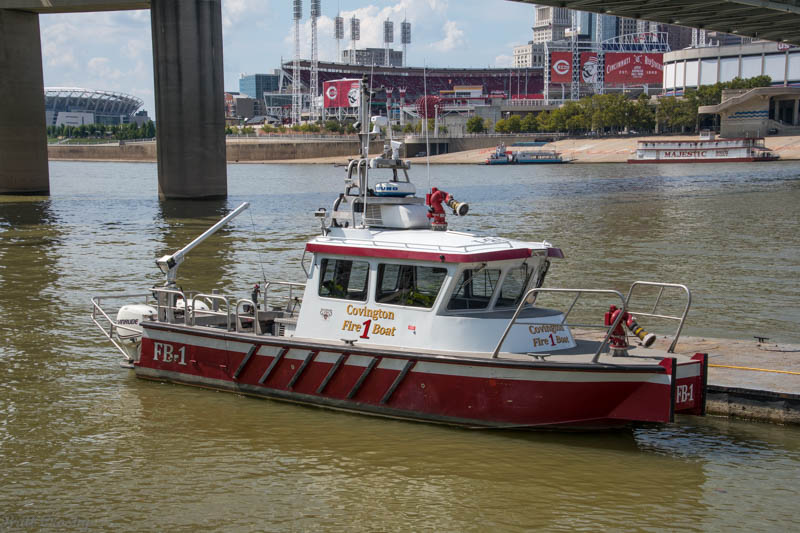 Great American City
"Finger licking good!" Louisville, KY
Louisville has two boats!
"Louisville Slugger!"
WEEK 1
[Day 1] [Day 2] [Day 3] [Day 4] [Day 5] [Day 6] [Day 7]

WEEK 2
[Day 8] [Day 9] [Day 10] [Day 11] [Day 12] [Day 13] [Day 14]
WEEK 3
[Day 15] [Day 16] [Day 17] [Day 18] [Day 19] [Day 20] [Day 21]
WEEK 4
[Day 22] [Day 23] [Day 24] [Day 25] [Day 26] [Day 27] [Day 28]
WEEK 5
[Day 29] [Day 30] [Day 31] [Day 32] [Day 33] [Day 34] [Day 35]
WEEK 6
[Day 36] [Day 37] [Day 38] [Day 39] [Day 40] [Day 41] [Day 42]
WEEK 7
[Day 43] [Day 44] [Day 45] [Day 46] [Day 47] [Day 48] [Day 49]
WEEK 8
[Day 50] [Day 51] [Day 52] [Day 53] [Day 54] [Day 55] [Day 56]
CapeCodFD.com
2016