CapeCodFD.com
ON THE ROAD AGAIN!
FALL CROSS COUNTRY TRIP 2016
September 2, 2016 - October 27, 2016
5 - OUR GREAT CROSS COUNTRY TRIP 2016
[INDEX]
[Week 1] [Week 2] [Week 3] [Week 4] [Week 5] [Week 6] [Week 7] [Week 8]
[Day 29] [Day 30] [Day 31] [Day 32] [Day 33] [Day 34] [Day 35]
WEEK 5
DAY 32
A visit to Carson City, NV Fire Department
DAY 32 - OCT 3 - MONDAY
We woke to near freezing temperatures in Reno. The rains over night had apparently changed to snow and the hills were white with the snow dusting.

Today we do the Zag part of our Zig-Zag as we check out Reno, drive south to Carson City (the capital of Nevada) and then head back west through the Lake Tahoe area, Sacramento, CA and into the San Francisco bay area.

Our visit to Carson City included a tour of the Fire Headquarters and its fire museum.

As we headed west back up into the hills on our way from Carson City to Lake Tahoe, we experienced some fairly heavy snow flurries and winds. Our brief visit to the Tahoe area included a lunch stop on the shore of this beautiful lake, although weather conditions were not ideal.

We made our way on to the capital of California at Sacramento. Our plan for the next few days is to explore the San Francisco area, so we rented a car and made our way to a campground near the Lodi, CA area in Terminous, CA for Night 32.

STATES: NV, CA (2) States today / (22) different States & (4) Provinces so far
DISTANCE: 239 Miles for the Day / 7,446 miles for Trip so far
FIREBOATS: (43) so far
We awoke outside of Reno with a dusting of snow on the surrounding hills.
Reno, Nevada
We found a Reno Fire Station
The Dutchman was our best hotel no matter where we ended up
The drive from Reno to Carson City
Carson City, NV is the state capital of Nevada
Carson City, NV Station 51 - Headquarters
Carson City's fire company was known as Warren No. 1.
The department has a wonderful museum in their Headquarters.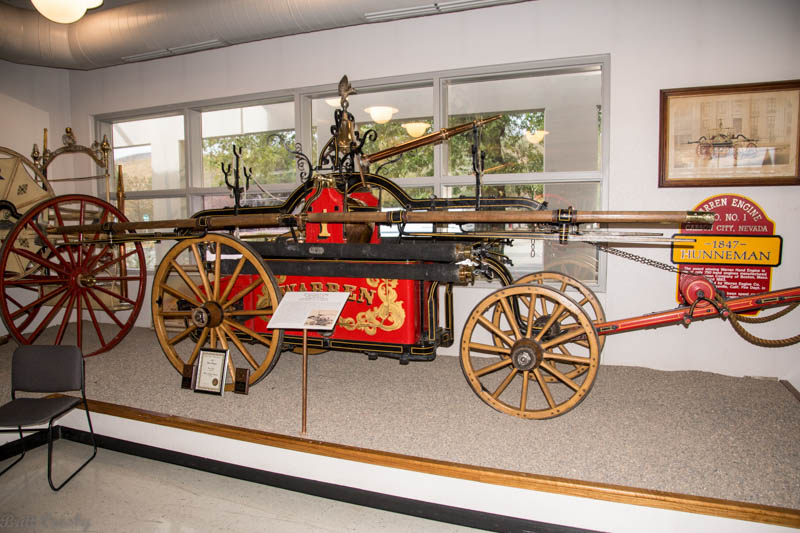 Heading west from Reno towards Lake Tahoe... snow flurries... October 3
The hills around lake Tahoe
Lake Tahoe
Tahoe-Douglas Fire Station
Sacramento, CA capital building
Sacramento Fire Station
WEEK 1
[Day 1] [Day 2] [Day 3] [Day 4] [Day 5] [Day 6] [Day 7]

WEEK 2
[Day 8] [Day 9] [Day 10] [Day 11] [Day 12] [Day 13] [Day 14]
WEEK 3
[Day 15] [Day 16] [Day 17] [Day 18] [Day 19] [Day 20] [Day 21]
WEEK 4
[Day 22] [Day 23] [Day 24] [Day 25] [Day 26] [Day 27] [Day 28]
WEEK 5
[Day 29] [Day 30] [Day 31] [Day 32] [Day 33] [Day 34] [Day 35]
WEEK 6
[Day 36] [Day 37] [Day 38] [Day 39] [Day 40] [Day 41] [Day 42]
WEEK 7
[Day 43] [Day 44] [Day 45] [Day 46] [Day 47] [Day 48] [Day 49]
WEEK 8
[Day 50] [Day 51] [Day 52] [Day 53] [Day 54] [Day 55] [Day 56]
CapeCodFD.com
2016