CapeCodFD.com
ON THE ROAD AGAIN!
FALL CROSS COUNTRY TRIP 2016
September 2, 2016 - October 27, 2016
5 - OUR GREAT CROSS COUNTRY TRIP 2016
[INDEX]
[Week 1] [Week 2] [Week 3] [Week 4] [Week 5] [Week 6] [Week 7] [Week 8]
[Day 29] [Day 30] [Day 31] [Day 32] [Day 33] [Day 34] [Day 35]
WEEK 5
DAY 34
Monterey, CA for a night
DAY 34 - OCT 5 - WEDNESDAY
We headed out in the rental car once again, this time packed for a few days away. Our mission was to find several more fireboats on the list and end up in a position to do Yosemite tomorrow.

Our first stop was in Oakland, CA where we found their older Fireboat "Sea Wolf" and a newer small boat. Then it was into Alameda where we visited a fire station and their fireboat.

Next, it was down the I-880 to the Route 92 San Mateo Bridge across the bay to another fireboat at Redwood City.

We had visited Monterey once before in 2000. As we drove south from Redwood City we made a last minute decision to go to Monterey, partly because it had a boat, and partly because we would soon be running out of daylight. The choice was a good one, with the scenic sea side town having lots to offer.

We spent Night 34 in Monterey.

STATES: CA - (1) State today / (22) different States & (4) Provinces so far
DISTANCE: By rental car / 7,446 miles for Trip so far for camper
FIREBOATS: (50) Oakland, CA "Sea Wolf" (51) Oakland small boat (52) Alameda, CA FB "Deanna Jo" (53) Redwood City, CA FB "Sequoia Guardian" (54) Monterey, CA FB
Oakland, CA Fireboats and Police boats
Oakland, CA Fireboat "Sea Wolf"
Oakland, FD small boat
Alameda, CA Fire Station
Alameda Truck 2
Alameda, CA Fireboat
Redwood City, CA Fireboat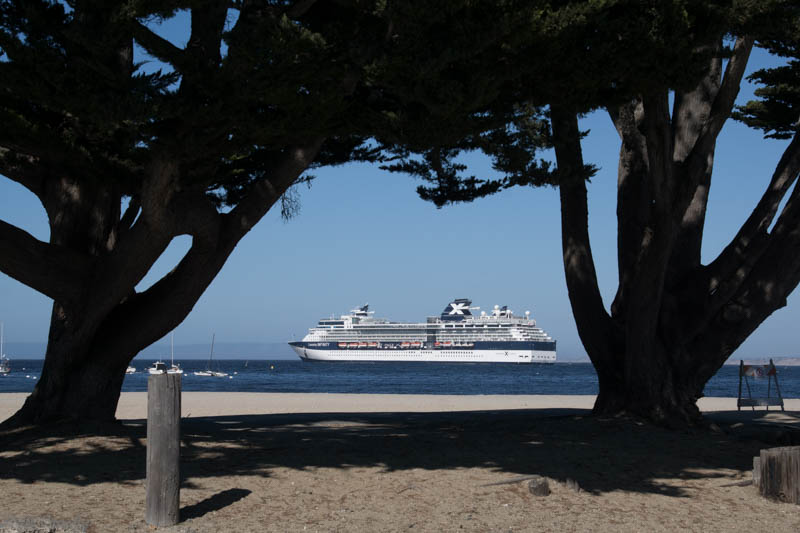 Arriving in Monterey, CA we noticed the Celebrity Cruise Ship "Infinity"
which we had seen as we were leaving the port of Victoria, BC on Sept 26
and in Astoria, OR on Sept 29.
One of the Monterey, CA fire stations
Cannery Row in Monterey, CA
A nice locally recommended dinner in Monterey.
WEEK 1
[Day 1] [Day 2] [Day 3] [Day 4] [Day 5] [Day 6] [Day 7]

WEEK 2
[Day 8] [Day 9] [Day 10] [Day 11] [Day 12] [Day 13] [Day 14]
WEEK 3
[Day 15] [Day 16] [Day 17] [Day 18] [Day 19] [Day 20] [Day 21]
WEEK 4
[Day 22] [Day 23] [Day 24] [Day 25] [Day 26] [Day 27] [Day 28]
WEEK 5
[Day 29] [Day 30] [Day 31] [Day 32] [Day 33] [Day 34] [Day 35]
WEEK 6
[Day 36] [Day 37] [Day 38] [Day 39] [Day 40] [Day 41] [Day 42]
WEEK 7
[Day 43] [Day 44] [Day 45] [Day 46] [Day 47] [Day 48] [Day 49]
WEEK 8
[Day 50] [Day 51] [Day 52] [Day 53] [Day 54] [Day 55] [Day 56]
CapeCodFD.com
2016