Dukes County Dispatch
The Dukes County Sheriff's Department Communications Center
that dispatched for all public safety on the Vineyard has changed
its Fire call sign from KNBH 905 to WQAS 838 on May 1, 2005
Nantucket Fire Dept Changes
Several notes from Nantucket March 2005
The engine that was formerly Engine 7 has been renumbered as Engine 2.
Engine 6 is out of service in need of a new water tank. Rescue equipment
from E-6 (Jaws, etc) have been placed on the Heavy Rescue.
Car 2 now Deputy Mark McDougall
Car 54 now C-4 Fire Inspector
Car 5 a 1999 Yukon Fire Alarm Supt.
Truck 4 - 1 2005 GMC 2500 4x4 extended cab Pickup - utility vehicle
New Ladder 1 - Specs calling for a 105' Metz rear mount aerial ladder Quint
to replace the present LTI ladder truck. It would have a 1500 gpm pump,
180 gallon water tank, and 20 gals of foam. The cab/chassis would be HME 1871.
The truck looks very European in design, having a small bucket at the tip
of the aerial device. The new ladder would be delivered early in 2006.
Nantucket Heavy Rescue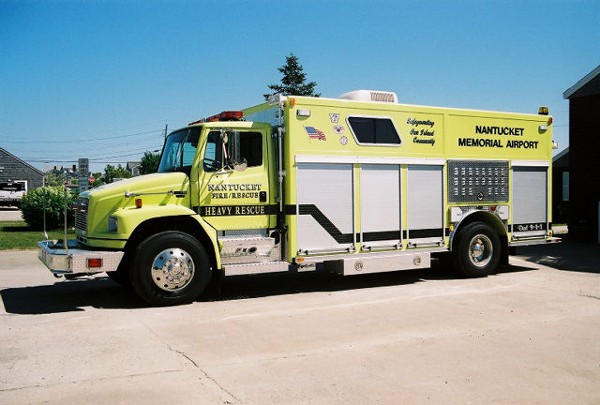 2004 Freightliner / Emergency One walk in Heavy Rescue
Lettered Nantucket Airport, housed at Nantucket Headquarters.
In service spring 2004
Nantucket Engine Retired

Nantucket Engine 2 retired to make room for the Heavy Rescue
in Spring 2004.
New Oak Bluffs Engine

Oak Bluffs put this Emergency One pumper in service as Engine 4 (524)
in 2003 replacing a 1961 Maxim S pumper. The new engine has a 1500 gpm
pump and 750 gallon tank.
New West Tisbury Tanker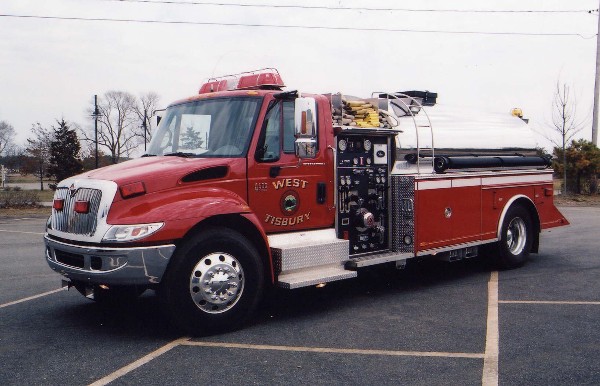 West Tisbury now operates two of these International / U.S. Tanker trucks.
T-734 is a 2003 with a 1250 gpm pump and 2100 gallon tank.
April 2004 photo