COMM Fire Department placed this GMC / Fire One forestry truck in service
in 1995. It has a 250 gpm pump and 200 gallon tank, as well as 20 gallons of
Class A foam. Forestry 317 replaced Breaker 317's 1962 International.

Chatham Fire Department placed this 300 gallon Ford forestry truck in service in 1996.

Chatham Forestry 187.

Yarmouth Forestry 46 was a 1994 Ford F350 4x4 / Fire Resources truck with a
175 gallon tank and class A foam. It presently serves as a squad with no water.

1997 Ford F250 4x4 CCNS Forestry Patrol Truck
35 gpm - 100 gal
(diesel / standard)

Brewster Fire Department Forestry 238 is a home made Forestry vehicle
built on a 1975 Dodge Power Wagon 4x4 Forestry Truck
100 gpm - 135 gal
In service 1997.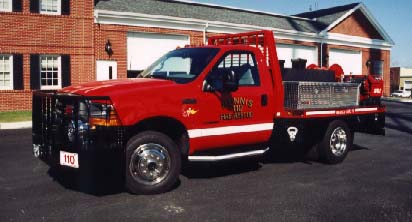 The Dennis Fire Department built this unique forestry truck 110 in 1999
on a Ford F450 4x4 chassis. It has a 225 gpm pump with class A foam
and a 400 gallon tank. It replaced the 1971 Dodge power wagon.
In 2002 this was reassigned as Forestry 108.

The rear of Dennis Forestry 108 in 2002.

Dennis Forestry 108, originally 110.


This 1991 International / Metal Masters forestry truck is assigned to the Cape Cod National Seashore.
F-277 has a 500 gallon tank, 175 gpm pump, and Class A foam.

The CCNS Forestry 277 in Sept 2002.

This is what the rear of CCNS Forestry 277 looks like.
Sept 2002.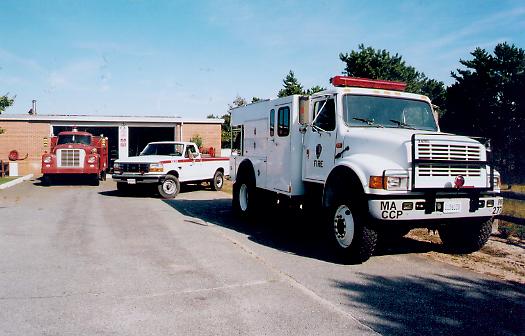 The Seashore station at Marconi in South Wellfleet.
CAPE COD BRUSH BREAKERS

*
A PICTORIAL HISTORY
*

By Britton Crosby
January 2001
(Updated March 23, 2010)
[1][2][3][4][5][6][7][8][9][10][11][12][13][14][15][16][17][18][19][20]
[21][22][23][24][25][26][27][28][29][30][31][32][33][34]


Page 24
2000's



2005 BRUSH SEASON
PLYMOUTH FOREST FIRE APRIL 18, 2005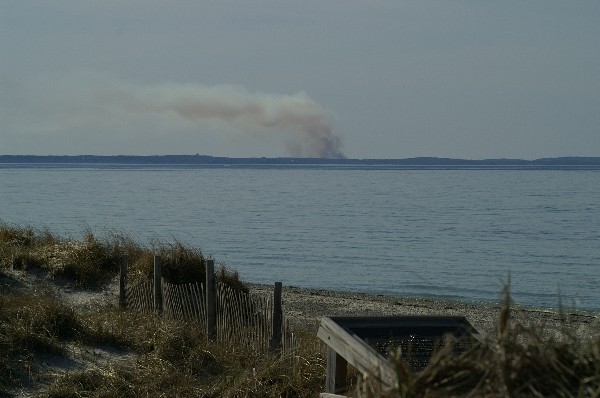 Looking across Cape Cod Bay from Sandy Neck, West Barnstable at the Clark Estates
forest fire in Plymouth on April 18, 2005.

The first major forest fire in southeastern Massachusetts in 2005 put up a large column of
smoke visible for miles.

All of Plymouth's brush breakers and a Plymouth County Task Force responded to the fire
as well as a structural Task Force.

The fire quickly consumed approximately 30 acres before being brought under control.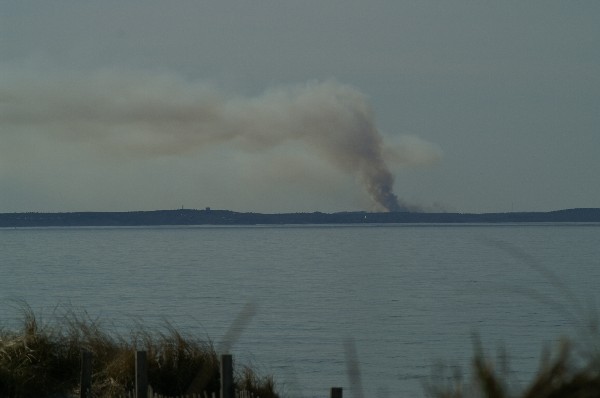 A Barnstable County breaker task force was mobilized but cancelled before going to the fire.

BARNSTABLE FIRE
BARNSTABLE BRUSH FIRE OFF MARY DUNN ROAD NEAR FLINTROCK ROAD APRIL 20, 2005

Barnstable Engine 202 operated at a brush fire on April 20, 2005 off Mary Dunn Road.

Barnstable Engine 205, first due, laid a 4" supply line up an access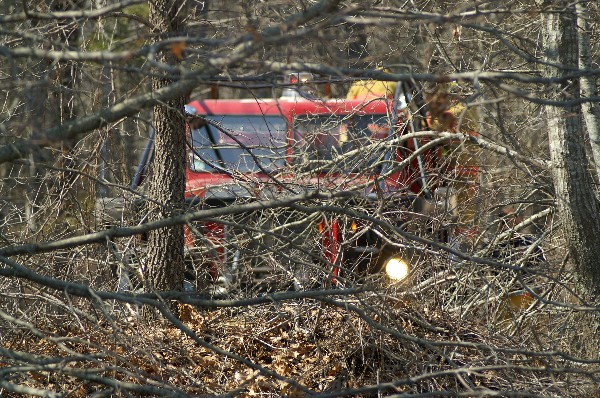 COMM Breaker 316 was put back in service just minutes before responding to the Barnstable
fire. It had been out of service for more than a year.

Barnstable fire fighters dragging 1-3/4" hose into the fire.

The fire burned towards route 6.

COMM Breaker 316 on an access road.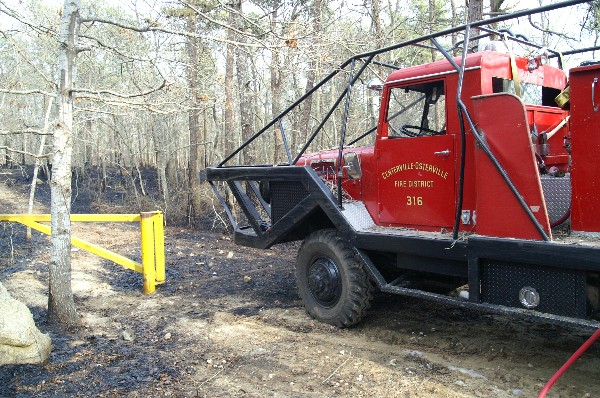 The fire burned approximately 4 acres of woodland.

Breaker 316 has two 500' coils of forestry hose.'

Breaker 316 making its way out of the woods.

B316 is a 1967 Maxim brush breaker.

Barnstable's Engine 205 was first due and operated on this road, keeping the fire
from jumping the access road.


WEST BARNSTABLE TANKER 298



Tanker 298
West Barnstable Fire Department acquired this 1975 Dodge 3500 gallon tanker
that had become surplus from Lanesborough, MA. This tanker was needed to
provide the needed water in West Barnstable while the 1985 Tanker 296 was
being refurbished in the spring of 2005.
WEST BARNSTABLE TANKER 296

Engine Tanker 2968
West Barnstable Fire Department refurbished their 1985 Pierce 2000gpm/3000gallon Engine Tanker 296
between Jan and May 2006. It was completely refurbished and repainted.

CAPE COD BRUSH BREAKERS



Related Links
Massachusetts DCR - Bureau of Forest Fire Control
Forest Fire Lookout Association
History Early Fire Towers
Massachusetts Fire Tower Locations
CCFD.com - Plymouth Brush Breaker Drill April 2006
CCFD.com - Plymouth-Wareham Brush Fires May 2006
CCFD.com - Sandwich Fire Tower 2006



NOTE
Photos in this series are from various sources
including fire department and personal collections.
(Top)