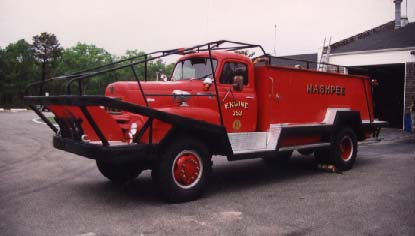 In 1957 the Mashpee Fire Department built this Brush Breaker on an International chassis.
It had a 750 gallon water tank, 750 gpm front mount centrifugal pump and a separate
motor and fire pump on the rear step. Built by Maynard, it served as a structural apparatus as well
as a brush breaker. This breaker went out of service in 2000.

Mashpee Breaker 353 in 2001.
Faded, retired, and rusting away behind the Mashpee Station.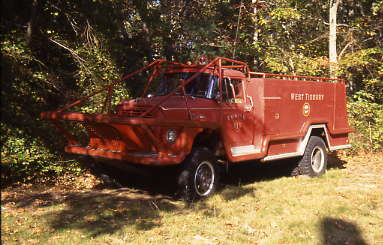 West Tisbury brush breaker retired behind the old West Tisbury fire station.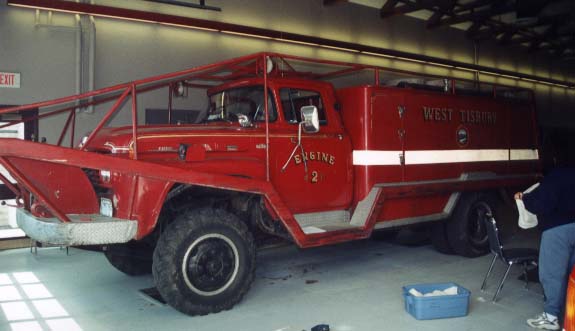 West Tisbury FD on the Vineyard still operates this 1959 Ford / Maynard
750 gpm / 750 gallon Brush Breaker.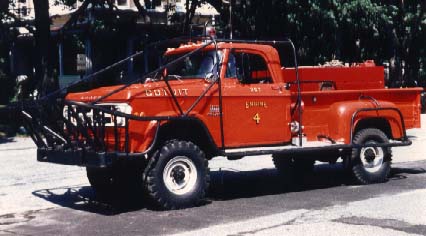 This 1969 Dodge Power Wagon brush breaker was the last built by the
Town of Barnstable Forest Fire Department.
It was designated 215 assigned to the Cotuit Station. Cotuit purchased it in 1975.
This small breaker has a 300 gallon tank and despite lighter barwork is still fairly capable in the
woods. Cotuit B267 retired in 2001.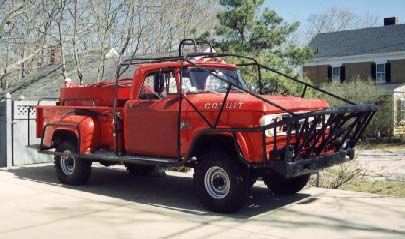 Cotuit Breaker 267 showing its age just before replacement in 2001.
1960s BRUSH BREAKERS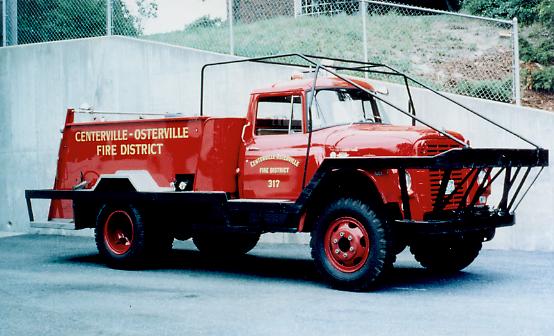 The Town of Barnstable Forest Fire Department built this brush breaker (B-212) in 1962.
The 1962 International / Maxim 500 gallon brush breaker was stationed in Centerville.
When the T.O.B.F.F.D. was disbanded in 1975, the Centerville-Osterville
Fire Department took over the breaker.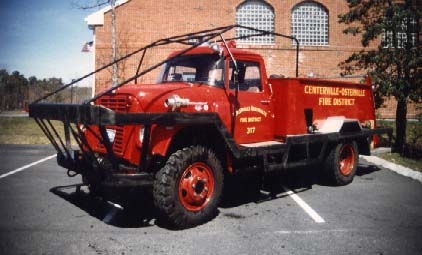 The COMM Fire Department operated the 1962 International breaker until its
retirement in 1995. The medium sized brush breaker had a 500 gallon tank
and gasoline motor.



The COMM FD Breaker 317 at a small brush fire.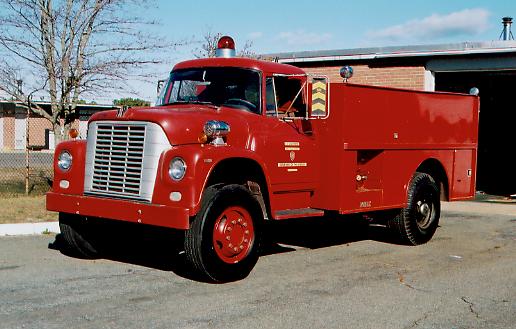 Cape Cod National Seashore operates several fire apparatus to protect the seashore.
This 1965 International L-1700 4x4 / Darley tanker has a 250 gpm pump and 1000 gallon tank.
Tanker 279.

Maxim built Falmouth a tank truck in 1965. The International 4x4 carried 1000 gallons
of water. Tanker 1 (35) is still in service in Falmouth.



Falmouth Tanker 18, 1965 International. Originally Tanker 1 (35).


Sandwich replaced its 1939 brush breaker in 1965 with a Dodge brush breaker.



Sandwich Breaker 143 was built in 1965. The Dodge Power Wagon
built by Maynard had a 600 gallon tank.

Sandwich Fire Department's 1960s Dodge Breaker 142 several years after retirement.