2010 FORESTRY UNITS

Sandwich

Sandwich Forestry 468
2010 Ford F350
250 gallon skid tank & pump unit

2010 NEW TANKER/TENDER

Cape Cod National Seashore
CCNS TENDER 279
2001 Freightliner FL106 / Darley
500gpm / 2000 gallons
Formerly at Acadia National Park, Maine
to CCNS Spring 2010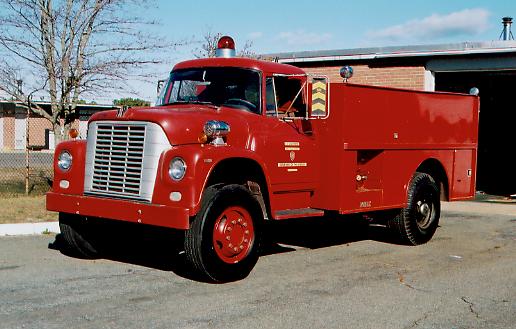 Retired CCNS Tanker 279
1965 International / Darley
250/1000

FUTURE BRUSH BREAKER 2008

COMM

COMM FUTURE|BREAKER
This 1993 Military 5 ton was acquired in 2008 from surplus with the intent of
building a new brush breaker to replace the 1967 Maxim Breaker 316.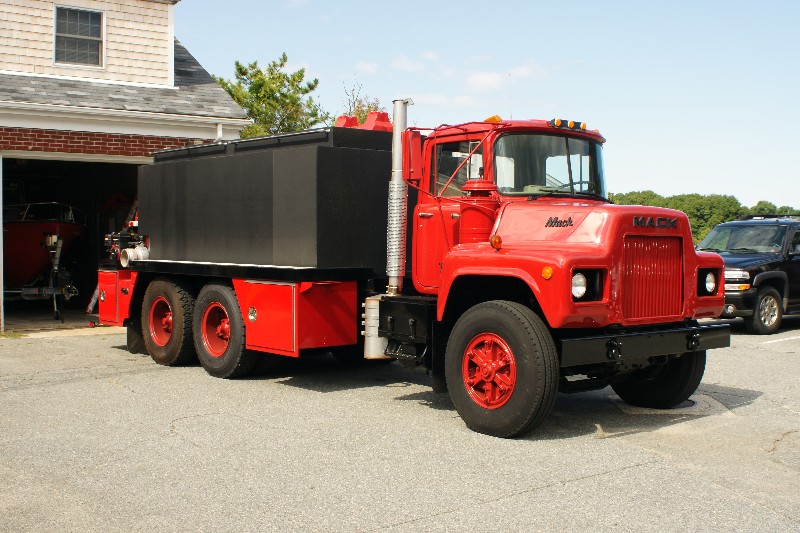 Sandwich Tanker 464
Sandwich acquired this 1987 Mack R chassis in 2008.
The 2002 Fire One 2000 gallon tank and 300 gpm pump unit were transferred from the
1980 AM General military 6x6 chassis to the newer chassis.

West Barnstable Tanker 286
1991 Oshkosh former fuel truck was acquired by WBFD
and converted to a tanker in 2008.
It has a 5000 gallon tank.

Tanker 286 in 2010

DCR Tanker 833
The 1975 Dodge tanker originally from Lanesboro that West Barnstable acquired during the
refurbishing of T-296 eventually was returned to the state that relocated it to
Martha's Vineyard.

3500 gallon tanker

NEW FORESTRY UNITS

Wellfleet, Orleans, DCR

Wellfleet Forestry 90
2007 Chevy 4x4 / Built in Wellfleet Forestry Truck
250 gpm / 200 gallons/ 20 Class A

Orleans Forestry 169
2009 Ford F550 4x4 Forestry
250 gpm / 300 gallons / 20 Class A foam


DCR 1-3 (830)
2008 Ford F550 / Pro-Tech Forestry Patrol
250 gpm / 250 gallon / 20 Class A
Assigned to Martha's Vineyard


2007 APPARATUS

Chatham Forestry 187
2007 Ford F550 4x4 Forestry
250 gpm / 240 gallon / 10 Class A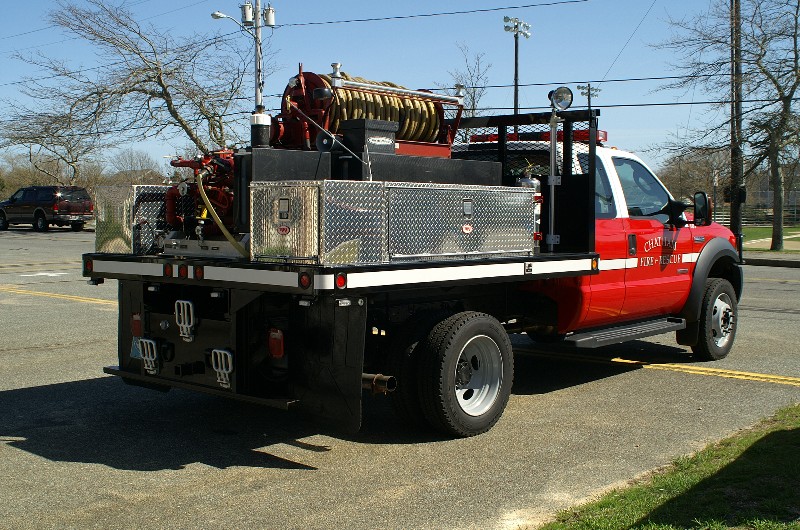 Yarmouth Fire added this 1986 Chevy 4x4 Forestry Truck in 2000.
250 gpm / 250 gals


FORESTRY TRUCKS

The Truro Fire Department put this 2001 Ford F350 4x4 in service as
Forestry 480 with a 200 gpm / 200 gallon Fire One skid tank.

Orleans Fire Department has been building Forestry 169
on a 1978 Dodge Power Wagon 4x4 former military pickup.
It has a 50 gpm pump & 225 gallon tank.
Custom built from assorted parts of other former vehicles, it even has a small deckgun.
(gas / automatic)
Nov, 2001.

Orleans Forestry 169 in 2002.

The Cape Cod National Seashore put this 1984 AM General Jeep 5 ton Military
chassis in service as a water tender in 2001. It has a 250 gpm pump and 1000 gal
tank. It is used during controlled burns in the seashore.

Kingston Fire Department Forest Fire 2 (75) is a 2001 Ford F550 / Greenwood
200 / 400 brush breaker.

2001 BOURNE BREAKER 127

Bourne Fire Department put Breaker 127 in service in December 2001.
This breaker, built on a 1974 military 2.5 ton chassis has a 150 gpm pump and
400 gallon tank. It was under construction on and off for several years.
This additional breaker brings Bourne back up to 3 breakers.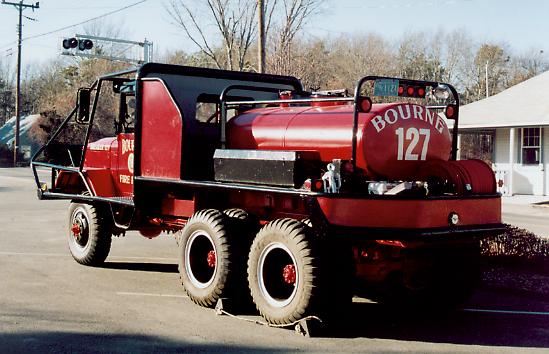 Bourne B127 stationed at Pocasset Station 4.

2002 BREWSTER BREAKER - TANKER 235

Brewster Fire Department acquired this 5 ton military chassis in late '90's with intentions
for making a brush breaker or tanker. The 1959 Kaiser military chassis had been
completely rebuilt in 1991.

In winter 2002, the 1959 Kaiser Military chassis was prepared for construction
as a brush breaker.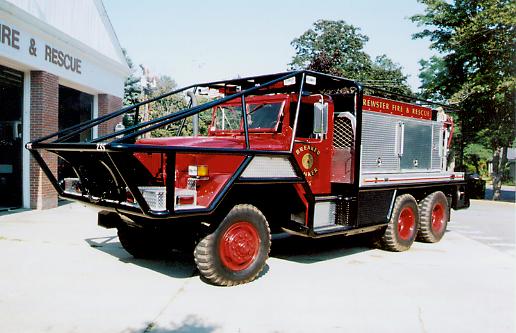 Brewster FD's new Brush Breaker - Tanker 235 was delivered in August 2002.
It was built by Greenwood Fire Apparatus in Attleboro MA.

The new B235 has a 250 gpm pump and 1100 gallon tank with a 20 gallon class A
foam tank. Serving also as a tanker, it has quick dump capability on both sides
and the rear.

B-T 235 also carries a 1500 gallon portable tank and a variety of equipment.