BARNSTABLE COUNTY FOREST FIRE DEPT No.1

Barnstable County maintained several brush breakers on Cape Cod from 1939 to 1985.
When radios were installed, the units were given radio designations as follows.
No.1 became C-15. It was the Falmouth county breaker.
No.2 became C-14. It was the West Barnstable county breaker.
No.3 became C-13. It was the Orleans county breaker
No.4 became C-12. It was the Dennis county breaker.
The county patrol plane became P-18.
TITLE
One

Barnstable County built a maintained several brush breakers on Cape Cod over
the years. The first brush breaker was built in 1939 on a Ford cab over chassis.
It had a Marmon Harrington all wheel drive transmission and was built by
Robinson Boiler Company in Cambridge, Massachusetts.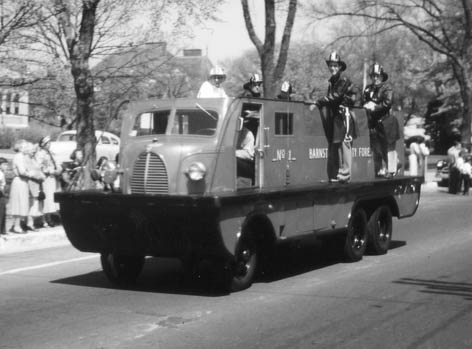 TITLE
One

County No.1 had an 85 hp flathead Ford motor, 125 gpm pump, and carried 1000 gallons
of water with a road speed of 30-40 mph.
TITLE
One

County No.1 was originally assigned to the Falmouth Fire Department. It was moved
to the North Falmouth Station 3 in 1953. Shown here with the 1953 Diamond T Engine 3.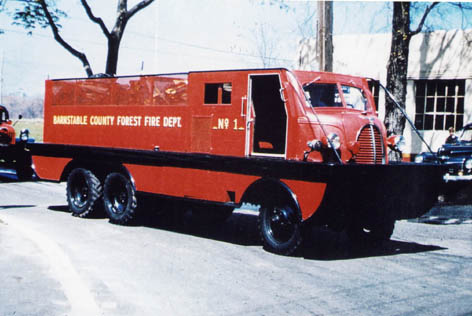 Barnstable County No.1 served in Falmouth from 1939 - 1957. When replaced in 1957,
it went to West Barnstable for another year of service. It was replaced in 1958 and
eventually found its way to Gay Head on Martha's Vineyard where it finished out its
career in the early 1980s.

Old Barnstable County No.1 served in Gay Head (Aquinnah) on Martha's Vineyard
after finishing service on the Cape.


BARNSTABLE COUNTY FOREST FIRE DEPT No.2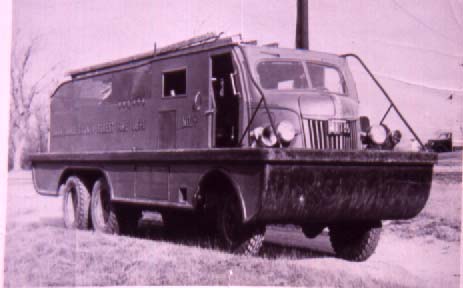 Barnstable County built its second brush breaker in 1942. Built on a Ford cab over /
Marmon Harrington chassis, this brush breaker was built by Robinson Boiler.
Also equipped with a 1000 gallon tank, it began service in West Barnstable in 1942.
It served briefly in Cotuit and then back in West Barnstable until 1957.
No.1 and No.2 had distinctly different front grills.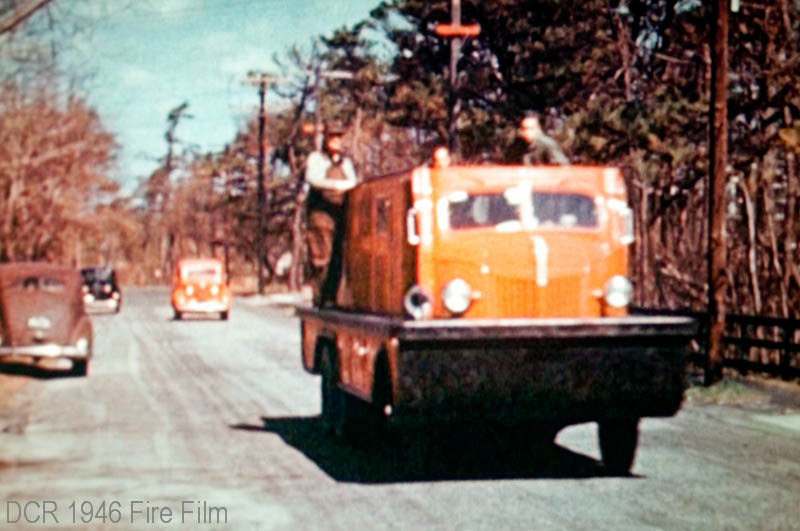 HAY ROAD FIRE
May 8, 1957 1304 hours.
80 degrees, sw wind @25 mph.
An F-89-J Jet out of Otis crashed into the woods 500 feet off Hay Road, Mashpee.
The base responded as well as the Mashpee Fire Department. The fire quickly
jumped Hay Road and at 1309 the Mashpee Chief called KCD 246, the Yarmouth
Fire Department that handled mutual aid for the Cape, and asked for "all available
breakers and tank trucks to respond."
Falmouth (KCD 244) sent E25, T35, C15, E23, B20, B33, and Car 21.
Bourne (KCD 497) sent B129, B127, and C120.
Sandwich (KCD 498) sent B142, B143, and P144.
C&O (KCD 760) sent B216, B217, and P210.
Barnstable and West Barnstable (KCB 781) sent C14 and B204.
Mashpee E3 (1929 Maxim, formerly Fal E3) drafted and supplied trucks.
The County airplane P18 responded and reported at 1325 that the fire was almost
to Ashumet Road and was 1 mile wide at that time.
Additional apparatus responded in from Plymouth County to assist
Cape units at this fire.


MASHPEE BREAKER 250

In July 1957, the Mashpee Fire Department purchased the former County No.2.
The 1942 Ford became Mashpee's first brush breaker, designated "250"
It was locally known as "Geranamo"

The Mashpee breaker responded to many fires in town and across southeastern Massachusetts.

Mashpee 250 was retired in 1976 after serving 19 years with Mashpee and a total of 34 years
on the Cape.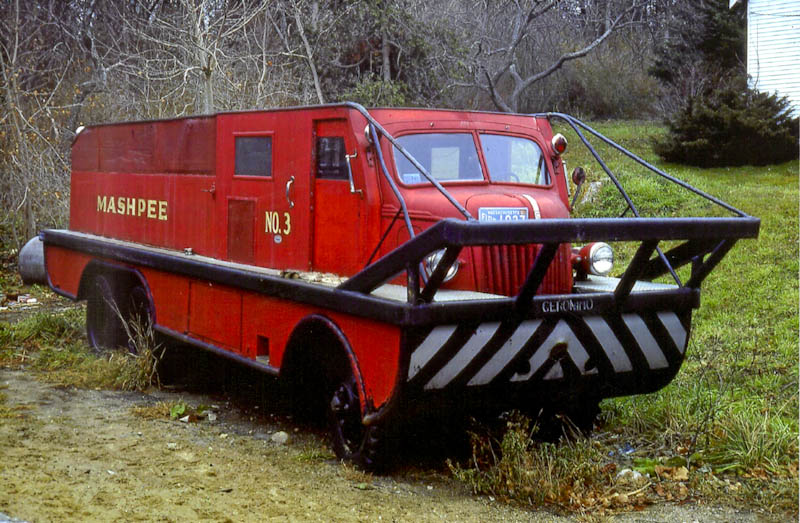 Later photo of 1942 Ford brush breaker at Mashpee with added bars and enhanced paint tob.
Barnstable County Breaker No.4 (C-12) was built in 1949 on a Ford chassis by Robinson
Boiler. It had an 800 gallon tank and was assigned to the Dennis Fire Station.
(photos H. Cobb collection)