May 1, 1965
75 degrees - wind Sw @35 mph
1254 Hours - Brush fire is reported near Forestdale Road & Pocasset Road in Otis.
1301 hours - Bourne fire tower reports the fire is moving fast. Otis had 2 breakers responding.
1303 hrs - Bourne fire tower reports a lot of fire there.
1306 hrs - Bourne fire tower updating looks real bad. State Car 2 requests 7 or 8 breakers
and 4-5 tank trucks. Responding apparatus includes C-15, T-35, B-142, B-143, T-148
C-14, B-250, B-254, B-130, B-128, and B-216.
1312 hrs - Cat 251 (Mashpee Chief) on location requests 8-10 more breakers "Now!"
1312 hrs - P18 reports 40-50 acres burning and spreading fast.
1315 hrs - Fire now are Wood Road spreading very fast.
1315 hrs - Bourne fire tower requested additional trucks.
C-12, B64, B204, B217
1320 hrs - Request made to Plymouth County for 15 more breakers and
10 tank trucks, plus all equipment from State District 2
1325 hrs - Fire crossed Jefferson Road, headed for Gibbs Road. Plan to make a stand
on Route 6. State police closed Route 6. Request for all available pumpers
and tank trucks to Route 6 and Route 130. Also requested Plymouth County
pumpers to stage at the Sandwich / Bourne town line.
1330 hrs - Fire crossed Gibbs Road. "Doubt it can be stopped at Route 6"
1345 hrs - Fire is past Gibbs Road and heading for Mid Cape.
1420 hrs - Fire jumps Route 6 with many trucks on the road.
1440 hrs - Orders to send all pumps and tankers to Route 6A Sandwich village.
1530 hrs - Fire is finally stopped at Sandwich village.
2230 hrs - Apparatus is released from mutual aid.
Several thousand acres blackened by the fire.



Fire burns along power lines.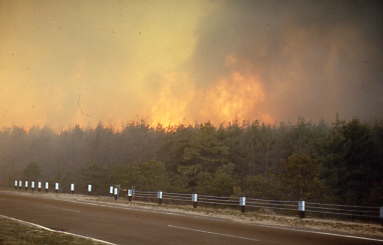 Fire over a hundred feet in the air viewed from Route 6.

Fire begins to jump Route 6, May 1, 1965. It continues to burn towards Sandwich village.

Route 6 May 1, 1965.

The Otis brush breaker B-14 on Route 6 as fire jumps the highway.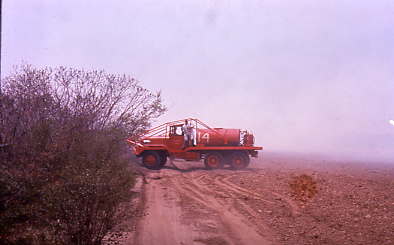 Otis brush breaker 14

1967 MASHPEE BRUSH BREAKER

Mashpee Firefighters in front of the old fire station on Route 130
with the 1957 and 1967 International brush breakers 253 and 254.
The Mashpee Fire Station with the 1967 Brush Breaker Engine 4 (254), a Pontiac ambulance,
and the 1970 Ward LaFrance Engine 5.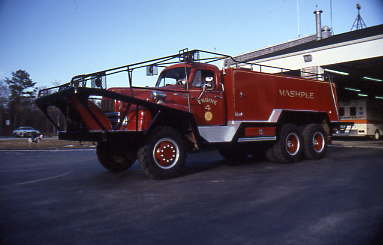 Mashpee Breaker 354.
This 1967 International / Thibault 1000 gallon brush breaker was originally
designated as Engine 4. Its county number was first 254 and then 354.
One of the most reliable breakers at many fires across the Cape.

1967 International Mashpee Breaker 354.

Mashpee Breaker 354 before repainting in 2003.


Rear of Mashpee Breaker 354.

2003 MASHPEE BREAKER REFUB

Mashpee Fire Department did some body work and repainted the 1967 brush breaker
in 2003. Breaker 354.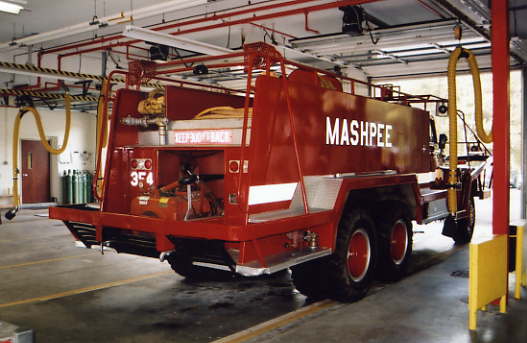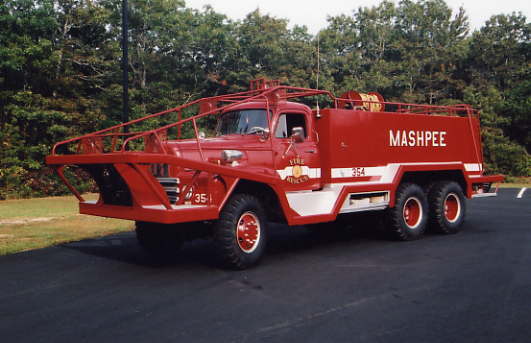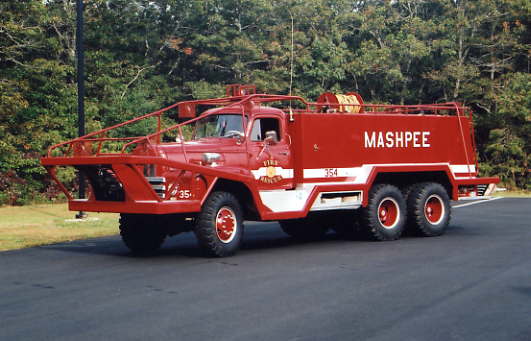 Mashpee Brush Breaker 354.