CAPE COD BRUSH BREAKERS

*
A PICTORIAL HISTORY
*

By Britton Crosby
January 2001
(Updated March 23, 2010)
[1][2][3][4][5][6][7][8][9][10][11][12][13][14][15][16][17][18][19][20]
[21][22][23][24][25][26][27][28][29][30][31][32][33][34]


Page 3
1920's - 1930's



FIRE TOWERS



As early as the late 1800's, observation posts (fire towers) were constructed so that
observers could spot smoke early and try to locate fires while still small.
This tower was and still is located in Wellfleet.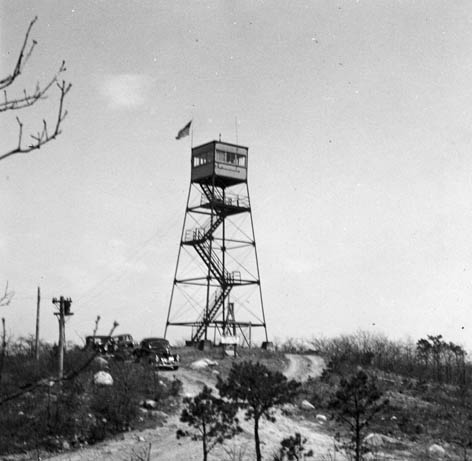 The Falmouth Fire Tower was constructed in 1914.

Barnstable Fire Tower on Shootflying Hill
in 1919.


Shootflying Hill in 1920

This fire tower in West Barnstable oversees much of the mid Cape
area. It is located along Route 6. The trees are all grown up now.

The Barnstable Fire Tower in 1992.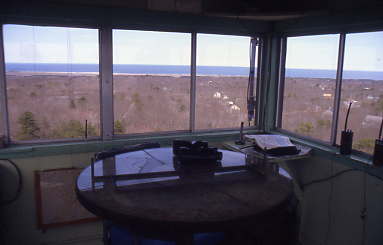 Inside the fire tower is a centrally located map. Observers simply get a line
on the smoke and by crossing lines from two or more towers, the fire can
be located and communicated to fire fighters.



Wellfleet Fire Tower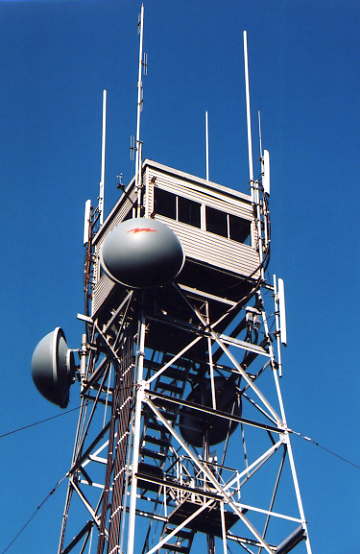 Sandwich Fire Tower, like most of the others, have become more
cell phone and radio towers than fire observation towers in
recent years. This is somewhat poetic since the invention of the
cell phone had greatly improved the ability of the public to call in fires
early from their cars.



Another example of modern technology competing with the need for fire towers.
Bourne Fire Tower.




Brewster Fire Tower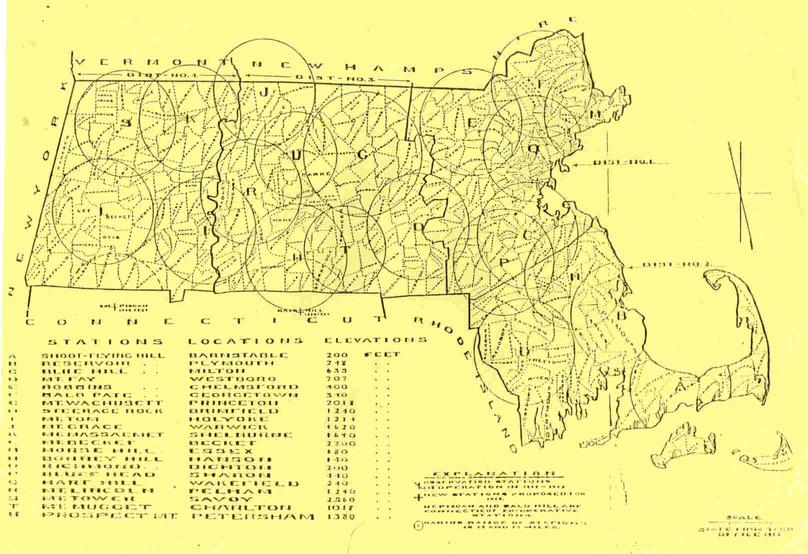 Map display of Massachusetts fire towers in 1913

THE FIRE PLANE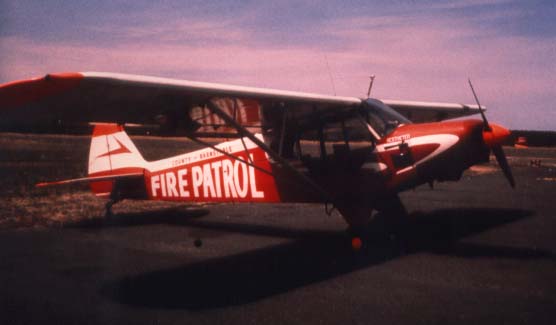 Locating and observing brush fires is key to extinguishing them before they get too large.
Barnstable County owned and operated a Fire Patrol airplane (P-18) for many years.
It could relay information on the size and movement of the fire to chiefs on the ground.




P-18 with pilot John Lemos and fire warden Robert Dottridge.

CAPE COD BRUSH BREAKERS



Related Links
Massachusetts DCR - Bureau of Forest Fire Control
Forest Fire Lookout Association
History Early Fire Towers
Massachusetts Fire Tower Locations
CCFD.com - Plymouth Brush Breaker Drill April 2006
CCFD.com - Plymouth-Wareham Brush Fires May 2006
CCFD.com - Sandwich Fire Tower 2006



NOTE
Photos in this series are from various sources
including fire department and personal collections.
(Top)