~ NEWS ~

Falmouth Fire Station 4
WEST FALMOUTH WILL CLOSE IN 2020
The West Falmouth Fire Station, built in the 1930s, has been a "1 man station" for
many years. Barely able to house a single modern pumper, the station has been
frequently closed in recent years when no apparatus that could fit in the station
was available. The announcement that the station will be closed next year has
been made public. The hope for a replacement station or combining the
West Falmouth and North Falmouth stations will be assessed.
October 2019

Plymouth Station 7
Present North Plymouth Fire Station 7
0 Spooner Street
Opened approx 1911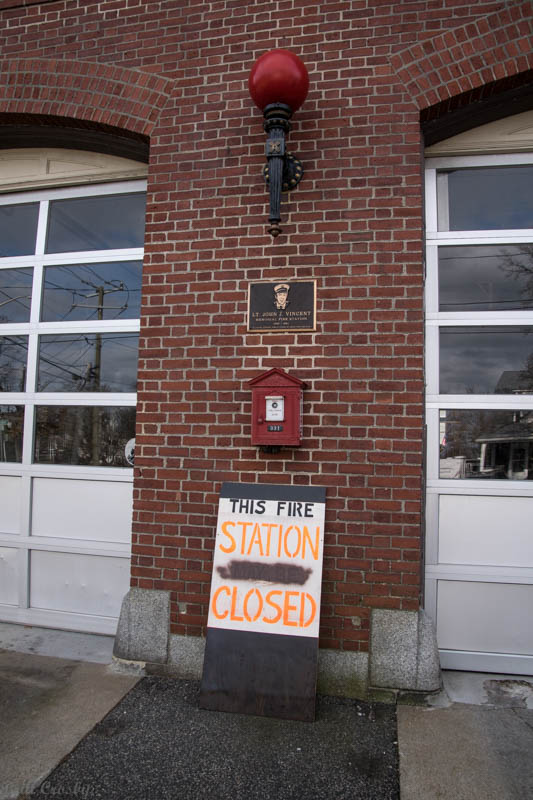 PLYMOUTH STATION 7 CLOSED
In an unexpected, unplanned move, Plymouth FD has had to close their oldest
Fire Station, Station 7 in North Plymouth, on November 6, 2019, when a
chunk of the concrete apparatus floor fell into the basement, making in
unsafe to park apparatus in the station.
The "new" North Plymouth Station 7, scheduled to replace this old station,
is under construction, but not planned to open until next year.
Currently both Station 1 and 7 are closed to normal operations
resulting in potential response time issues. Efforts are underway
to get stations repaired and reopened when possible.
Update Nov 15, 2019

Plymouth Station 1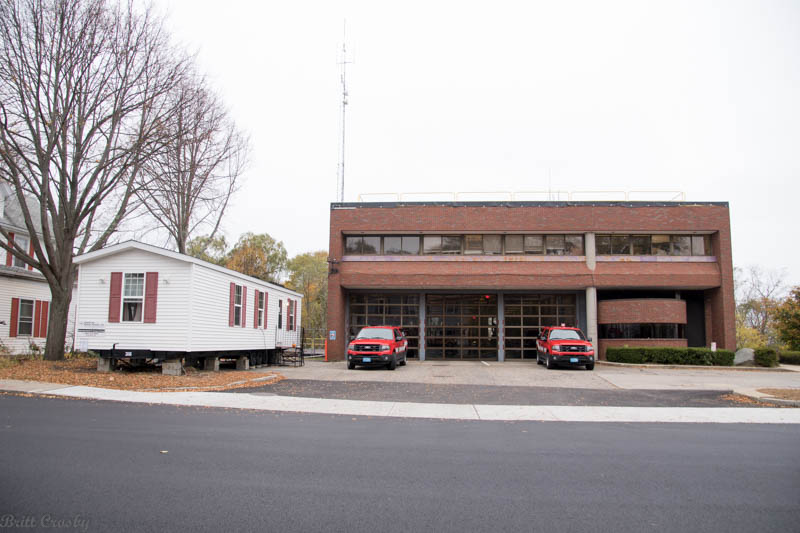 Plymouth Fire Headquarters
October 30, 2019
PLYMOUTH FIRE HEADQUARTERS ISSUES
More on Plymouth Fire Department Headquarters
PLYMOUTH FIRE HEADQUARTERS
(Emergency Renovations 2019)
The Plymouth Fire Headquarters Station 1 was opened back in 1978
at 114 Sandwich Street. It is home to Fire Department administrative
offices and the Dispatch center. Engine 1, Tower 1, Battalion Chief,
Spare Engine 8, Breaker 179, Special Forestry Engine 8-1, and
various other equipment call this home.
The station has been in need of general maintenance and repairs for years
but has repeatedly been put off for various reasons. In October 2019,
roof repairs were undertaken. During the work, a significant roof and
ceiling failure resulted in a major contamination of the station making
it uninhabitable. The department had to take emergency actions to
salvage and maintain what operations they could.
A trailer was placed on the property for firefighters to live in while
repairs are made.
The Tower 1 apparatus and personnel were relocated to Station 2.

Administrative offices were ultimately moved to the Cedarville Fire Station 6
which is the location of the Emergency Operations Center.
It is unclear when the department may be able to re-inhabit the station.
There had been discussion town wide prior to this event to
potentially relocate the Headquarters to 91 Long Pond Road
or another appropriate site at some time in the future.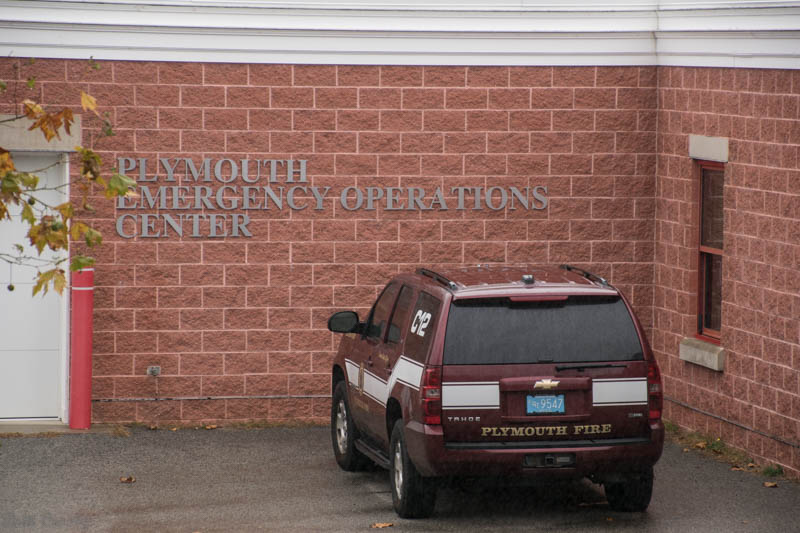 Fire & Police Station Projects
Several Fire & Police Station Projects Ahead

Watch for progress on the following in 2019

BOURNE FIRE
Study Committee looking at new south side fire station 2018

BOURNE POLICE
New Police Headquarters approved in 2016
UNDER CONSTRUCTION

CARVER POLICE
Carver approved a new Police Station across from Fire Station 1 - 2019

CHILMARK FIRE
Looking at Fire Station options 2018

DENNIS FIRE
Looking at options for a new Station 2 - Summer 2018

FALMOUTH FIRE
The West Falmouth Fire Station 4 will close in July 2020.
Discussions include potentially combining Station 3 & 4 in the future - Oct 2019

HARWICH FIRE
New Station for East Harwich Station 2 planned 2018. Dedicated Nov 30, 2019.
UNDER CONSTRUCTION

MATTAPOISETT FIRE
New Fire Station Approved - May 2019

NANTUCKET FIRE
New Fire Headquarters approved in 2016. Delayed to 2018.
OCCUPIED NOV 21, 2019

ONSET FIRE
New Fire Headquarters approved 2017.
UNDER CONSTRUCTION

PLYMOUTH FIRE
Emergency Repairs (resulting in partial closure) of Station 1 underway - 2019

PLYMOUTH FIRE
Approved new North Plymouth Station 7 - 2018
UNDER CONSTRUCTION

PROVINCETOWN POLICE
Police Station approved 2017. Reconsidered in 2019 and on hold.

Recently Opened Stations

NANTUCKET FIRE STATION - 2019

LAKEVILLE POLICE STATION - 2019

PLYMPTON POLICE STATION - 2019

SANDWICH FIRE STATIONS 2 & 3 - 2019
SANDWICH POLICE STATION
- 2019
HYANNIS FIRE HEADQUARTERS - 2018 - 2019
WELLFLEET POLICE STATION - 2018
BREWSTER FIRE HEADQUARTERS - 2018

ORLEANS POLICE STATION - 2018

EAST SANDWICH STATION 2 - 2018

MARTHA'S VINEYARD AIRPORT - 2017

CARVER FIRE HEADQUARTERS - 2017

OAK BLUFFS FIRE HEADQUARTERS - 2016
~ OPENED ~

Harwich Fire Station 2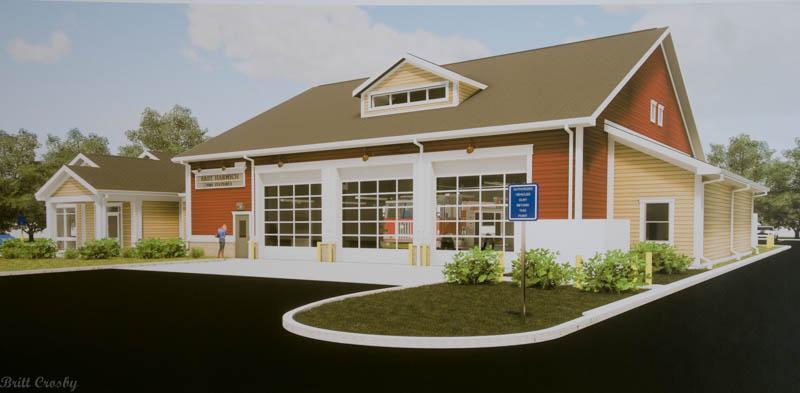 Future East Harwich Fire Station 2
HARWICH FIRE STATION 2
(Dedicated Nov 2019)
The new East Harwich Fire Station #2 at 4064 Orleans Road (Rte 39)
was dedicated in a ceremony on Nov 30, 2019.
Punch list items are being addressed prior to the full move
expected by New Years.
.
Funding for the $6.8 Million, 9,750 sq ft station was approved
in May 2018. Studies had looked at renovating and adding on
to the old station, but ultimately a new station was most practical.
The station is located on Orleans-Harwich Road (Route 39)
just south of the present station at the intersection on Rte 137.
The new station has 3 drive thru bays.
Once completed, the 1976 station will be torn down.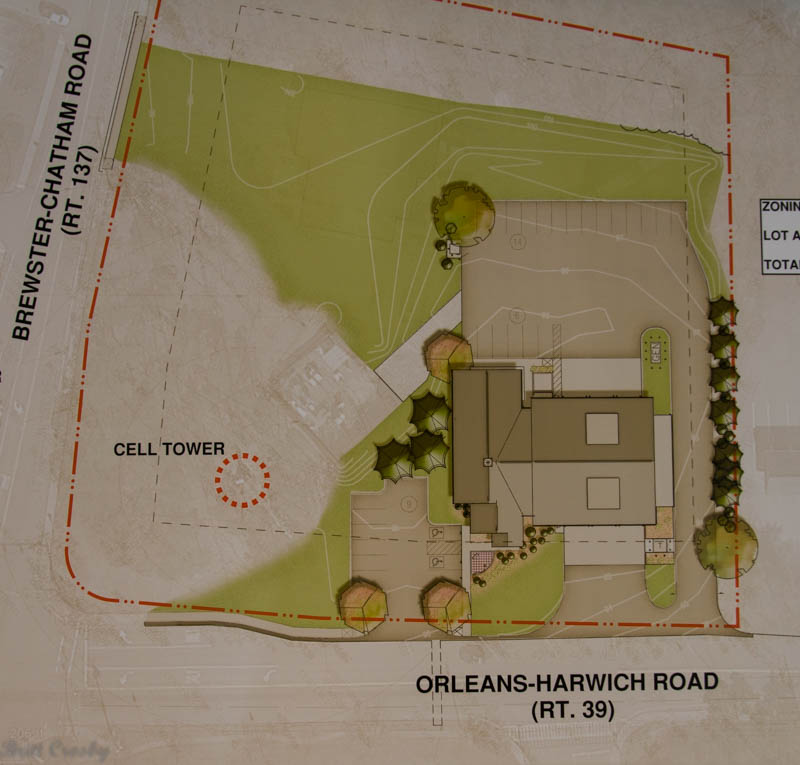 EAST HARWICH FIRE STATION 2
DEDICATION DAY
Photos Nov 30, 2019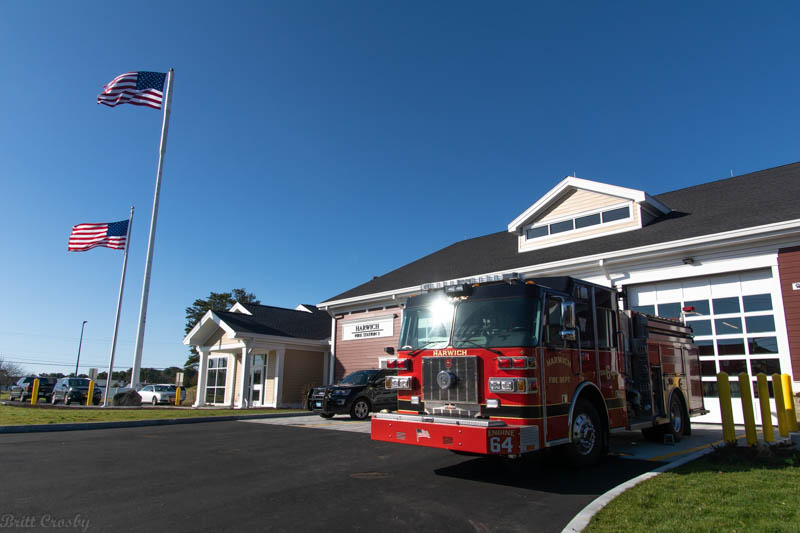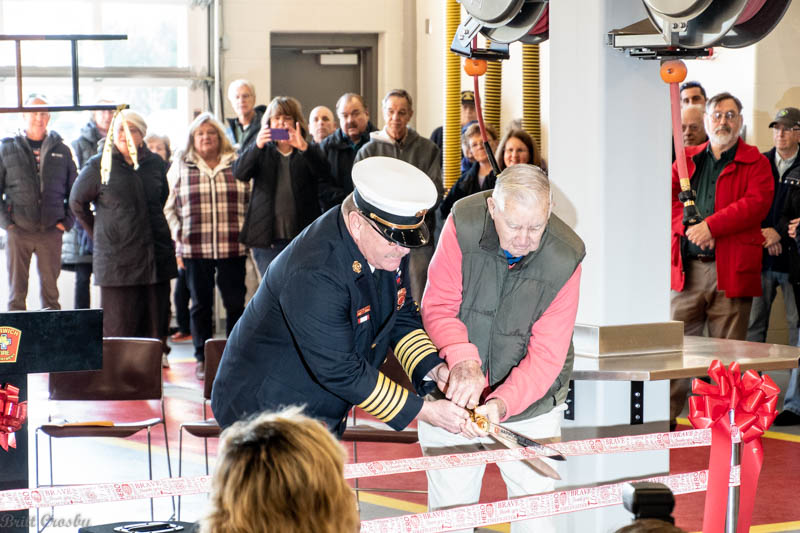 Sept 2018

Hyannis Fire Station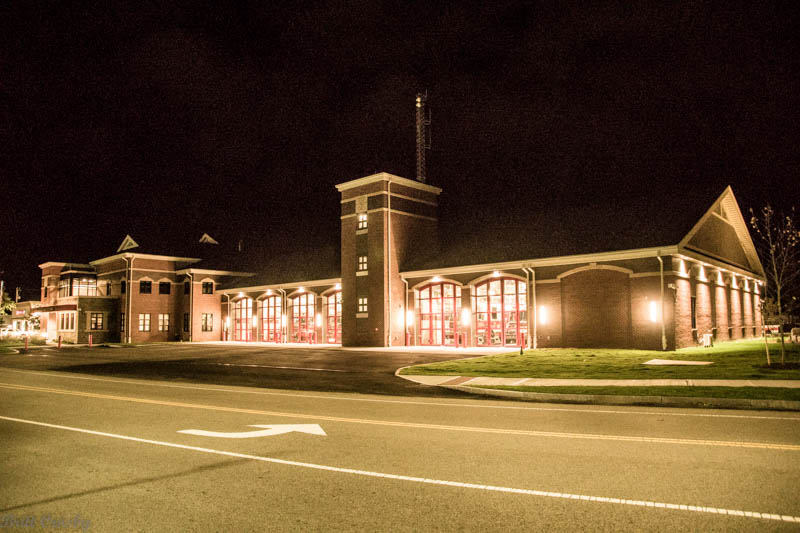 Hyannis Fire Headquarters
Completed and dedicated.
October 2019
Hyannis Firefighters Memorial Park
Next to the fire station.
Dedicated October 2019
HYANNIS FIRE HEADQUARTERS
(Opened in 2018 - Completed Oct 2019)
The new Hyannis Fire Headquarters & Hyannis Firefighters Memorial Park
was officially dedicated on October 12, 2019.
The Hyannis Fire Department approved a new $18.5 Million,
33,000 square foot Fire Headquarters
in April 2016.
Ground was broken on May 8, 2017.
The new station was built on the same site as the previous 1965 station
at 95 High School Road Ext. The administrative and living quarters,
along with 4 double deep bays were built first allowing the department
to remain in operation from the old station until moving into the
new station on October 17, 2018.
The old station was then torn down and the final phase begun.
The entire project was completed in October 2019.
The Hyannis Fire Station and Firefighters Memorial
were completed and dedicated October 12, 2019.
Firefighters Memorial Dedication Ceremony
October 12, 2019

Sandwich Fire Station 3
SANDWICH FIRE STATION 3
(Opened September 2019)
The Town of Sandwich voted in May 2016 to upgrade both fire and
police facilities within the town. It started with a renovation of the
1970's unstaffed Fire Station 2 in East Sandwich. That phase was completed
and the newly staffed Station 2 opened in June 2018.
Then, construction of a new Police Station and replacement for Fire Station 3
in Forestdale began. The Police station opened in Summer 2019.
The new Station 3, which includes headquarters offices,
opened at 251 Cotuit Road in September 2019.
SANDWICH STATION 3 CONSTRUCTION HISTORY PHOTOS
SANDWICH STATION 2 CONSTRUCTION HISTORY PHOTOS
SANDWICH POLICE STATION CONSTRUCTION HISTORY PHOTOS

POLICE & FIRE STATION DEDICATION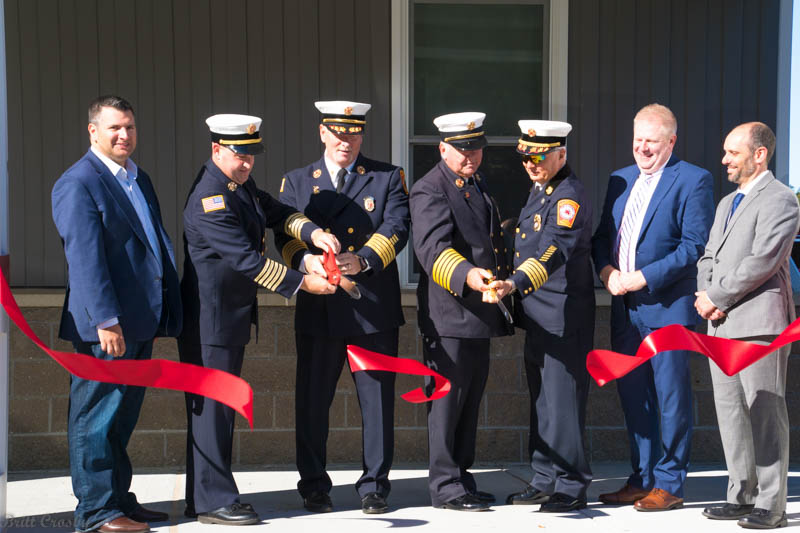 New Forestdale Fire Station 3
Opened with dedication September 27, 2019
~ PROJECTS ~

Bourne Fire Station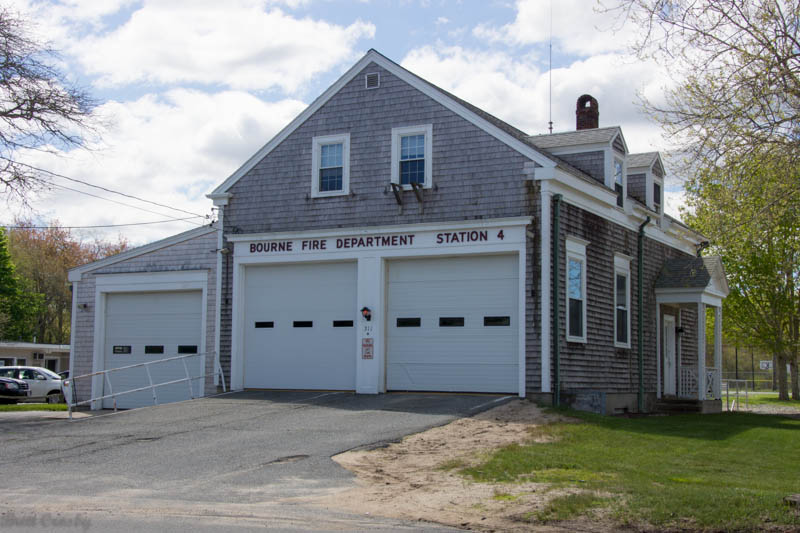 Bourne Fire Stations 2 & 4
BOURNE FIRE STATION
(Planning Stage)
The Town of Bourne has a committee looking into a solution to the
"south side" fire stations issue. Currently the old Monument Beach
Fire Station #2 is a call station and is really not designed for larger
apparatus or staffing. The Pocasset Fire Station #4 is also old and
barely sufficient for modern apparatus. It has been staffed for years.
Both are in need of replacement.
The discussion to date has been on where land might be available
to build a single new fire station which would replace Stations 2 and 4.
A piece of land on County Road has had favorable recommendations
but the process has looked at several locations.
Bourne has 4 stations currently, two north of the canal both staffed, and
two south of the canal, 1 staffed. Traffic and geographical issues
require properly located and staffed stations on both sides of the canal to
cover the town.
Nov 2018

Bourne Police Station
Bourne Police Station
(Bourne Image)
BOURNE POLICE STATION
(Under Construction 2018)
The Town of Bourne is currently building a new Police Station
on Armory Road in Buzzards Bay. The new station will replace the
present 60 year old police station at 175 Main Street.
The $18 Million facility was approved in October 2016.
It will be approximately 29,000 sq ft
Ground was broken on Sept 19, 2018 and construction begun
soon after. It should be completed in 2019.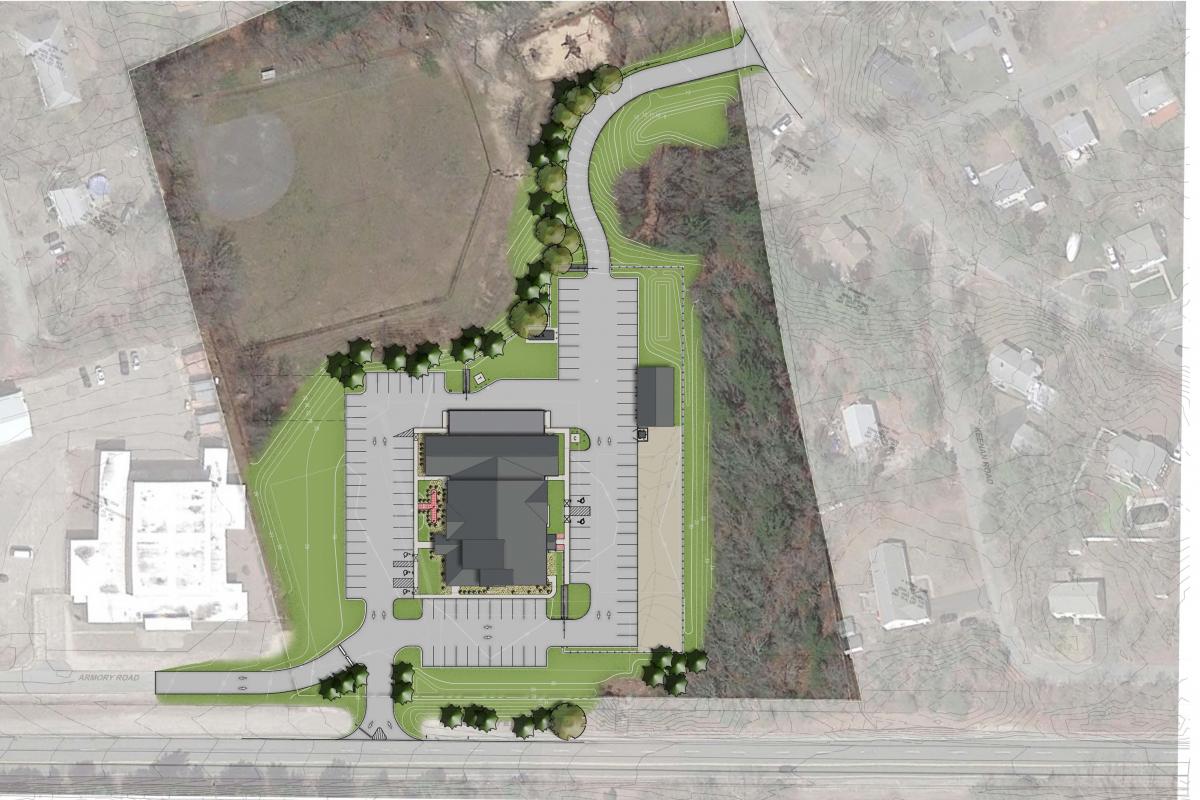 Bourne Police Station Construction
Oct 15, 2019
BOURNE POLICE STATION
Built in 1959 at 175 Main Street, Buzzards Bay


Carver Police Station



CARVER POLICE STATION
(Approved 2019)
The Town of Carver approved the building a new Police Station.
It is expected to be built almost across the street from the Carver
Fire Station.
Nov 2019

Lakeville Police Station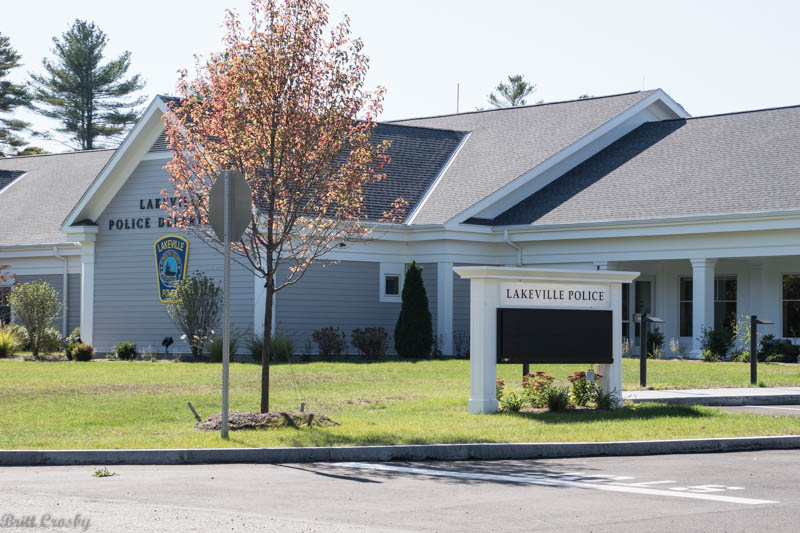 Lakeville Police Department's new station
Oct 2019
LAKEVILLE POLICE STATION
(Opened 2019)
The new Lakeville Police Station was recently opened
at 323 Bedford Street.
The new station was approved in 2017
and replaces a much smaller station.

Mattapoisett Fire Dept
Future Mattapoisett Fire Headquarters
(Architect images)
MATTAPOISETT FIRE STATION
(Approved 2019)
Mattapoisett Town Meeting approved a $9.27 override 443 - 5
to build a new fire station for the Town of Mattapoisett on May 14, 2019.
The final approval will go before voters in an election on May 21, 2019.
If voters approve funding, the station would be built next to the Police
Station and will replace the very tight present station.
MAY 2019

MATTAPOISETT FIRE STATION PRESENTATION



The present station Mattapoisett Fire Station.


Nantucket Fire Station
Architects rendering of future Fire Station
Link
NANTUCKET FIRE STATION
(Opened Nov 2019)
The Nantucket Fire Department's new fire station was finally occupied
on November 21, 2019.
It had been under construction since 2018.
The $15 Million station was finally approved in 2015. It will be located
on Fairgrounds Road next to the Police station.
Construction got under way in 2018 on the station which will have
6 double deep drive thru bays and additional office and living space.
The new station will replace the current station at Pleasant St &
Sparks Ave built in 1980.
NEW FIRE STATION WORK GROUP PAGE
SUMMARY OF RECOMMENDATIONS 2014

Onset Fire Station


Original Proposed Onset Fire Station
(Note: plan changed after amendment at Dist Meeting)
NEW ONSET FIRE STATION
(Approved 2017)
The site of the new station has been cleared and prepared for future construction
as of Dec 2019.
The Onset Fire District voters approved a new fire station on May 15, 2017.
The proposed $13.9 M request was amended at the meeting approving only
$8 Million for the project, forcing the plans to go back to the drawing board.
The new station is planned for a plot near the water department facility
on Sand Pond Road north of Route 6.

The present station has been in the heart of Onset village forever.
The 5 Central Ave station was built in 1950 next to the older
original station. The station has 6 bays, but is not well suited for
larger apparatus including the departments most recent ladder truck.
Future Onset Fire Station
Oct 15, 2019
Present Onset Headquarters
May 2019

Plymouth Station 7
Future North Plymouth Station 7
PLYMOUTH FIRE STATION 7
(Under Construction)
The old North Plymouth Fire Station 7 was built over 107 years ago
in the days or horse drawn apparatus. Newer apparatus barely fits into the old station.
Recently, Plymouth purchased a property not far from the 0 Spooner St station.
The new station will be at 15 Hedge Road just east of Court St.
The property has been cleared and preparations are under way to
build a proper new station. The new station is planned to be three
bays, double deep, allowing for an Engine, Brush Breaker, Ambulance,
a spare engine, and a future ladder truck.
Nov 2018
Update May 2019
PLYMOUTH STATION 7 CONSTRUCTION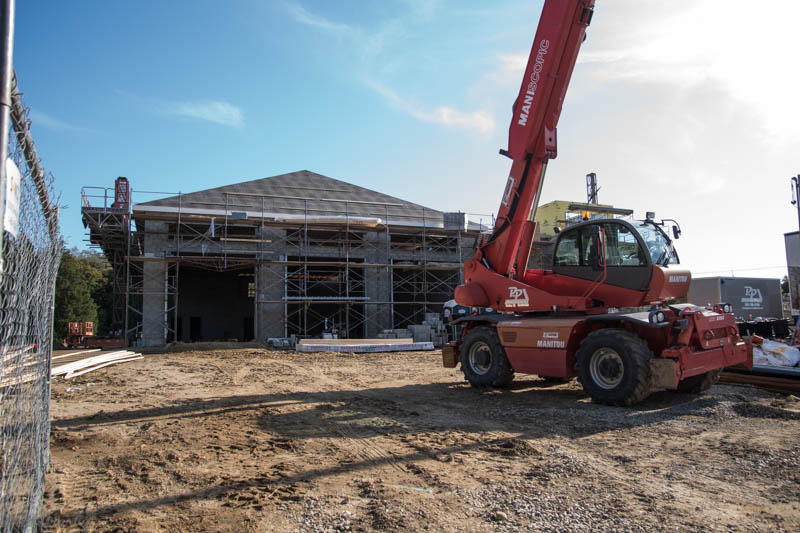 The new North Plymouth Station 7
October 15, 2019

Plympton Police Station
Plympton's new Police Station
Oct 2019
PLYMPTON POLICE STATION
(Opened 2019)
The new Plympton Police Station opened recently
It is located at 7 Palmer Street, near the fire station.
The station was approved in 2017 and opened in 2019.



FOR MORE
FIRE STATIONS PAGE