◄

►

= PAGE 2 =

CAPECODFD.COM =

HOME

=

HEADLINES

TOP STORIES AND MORE

Updated: April 24, 2017

CAPE COD Area Live Fire Radio
CAPE COD Fire & Police Radio
VINEYARD Fire & Police Radio
NANTUCKET Fire Radio
Broadcastify Massachusetts
Broadcastify Live Scanner Feeds


Radio Reference.com Freqs

Cape Cod Times Online
CapeCod.com/Cape Wide News
Cape Cod Today News
Hyannis News.com
Cape Cod Online .com
Scan New England
Daily Dispatch
Mass Fire Trucks .com
Northeast Fire News
Firehouse.com
Fire Engineering.com
Firefighter Close Calls


CIEMSS.org




Mass Dept Fire Services

CapeCodFD on Facebook
CapeCodFD on YouTube
BrittCrosbyPhotos.com
OSTERVILLE 3RD ALARM
COMM FIRE
A call reported a house fire at 22 Seaview Ave in the Wianno section of Osterville
at approximately 16:30 hours on Sunday April 23, 2017. First arriving crews
found heavy smoke and fire showing from a large 2-1/2 story wood home
and quickly struck 2nd and 3rd alarms brining additional help from much
of the mid and upper Cape to the scene. The fire took several hours to bring
under control.


<![if !vml]>
<![endif]>
<Back| |TOP| Next>

WHAT'S GOING ON


FOR MORE

First Due Continued in Full Assignment
Previous Stories

On This Page

Cape Wide News

CONTENTS

First Due
Headline Stories
On This Page
Cape Wide News
Local News Sites
Email Us
On Facebook
Full Assignment Stories
In The News
Events & Notices
Apparatus News
Stations News
Departments News
Communications
Listening Live
Photos Feature
Mutual Aid News
Run Stats
Hot Shot
Previous Hot Shots
From ARFF Collection
From Brush Breaker Collection
From Fire Boat Colletion
From Stations Collection
On The Web
Videos & More
From History Collection
Previous Stories
News Links
We Remember
About Sept 11, 2001
Support Troops
Feature Photo


<![if !vml]><![endif]>
Check it Daily


CapeWideNews
now at
CapeCod.com

FOR THE BEST
CAPE & ISLANDS
LOCAL EMERGENCY NEWS

FIRES - RESCUES - POLICE NEWS
LOCAL FEATURES

UP TO THE MINUTE

THE ONE PLACE TO GO
WHEN YOU WANT
TO KNOW!




Local News Sites


E-Mail Us

<![if !vml]><![endif]>

Pull The Hook!
To Send an EMAIL

CAPECODFD.COM
Send us an E-Mail!
Just pull the Fire Box.
We are interested in your thoughts, ideas, and comments
about CapeCodFD.com.

SEND US PHOTOS
OR NEWS VIA E-MAIL

CapeCodFD.com
<Back| |TOP| Next>

On Facebook
Join in the Fun!
A Facebook page was created March 14, 2013
for friends of Cape Cod Fire Departments to
communicate, share photos and information,
explore history, and generally associate with each other.
Go to
Cape Cod Fire Departments
WHAT'S GOING ON

FEATURED HEADLINE STORIES
<Back| |TOP| Next>








God Bless the USA!

OSTERVILLE 3RD ALARM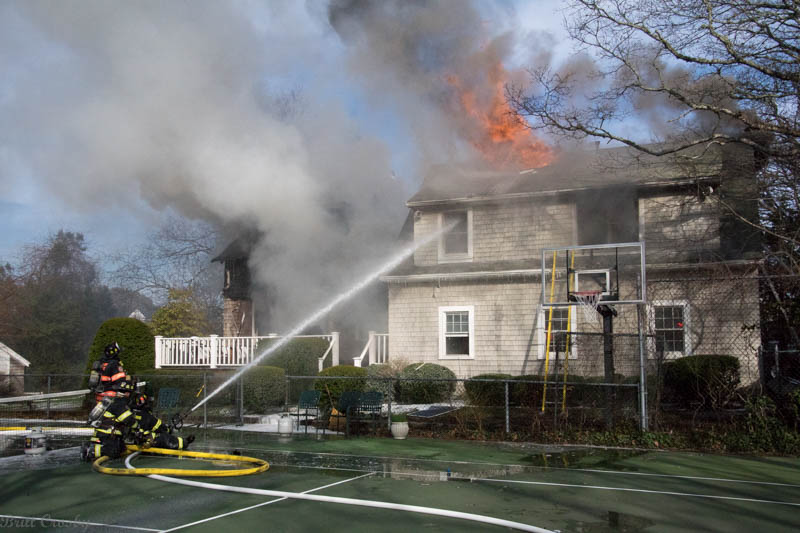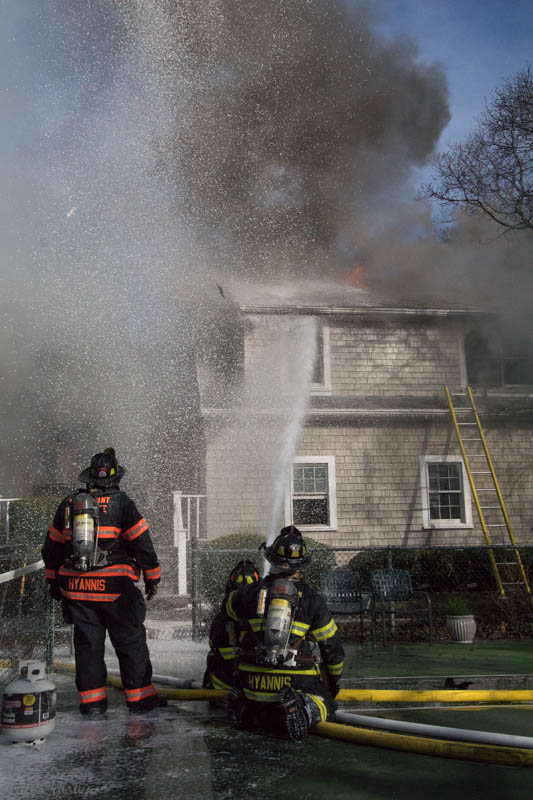 WEST BARNSTABLE BRUSH FIRE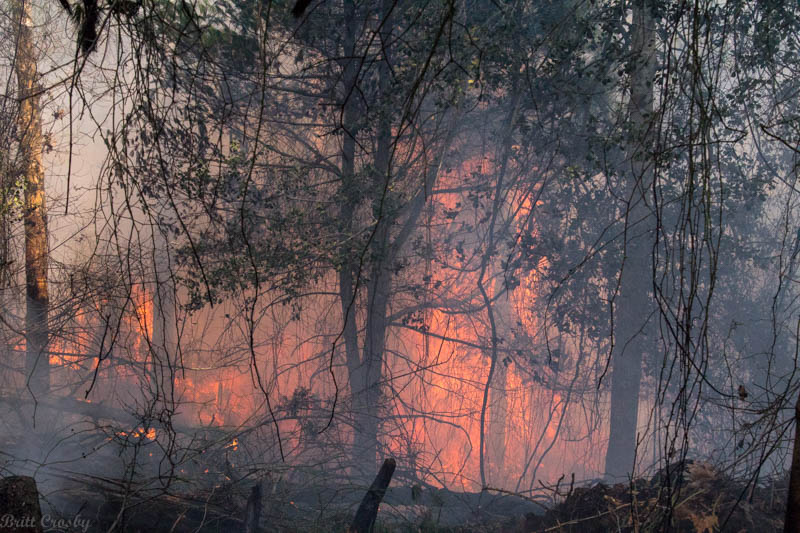 WEST BARNSTABLE
About 4 acres of woodlands were burned in a brush fire on Saturday April 15, 2017.
The fire began with a permit fire that got away and spread into nearly woods.
Mutual aid from across Cape Cod aided West Barnstable FD in battling the
fire and getting it under control.
COMM HOUSE FIRE
COMM STRUCTURE FIRE
The COMM Fire Department responded to a reported house fire
on Connors Road in Centerville on Sunday April 2, 2017 around 20:30 hours.
Arriving crews found a 1 story ranch style house about 30% involved.
A working fire was declared bringing in assistance from the Hyannis
and Barnstable departments, as well as covering crews for vacant
fire stations.

Barry Pina Retirement Party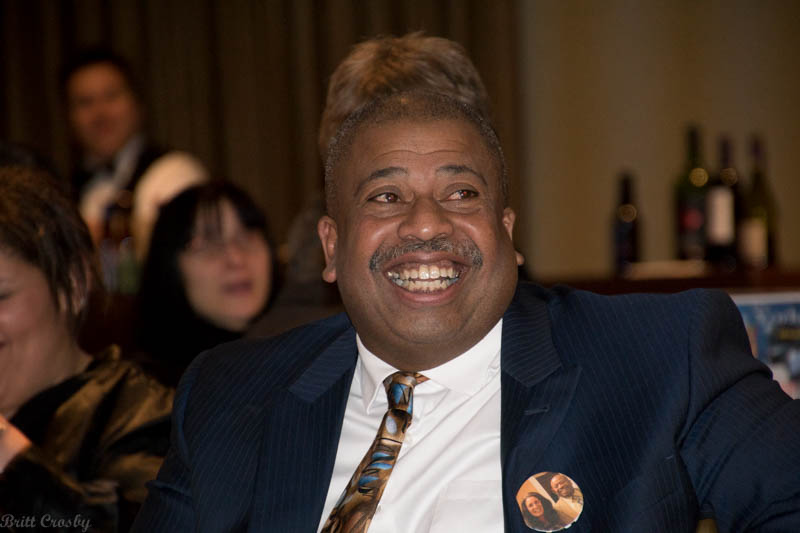 HYANNIS FIREFIGHTER BARRY PINA
About 200 people showed up to pay tribute to and roast retired Hyannis
Firefighter Barry Pina on Saturday April 1, 2017.
The night was filled with love and respect for the many contributions
he has made in over 42 years in the fire service.
There was a healthy dose of poking fun and story telling
by many of his friends and colleagues.
Congratulations "Bullet" for all you have done in your career!
ADDITIONAL FEATURE WILL FOLLOW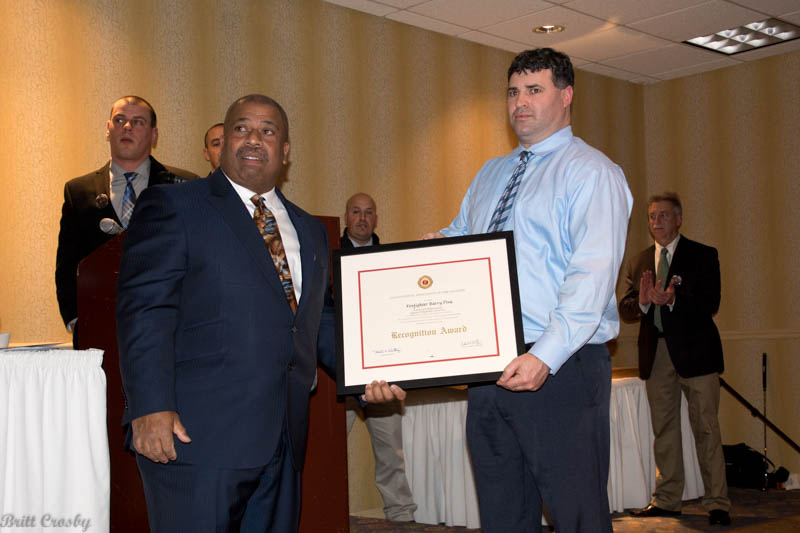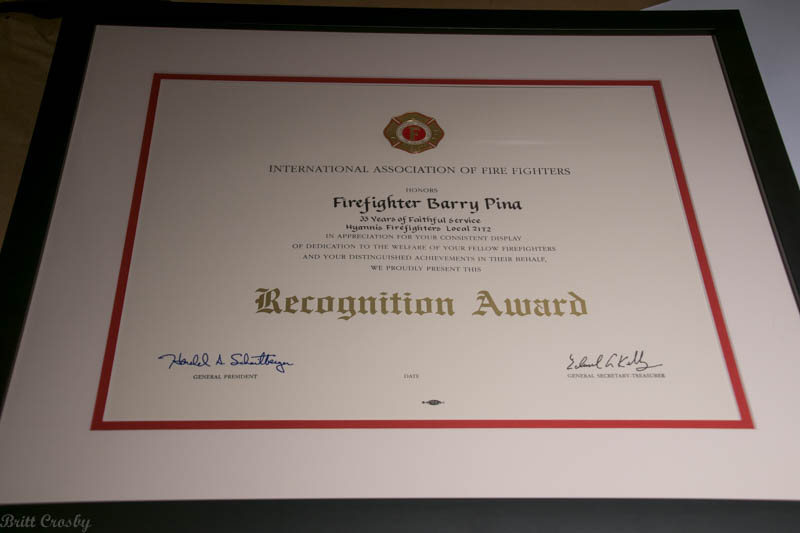 Chatham Fire Chief Retires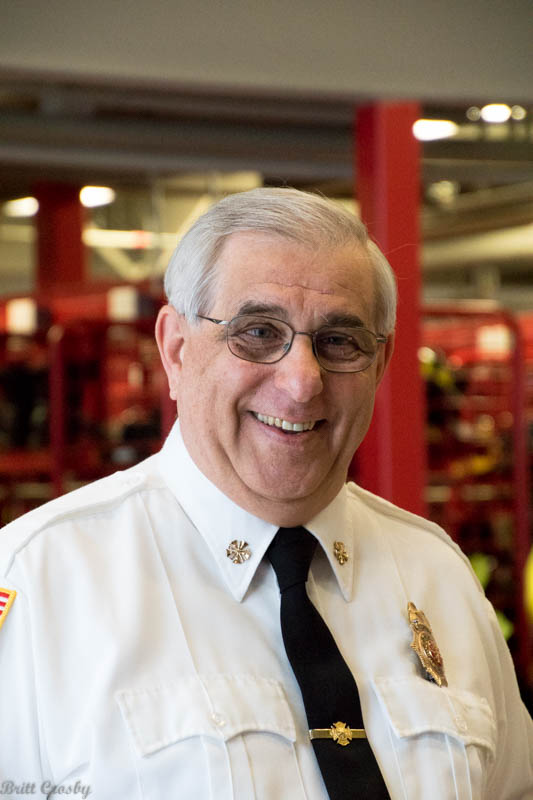 CHATHAM FIRE CHIEF MICHAEL AMBRISCOE
After serving for 12 years as the Chief in Chatham, Chief Ambriscoe
retired on March 31, 2017.
Congratulations Chief!
Chatham New Fire Chief
NEW CHATHAM FIRE CHIEF PETER CONNICK
Deputy Chief Peter Connick was sworn in as the new Fire Chief
in Chatham on March 31, 2017. Chief Connick joined the Chatham FD
in 1979 and worked his way up through the ranks as a firefighter/paramedic
to Captain and then to Deputy in 2011.
Congratulations Chief!

Carver's new Fire Headquarters
CARVER STATION 1
The new Carver Fire Headquarters was occupied in January 2017.
Located at 99 Main Street, just up the street from the old fire station,
the new facility includes a fully functional training facility on the grounds.
The call department takes pride in its training and service to the community.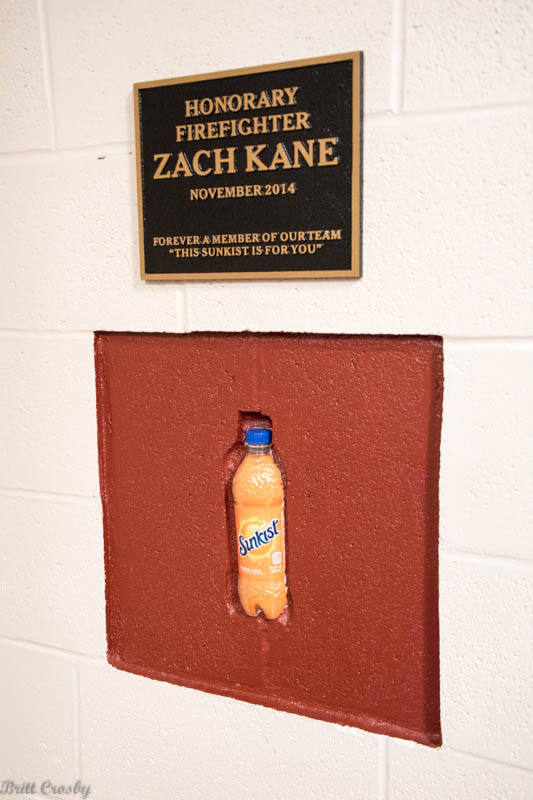 Brewster Fire Station Construction
BREWSTER FIRE STATION
The work has begun on the new Brewster Fire Headquarters which will be
located behind the present fire station built in 1974. The department will
continue to operate out of the fire station while construction is ongoing.
Some apparatus has been relocated during construction.
March 2017


FOR MORE


RUN TO THE TOP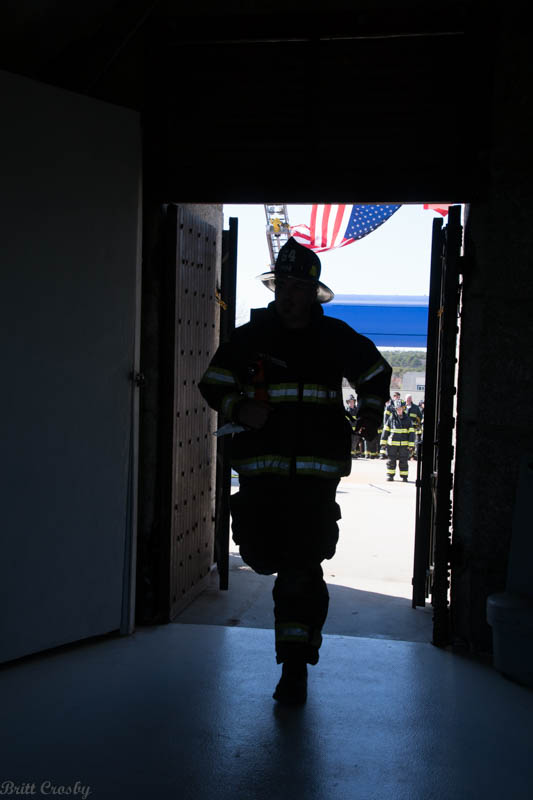 Provincetown
The 9th Annual
"Run to the Top"
Saturday May 6, 2017
Provincetown - Pilgrim Monument
Registration 2:30 P.M.
Run to Top starts at 4:00 P.M.
Benefits to Cape Cod Fire-EMS Cancer Relief Fund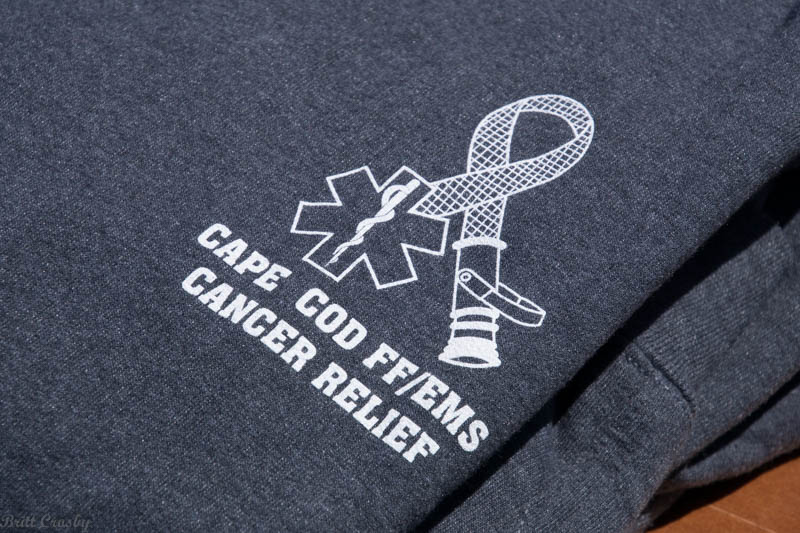 2017 Tri-State Firefighters Meet
Webster, MA
May 21, 2017
Memorial Beach Park, Webster, MA
Return of the Tri-State Muster to Webster!
Lots of apparatus and demonstrations.
Mass Antique Fire Apparatus
40th Annual Fire Apparatus Show
& Firematic Flea Market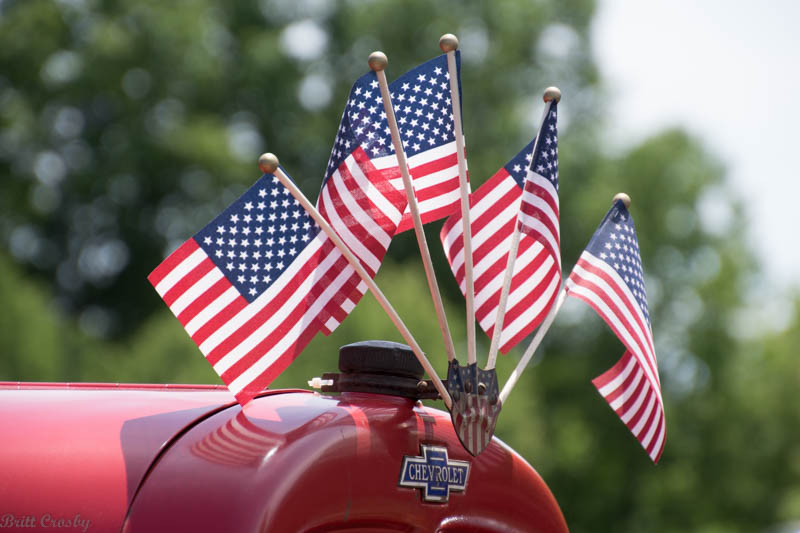 Wakefield, MA
June 10, 2017
10:00 A.M. - 2:00 P.M.
Edgewater Office Park, Audubon Rd
Wakefield, MA
Parade
The event is preceded by a parade of apparatus.
Great Family Event.
Musters & Parades
Anita Ford's Best on the Web
Nationwide Listing of Musters, Parades and Special Events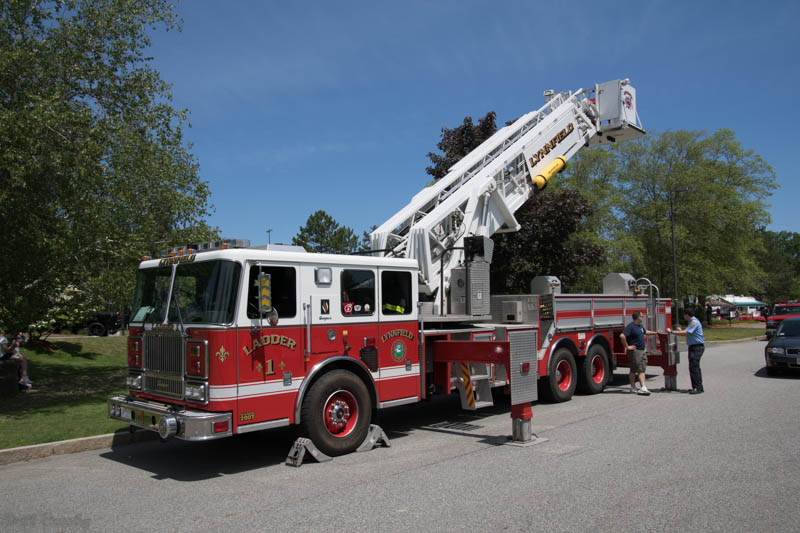 FOR MORE


COMM Ambulance
COMM AMBULANCE 326
2016 International / Horton Type I Ambulance
EMS 326
Mar 2017

Bourne Ambulance
BOURNE AMBULANCE 136
2016 International TerraStar / Life Line Type I Ambulance
EMS 306
Mar 2017


Harwich Ambulance
HARWICH AMBULANCE 72
2016 Ford E550 / Life Line Type I Ambulance
EMS 352
Mar 2017
Harwich Ladder
HARWICH LADDER 66
Originally white truck recently returned from a refurb and repainting
1992 E-One110' Aerial Ladder Truck
Mar 2017

FOR MORE
APPARATUS NEWS
Apparatus photos and news

MORE APPARATUS NEWS
Recent Deliveries, Plans, Rumors, Retired Apparatus
Carver Fire Moved In

CARVER FIRE HEADQUARTERS
Carver moved into their new Headquarters Station 1
on January 15, 2017.
The new station is located at 99 Main Street
March 2017

Hyannis Headquarters
HYANNIS NEW HEADQUARTERS
Site preparation has begun for the new Hyannis Headquarters
to be built next to the present station.
March 2017
Bourne Moves Headquarters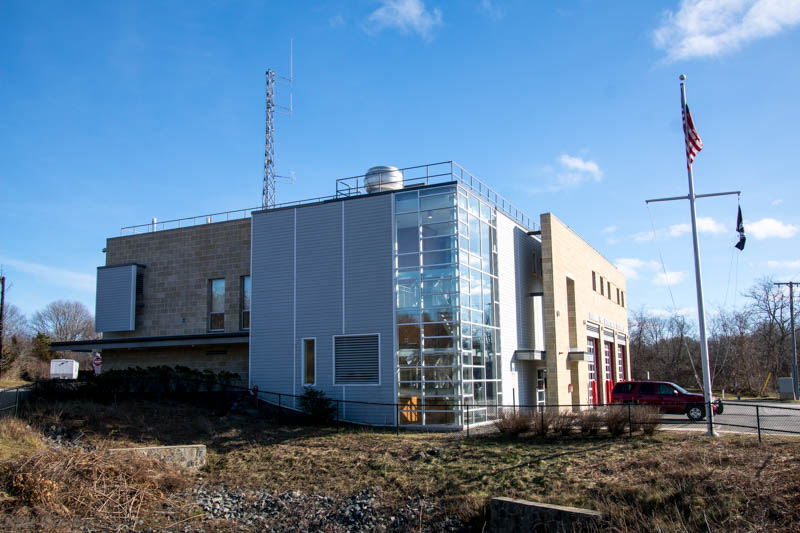 BOURNE FIRE HEADQUARTERS
The Bourne Fire Department has officially moved its headquarters offices into
the 53 Meetinghouse Lane, Sagamore Fire Station #3 effective Jan 1, 2017.
Brewster Fire Station
FUTURE BREWSTER FIRE HEADQUARTERS
Brewster expects to begin work on their new Fire Department Headquarters
early in 2017. The new station will be built behind the current fire station
on Route 6A. It will have 5 drive thru bays.
The present station will remain in place throughout construction and then
be utilized by the town for other purposes. The present FD annex behind
the present station will be taken down for site prep. The apparatus in that
building will be temporarily relocated during construction.
The 22,000 sq ft, estimated $13.5 Million station was approved
by voters in November 2015.
Dec 2016

Station Projects in 2017
Several Fire & Police Station Projects Ahead
Watch for progress on the following in 2017
BOURNE - New Police Headquarters approved in 2016
BREWSTER - New Fire Headquarters was approved in 2016
CARVER - New Fire Headquarters preparing to open in 2017
HARWICH - Renovation of East Harwich Station 2 planned.
HYANNIS - New Fire Headquarters was approved in 2016.
NANTUCKET - New Fire Headquarters approved in 2016.
ORLEANS - New Police Headquarters under construction 2016.
SANDWICH - New Police Station and New Station 3 approved in 2016.
SANDWICH - Renovation & addition to East Sandwich Station 2 approved 2016.





FOR MORE
FIRE STATIONS PAGE




DEPARTMENTS NEWS

ABOUT DEPARTMENTS AND PERSONNEL
<Back| |TOP| Next>


MASHPEE FIRE DEPARTMENT
Congratulations to Lt. Glen Milliken upon his retirement from the Mashpee FD. Glen had 31 years with the Mashpee FD and 7 years call time with the Middleboro FD. He was a paramedic for many years. Best wishes in your retirement!
April 2017



FALMOUTH FIRE DEPARTMENT
Congratulations to Falmouth Firefighter Russell Ferreira (3rd from left) upon his retirement from the Falmouth FD on April 16, 2017. FF Ferreira joined the Falmouth FD as a call FF in 1983 and served as a fulltime firefighter since 1987, a total of 34 years. He was very active in the union and served many years as the President of IAFF Local 1397.
April 19, 2017
DENNIS FIRE DEPARTMENT
The Dennis FD has promoted Lt. Jeff Perry to Captain, replacing Captain Robert Marseglia who retired in March 2017. FF Phelim Meehan has been promoted to Lieutenant. Congratulations to both!
April 2017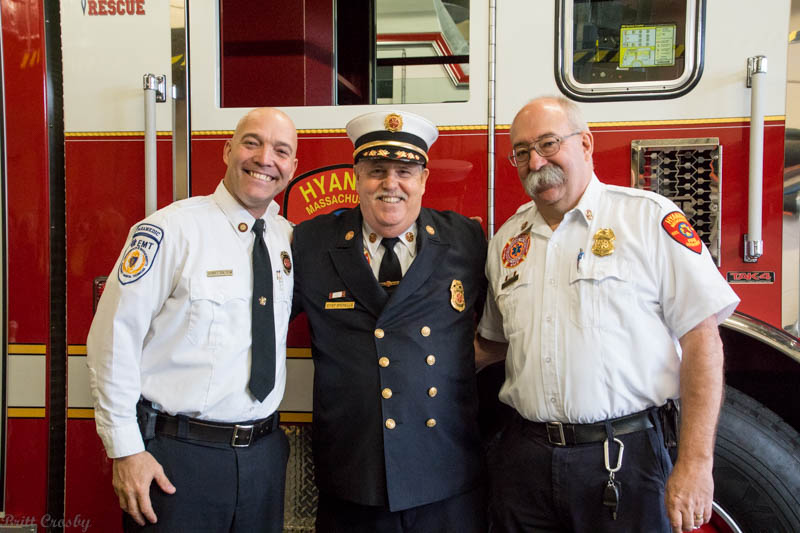 COTUIT FIRE DEPARTMENT
Cotuit Fire Chief Christopher Olsen (left) will be retiring in June 2017. Chief Olsen began a career with the Barnstable Fire District in 1989, rising to the position of Deputy in 2004. He took the Fire Chief job in Cotuit in 2008. Congratulations Chief!
April 2017
CAPE & ISLANDS
Fire & EMS providers from across the Cape & Islands area mourned the passing of Falmouth ER Doctor Evan P. Weinstein, age 45, who passed away on April 5, 2017 after a 7 year heroic battle with brain cancer. He had been a Paraamedic and firefighter in Hamilton, NY prior to becoming an MD and coming to the Cape where he played an active role in EMS direction and education while serving as Medical Director at Falmouth Hospital.
April 2017

CHATHAM FIRE DEPARTMENT
Peter Connick was sworn in as the new Fire Chief in Chatham on March 31, 2017. He has been serving as the Deputy Chief since 2011 and was a Captain prior to that for many years. Chief Connick joined the Chatham FD in 1979. He worked many years as a paramedic and has also taught the EMT classes at CCCC for many years. Congratulations Chief!
April 2017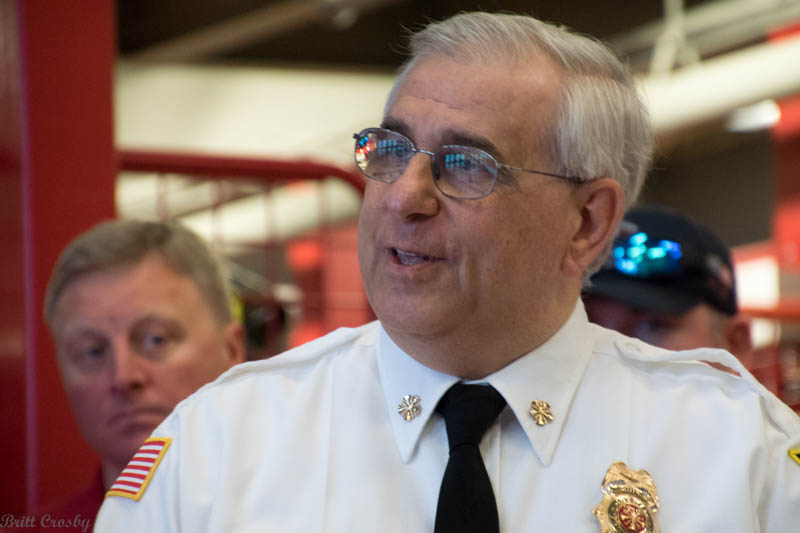 CHATHAM FIRE DEPARTMENT
Chatham Fire Chief Michael Ambriscoe retired on March 31, 2017 after 12 years as chief. Congratulations and enjoy retirement!
April 2017
DENNIS FIRE DEPARTMENT
Dennis Captain Robert "Vito" Marseglia has retired from the Dennis FD after 3 decades of service. He served many years as a paramedic, climbing the ranks to LT and Captain in 2007. He retired in March 2017 after 33 years of service.
Congratulations!.
April 2017


BREWSTER FIRE DEPARTMENT
Former Captain Arthur Romme' has retired from the fire department after 44 years of total service. He joined the Brewster FD in 1972 as a call member and became fulltime in 1976. One of the original Fulltime members of the Brewster FD, Artie served as a paramedic most of his fulltime career which concluded in 2012 when Capt Romme' retired. He continued again as a call member for 5 more years, wrapping it up at the end of March 2017. Congrats and best wishes Capt!
April 2017

WAREHAM FIRE DEPARTMENT
Regrets to announce the passing of retired Wareham Fire District firefighter William M. Rogers, Jr, age 90, on March 26, 2017. He joined the Wareham Fire Department at age 15 and served for 50 years. He was also a retired Captain at Otis AFB Fire Department retired in 1980. He is father of Wareham Capt Mark Rogers.
April 2, 2017
FALMOUTH FIRE DEPARTMENT
Retired Falmouth FD Capt E. Michael "Mickey" Moniz passed away March 13, 2017.
March 14, 2017
HYANNIS FIRE DEPARTMENT
Captain Eric Farrenkopf is serving as Acting Deputy Chief.
Lt. Kevin Black is serving as Acting Capt Company A
FF David Webb is serving as Acting Lt Company B
March 2017


FOR MORE
DEPARTMENTS NEWS
LISTEN TO CAPE COD
FIRE RADIO LIVE !
CapeCodFD.com Live Feed
on Broadcastify.
December 2016

Listen to the Scan New England
Cape Cod Police, Fire, and EMS
Live Feed.

SCANNERS AND RE-BANDING ISSUES

Many of you who monitor Cape Cod Fire and Police Departments on various "trunk tracker" style scanners may have noticed problems recently with the implementation of the re-banding of the Massachusetts State Police (MSP) Trunked Radio system.
Re-banding is a national reallocation of radio frequencies that has been underway for several years across the country. The local switchover took place in March 2013.
The changes were expected to make many older scanners obsolete, HOWEVER!
It is possible that many, if not all of the newer and older scanners WILL WORK if reprogrammed with the updated frequencies. Older scanners including the BC780, BC785, BC895, Radio Shack units, and others will work if re-programmed!
I recommend you break out the Owners Manual if you haven't already, or download an online version, brush up on the basics of programming your scanners and give it a try. YOU WILL BE HAPPY!
Here is a list of the frequencies used by the system. If you enter them correctly (make sure you enter them as M (Motorola) TRUNK channels, they should work.
Go to RadioReference.com for additional information on frequencies and programming scanners with what you want to listen to.
For those who are not already aware, you can also listen to the action online as well. The LIVE SCANNER FEEDS that were previously on RadioReference.com have been moved over to a system called BROADCASTIFY.com. You can listen to many different feeds, but should check out the local Cape Cod Fire Departments on the feed provided which covers all the Cape Fire Departments, including OPS channels, and as a bonus also gets much of the Southeaster, Mass area off Cape.
This same feed is also available on a Phone App. So if you wish to listen to the Scanner here on the Cape you can certainly do so in a number of ways thanks to Broadcastify.

For Fire Departments Only try the CapeCodFD.com feed at Broadcastify:
Barnstable, Dukes, Nantucket, and Plymouth Counties Fire Departments.
On air since Dec 2016.
For a mix of Cape Cod Police and Fire Live Radio try Scott Halligan's
Scan New England site:
Cape Cod Police, Fire, and EMS
The link for CAPE COD Area Live Fire Radio at the top of my Home Pages also brings your to this feature.
Good luck and good scanning!
FOR MORE

PHOTO FEATURES

THE LATEST FROM PHOTO FEATURES
<Back| |TOP| Next>


2016 PLYMOUTH COUNTY BRUSH BREAKER DRILL
IN CARVER

FOR MORE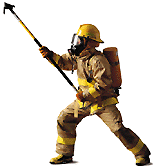 FALMOUTH FIRE DEPARTMENT RELEASED NEW RUN CARDS & NOW HAS NEW DISTRICTS (RUN CARD)
DECEMBER 2013


FOR MORE

Barnstable County Control
Enter a department and zone
for actual official run cards
RUN STATISTICS

DEPARTMENT ANNUAL RUNS STATS
<Back| |TOP| Next>

Cape Cod Fire Departments
2016 Run Stats
NEW

01-03-17

2000 2001 2002 2003 2004 2005 2006 2007 2008 2009
2010 2011 2012 2013 2014 2015 2016
(10 year comparison 2000 vs 2010)
Unofficial 2016 Stats
Updated 03-14-17
Estimated 63,184 Total Calls in 2016
(decrease of 595 calls)
Estimated 63,779 Total Calls in 2015

| | | |
| --- | --- | --- |
| DEPT RANKING | 2015 RUNS | 2016 RUNS |
| #1 Falmouth FD | 6,966 runs | 7,265 runs |
| #2 Yarmouth FD | 7,096 runs | 6,790 runs |
| #3 Hyannis FD | 7,002 runs | 6,503 runs |
| #4 Dennis FD | 4,979 runs | 5,103 runs |
| #5 Bourne FD | 4,931 runs | 4,706 runs |
| #6 Harwich FD | 4,295 runs | 4,324 runs |
| #7 COMM FD | 4,429 runs | 4,142 runs |
| #8 Sandwich FD | 3,889 runs | 4,022 runs |
| #9 Mashpee FD | 3,615 runs | 3,594 runs |
| #10 Brewster FD | 2,882 runs | 2,917 runs |
| #11 Chatham FD | 2,727 runs | 2,715 runs |
| #12 Orleans FD | 2,482 runs | 2,531 runs |
| #13 Eastham FD | 1,723 runs | 1,722 runs |
| #14 P-Town FD | 1,203 runs | 1,246 runs |
| #15Barnstable FD | 1,242 runs | 1,241 runs |
| #16 Wellfleet FD | 1,171 runs | 1,181 runs |
| #17 Joint Base FD | 820 runs | 889 runs |
| #18 Cotuit FD | 830 runs | 835 runs |
| #19 Truro FD | 730 runs | 829 runs |
| #20 W Barnstable | 758 runs | 629 runs |
| #21 BMA | 9 runs | xx runs* |
| | | |
| | | |
| | | |
| | 63,779 | 63,184 |
The above run stats are unofficial preliminary estimates presented to show the trends of emergency response on Cape Cod..
HOT SHOT

FEATURED FROM THE INCIDENT PHOTO COLLECTION
<Back| |TOP| Next>

COMM W/F
Connors Road, Centerville
April 2, 2017
PREVIOUS YEARS
[ 2007 ] [2008] [2009] [2010] [2011] [2012] [2013] [2014] [2015] [2016]
[2017]

CRASH TRUCKS

FEATURED FROM THE ARFF COLLECTION
<Back| |TOP| Next>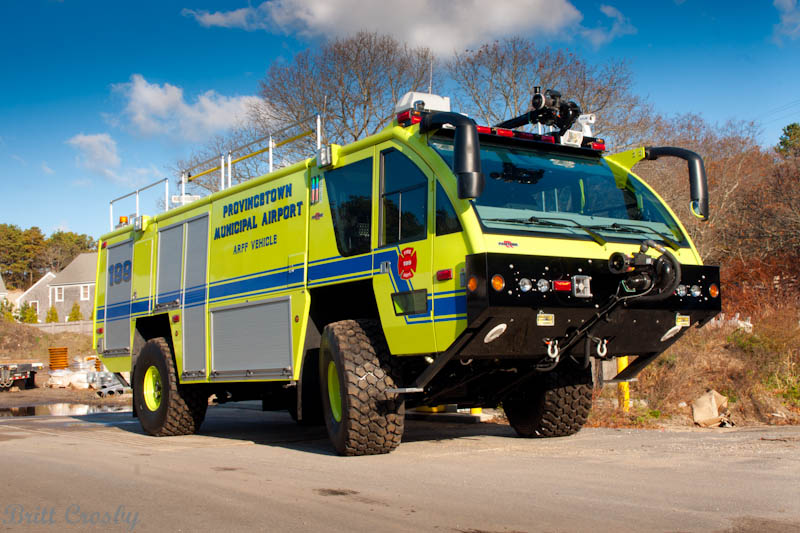 PROVINCETOWN MUNICIPAL AIRPORT
CRASH TRUCK 199
2011 Rosenbauer 1500 gallon ARFF truck
FOR MORE
BRUSH BREAKERS

FEATURED FROM THE BRUSH FIRE COLLECTION
<Back| |TOP| Next>

SANDWICH BREAKER 463
The old work horse, 1953 Studebaker Brush Breaker, built by Ted Young in 1973,
and rebuilt by the Sandwich FD in 2002 has seen its last fire. The breaker was
recently taken off the road. The good news is, a "newer" breaker is being built
and will hopefully be in service in the next few months.
FOR MORE
FIRE BOATS

FEATURED FROM THE FIRE BOATS COLLECTION
<Back| |TOP| Next>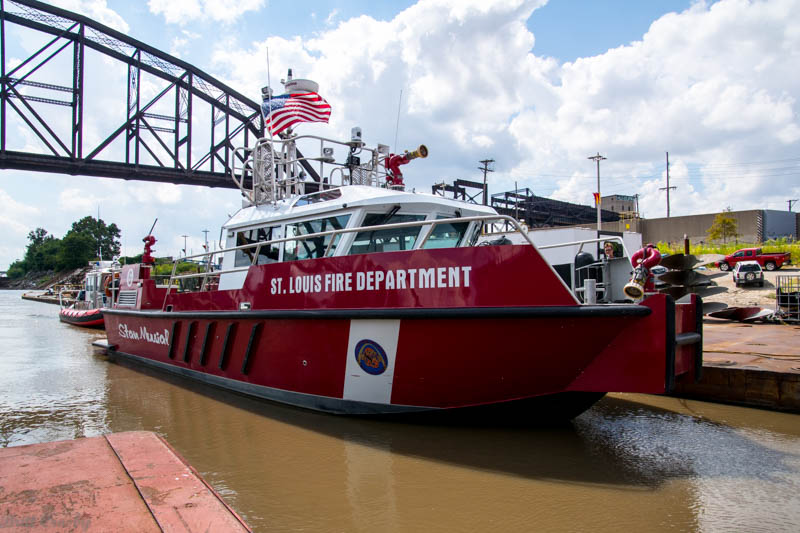 St. Louis Fire Department
Fireboat 6
"Stan Musial"
FOR MORE
"American Fire Boats"
- The history of Waterborne Firefighting and Rescue in America -
By Wayne Mutza
Published in 2017
Wonderful new book with lots of up to date information
about fire boats.
(A must have for fire boat fans!)

FIRE STATIONS

FEATURED FROM THE FIRE STATION COLLECTION
<Back| |TOP| Next>

ORLEANS FIRE & POLICE STATION
90 South Orleans Rd (Rte 28) & Eldridge Parkway.
1954 FWD pumper, 1963 Maxim County No.3 Brush Breaker,
and 1966 Mack C (first diesel engine on Cape) pumper.
Orleans Fire moved to a new station in 1987
at 58 Eldridge Parkway.

The Orleans Police are currently building a new Police
Station on the same site as the old police station.
FOR MORE
ON THE WEB

DEPARTMENTS & OTHER WEB SITES ON INTEREST
<Back| |TOP| Next>

IN THE MOVIES

CHECK OUT THE VIDEOS & MORE
<Back| |TOP| Next>

CHECK OUT THE VIDEO AND YOU TUBE PAGE FOR SOME VERY COOL VIDEOS!
VIDEOS INCLUDE SOME HISTORICAL FOOTAGE FROM THE 1940'S, 1950'S, AND 1960'S.
Cape Cod Brush Fire 1946... 15,000 Acres! Part 1
Cape Cod Brush Fire 1946... 15,000 Acres! Part 2

ADDITIONAL VIDEOS LISTED ON
OUR VIDEO PAGE



NEWER VIDEOS CAN BE FOUND
at CapeCodFD Videos on YouTube

FROM HISTORY

FEATURED FROM THE HISTORICAL COLLECTION
<Back| |TOP| Next>

MAY 1, 1965
ROUTE 6, SANDWICH

75 degrees - wind Sw @35 mph
1254 Hours - Brush fire is reported near Forestdale Road & Pocasset Road in Otis.
1301 hours - Bourne fire tower reports the fire is moving fast. Otis had 2 breakers responding.
1303 hrs - Bourne fire tower reports a lot of fire there.
1306 hrs - Bourne fire tower updating looks real bad. State Car 2 requests 7 or 8 breakers
and 4-5 tank trucks. Responding apparatus includes C-15, T-35, B-142, B-143, T-148
C-14, B-250, B-254, B-130, B-128, and B-216.
1312 hrs - Cat 251 (Mashpee Chief) on location requests 8-10 more breakers "Now!"
1312 hrs - P18 reports 40-50 acres burning and spreading fast.
1315 hrs - Fire now are Wood Road spreading very fast.
1315 hrs - Bourne fire tower requested additional trucks.
C-12, B64, B204, B217
1320 hrs - Request made to Plymouth County for 15 more breakers and
10 tank trucks, plus all equipment from State District 2
1325 hrs - Fire crossed Jefferson Road, headed for Gibbs Road. Plan to make a stand
on Route 6. State police closed Route 6. Request for all available pumpers
and tank trucks to Route 6 and Route 130. Also requested Plymouth County
pumpers to stage at the Sandwich / Bourne town line.
1330 hrs - Fire crossed Gibbs Road. "Doubt it can be stopped at Route 6"
1345 hrs - Fire is past Gibbs Road and heading for Mid Cape.
1420 hrs - Fire jumps Route 6 with many trucks on the road.
1440 hrs - Orders to send all pumps and tankers to Route 6A Sandwich village.
1530 hrs - Fire is finally stopped at Sandwich village.
2230 hrs - Apparatus is released from mutual aid.
Several thousand acres blackened by the fire.

<![if !vml]>
<![endif]>

We Remember
We Remember
Never Forget
NEVER FORGET
We Remember

The Worcester Six
December 3, 1999


Firefighters Memorial
View Video

F.D.N.Y. 343

9-11-01


Boston


August 29, 2007
FF Paul J. Cahill - E30
FF Warren J. Payne - L25

Boston


January 9, 2009
LT. KEVIN KELLY
Ladder 26


Hyannis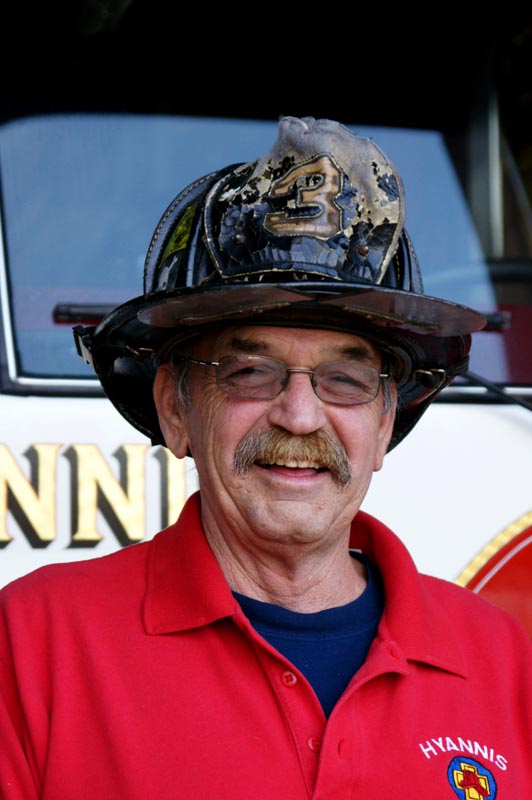 FF Dana "Danny" Clough
Oct 19, 2011

Worcester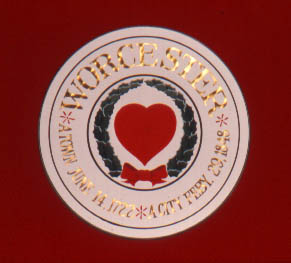 FF JON D. DAVIES
Rescue 1
December 8, 2011

BSO
BSO Dispatcher
Jimmy Verrochi
Jan 23, 2013

Yarnell Hill, AZ


19 Firefighters
Granite Mountain Hot Shots
June 30, 2013


Onset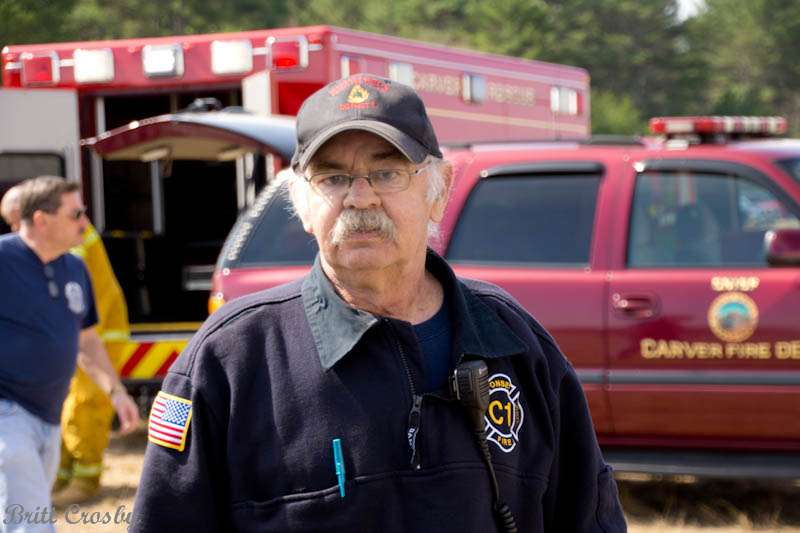 Onset Fire Chief Howard B. "Howie" Andersen
Retired in September 2013 and passed away Oct 4, 2013.

Boston
298 Beacon St, Boston
March 26, 2014
Lt Edward Walsh E33
FF Michael Kennedy L15





COMM FD
Horace Manley "Gus" Crosby III
"Uncle Gus"
Passed away September 19, 2014
The first permanent firefighter in Osterville.
Founding member IAFF Local 2346.
33 Year career COMM FD.
My mentor, Best Man, Neighbor.
Semper Fi Marine
HYANNIS FD
Retired Hyannis Firefighter - Dispatcher
Robert McGorty
Passed away Oct 9, 2014 age 72
Charter member Hyannis IAFF Local 2172
32 Year member retired 2002
"KCD 454 Clear"
HYANNIS FIRE
BRETT D. GRANDAW
Former Firefighter / Paramedic
Hyannis FD, Age 55, November 18, 2015.
23 years with Hyannis FD
and 17 years with FEMA Team.

BARNSTABLE FIRE


William E. "Billy" Fleming
Retired Barnstable Fire Fighter
Past President IAFF 3276
1989-2009
Age 56, Passed away Dec 31, 2015




COMM FIRE


Fred Lewis
Retired COMM Senior Private.
Passed away from Cancer
Sept 8, 2016

COMM FIRE


Jordan Galvin-Juntas
Age 19
COMM Intern & college student
killed in Middleborough tragic accident
Oct 23, 2016


FALMOUTH FIRE
Retired Fire Chief Paul D Brodeur
Jan 20, 2017

ONSET FIRE
Ronald A. Aseltine, Jr
Age 49
Onset Call Firefighter
(Retired DCR Dist 2 Warden)
Feb 26, 2017



SEPTEMBER 11. 2001

DEDICATED TO ALL THOSE WHO MADE THE ULTIMATE SACRIFICE
<Back| |TOP| Next>


REMEMBER
SEPTEMBER 11, 2001

The World Trade Center towers from Liberty Island, summer 2001.

TAKE A CLOSER LOOK AT WHAT HAPPENED THAT DAY.
What have we as a fire service learned about the collapses of the
two 100 story twin towers and the 47 story WTC Building 7 that day?
CHECK OUT THESE LINKS 10 YEARS LATER
LISTEN TO THE FDNY AUDIO TAPES OF THAT DAY
REVIEW THIS VIDEO OF THE EVENTS THAT DAY
September 11th Revisited - Full Movie


FOR MORE
FIREFIGHTERS FOR 911 TRUTH .ORG
ARCHITECTS & ENGINEERS FOR 911 TRUTH .ORG
GOD BLESS THE USA
SUPPORT THE TROOPS

CAPE COD CARES FOR THE TROOPS
<Back| |TOP| Next>






PLEASE SUPPORT THIS SPECIAL CAUSE
Cape Cod Cares for Our Troops
www.CapeCod4TheTroops.com
REMEMBER ALL THE MEN AND WOMEN
PROTECTING OUR FREEDOM
CONGRATULATIONS!
HE MADE IT!
Crazy Guy on a Bike
Check out Retired Falmouth FD
Lieutenant Joel Carlisle's
2012 Coast to Coast Bike Ride!
Joel set out from Cape Cod on April 25, 2012
and rode his bike over 4,414 miles
reaching the west coast and the Pacific Ocean at Oregon on July 10, 2012!
His daily logs and photos of his progress
are fun to read.
Welcome Home Joel!

PREVIOUS YEARS PHOTOS
[2007] [2008] [2009] [2010] [2011] [2012] [2013 2014] 2015 2016
2017

HARWICH FIRE RESCUE
Harwich FD Lt Leighanne Merigan Smith and Lt Justyne Walorz
one recent duty shift when the "ladies" had command of both stations.
HARWICH CREW
Duty crew enjoying the warming of spring at Harwich headquarters.
BE SAFE

SO EVERY ONE GOES HOME

God Bless The USA
Copyright Britton W Crosby
CapeCodFD.com
All Rights Reserved