Fire & Police Station Projects
~ OPENED ~

Nantucket Headquarters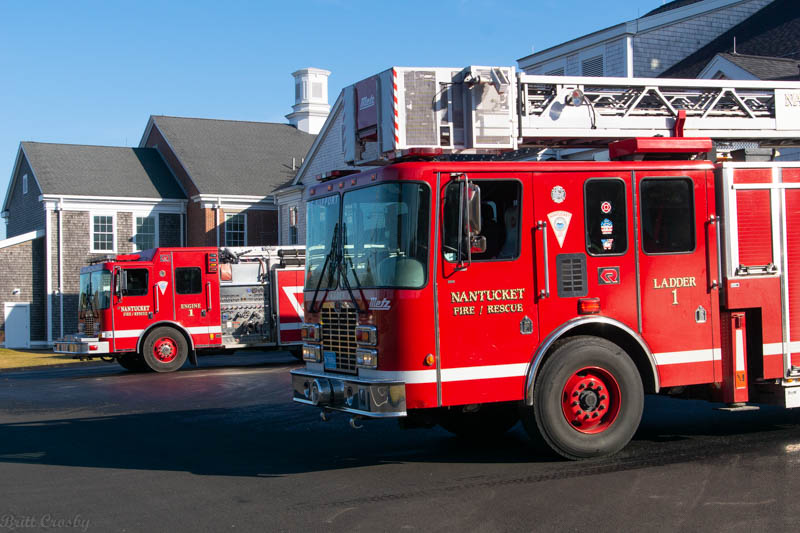 FIRST LOOK AT NEW NANTUCKET FIRE STATION
The new Nantucket Fire Headquarters was completed and occupied
on November 21, 2019. A visit and tour on December 23,2019 of the new
station is included in a new feature NANTUCKET FIRE HEADQUARTERS.
Jan 5, 2020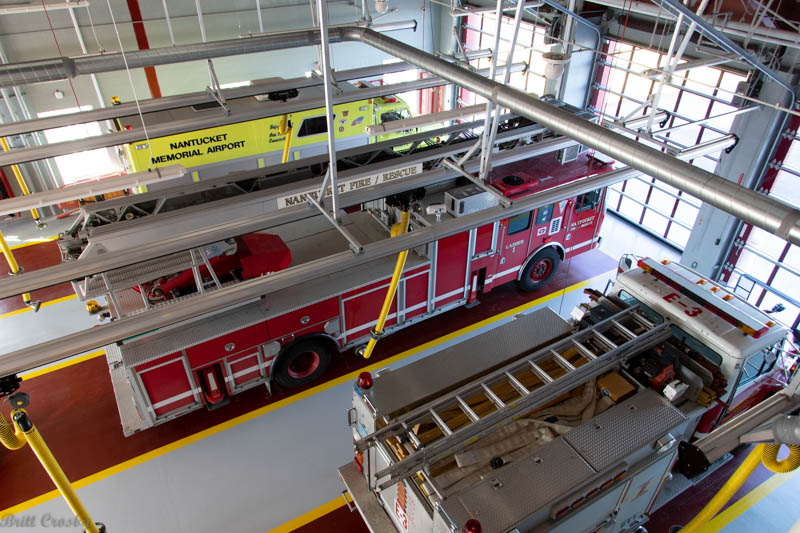 NANTUCKET FIRE STATION
(Opened Nov 2019)
The Nantucket Fire Department's new fire station was finally occupied
on November 21, 2019.
It had been under construction since 2018.
The $15 Million station was finally approved in 2015. It will be located
at 4 Fairgrounds Road next to the Police station.
Construction got under way in 2018 on the station which has
6 double deep drive thru bays and additional office and living space.
The new station replaced the former station at 131 Pleasant St &
Sparks Ave built in 1980.

Harwich Fire Station 2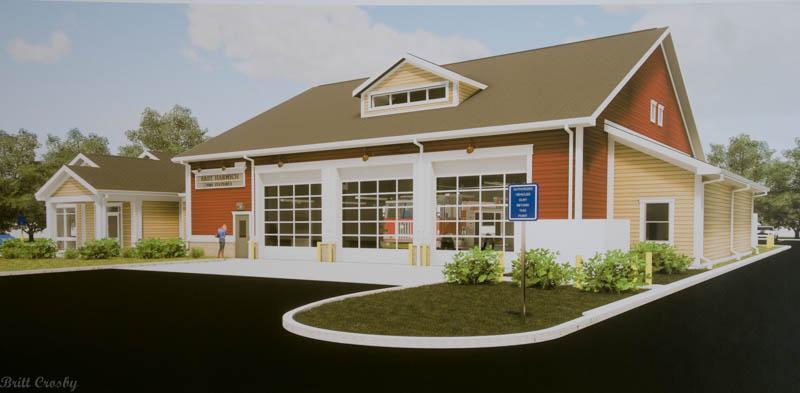 Future East Harwich Fire Station 2
HARWICH FIRE STATION 2
(Dedicated Nov 2019)
The new East Harwich Fire Station #2 at 4064 Orleans Road (Rte 39)
was dedicated in a ceremony on Nov 30, 2019.
Punch list items are being addressed prior to the full move
expected by New Years.
.
Funding for the $6.8 Million, 9,750 sq ft station was approved
in May 2018. Studies had looked at renovating and adding on
to the old station, but ultimately a new station was most practical.
The station is located on Orleans-Harwich Road (Route 39)
just south of the present station at the intersection on Rte 137.
The new station has 3 drive thru bays.
Once completed, the 1976 station will be torn down.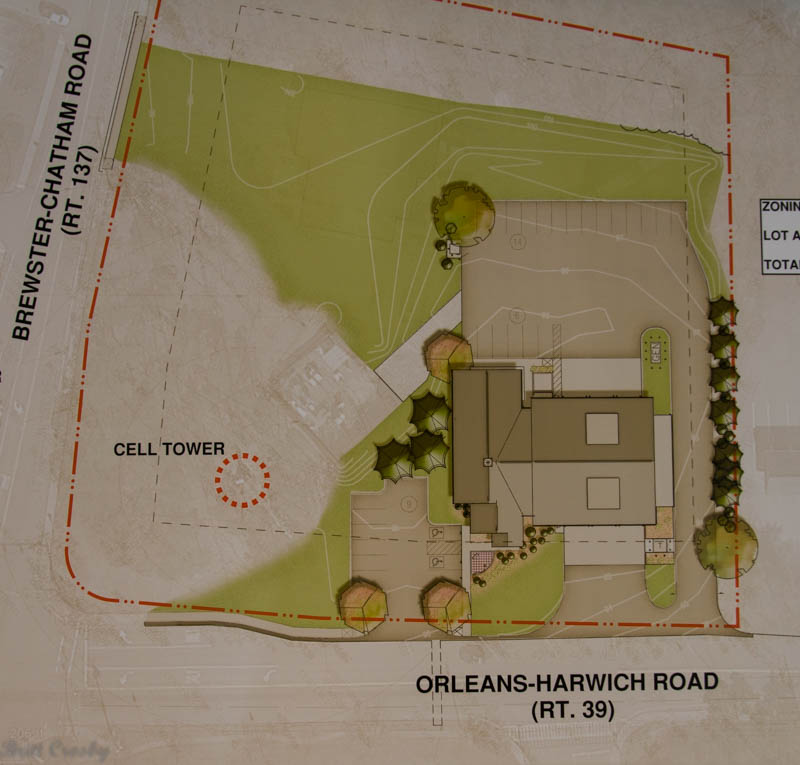 EAST HARWICH FIRE STATION 2
DEDICATION DAY
Photos Nov 30, 2019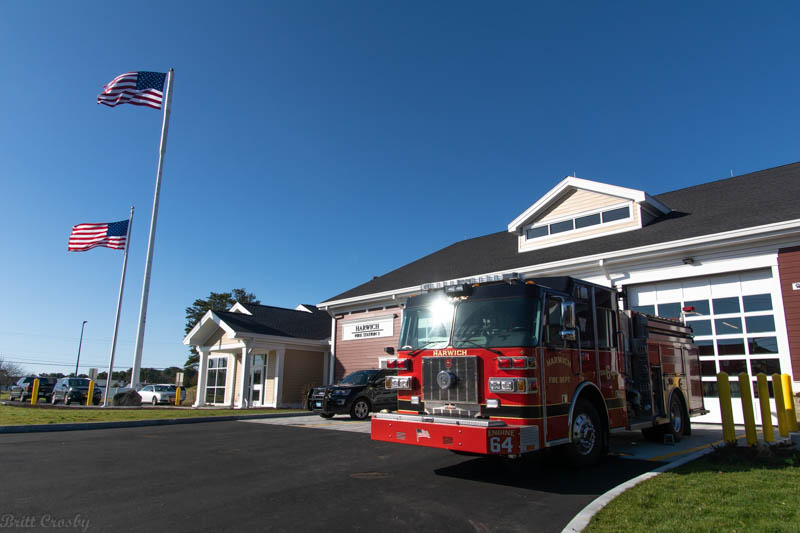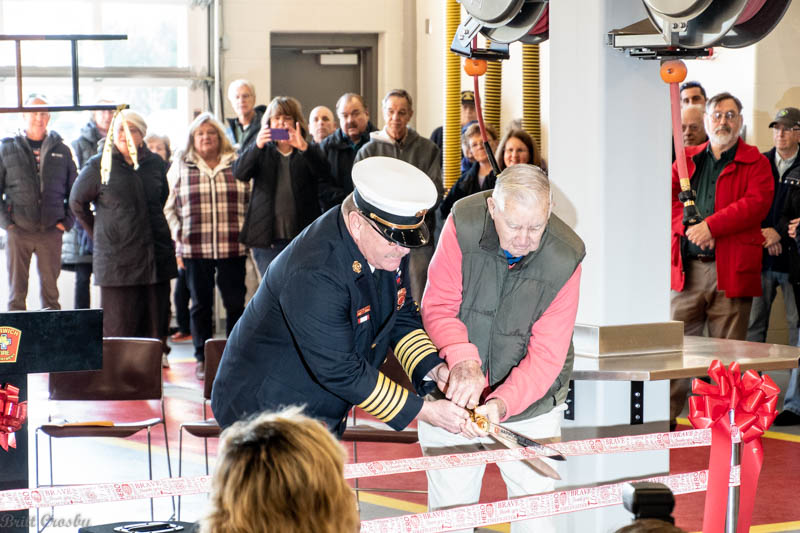 Sept 2018
~ PROJECTS ~

Bourne Fire Station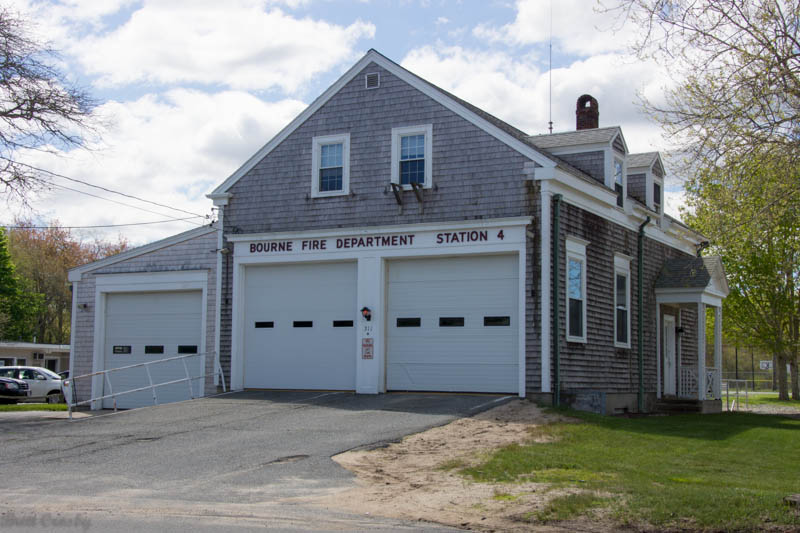 Bourne Fire Stations 2 & 4
BOURNE FIRE STATION
(Planning Stage)
The Town of Bourne has a committee looking into a solution to the
"south side" fire stations issue. Currently the old Monument Beach
Fire Station #2 is a call station and is really not designed for larger
apparatus or staffing. The Pocasset Fire Station #4 is also old and
barely sufficient for modern apparatus. It has been staffed for years.
Both are in need of replacement.
The discussion to date has been on where land might be available
to build a single new fire station which would replace Stations 2 and 4.
A piece of land on County Road has had favorable recommendations
but the process has looked at several locations.
Bourne has 4 stations currently, two north of the canal both staffed, and
two south of the canal, 1 staffed. Traffic and geographical issues
require properly located and staffed stations on both sides of the canal to
cover the town.
Nov 2018

Bourne Police Station
Bourne Police Station
(Bourne Image)
BOURNE POLICE STATION
(Under Construction 2018)
The Town of Bourne is currently building a new Police Station
on Armory Road in Buzzards Bay. The new station will replace the
present 60 year old police station at 175 Main Street.
The $18 Million facility was approved in October 2016.
It will be approximately 29,000 sq ft
Ground was broken on Sept 19, 2018 and construction begun
soon after. It should be completed in 2019.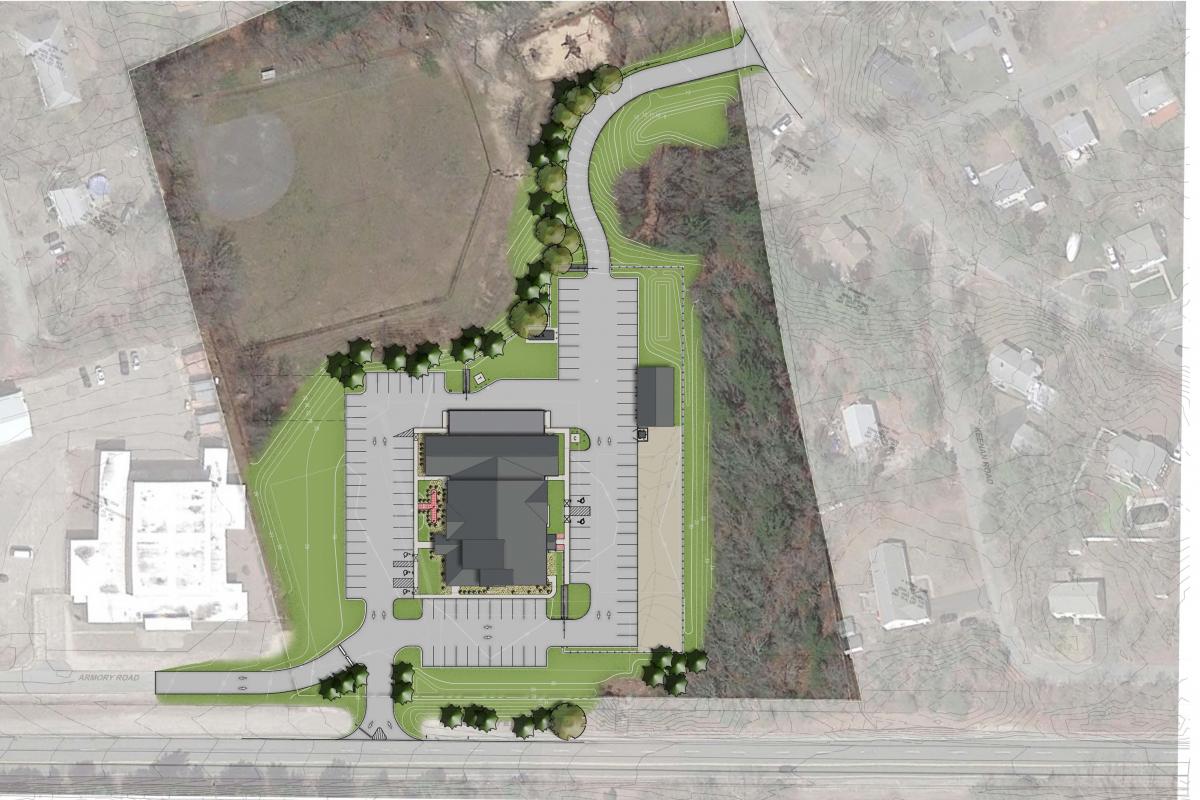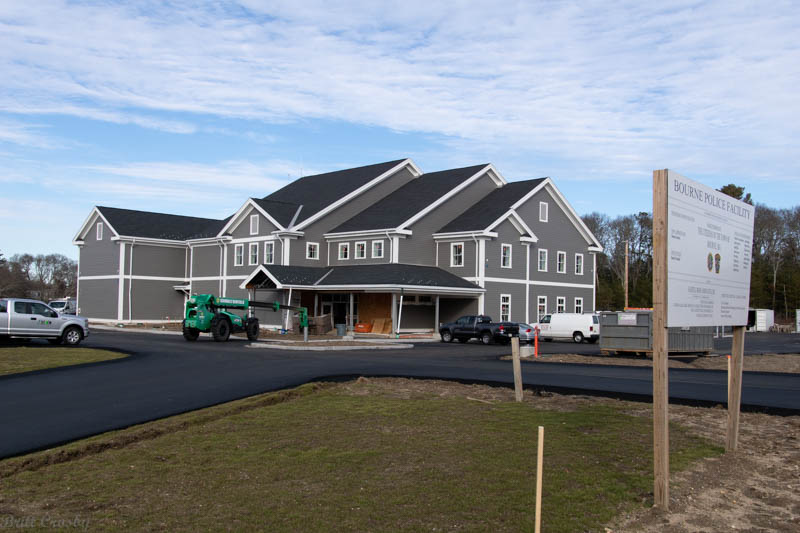 Bourne Police Station Construction
Oct 15, 2019
BOURNE POLICE STATION
Built in 1959 at 175 Main Street, Buzzards Bay


Carver Police Station



CARVER POLICE STATION
(Approved 2019)
The Town of Carver approved the building a new Police Station.
It is expected to be built almost across the street from the Carver
Fire Station.
Nov 2019

Dennis Fire Dept
DENNIS FIRE STATION 2
(Proposed 2020)


The Town of Dennis is looking to replace the 63 year old North Dennis
Fire Station 2 on Old Bass Road near Route 6A. The small 2 bay station
has gone from an un-staffed, call station not long ago, to being a staffed station
with 5 personnel on duty in recent years.
The old station is not located in the best location for covering its district
and the town. The proposed new station will be located at 350 Paddocks Path
closer to the middle of its district. The new station will be larger to facilitate
the personnel and apparatus into the future.
Dennis anticipates seeking funding in Spring 2020 to move forward on
replacing the old station with a new modern facility.
The future site at 350 Paddocks Path.

Mattapoisett Fire Dept
Future Mattapoisett Fire Headquarters
(Architect images)
MATTAPOISETT FIRE STATION
(Approved 2019)
Mattapoisett Town Meeting approved a $9.27 override 443 - 5
to build a new fire station for the Town of Mattapoisett on May 14, 2019.
The final approval will go before voters in an election on May 21, 2019.
If voters approve funding, the station would be built next to the Police
Station and will replace the very tight present station.
MAY 2019

MATTAPOISETT FIRE STATION PRESENTATION



The present station Mattapoisett Fire Station.

Onset Fire Station


Original Proposed Onset Fire Station
(Note: plan changed after amendment at Dist Meeting)
NEW ONSET FIRE STATION
(Approved 2017)
The site of the new station has been cleared and prepared for future construction
as of Dec 2019.
The Onset Fire District voters approved a new fire station on May 15, 2017.
The proposed $13.9 M request was amended at the meeting approving only
$8 Million for the project, forcing the plans to go back to the drawing board.
The new station is planned for a plot near the water department facility
on Sand Pond Road north of Route 6.

The present station has been in the heart of Onset village forever.
The 5 Central Ave station was built in 1950 next to the older
original station. The station has 6 bays, but is not well suited for
larger apparatus including the departments most recent ladder truck.
Future Onset Fire Station
Oct 15, 2019
Present Onset Headquarters
May 2019

Plymouth Station 7
Future North Plymouth Station 7
PLYMOUTH FIRE STATION 7
(Under Construction)
The old North Plymouth Fire Station 7 was built over 107 years ago
in the days or horse drawn apparatus. Newer apparatus barely fits into the old station.
Recently, Plymouth purchased a property not far from the 0 Spooner St station.
The new station will be at 15 Hedge Road just east of Court St.
The property has been cleared and preparations are under way to
build a proper new station. The new station is planned to be three
bays, double deep, allowing for an Engine, Brush Breaker, Ambulance,
a spare engine, and a future ladder truck.
The new station is taking shape with a plan to move in June 2020
which is particularly important since the Spooner Street station 7
was permanently closed Nov 7, 2019.
Nov 2018
Update Jan 2020
PLYMOUTH STATION 7 CONSTRUCTION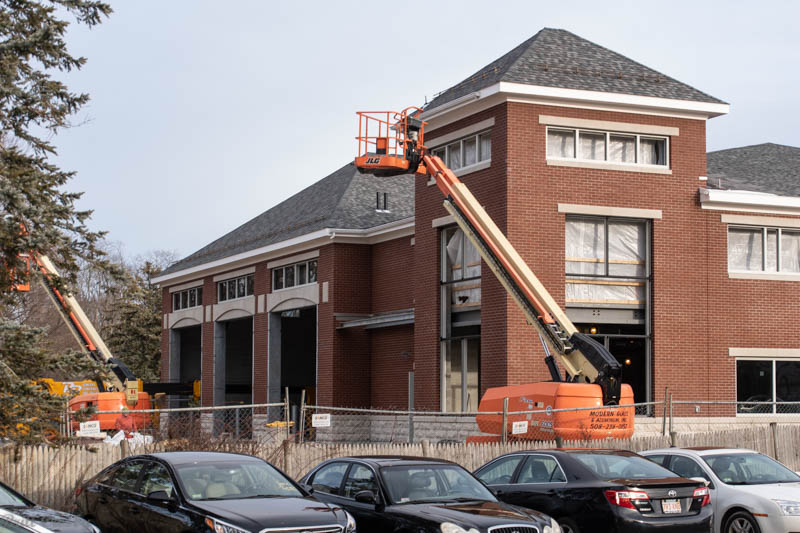 Jan 7, 2020



FOR MORE
FIRE STATIONS PAGE