Hyannis 2nd Alarm
2ND ALARM
A Hyannis commercial building was heavily damaged by fire around 1600 hrs on Sunday
April 28, 2013. The building at 12 Enterprise Road contained several occupancies.
Heaviest damage appeared to be in Swimming Pool and Spa supply company on
the north end of the structure. At one point, heavy black smoke poured from the building
and could be seen around the Cape for miles. Mutual aid from Barnstable, Yarmouth,
COMM, West Barnstable, and Cotuit assisted on scene with other departments
providing coverage assignments.
A Tier 1 Haz Mat Incident was declared to evaluate the potential hazards
associated with the chemicals on scene.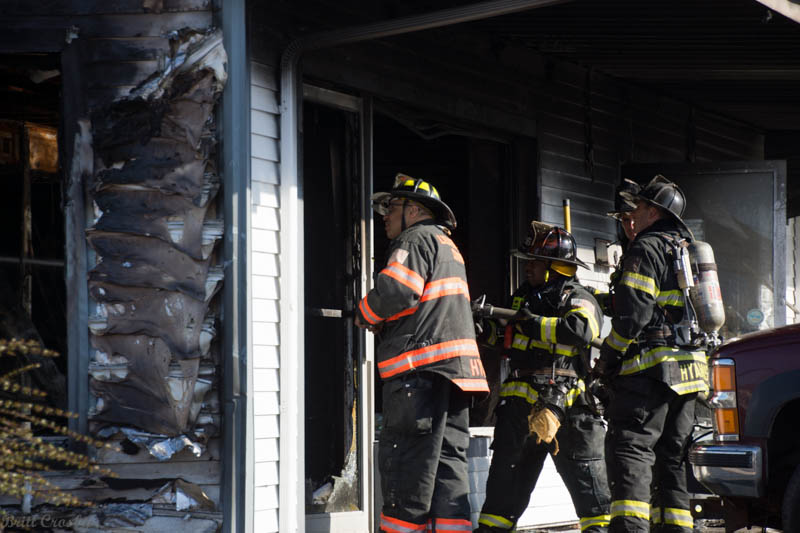 HYANNIS FIRES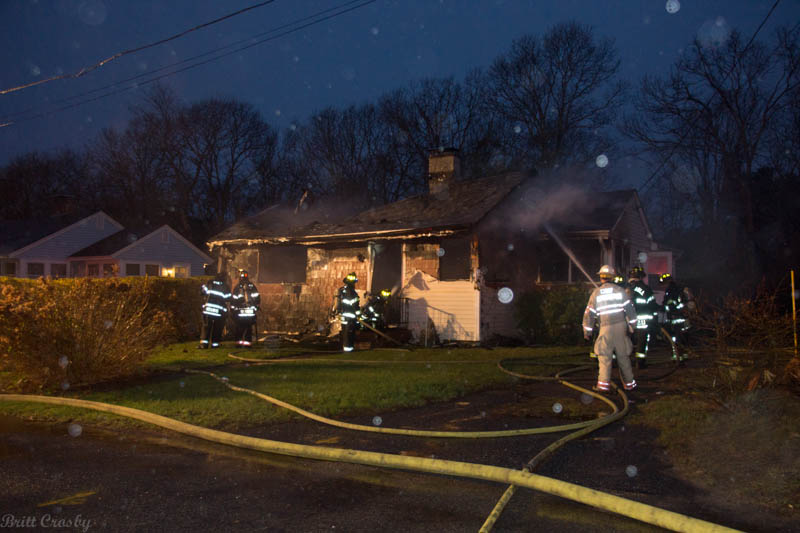 FOUR FIRES AT ONCE
Hyannis FD responded to a smoke investigation around 0420 on Saturday, April 20, 2013.
On arrival, they found a fully involved unoccupied house on Pilgrim Lane.
The first alarm assignment was transmitted. As firefighters struggled with hydrants
that had no pressure (due to an apparent closed valve in the water main)
another fire was discovered in a house 2 houses away. A Second alarm
brought some additional help to the scene. A third fire was then found in
the house next to the second fire. Shortly after that, a police officer checking
the area found a fourth house on fire on Baxter Road, nearly insight of the other fires.
A third alarm was transmitted bringing crews from Hyannis, COMM,
Yarmouth, Barnstable, and West Barnstable to work. Several other
departments responded for staging, coverage, and moveup assignments
across the Cape.
Fire, police, and the state fire marshal's office are investigating
COMM "MAYDAY"

COMM Firefighters treat one of their own after a close call when a firefighter operating on the first floor
fell through a hole in the floor and into the walkout style basement during a house fire on Westwind Circle,
in Osterville on Saturday April 13, 2013. The firefighter was able to walk out on his own but was
transported to the hospital for evaluation.
MORE

(Note: COMM FD conducted several training evolutions over the past year on
firefighter rescue, Mayday actions, and self rescue, but this may have been the first actual
Mayday situation the department has experienced on an actual emergency call.)
The hole in the floor is clearly visible with proper lighting, but was difficult to see in the dark.
Centerville Fire
COMM Fire Department received a call for a house fire on Wednesday April 3, 2013.
A neighbor spotted the fire, called 911, and then extinguished the fire prior to the arrival
of fire apparatus at a house on Nottingham Drive, Centerville.
COMM House Fire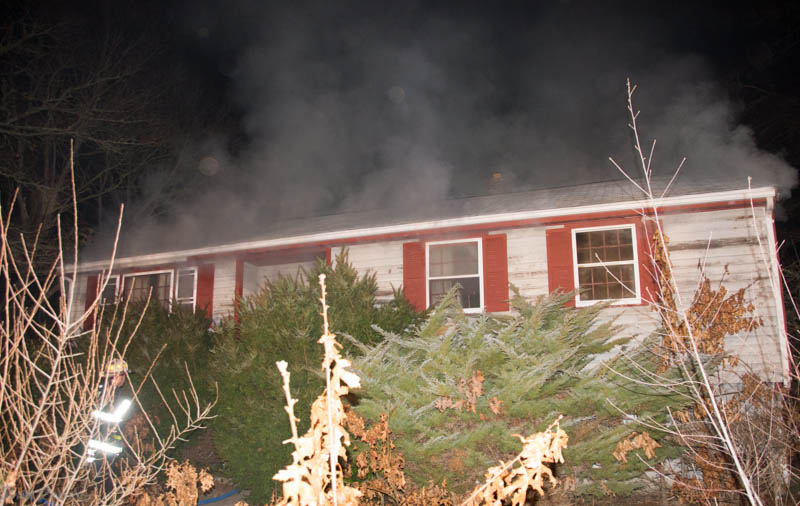 COMM HOUSE FIRE
COMM firefighters extinguished a fire in an unoccupied house on Hitching Post Lane, Centerville
at about 0030 hrs on March 31, 2013.
Onset Recruits Reach New Heights
Check out some photos of Onset and Marion recruits
reaching new heights for the first time!
New Carver Brush Breaker
Bigger is Better!
New Carver Breaker 27 on right, next to the 1967 Breaker 23.
The newest breaker was delivered this week and members were checking
out some of the features of the modern brush breaker on Saturday March 30, 2013
WINN WIN FOR COMM FD
The Board of Fire Commissioners of the Centerville-Osterville-Marstons Mills Fire District
have announced their choice for the next Fire Chief of the COMM Fire Rescue Department.
Michael J. Winn, 39, currently the Fire Chief in Greenfield, MA will take over and lead the
department upon the retirement of Chief John M. Farrington at the end of June.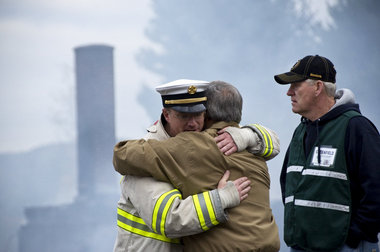 Chief Winn at a Greenfield Fire
See More
The selection comes after a national search where 52 applicants were considered.
Ultimately it came down to Chief Winn and COMM Deputy Chief Phillip Field.
Deputy Field has been a member of the COMM FD for 39 years and has
been Deputy since 2010.
The Commissioners unanimously voted to support Chief Winn.
Chief Farrington is currently the longest serving fire chief on Cape Cod.
He joined the fire department as a teenager in Osterville in 1966.
He was one of the first EMTs in the state in 1972.
In 1973 he was elected as fire chief at the age of 23.
Forty years later, after many accomplishments and an incredible
amount of change in the fire and ems world, he will turn the department
he built over to Chief Winn.
Congratulations to him and Welcome to COMM!




Oak Bluffs Chief to Retire


The Oak Bluffs Fire Chief Peter Forend has announced his intention to retire on June 30, 2013.
He had served OBFD as chief for the past 6 years.
Brewster Ambulance in Plymouth

Emergency Medical Services in Plymouth are now being provided by Brewster Ambulance.
The town had previously been serviced by AMR.
The change from AMR to Brewster Ambulance took place March 31, 2013
Harwich Dispatch to County


Harwich Fire Department will become the 10th Cape Fire Department being dispatched by
the Barnstable Sheriff's Department in April 2013. The move is planned for April 15th.
Harwich is currently dispatched at the combination police/fire station by (2) on duty
fire and police dispatchers. Harwich will maintain a single police dispatcher in house,
but the fire department will be dispatched by BSO.
Other departments currently dispatched by the BSO include:
Bourne, MMR, Mashpee, West Barnstable, Barnstable, Dennis, Brewster,
Orleans, and Wellfleet Fire Departments
Yarmouth Fire Dept
Captain Mike Caruso (Group B) has retired after many years with YFD.
The new Captain is Tom Lundquist.
Joe Mullin has been promoted to Lieutenant
Congrats to all!
T