◄

►

= PAGE 2 =

CAPECODFD.COM =

HOME

=

HEADLINES

TOP STORIES AND MORE

Updated: November 22, 2015

CAPE COD Area Live Fire Radio
CAPE COD Fire & Police Radio
NANTUCKET Fire Radio
Broadcastify Massachusetts
Broadcastify Live Scanner Feeds


Radio Reference.com Freqs

CapeCod.com/Cape Wide News
Cape Cod Today News
Hyannis News.com
Cape Cod Online .com
Scan New England


CIEMSS.org

Mass Fire Trucks .com
Northeast Fire News
Firehouse.com
Fire Engineering.com
Firefighter Close Calls
Daily Dispatch
CapeCodFD on Facebook
CapeCodFD on YouTube
BrittCrosbyPhotos.com
Former Hyannis Firefighter
Brett D. Grandaw
Former Hyannis Firefighter / Paramedic Brett Grandaw, age 55,
passed away on November 18, 2015.
Brett started out in Canton, NY and became a paramedic at Northeastern
University. He joined the Hyannis FD and served for 23 years as a firefighter
and paramedic, also serving with the MA-TF-1 FEMA team for 17 years,
which included deployment to the bombing at the 1996 Atlanta Summer Olympics
and to New York City on 9-11-01 for the World Trade Center collapses .
After leaving the Hyannis FD, he went on to get a degree in Mortuary Science
from the State University of New York at Canton and served as a Licensed
Funeral Director working with the Seymour Funeral Home in Potsdam, NY.
Brett also continued to serve on the Pierrepont Volunteer FD as the First
Assistant Chief and as a New York State Fire Instructor until his death.
His passing came after a brief hospitalization at the Canton-Potsdam Hospital.
Visiting will be Monday Nov 23, 2015 from 1300-1600 and 1900-2100 at
the Seymour Funeral Home, 4 Cedar St, Potsdam, NY.
The mass and burial will be Tuesday Nov 24, 2014 at 1100 hrs
at St. Mary's Catholic Church, Canton, NY followed by a private internment
at the St. Mary's Cemetery in Canton.
Brett was a good friend, a good firefighter, and a good paramedic.
He leaves behind two children, Samuel and Natalie, as well as many
family and friends.



<![if !vml]>
<![endif]>
<Back| |TOP| Next>

WHAT'S GOING ON


FOR MORE

First Due Continued in Full Assignment
Previous Stories

On This Page

Cape Wide News

CONTENTS

First Due
Headline Stories
On This Page
Cape Wide News
Local News Sites
Email Us
On Facebook
Full Assignment Stories
In The News
Events & Notices
Apparatus News
Stations News
Departments News
Communications
Listening Live
Photos Feature
Mutual Aid News
Run Stats
Hot Shot
Previous Hot Shots
From ARFF Collection
From Brush Breaker Collection
From Fire Boat Colletion
From Stations Collection
On The Web
Videos & More
From History Collection
Previous Stories
News Links
We Remember
About Sept 11, 2001
Support Troops
Feature Photo


<![if !vml]><![endif]>
Check it Daily


By Tim Caldwell

CapeWideNews
now at
CapeCod.com

FOR THE BEST
CAPE & ISLANDS
LOCAL EMERGENCY NEWS

FIRES - RESCUES - POLICE NEWS
LOCAL FEATURES

UP TO THE MINUTE

THE ONE PLACE TO GO
WHEN YOU WANT
TO KNOW!




Local News Sites


E-Mail Us

<![if !vml]><![endif]>

Pull The Hook!
To Send an EMAIL

CAPECODFD.COM
Send us an E-Mail!
Just pull the Fire Box.
We are interested in your thoughts, ideas, and comments
about CapeCodFD.com.

SEND US PHOTOS
OR NEWS VIA E-MAIL

CapeCodFD.com
<Back| |TOP| Next>

On Facebook
Join in the Fun!
A Facebook page was created March 14, 2013
for friends of Cape Cod Fire Departments to
communicate, share photos and information,
explore history, and generally associate with each other.
Go to
Cape Cod Fire Departments

RUN TO THE TOP
PHOTOS
AVAILABLE
For viewing or purchase
WHAT'S GOING ON

FEATURED HEADLINE STORIES
<Back| |TOP| Next>


Falmouth Falling Apart?
Vital Apparatus Out of Service.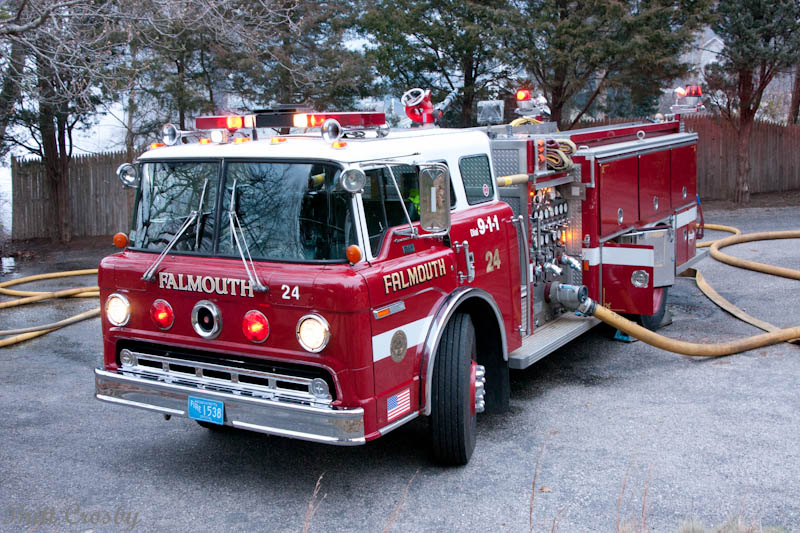 CRISIS MODE?
4 VITAL APPARATUS TAKEN OUT OF SERVICE
2 Pumpers (Engine 20 & 24) and 2 brush trucks (Breaker 16 and 17) have all been (unexpectedly) removed from service in November 2015.

WEST FALMOUTH WITHOUT A FIRE TRUCK
With NO spare apparatus available, West Falmouth has no fire truck.

BUSY FALMOUTH
The Falmouth Fire Department protects a year round population of over 31,000,
(much larger in season) within 44.5 square miles. In 2014 the Falmouth Fire Rescue responded to 6,674 emergency calls (over 18/day average) making it the BUSIEST of the Cape's departments.
The department minimally staffs and operates from 5 fire stations:
#1 Falmouth Center - Engine 21, Ladder 26, Amb 37, Car 28 with 7 personnel
#2 Woods Hole - Engine 22, Amb 38 with 2 personnel
#3 North Falmouth - Engine 23, Amb 35 with 2 personnel
#4 West Falmouth - Engine 24 with 1 personnel
#5 East Falmouth - Engine 25, Breaker 18, Amb 36 with 2 personnel
NOTE:
The department has a number of other apparatus not listen here.
Personnel listed are "normal" in station shift staffing levels. Off duty personnel are often recalled to provide basic coverage during calls.

AGING APPARATUS PROBLEMS
A recent inspection of fire apparatus concluded that several pieces of vital apparatus are no longer safe or road worthy and have been taken out of service leaving the department facing some serious coverage challenges.
Engine 24, the 28 year old 1987 Ford/E-One pumper at West Falmouth has been taken out of service permanently due to serious mechanical problems in early November 2015.
Engine 20, the 26 year old 1989 Ford/E-One spare pumper has also been taken out of service for similar mechanical issues in Nov 2015.
Breaker 16, the 35 year old 1980 Ford/Farrar 750 gallon Brush Breaker assigned to Station #1 has also been removed from service due to serious mechanical issues in Nov 2015.
Breaker 17, the 38 year old 1977 Dodge Power Wagon / Continental
350 gallon brush breaker at Station #2 has also been taken out of service.
Breaker 15, a 43 year old 1971 International/Thibault 800 gallon Brush Breaker was taken out of service in 2014.

WEST FALMOUTH STATION SIZE A PROBLEM
The department already has a new Pierce engine on order to replace Engine 24, but it is still about 8 months away and the new engine WILL NOT FIT into the
1930's single bay West Falmouth Station 4, so the plan has been to reassign the
20 year old 1995 International/E-One pumper of Engine 25 (East Falmouth)
to West Falmouth when the new engine arrives. This is the only other Falmouth engine that can fit into that station (with some modifications).
Attempts to get town support for a new West Falmouth station failed years ago leaving that significant area of town now without local fire protection. Engine 24 also routinely backs up downtown and North Falmouth and other parts of town on calls.

NO SPARE ENGINE
When Engine 24 went out of service, just as when any other engine goes out of service for routine or emergency maintenance, Falmouth usually moves their spare Engine 20, a 26 year old 1989 Ford/E-One (same design as Engine 24) to replace it until repairs are done. Unfortunately, on inspection, it was also determined that Engine 20 was no longer road worthy and it too has been permanently taken out of service.
The backup plan to having no engines available, would be to at least place a fire truck with some water and a pump in a station to cover. Falmouth has used brush trucks for this duty from time to time in the past.
2 OF 3 BRUSH TRUCKS OUT OF SERVICE
When both Engine s 24 and 20 went out of service, the backup plan to move a brush truck into West Falmouth (only 2 would fit) fell apart when both Breaker 16 and Breaker 17 also failed inspections and were removed from service. The only other brush truck Breaker 18 (2010 International) is too tall to fit in the station.

UNCOVERED
So now, West Falmouth Station #4 is being covered with a pick-up truck and 1 fire fighter.
It is uncertain at this time what Falmouth will do relative to replacing their spare engine or 2 brush trucks.
West Falmouth Station #4 and Engine 24.
Engine 24 taken out of service and Station #4 has no fire truck.
Engine 24 was typically staffed with just 1 fire fighter
Engine 20 the Spare pumper frequently worked while covering
for other apparatus. It has been taken out of service.
Spare Engine 20 was already a "hand me down" several times
Breaker 17, 1977 Dodge Power Wagon taken out of service.
Breaker 16, 1980 Ford has been taken out of service.
Breaker 15, a 1971 International was taken out of service in 2014.

LEADERSHIP CHANGES
Harwich Promotes Deputy Chief
CHANGING OF THE GUARD
Harwich Fire Chief Norman Clarke Jr (center) with newly
promoted Deputy Chief David LeBlanc (left) and soon to
be new Eastham Fire Chief Kent Farrenkopf at the Harwich
Fire Department on November 11, 2015
NEXT HARWICH DEPUTY CHIEF
Captain David LeBlanc will be promoted to Deputy Fire Chief in November 2015
to replace current Harwich Deputy Chief Kent Farrenkopf who has been selected
to become the next Eastham Fire Chief in November. LeBlanc has been a long
time member of the the fire service starting with the Dennis FD and then
being hired by Harwich rising through the ranks from firefighter, to Lieutenant,
and then Captain. Congrats!
Next Eastham Fire Chief
NEXT EASTHAM FIRE CHIEF
Harwich Deputy Fire Chief Kent Farrenkopf has been selected to serve
as the next Fire Chief in Eastham starting in November 2015.
Farrenkopf served as the Harwich Deputy since 2011 and as
shift Captain, Lieutenant, and firefighter for many years prior.
Chief Farrenkopf will be sworn in in Eastham Nov 20, 2015.
Eastham Chief Retiring
EASTHAM FIRE CHIEF RETIRING
Eastham Fire Chief Mark Foley will retire in mid November. He has served as Chief
since February 2014 and served as Deputy Chief for a few years prior. He started
out with the Yarmouth FD and has been active in the County Fire Academy and on the
Retirement Board for many years. Best wishes!
New Truro Fire Chief
TRURO FIRE CHIEF
The new Truro Fire Chief Tim Collins started in October 2015.
He replaced Chief Brian Davis who served as Chief since 2008.
Chief Collins has been in fire and EMS since the late 1970's
starting with Dartmouth FD and then working fulltime for the
Lakeville FD as a Lieutenant and paramedic.
Welcome Chief!
FALMOUTH FIRE CHIEF TO RETIRE
Falmouth Fire Chief Mark Sullivan has been in the fire service for 40 years, serving as Falmouth FD's Chief since 2010. Prior to serving as chief he had been a paramedic, Lieutenant, and Deputy Chief. Chief Sullivan plans to retire in January 2016.
STORY
Sept 10, 2015

CAPE DEPTS AT FIRE SCHOOL
Orleans FD at Fire School
ORLEANS SMOKE HOUSE
Orleans firefighters conducted training at the Barnstable County
Fire Academy on Monday Nov 9, 2015.
MORE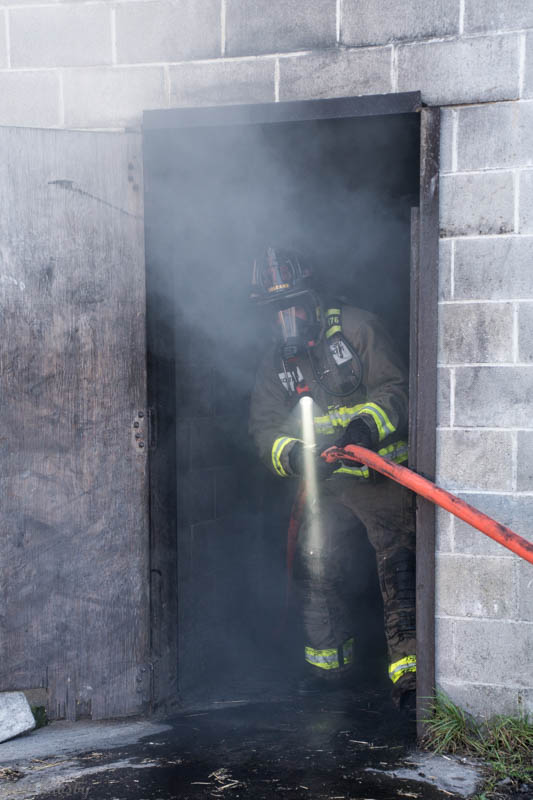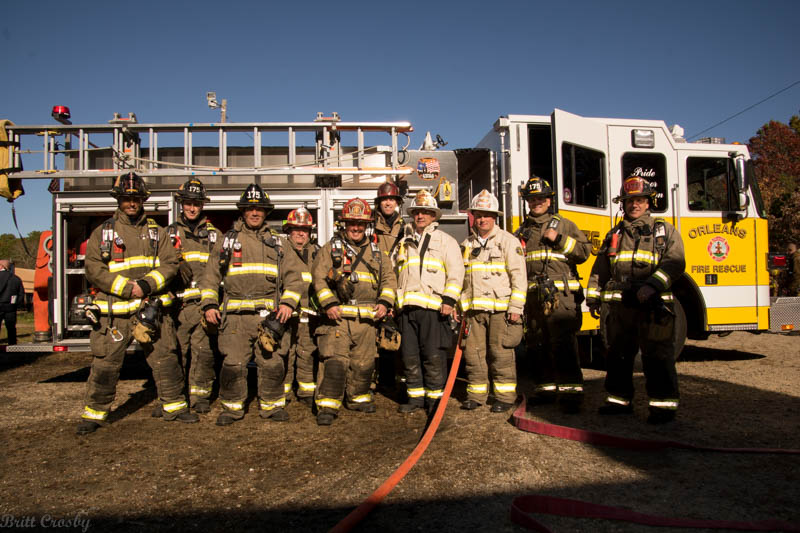 Sandwich FD at Fire Academy
SANDWICH FIRE DEPT
Firefighters conducted live fire training at the Barnstable
County Fire Academy burn building on Friday Oct 30, 2015.

On The Road Again
New Jersey - Delaware
ON THE ROAD AGAIN
Another road trip to photograph fire stations, apparatus,
fireboats, and scenery with a focus on New Jersey and
Delaware.

Hyannis MCI Drill at Airport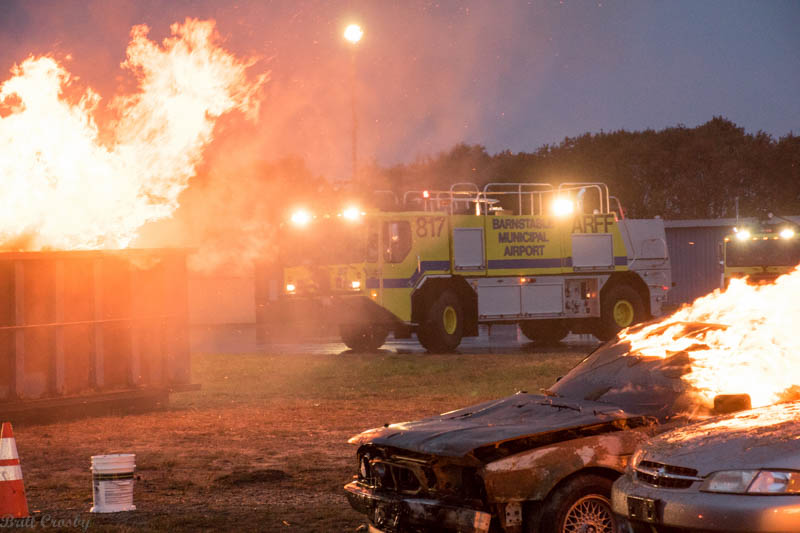 DISASTER DRILL
The Barnstable Municipal Airport conducted a simulated disaster
plane crash drill and mass casualty incident at the airport on Wednesday
October 28, 2015. A couple dozen patients were treated as crews
fought fires and conducted various extrication evolutions in pouring
rain and windy conditions.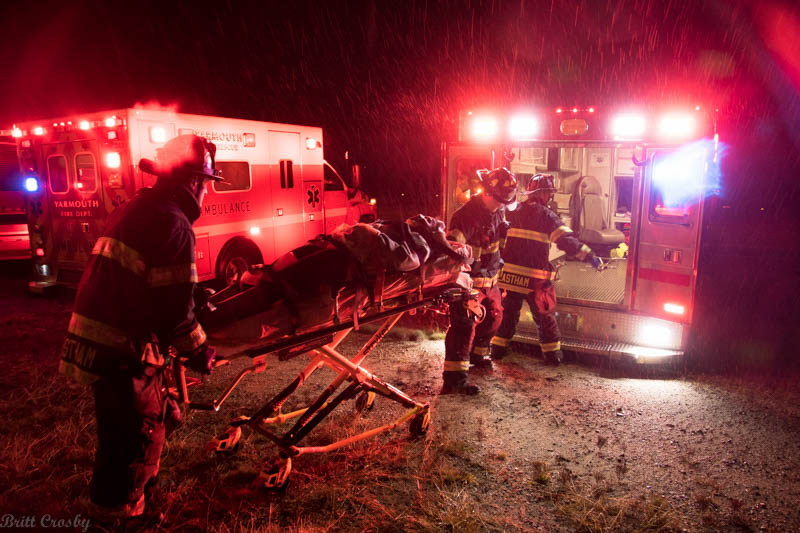 FOR MORE



12th Annual Fire Fighter's Chili Challenge
Reserve The Date
Sunday March 6, 2016
FOR MORE


Onset Ladder 1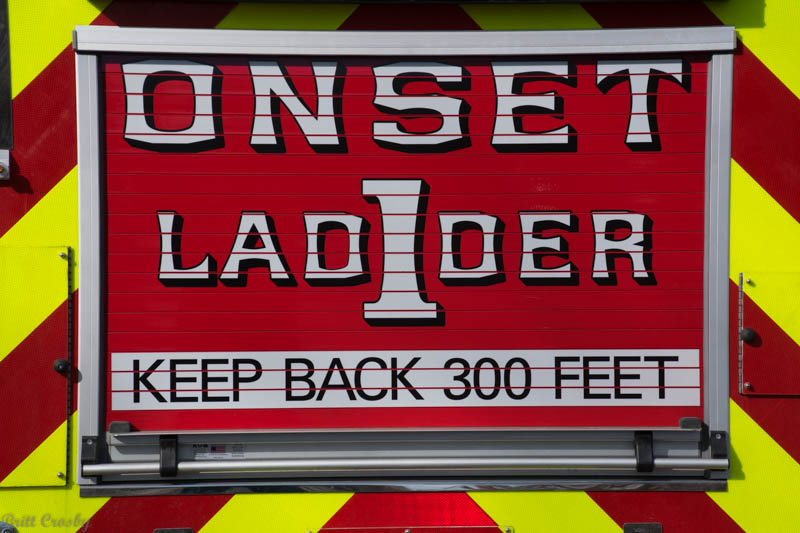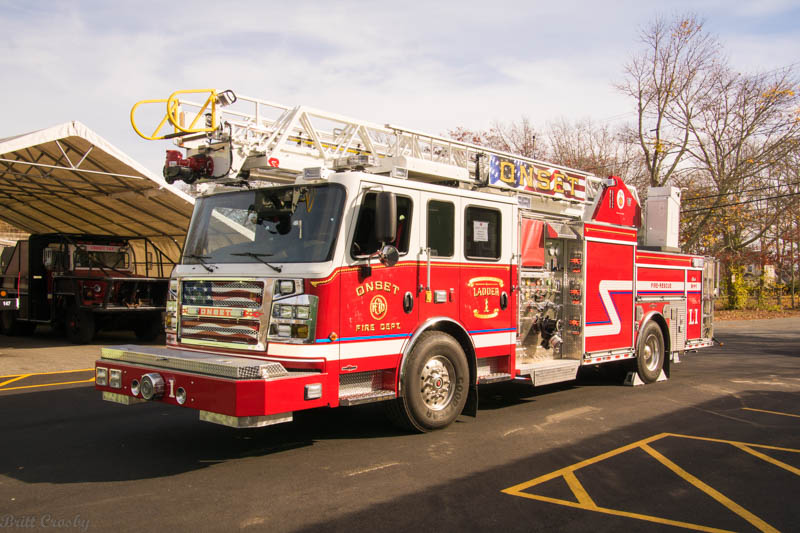 ONSET LADDER 1
2015 Rosenbauer Commander
78' Viper Aerial Ladder
1500 gpm / 300 gals
Nov 15, 2015
New ladder truck is replacing the iconic 1971 Maxim open cab
Ladder 1.
Orleans Ambulance
ORLEANS AMBULANCE 172
2016 International / Life Line Type I
Oct 26, 2015
Rochester Tower
ROCHESTER TOWER LADDER
Rochester has taken delivery of a 1996 Emergency One Hurricane
100' Aerial Tower Quint 1500 gpm / 200 gals
The new truck purchased from the Avenel, NJ VFD.
It replaces their 1974 Seagrave 100 rm aerial ladder
that started out with FDNY and then served as Yarmouth, MA
first ladder truck until coming to Rochester in 2005.
The new truck will soon be lettered and put in service.
Photos Oct 23, 2015
Hyannis Chief Car
CAR 801
2015/16 Dodge Durango 4x4 SUV
Fire Chief Car
Former chief car (2006 Durango) reassigned to Car 807
Former Car 807 reassigned as Car 830
Sept 28, 2015
Chatham Tower Ladder
CHATHAM TOWER 189
2015 Rosenbauer 104' Aerial Tower Quint
1500 / 500
Delivered Sept 2015

FOR MORE
APPARATUS NEWS
Apparatus photos and news

MORE APPARATUS NEWS
Recent Deliveries, Plans, Rumors, Retired Apparatus
Chatham Headquarters Const.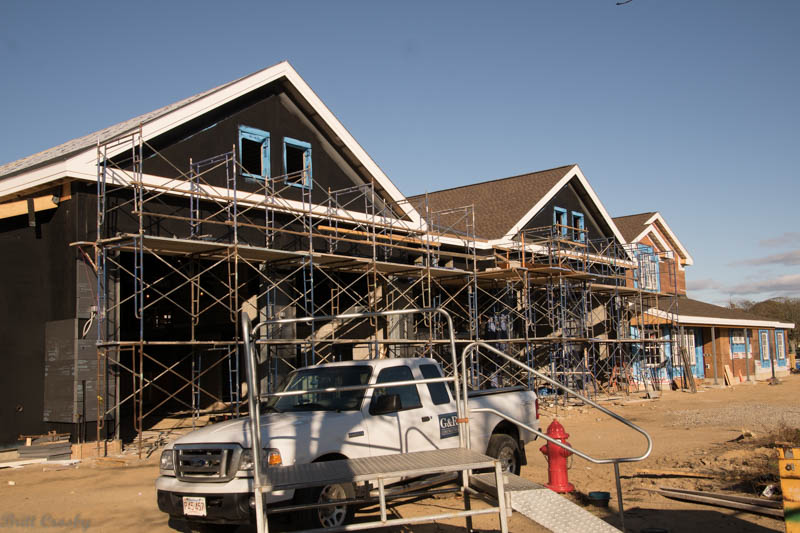 October 26, 2015
Chatham Fire Headquarters is taking shape.
Sept 2015
The Chatham fire station has been torn down and the lot is being
prepared for a new station.
Oct 2014
THE CHATHAM FIRE DEPARTMENT
Moved out of their Depot Street home of the last 62 years
into temporary quarters in the DPW garage at 221 Crowell Road.
The old station was torn down to make room
for the new headquarters on the same site.
Sept 10, 2014
Oak Bluffs Headquarters
Oak Bluffs Station
The new Oak Bluffs Fire Station is coming along on schedule.
The 6 bay double deep drive thru station will house all fire and EMS units
when completed in the Fall of 2015.
Photo May 2015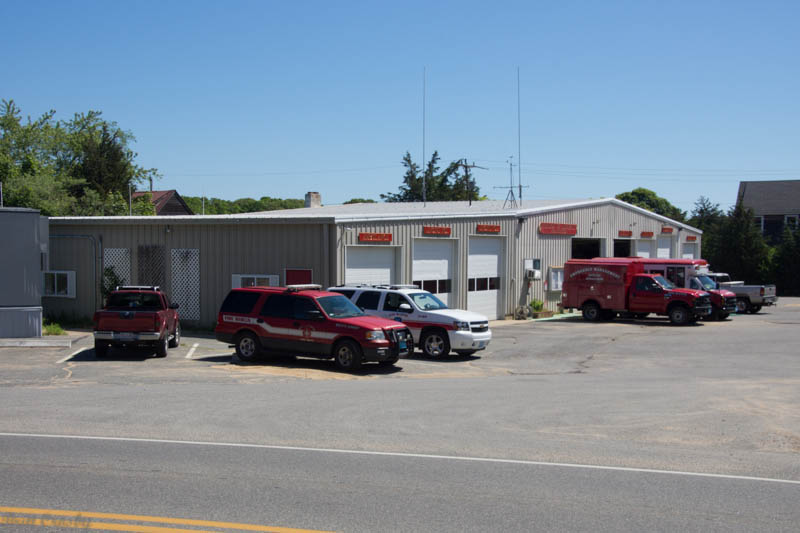 OAK BLUFFS FIRE HEADQUARTERS
Voters in Oak Bluffs on Martha's Vineyard approved the construction
of a new Fire Headquarters in 2014.
The present facility (shown above) will be torn down in the Fall of 2014
and apparatus will be relocated for about 1-1/2 years while a new fire
headquarters is built on the same site.
NOVEMBER 19, 2014 MV TIMES STORY
Nantucket Fire Station
Nantucket Fire Department
Nantucket voters approved approximately $15 Million
in April 2015 to construct a new fire station at the
Fairgrounds Road location of the Nantucket Police station.
The town had sought to fund a full public safety complex
including fire, police, and communications in 2008,
but funding was only approved for the police and radio
communications at that time.
The present Nantucket Fire Station was built in 1980
at Pleasant St & Sparks Ave. It replaced the old fire
station in the congested center of town.
Nantucket has grown significantly since the station
was built in 1980. Increased demands for service
and a station that has been full for years, and the
inability to expand on site have led to the need
to move off site and start new.
In addition to the central station, Nantucket also has two
small unstaffed stations in Siasconset and Madaket.
The department has 5 personnel on a shift with a
minimum of 3 personnel on duty.
It operates 5 pumpers, 1 aerial, 2 tankers,
1 heavy rescue, 3 ambulances, and a number
of support units.
May 2015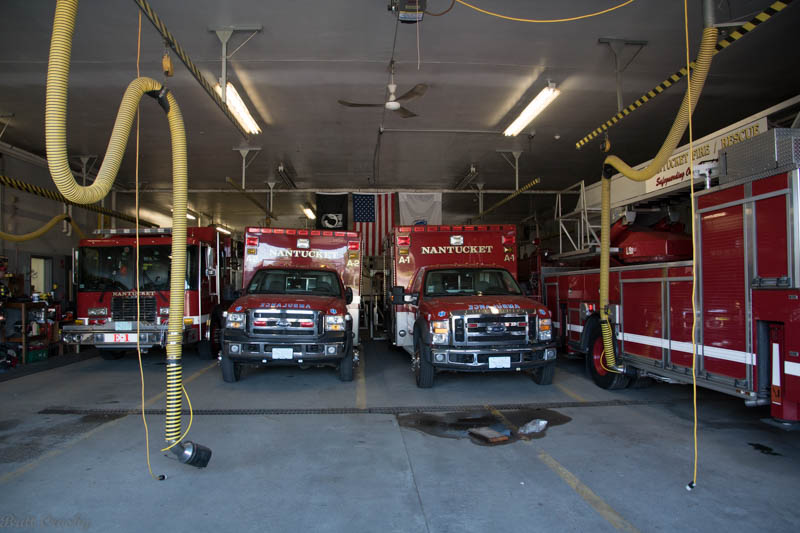 Carver Fire Headquarters



CARVER FIRE DEPARTMENT

The front (street side) elevation of the proposed new Carver Central Fire Station.
The apparatus bays will be double deep drive through coming out the left and right
sides of the rear of the building.

The $8.5 Million building will be built on the current training facility property
up the street from the old station and will also include a state of the art training
facility. The old station would eventually be torn down allowing for the future
construction of a new Police facility.
The project was approved by voters in 2013.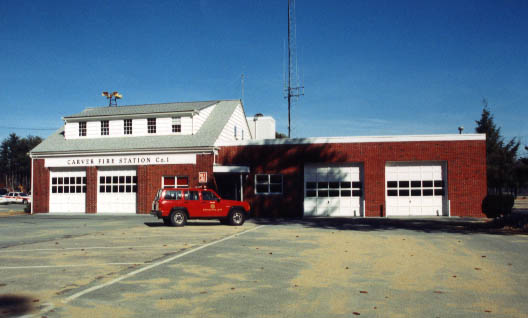 CARVER FIRE HEADQUARTERS
Voters in Carver approved the construction of a new Central
Fire Headquarters and training facility at 99 Main Street
just up the street from the current station. The old station built
in the 1950s and added on to has been outgrown. The new
station will be built on a property owned by the department
as used as their training facility.
Nov 2013
CARVER FIRE STATION
Foundation is taking place at new fire station.
Nov 15, 2015


FOR MORE
FIRE STATIONS PAGE




DEPARTMENTS NEWS

ABOUT DEPARTMENTS AND PERSONNEL
<Back| |TOP| Next>


FALMOUTH FIRE DEPT
Several vital apparatus have been taken out of service. Engine 24, Engine 20, Breaker 16, and Breaker 17 all removed from service for mechanical failures. West Falmouth Station #4 without a fire truck. Nov 15, 2015

HARWICH FIRE DEPARTMENT
Harwich promoted Capt David LeBlanc to Deputy Chief and Firefighter Scott Tyldesley to Lieutenant at a ceremony at the Harwich FD on Nov 11, 2015.
HARWICH FIRE DEPARTMENT
Harwich Fire has announced that Captain David LeBlanc will be promoted to Deputy Chief in November to fill the position vacated by Deputy Kent Farrenkopf leaving to become the Eastham Chief. LeBlanc started out with the Dennis FD and has served with Harwich as a dispatcher, firefighter, Lieutenant, and Captain. He has also been the fire investigator. Congrats!
Oct 26, 2015

EASTHAM FIRE DEPARTMENT
Eastham has selected Harwich Deputy Fire Chief Kent Farrenkopf to become the next Eastham Fire Chief replacing Chief Mark Foley in November 2015. Farrenkopf has been the Harwich Deputy since November 2011. Prior to that he had served as a shift Captain, Lieutenant, and firefighter.
His father Richard Farrenkopf had served as the Chie in Hyannis during the 1980s. Three of his brothers have also served in the fire service as Captains in Hyannis and Dennis. Congrats!
Oct 26, 2015
EASTHAM FIRE DEPARTMENT
Eastham Fire Chief Mark Foley will be retiring in mid November after 2 years as Chief.


TRURO FIRE DEPARTMENT
Truro's new Fire Chief Tim Collins started in the fire service with Dartmouth FD in the 1970's. He became a Paramedic in the mid 1980s and most recently worked for the Lakeville, MA Fire Department as a Lieutenant/Shift Commander / Paramedic. He takes over from Chief Brian Davis who retired in September 2015. Congrats to both! Oct 26, 2015

BOURNE FIRE DEPARTMENT
Retired Deputy Fire Chief Ronald E. Forsberg, age 82, passed away on October 4, 2015. He was a US Army Vet from the Korean War. He served on the Bourne FD for 29 years, retiring in 1997 as a Deputy. Oct 2015

BOURNE FIRE DEPARTMENT
The town of Bourne has voted to cut its budget rather than approving a Prop 2-1/2 override. The impact on the town and the services provided could be very significant. The Fire Department could loose 4 positions due to the cuts, but the impact could be much worse since a Federal grant has covered the cost of 8 other firefighter/paramedics for the past couple years. The grant is subject to the town picking up the full cost after 3 years which is coming to an end.
Loosing 12 personnel is the same as loosing 3 per shift from a department that has a maximum of only 11 personnel on a shift to cover 3 of their 4 stations with basic 24 hour staffing. A similar cut of 12 personnel in 1991 devastated the department for years closing the Pocasset station (the only staffed station south of the canal) and the Sagamore station to the east. Response times to some calls increased from as few as 2 or 3 minutes to 15 or 20 minutes or more in some cases during multiple calls.
At best Bourne has a Deputy, Lieutenant, and 3 Firefighter/Paramedics at Station 1, a Lieutenant and 2 firefighters at Station 3, and the same at Station 4. Often less personnel are on duty due to scheduled leaves, illnesses or injuries with a minimum of only 9 personnel on duty in town. The department has already cut 1/3 of the Lieutenant positions out of the budget and routinely only maintains 2 personnel at Station 3.
Bourne responds to approximately 4,600+ emergency calls annually, more than 2 times as many calls as they handled in 1992 (1,753 calls). Many of these calls occur simultaneously which can greatly increase response times to medical emergencies throughout the town. Loss of personnel or closing of stations would make it difficult for the town to provide the most basic emergency services to its citizens..
PLYMOUTH FIRE DEPARTMENT
The Plymouth Fire Department lost one of its own on October 20, 2015. Plymouth Firefighter Anthony Colarusso, age 39, passed from a battle with esophageal cancer. He was a US Navy vet, who joined the fire department after serving his country. He served Plymouth 8 years as a Firefighter, rescue diver, instructor, and leader. He was a member of Plymouth IAFF 1768.
PROVINCETOWN FIRE RESCUE
Provincetown regrets to announce the passing of former Provincetown Board of Fire Engineers and Rescue Squad leader Marilyn L. Monks who passed away Oct 15, 2015 after a battle with cancer. She was a paramedic and RN and worked for both Ptown FD and Lower Cape Ambulance for many years. Graveside service will be Oct 28, 2015 at 1100 hrs at Provincetown Cemetery. Oct 2015
ROCHESTER FIRE DEPARTMENT
Rochester FD regrets to announce the passing of FF/EMT Steven Faustino, age 40, on October8, 2015. He served the Town of Rochester for 25 years. He passed away from cancer.
Oct 2015
COMM FIRE DEPT
Congrats to Louis Sassone promoted to Lieutenant.
Also to acting Lt Gordon Williams.
Note: Lt Jason Davern will continue to serve as EMS Officer.
Oct 2015
COMM FIRE DEPT
Congrats to Brian Morrison, new Captain on Group 2. Previously served as Lieutenant.
Also to Jason Davern promoted to Lieutenant, previously served as EMS Officer.
Sept 26, 2015

FALMOUTH FIRE CHIEF TO RETIRE
Falmouth Fire Chief Mark Sullivan has been in the fire service for 40 years, serving as Falmouth FD's Chief since 2010. Prior to serving as chief he had been a paramedic, Lieutenant, and Deputy Chief. Chief Sullivan plans to retire in January 2016.
STORY
Sept 10, 2015

TRURO FIRE DEPT SELECTS INTERIM FIRE CHIEF
Truro Fire Chief Brian Davis will retire soon and the Town of Truro has selected an interim Fire Chief to take over for Davis. Tim Collins, a Lakeville Lieutenant/Paramedic will become the Truro Chief.
Sept 10, 2015

MARION FIRE DEPT
The Town of Marion appointed Brian Jackvony as the new Fire Chief replacing retired Fire Chief Thomas Joyce in July 2015. Chief Jackvony is a veteran firefighter with 24 years on the Providence FD, serving as a Captain, and as an Assistant Chief with the Cumberland RI FD for 8 years prior to coming to Marion. Congrats!
DENNIS FIRE DEPT
FF Tim Tobin has retired after 34 years with the Dennis FD. Congrats!
Aug 2015
WELLFLEET FIRE DEPT
Wellfleet Firefighter / Paramedic James Willis retired effective July 1, 2015 after 24 years of service with Wellfleet FD. Congrats!
HYANNIS FIRE DEPT
With the recent retirements of Lt Richard Knowlton and FF Richard McCormack, there have been several promotions and hirings.

Captain William Rex has moved from Shift D to Fire Prevention.
Lt. Thomas Kenney has been promoted to the departments new Training Captain.
Lt Robert Hennessy is Acting Captain on Group D
FF Andrew Kleamenakis is Acting Lt on Group B
FF Jeffery Lamothe is Acting Lt on Group A
FF Jonathan Talin is Acting Lt on Group C
Hyannis hired former Plymouth FD Mechanic Ronald Buscemi as the new Dept Master Mechanic.
Several new firefighters were hired to replace those who retired or were promoted.
Aug 2015

EASTHAM FIRE DEPT
Fire Chief Mark Foley has announced his intention to retire in the Fall 2015.


FOR MORE
DEPARTMENTS NEWS

SCANNERS AND RE-BANDING ISSUES

Many of you who monitor Cape Cod Fire and Police Departments on various "trunk tracker" style scanners may have noticed problems recently with the implementation of the re-banding of the Massachusetts State Police (MSP) Trunked Radio system.
Re-banding is a national reallocation of radio frequencies that has been underway for several years across the country. The local switchover took place in March 2013.
The changes were expected to make many older scanners obsolete, HOWEVER!
It is possible that many, if not all of the newer and older scanners WILL WORK if reprogrammed with the updated frequencies. Older scanners including the BC780, BC785, BC895, Radio Shack units, and others will work if re-programmed!
I recommend you break out the Owners Manual if you haven't already, or download an online version, brush up on the basics of programming your scanners and give it a try. YOU WILL BE HAPPY!
Here is a list of the frequencies used by the system. If you enter them correctly (make sure you enter them as M (Motorola) TRUNK channels, they should work.
Go to RadioReference.com for additional information on frequencies and programming scanners with what you want to listen to.
For those who are not already aware, you can also listen to the action online as well. The LIVE SCANNER FEEDS that were previously on RadioReference.com have been moved over to a system called BROADCASTIFY.com. You can listen to many different feeds, but should check out the local Cape Cod Fire Departments on the feed provided which covers all the Cape Fire Departments, including OPS channels, and as a bonus also gets much of the Southeaster, Mass area off Cape.
This same feed is also available on a Phone App. So if you wish to listen to the Scanner here on the Cape you can certainly do so in a number of ways thanks to
Tim CAPE COD Area Fire Radio and Scott CAPE COD Fire & Police Radio who provide these services.
The link for Cape Cod Area Fire Radio at the top of my Home Pages also brings your to this feature.
Good luck and good scanning!
FOR MORE

PHOTO FEATURES

THE LATEST FROM PHOTO FEATURES
<Back| |TOP| Next>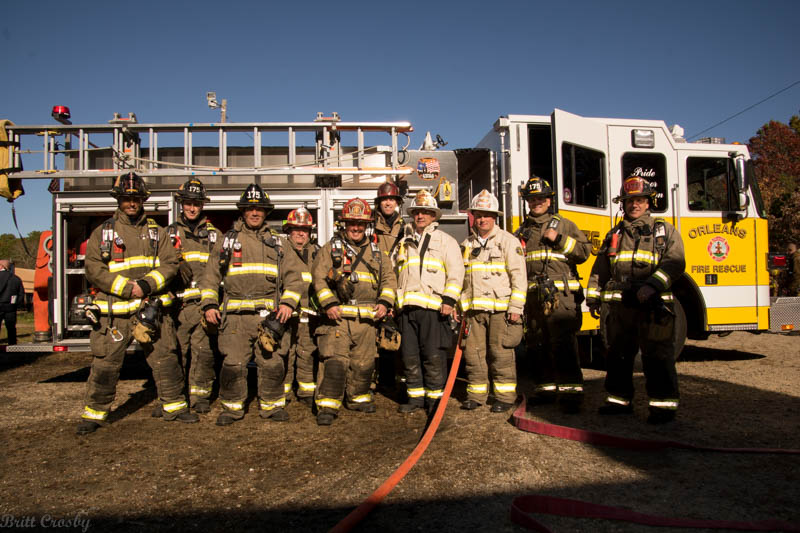 ORLEANS FIRE RESCUE
Crews at the Barnstable County Fire Academy
Nov 2015
FOR MORE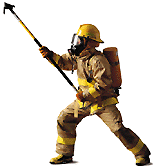 FALMOUTH FIRE DEPARTMENT RELEASED NEW RUN CARDS & NOW HAS NEW DISTRICTS (RUN CARD)
DECEMBER 2013


FOR MORE

Barnstable County Control
Enter a department and zone
for actual official run cards
RUN STATISTICS

DEPARTMENT ANNUAL RUNS STATS
<Back| |TOP| Next>

Cape Cod Fire Departments
2014 Run Stats
NEW

04/07/15


2000 2001 2002 2003 2004 2005 2006 2007 2008 2009
2010 2011 2012 2013 2014
(10 year comparison 2000 vs 2010)
Unofficial 2014 Stats
Updated 04/07/2015
Estimated 59,698 Total Calls in 2014
(Added Ptown stats 4-7-15)
Estimated 60,125 Total Calls in 2013

| | | |
| --- | --- | --- |
| DEPT RANKING | 2014 RUNS | 2013 RUNS |
| #1 Falmouth FD | 6,674 runs | 6,298 runs |
| #2 Hyannis FD | 6,619 runs | 6,329 runs |
| #3 Yarmouth FD | 6,347 runs | 6,709 runs |
| #4T Dennis FD | 4,686 runs | 4,620 runs |
| #4T Bourne FD | 4,686 runs | 4,376 runs |
| #5 Harwich FD | 4,014 runs | 3,804 runs |
| #6 COMM FD | 3,885 runs | 4,412 runs |
| #7 Sandwich FD | 3,522 runs | 3,865 runs |
| #8 Mashpee FD | 3,232 runs | 3,280 runs |
| #9 Chatham FD | 2,792 runs | 2,791 runs |
| #10 Brewster FD | 2,781 runs | 2,810 runs |
| #11 Orleans FD | 2,529 runs | 2,581 runs |
| #12 Eastham FD | 1,690 runs | 1,777 runs |
| #13 P-Town FD | 1,165 runs | 1,219 runs |
| #14 Wellfleet FD | 1,073 runs | 1,138 runs |
| #15 Barnstable FD | 1,066 runs | 1,164 runs |
| #16 Cotuit FD | 801 runs | 798 runs |
| #17 Otis/MMR FD | 799 runs | 804 runs |
| #18 Truro FD | 680 runs | 698 runs |
| #19 W Barnstable | 630 runs | 654 runs |
| #20 BMA | xx runs | xx runs |
| | | |
| | | |
| | | |
| | | |
| | 59,698 | 60,125 |
The above run stats are unofficial preliminary estimates presented to show the trends of emergency response on Cape Cod..
HOT SHOT

FEATURED FROM THE INCIDENT PHOTO COLLECTION
<Back| |TOP| Next>

FIRE DRAGON
COMM Firefighters prepare to attack the dragon.
Barnstable Municipal Airport Drill
Oct 2015
PREVIOUS YEARS
[ 2007 ] [2008] [2009] [2010] [2011] [2012] [2013] [2014] [2015]
CRASH TRUCKS

FEATURED FROM THE ARFF COLLECTION
<Back| |TOP| Next>



TRUCK 817
Barnstable Municipal Airport
FOR MORE
BRUSH BREAKERS

FEATURED FROM THE BRUSH FIRE COLLECTION
<Back| |TOP| Next>

PLYMOUTH B-177
1990 International / Murphy Brush Breaker
250/750
FOR MORE
FIRE BOATS

FEATURED FROM THE FIRE BOATS COLLECTION
<Back| |TOP| Next>

SECAUCUS, NJ
Marine 1
On the Hackensack River adjacent to NY Jets & NY Giants
MET-LIFE STADIUM
FOR MORE
FIRE STATIONS

FEATURED FROM THE FIRE STATION COLLECTION
<Back| |TOP| Next>

NORTH TRURO
Old Truro Station
Shore Road
FOR MORE
ON THE WEB

DEPARTMENTS & OTHER WEB SITES ON INTEREST
<Back| |TOP| Next>

IN THE MOVIES

CHECK OUT THE VIDEOS & MORE
<Back| |TOP| Next>

CHECK OUT THE VIDEO AND YOU TUBE PAGE FOR SOME VERY COOL VIDEOS!
VIDEOS INCLUDE SOME HISTORICAL FOOTAGE FROM THE 1940'S, 1950'S, AND 1960'S.
Cape Cod Brush Fire 1946... 15,000 Acres! Part 1
Cape Cod Brush Fire 1946... 15,000 Acres! Part 2

ADDITIONAL VIDEOS LISTED ON
OUR VIDEO PAGE



NEWER VIDEOS CAN BE FOUND
at CapeCodFD Videos on YouTube

FROM HISTORY

FEATURED FROM THE HISTORICAL COLLECTION
<Back| |TOP| Next>

PROVINCETOWN
Old Provincetown Ambulance
c. 1950's

<![if !vml]>
<![endif]>


We Remember
Never Forget
We Remember

The Worcester Six
December 3, 1999


Firefighters Memorial
View Video

F.D.N.Y. 343

9-11-01


Boston


August 29, 2007
FF Paul J. Cahill - E30
FF Warren J. Payne - L25

Boston


January 9, 2009
LT. KEVIN KELLY
Ladder 26


Hyannis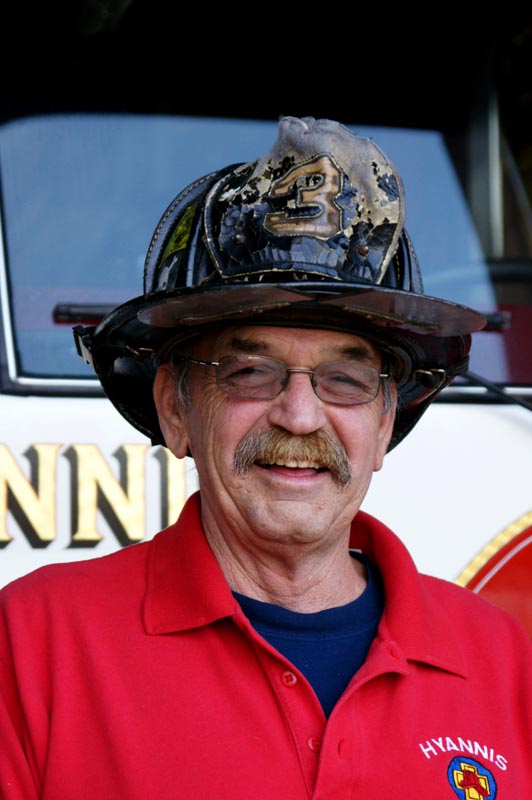 FF Dana "Danny" Clough
Oct 19, 2011

Worcester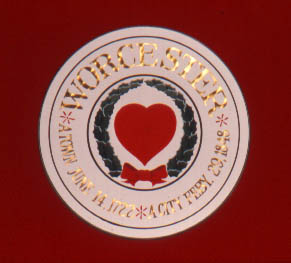 FF JON D. DAVIES
Rescue 1
December 8, 2011

BSO
BSO Dispatcher
Jimmy Verrochi
Jan 23, 2013

Yarnell Hill, AZ


19 Firefighters
Granite Mountain Hot Shots
June 30, 2013


Onset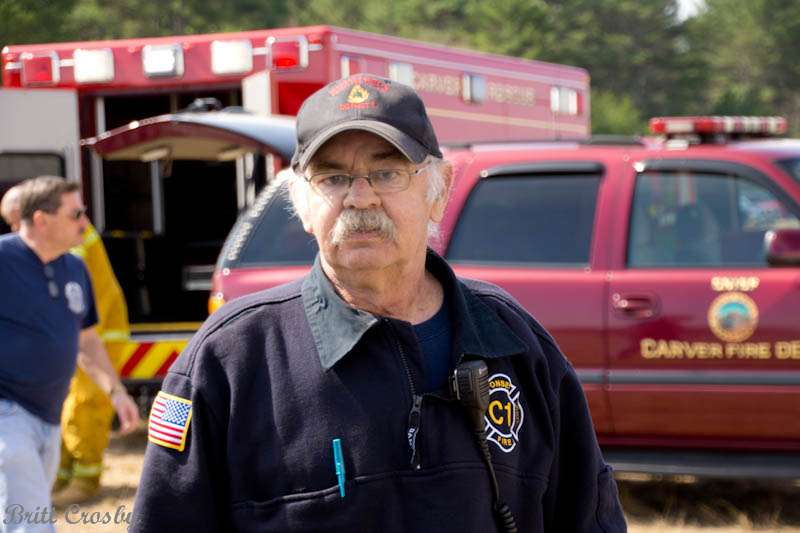 Onset Fire Chief Howard B. "Howie" Andersen
Retired in September 2013 and passed away Oct 4, 2013.

Boston
298 Beacon St, Boston
March 26, 2014
Lt Edward Walsh E33
FF Michael Kennedy L15





COMM FD
Horace Manley "Gus" Crosby III
"Uncle Gus"
Passed away September 19, 2014
The first permanent firefighter in Osterville.
Founding member IAFF Local 2346.
33 Year career COMM FD.
My mentor, Best Man, Neighbor.
Semper Fi Marine
HYANNIS FD
Retired Hyannis Firefighter - Dispatcher
Robert McGorty
Passed away Oct 9, 2014 age 72
Charter member Hyannis IAFF Local 2172
32 Year member retired 2002
"KCD 454 Clear"
HYANNIS FIRE
BRETT D. GRANDAW
Former Firefighter / Paramedic
Hyannis FD, Age 55, November 18, 2015.
23 years with Hyannis FD
and 17 years with FEMA Team.
SEPTEMBER 11. 2001

DEDICATED TO ALL THOSE WHO MADE THE ULTIMATE SACRIFICE
<Back| |TOP| Next>


REMEMBER
SEPTEMBER 11, 2001

The World Trade Center towers from Liberty Island, summer 2001.

TAKE A CLOSER LOOK AT WHAT HAPPENED THAT DAY.
What have we as a fire service learned about the collapses of the
two 100 story twin towers and the 47 story WTC Building 7 that day?
CHECK OUT THESE LINKS 10 YEARS LATER
LISTEN TO THE FDNY AUDIO TAPES OF THAT DAY
REVIEW THIS VIDEO OF THE EVENTS THAT DAY
September 11th Revisited - Full Movie


FOR MORE
FIREFIGHTERS FOR 911 TRUTH .ORG
ARCHITECTS & ENGINEERS FOR 911 TRUTH .ORG
GOD BLESS THE USA
SUPPORT THE TROOPS

CAPE COD CARES FOR THE TROOPS
<Back| |TOP| Next>






PLEASE SUPPORT THIS SPECIAL CAUSE
Cape Cod Cares for Our Troops
www.CapeCod4TheTroops.com
REMEMBER ALL THE MEN AND WOMEN
PROTECTING OUR FREEDOM
CONGRATULATIONS!
HE MADE IT!
Crazy Guy on a Bike
Check out Retired Falmouth FD
Lieutenant Joel Carlisle's
2012 Coast to Coast Bike Ride!
Joel set out from Cape Cod on April 25, 2012
and rode his bike over 4,414 miles
reaching the west coast and the Pacific Ocean at Oregon on July 10, 2012!
His daily logs and photos of his progress
are fun to read.
Welcome Home Joel!

PREVIOUS YEARS PHOTOS
[2007] [2008] [2009] [2010] [2011] [2012] [2013 2014] 2015

FALL COLORS


AMERICAN LaFRANCE
Fall colors through the window
Cape May, NJ Fire Museum
Nov 2015
BE SAFE

SO EVERY ONE GOES HOME

God Bless The USA
Copyright Britton W Crosby
CapeCodFD.com
All Rights Reserved