Fire & Police Station Projects
Several Fire & Police Station Projects Ahead
Watch for progress on the following in 2017
BOURNE - New Police Headquarters approved in 2016
BREWSTER - New Fire Headquarters was approved in 2016 UNDER CONST.
HARWICH - Renovation of East Harwich Station 2 planned.
HYANNIS - New Fire Headquarters was approved in 2016. UNDER CONST.
MARTHA'S VINEYARD AIRPORT - New ARFF Station 2017. UNDER CONST.
NANTUCKET - New Fire Headquarters approved in 2016. Delayed to 2018?
ONSET - New Fire Headquarters approved 2017.
ORLEANS - New Police Headquarters under construction 2016. UNDER CONST.
PROVINCETOWN - Police Station approved 2017
SANDWICH - New Police Station and New Station 3 approved in 2016. UNDER CONST
SANDWICH - Renovation & addition to East Sandwich Station 2 approved 2016.UNDER CONST
WELLFLEET - Police Station renovation 2017. UNDER CONST.



Brewster Fire Station
Brewster Construction has Begun
FUTURE BREWSTER FIRE HEADQUARTERS
Brewster began site preparation and construction of their new Fire Headquarters
in March 2017. The new 22,000 square foot station is being built on land behind
the present fire station on Route 6A.
The new $13.5 Million station will have 5 drive thru bays and facilities for
personnel which were not designed for in the old station. The project was
approved at the November 2015 meeting.
The present station was originally built in 1974 for both the Police and Fire Station.
The Police moved into their own facility in 2001.
As part of site prep, an annex building behind the station, which housed
an engine and other equipment was torn down. Additional land had
to be cleared which has made it impossible for apparatus to come out
back doors of the station. Some apparatus has been temporarily
relocated during construction.
The present Brewster fire station was built in 1974.
The "annex" building behind the fire station has been leveled.
This land behind the present station has been cleared for the new station.
The new access road to the station. The old station is expected to remain and be utilized
by other Brewster town agencies.
The rear of the present station inaccessible during construction.
March 30, 2017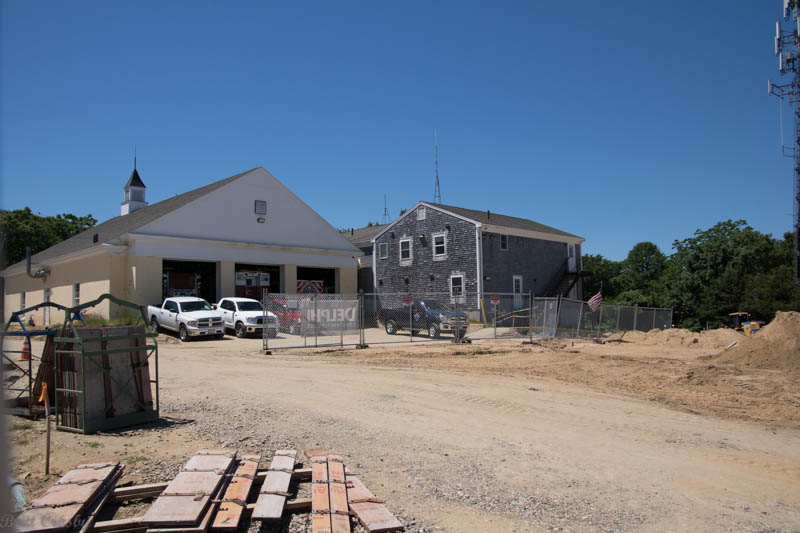 Making progress in Brewster
June 26, 2017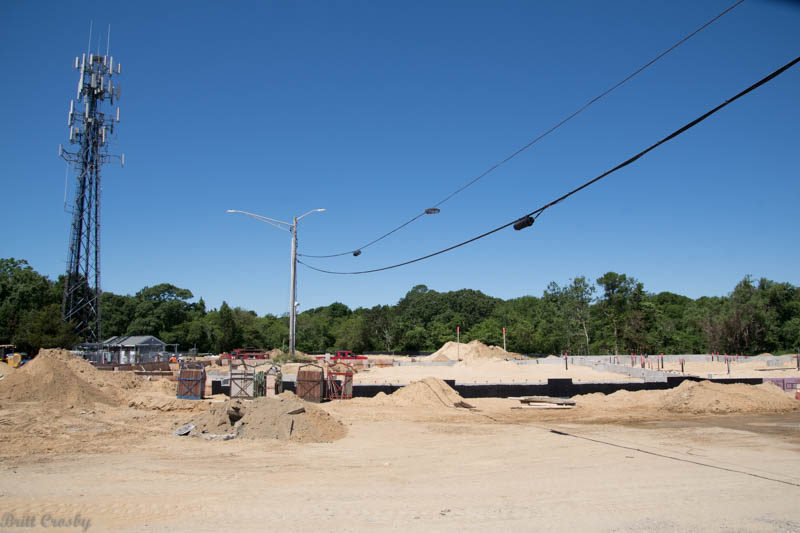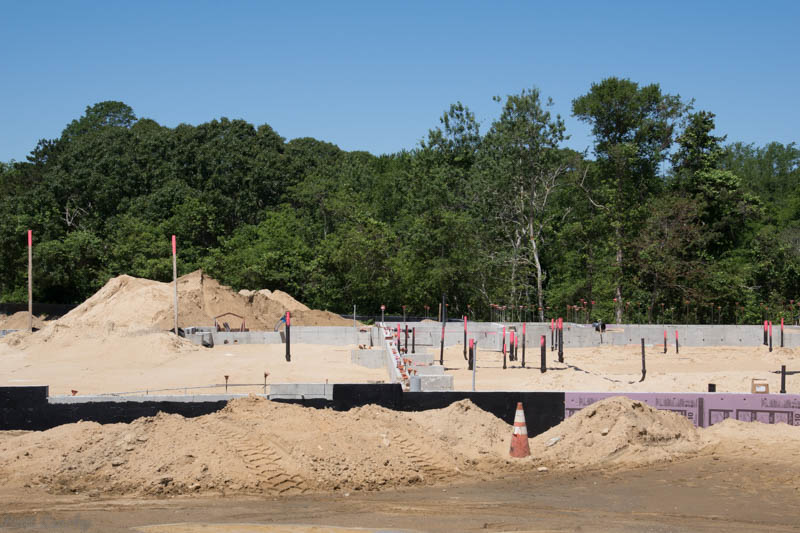 June 26, 2017
August 7, 2017
Photos September 14, 2017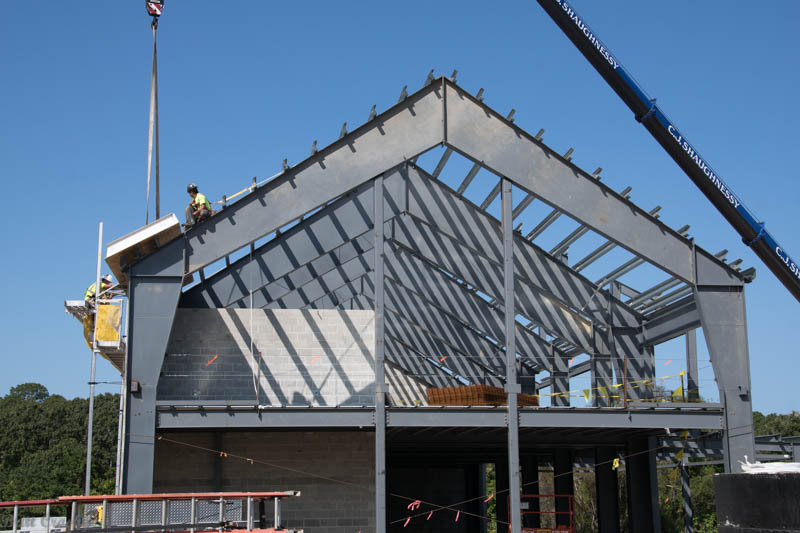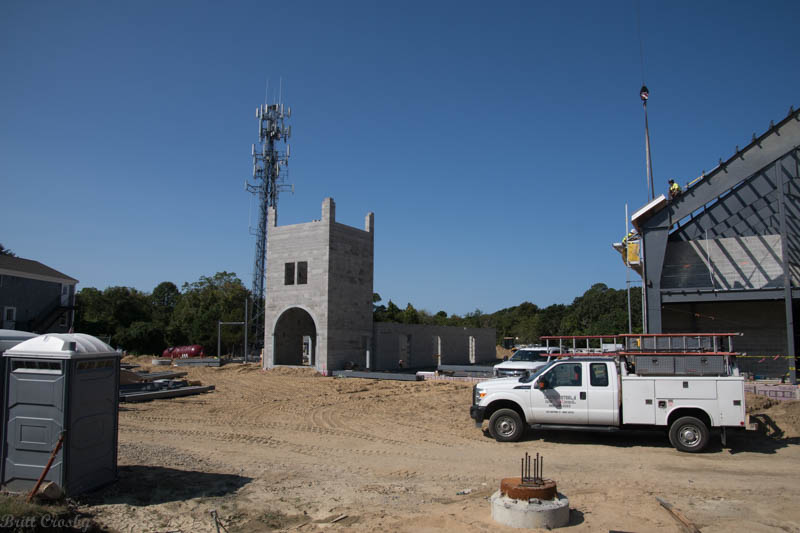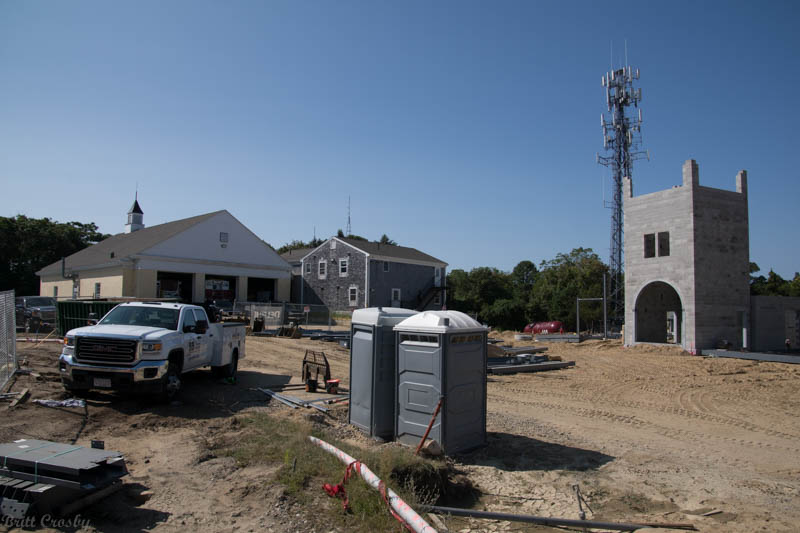 Photos Oct 13, 2017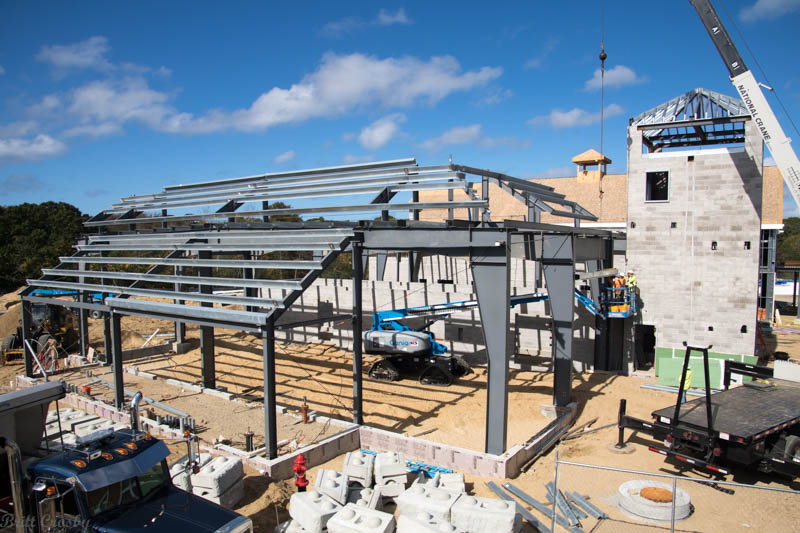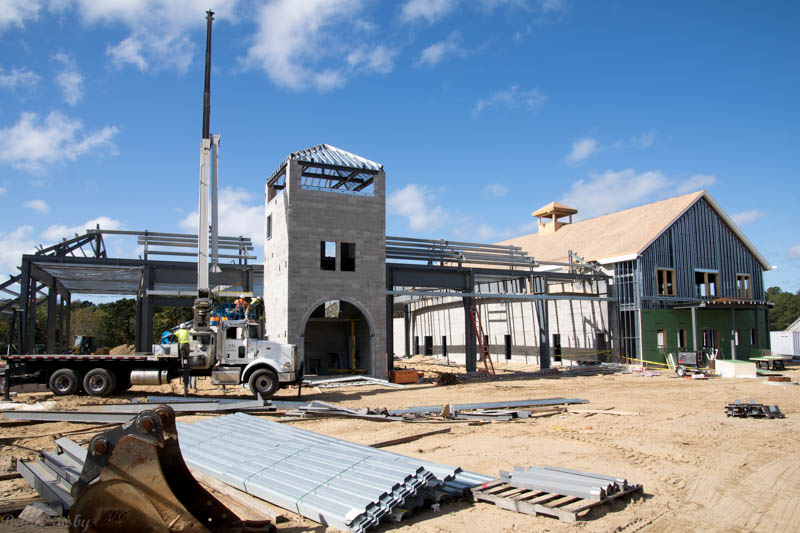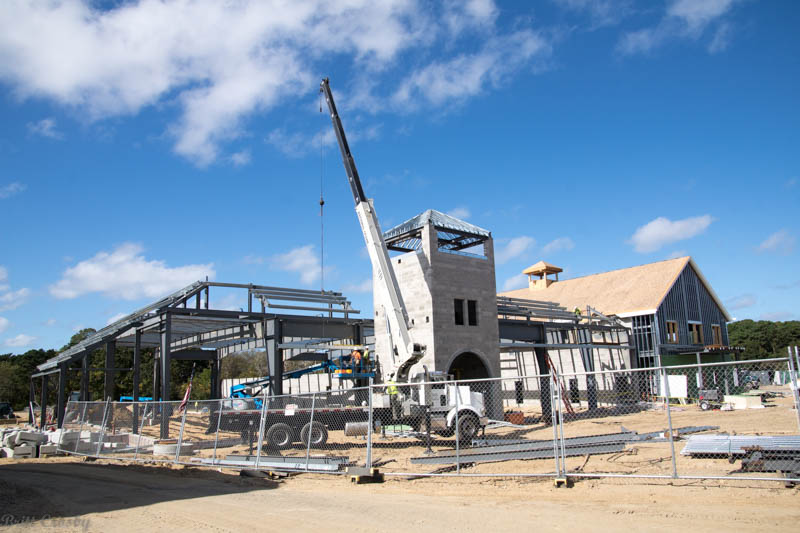 Hyannis Fire Station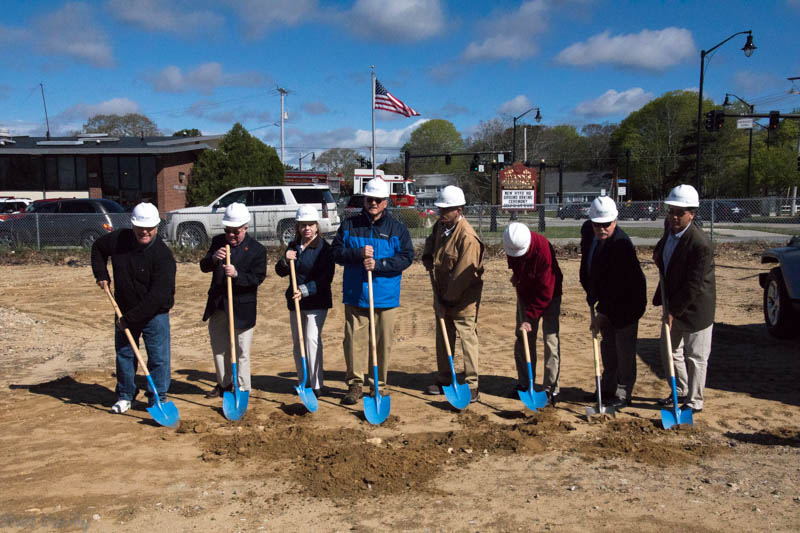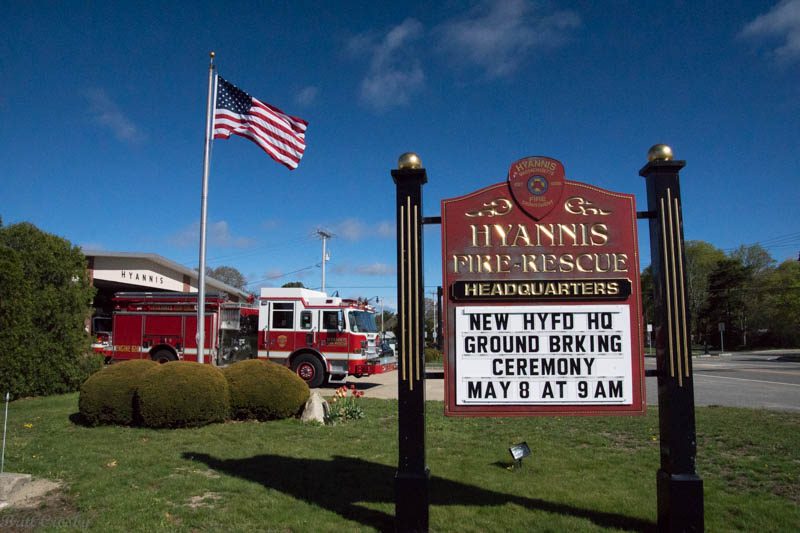 Hyannis Ground Breaking May 8, 2017
FUTURE HYANNIS FIRE HEADQUARTERS
It took a number of years to get approval, develop plans, and prepare the site for
a new Hyannis Fire Headquarters. Ground was broken on Monday May 8, 2017
as construction got under way on the new station which was approved at the April
2016 Special District meeting. The 33,000 square foot, $18.5 Million station will
be built on High School Road Ext., with the first phase being built next to the present
station. Once completed, the new section will be moved into and the old station will
be torn down to make room for the rest of the new station - additional bays.
LIVE STREAMING OF CONSTRUCTION
New Fire Station Approved 2016
NEW HEADQUARTERS FIRE STATION
After several years of planning, with a number of failed votes, Hyannis Fire District
finally approved construction of a new Fire Headquarters at the April 9, 2016
special district meeting.
73% of voters approved the $18.5 Million project which will build a new
station on property next to the present station on High School Rd Ext.
The approximately 33,000 square foot station was significantly reduced
in size to achieve a budget that could get approved.
The present station was built in 1965 and was very spacious at the time.
As apparatus has increased in size and fulltime personnel have been added
to meet the ever increasing number of responses each year, the station had
been outgrown for many years.
Design of the new station changed a number of times in order to achieve
the goal of maintaining continuous operation from the old station while
the new station is built.

SITE PREPARATION
March 2017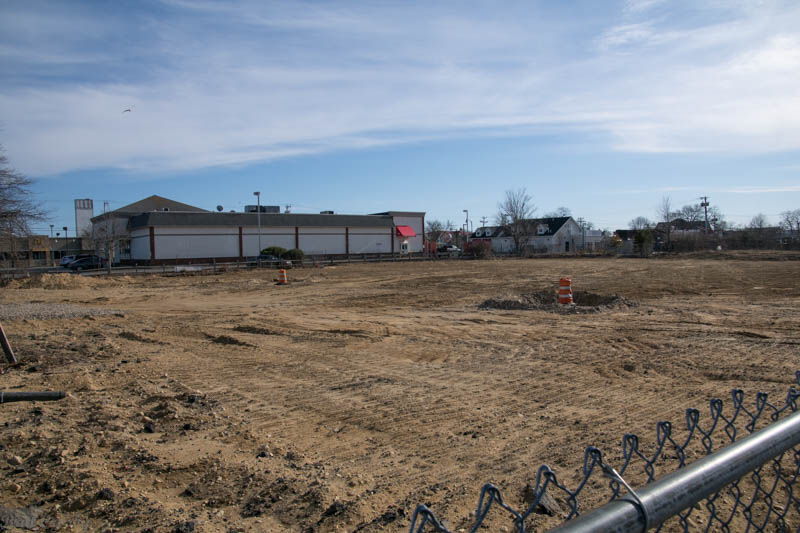 June 26, 2016
Site work under way.
June 26, 2016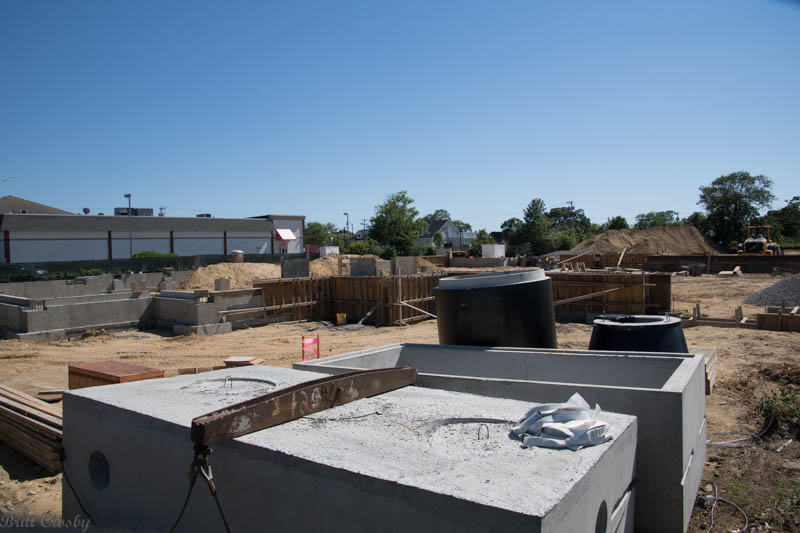 June 26, 2016

July 26, 2016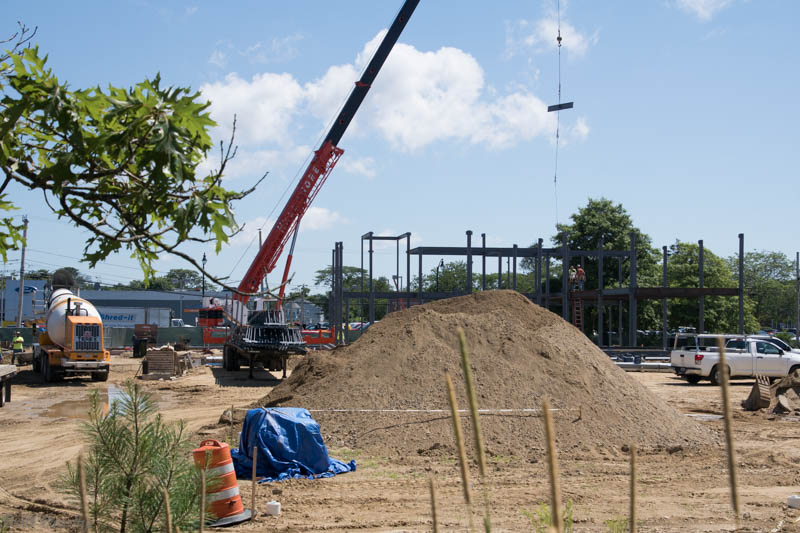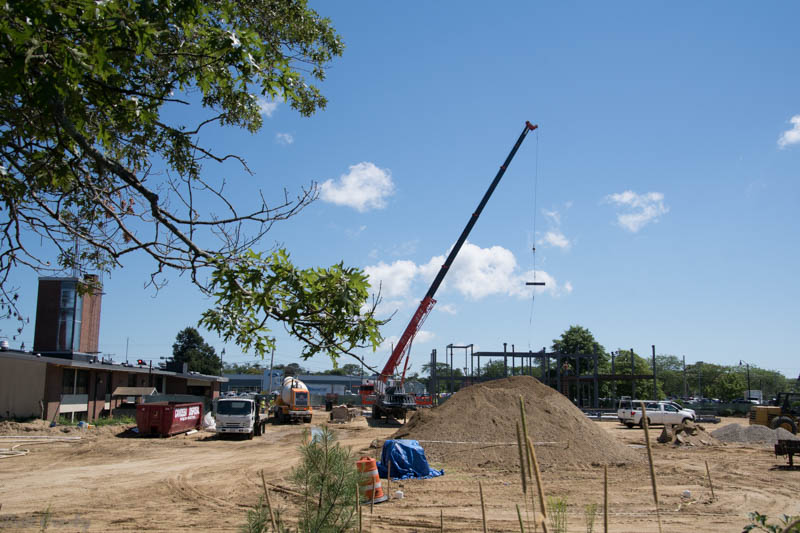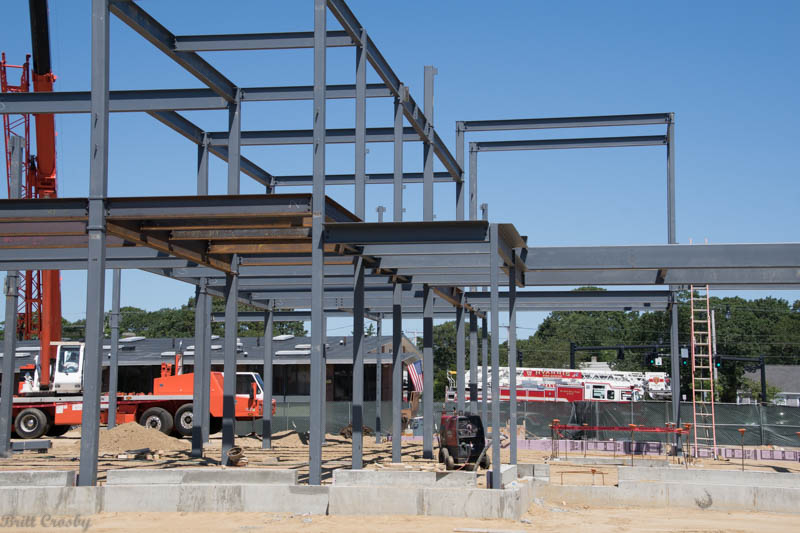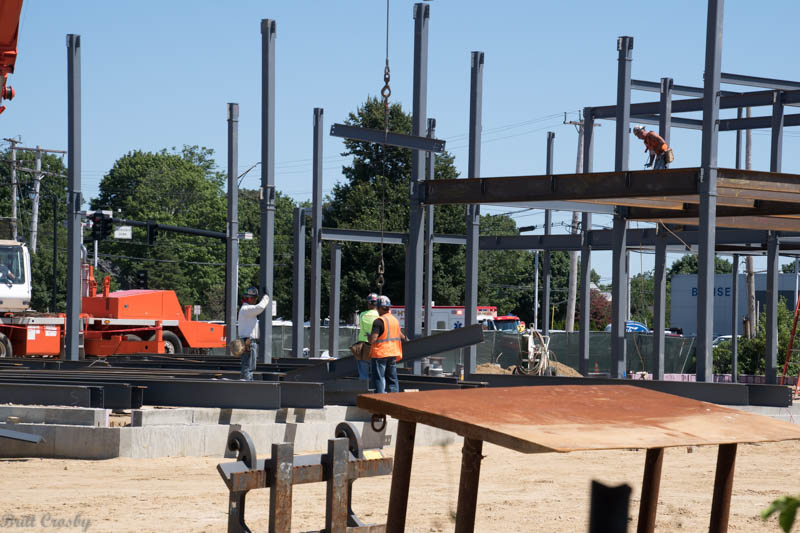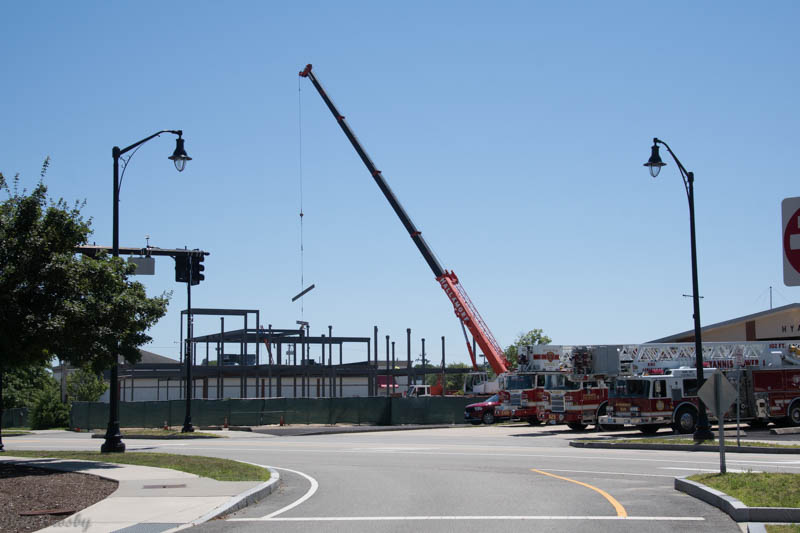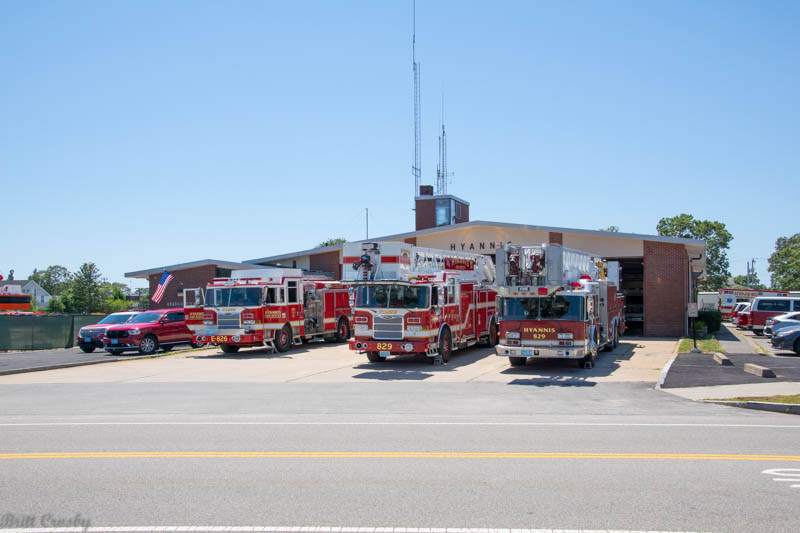 July 26, 2017


August 4, 2017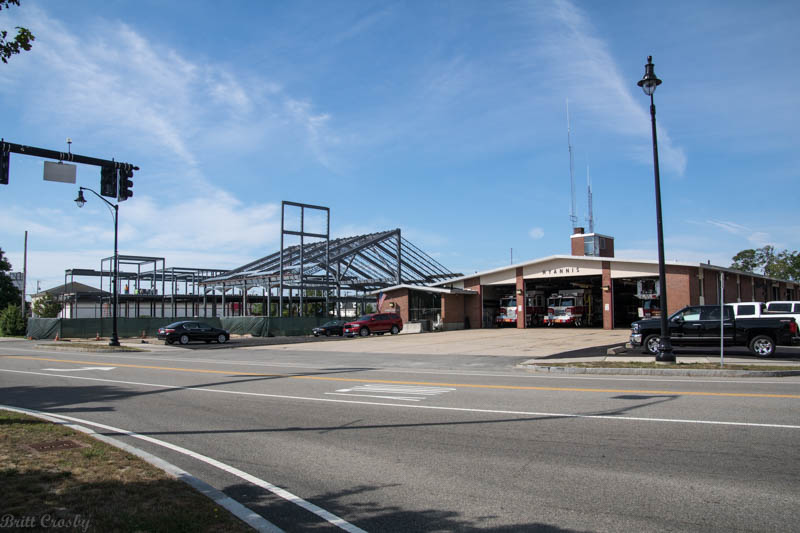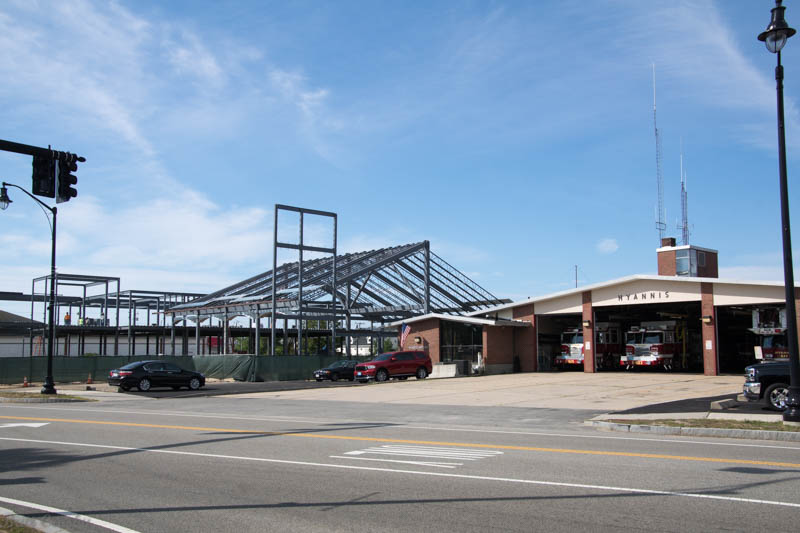 August 4, 2017
Photos September 1, 2017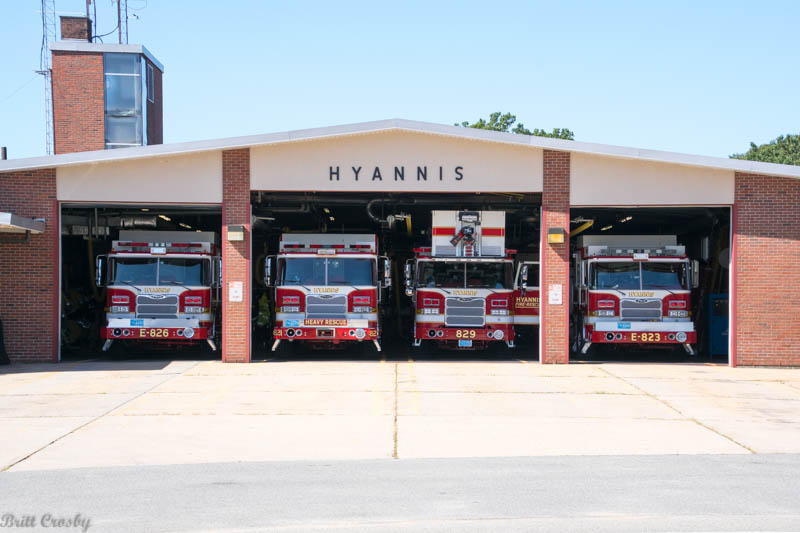 Photos September 5, 2017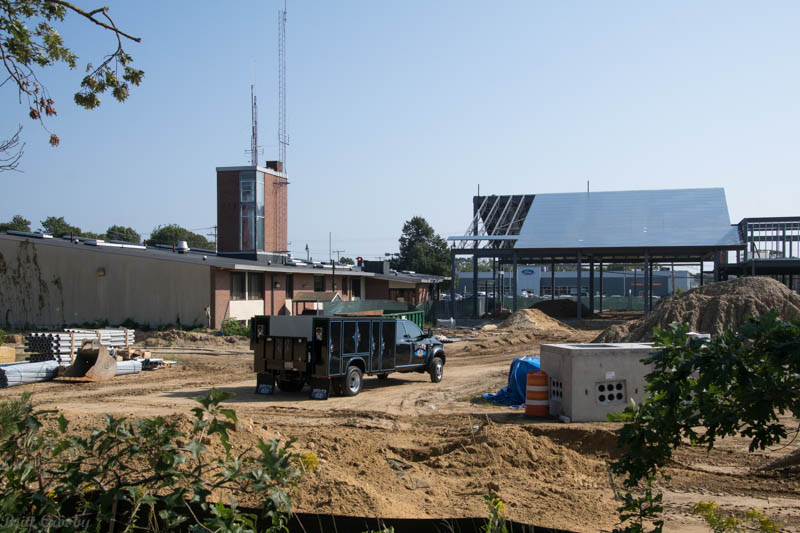 Photos September 14, 2017
STUFF HAPPENS
September 14, 2017
Construction crews accidentally took down all incoming phone lines to the
fire station. Backup plans were implemented to keep emergency operations
and department business going while crews made repairs.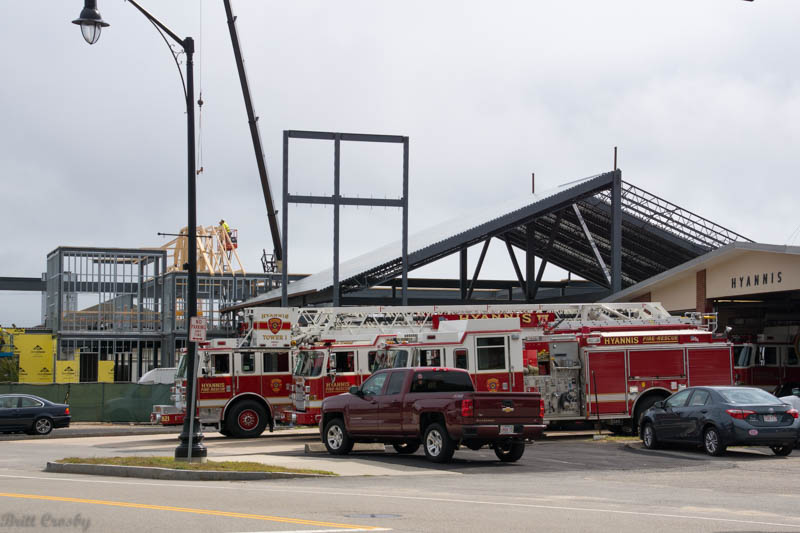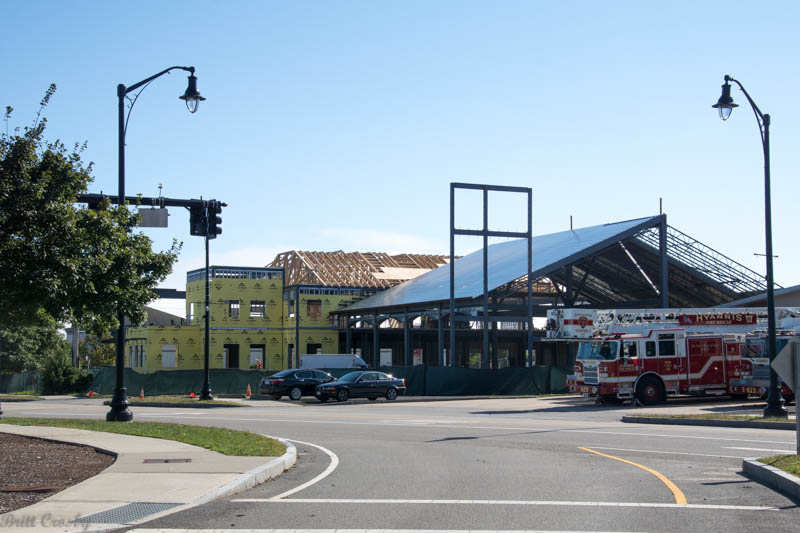 Photos September 25, 2017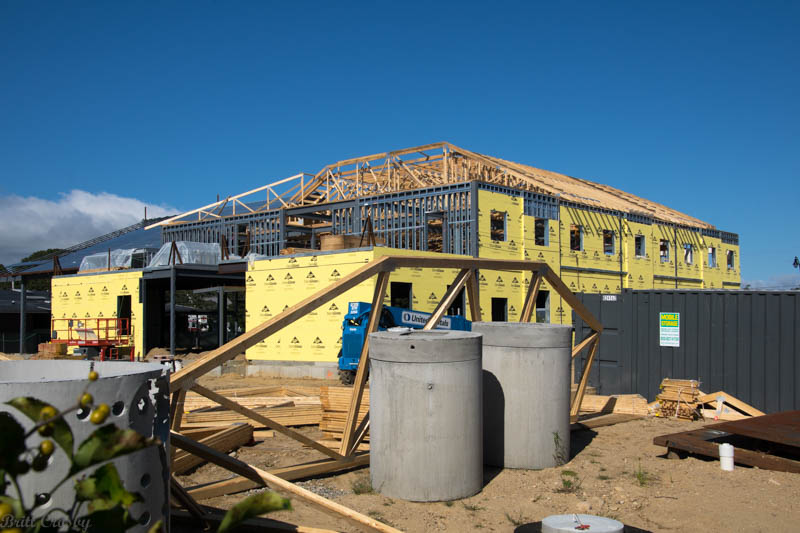 Photos October 13, 2017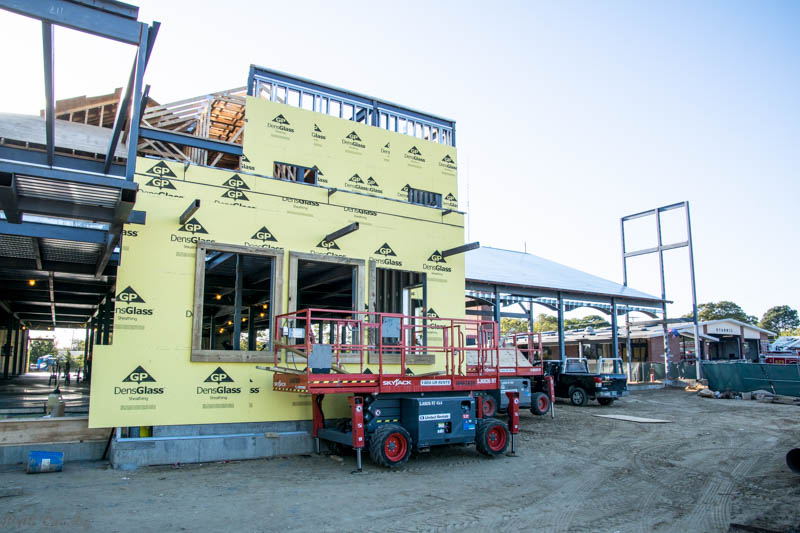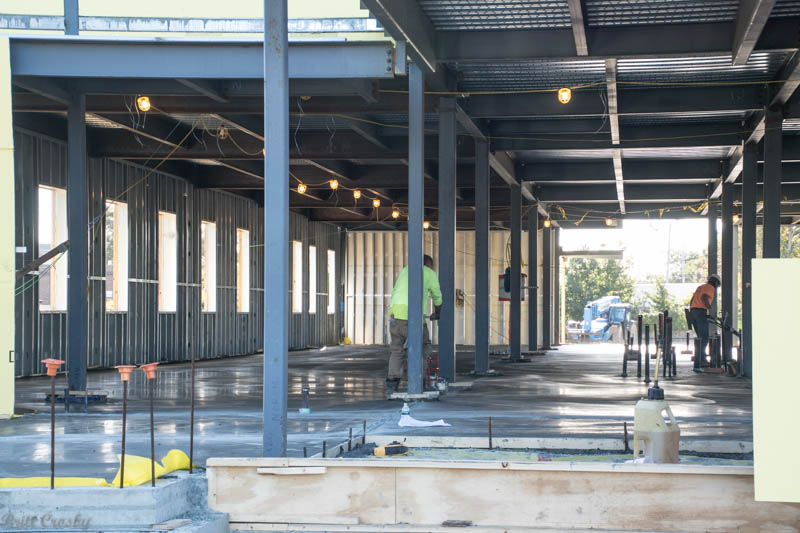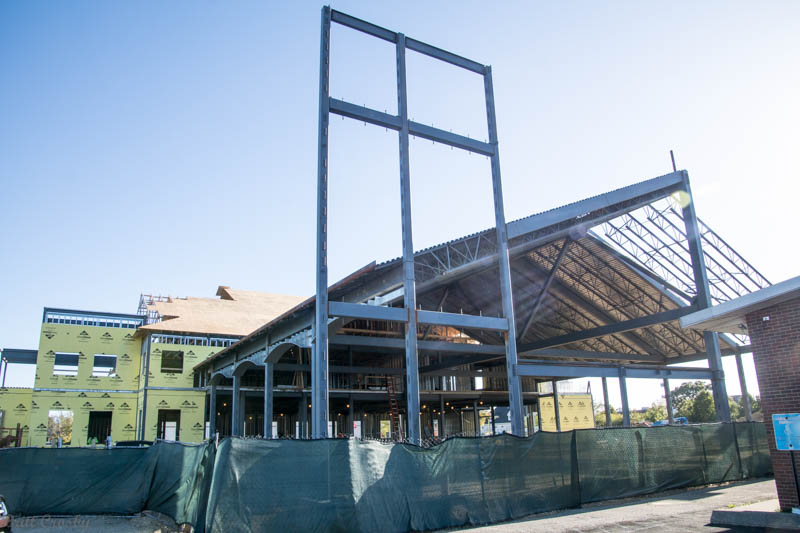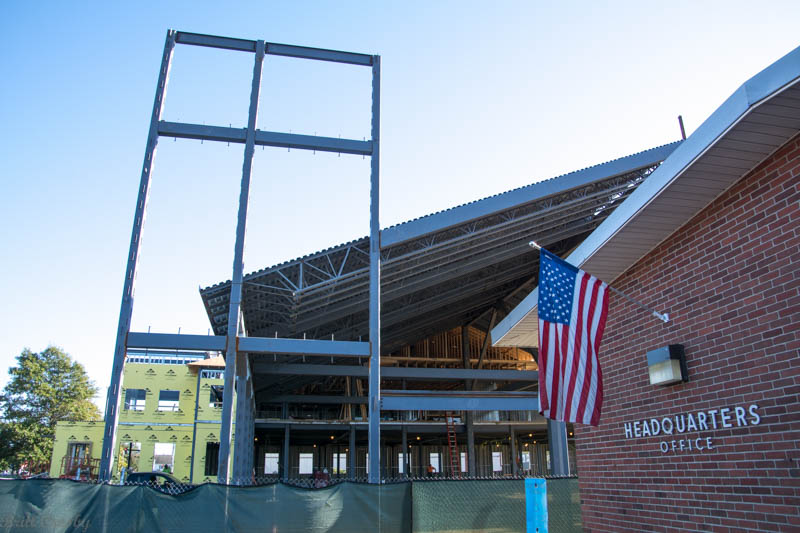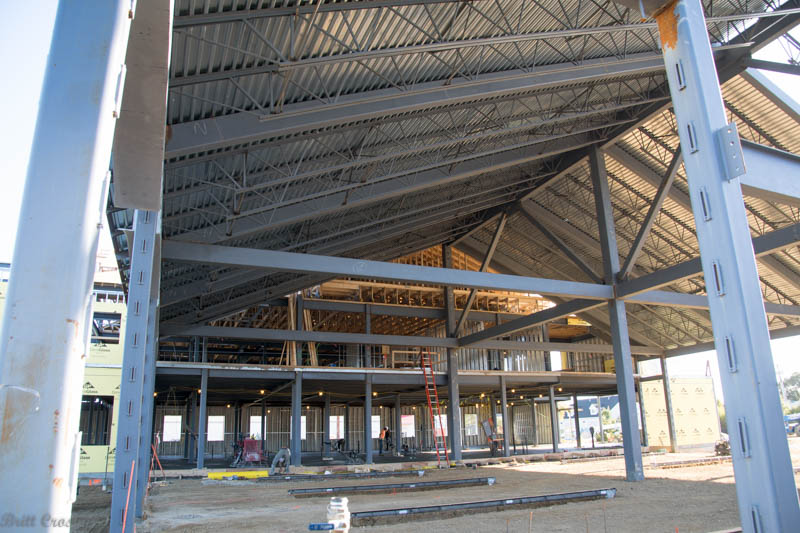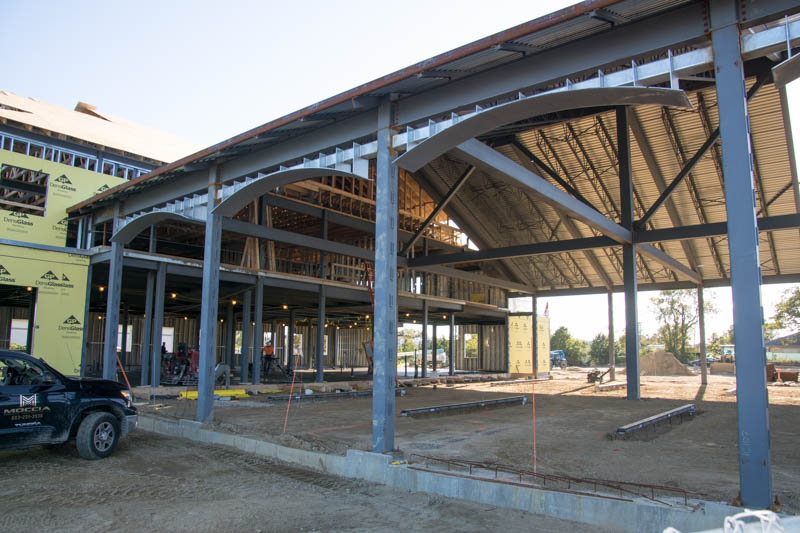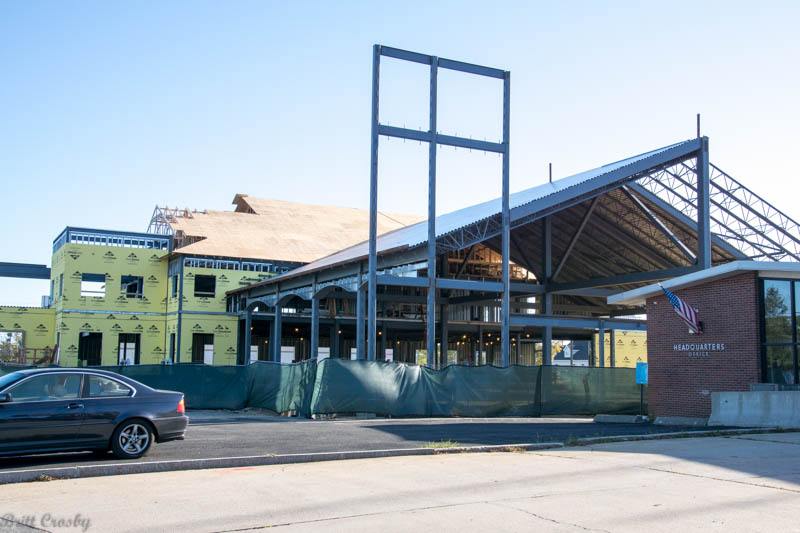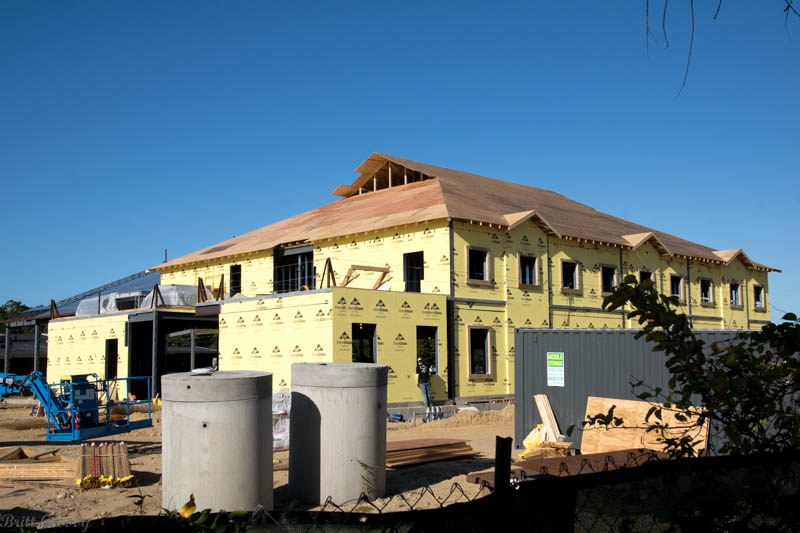 Vineyard Airport ARFF Station
MARTHA'S VINEYARD AIRPORT ARFF STATION
The former MVY ARFF Station has been torn down
and a new combination ARFF and Snow Removal Equipment
facility is under construction and expected to be completed in 2017.
New MVY ARFF facility photos May 2017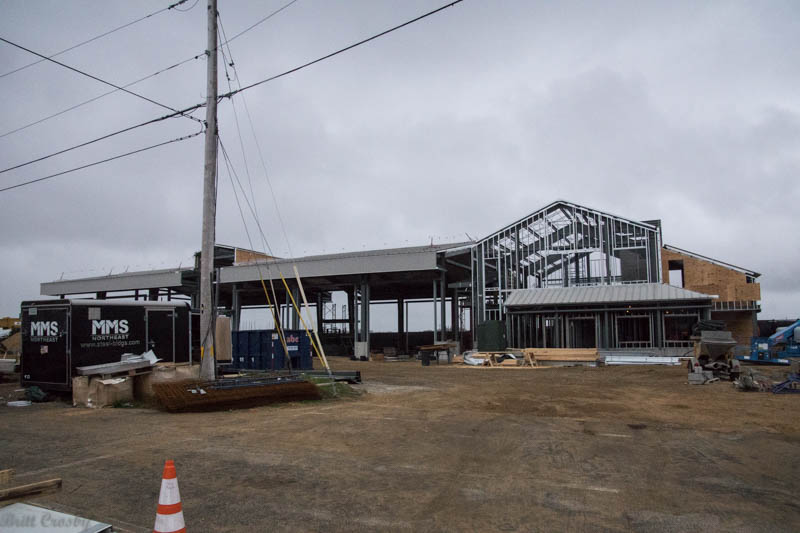 Nantucket Fire Station
Nantucket Fire Department
UPDATE JULY 2017
Nantucket officials have decided to put off bidding for a new Fire Station
until Spring of 2018. The decision came in May 2017 with (hopes?)
of getting lower bids in 2018.
The original $15 Million approved in 2015 came
up short and an additional $2 Million was needed in 2016.
Nantucket voters approved approximately $15 Million
in April 2015 to construct a new fire station at the
Fairgrounds Road location of the Nantucket Police station.
The town had sought to fund a full public safety complex
including fire, police, and communications in 2008,
but funding was only approved for the police and radio
communications at that time.
The present Nantucket Fire Station was built in 1980
at Pleasant St & Sparks Ave. It replaced the old fire
station in the congested center of town.
Nantucket has grown significantly since the station
was built in 1980. Increased demands for service
and a station that has been full for years, and the
inability to expand on site have led to the need
to move off site and start new.
In addition to the central station, Nantucket also has two
small unstaffed stations in Siasconset and Madaket.
The department has 5 personnel on a shift with a
minimum of 3 personnel on duty.
It operates 5 pumpers, 1 aerial, 2 tankers,
1 heavy rescue, 3 ambulances, and a number
of support units.
May 2015

NEW FIRE STATION WORK GROUP PAGE
SUMMARY OF RECOMMENDATIONS 2014

Onset Seeks New Station

Onset Fire Station
ONSET FIRE HEADQUARTERS
The present Onset Fire District station was built around 1950 at 5 East Central Ave.
in the center of Onset. The station was built next to the old fire station dating back
to the early 1900's. The two buildings are located on about 2.5 acres in the center
of Onset village in Wareham. The station has 6 bays, but was not designed for
modern apparatus or operations. Some apparatus must be kept outside
or in a tent on the property. The department's new 2015 Ladder truck
(which replaced the 43 year old 1972 ladder truck) does not fit in the station
and must be housed a couple miles away at the Water Department's building
on Sand Pond Road near where the proposed new station would be built.
The Proposed building would have room for all apparatus and facilities
required in new fire stations. The estimated cost of $13.9 Million must first
be approved by voters at the May 15, 2017 District Meeting.
Land across from the Water Department on Sand Pond Rd where the proposed station
would be built if approved at the 2017 District meeting.
Onset Seeks New Headquarters
May 15, 2017 District Meeting
PROPOSED ONSET FIRE HEADQUARTERS
The Onset Fire District will seek approval for approximately $13.9 Million
to construct a new Fire Headquarters Fire Station proposed for Sand Pond Rd.
at the May 15, 2017 District meeting.

Orleans Approves New
Police Station
ORLEANS POLICE STATION
Voters in Orleans approved $11.5 Million to build a new
Police Station.
May 2016
Photo above prior to demolition of old station to prepare
for a new Orleans Police Station.
Nov 2016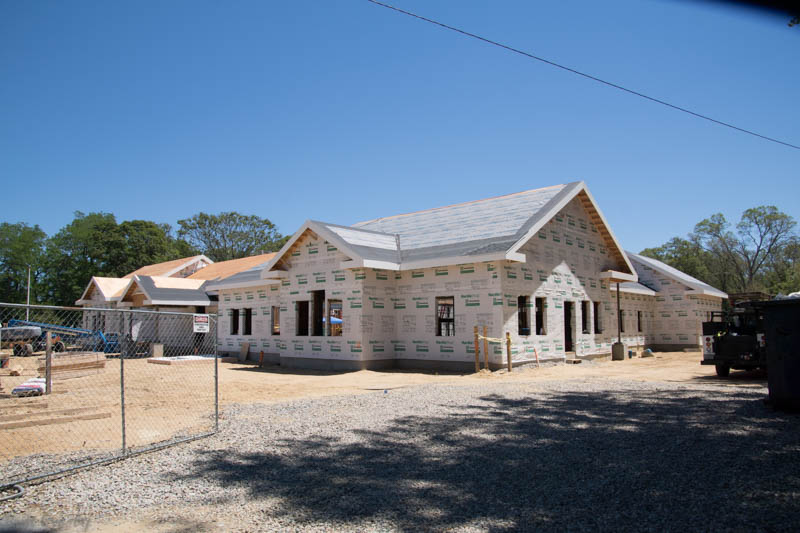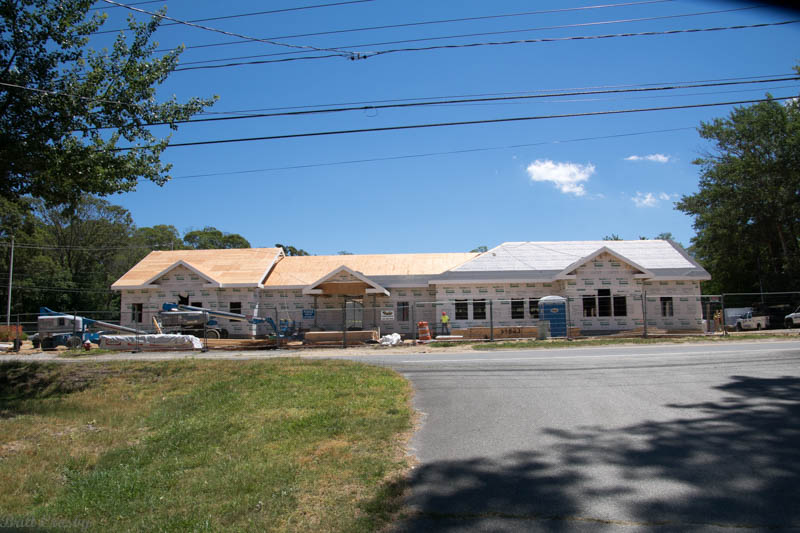 Photos September 13, 2017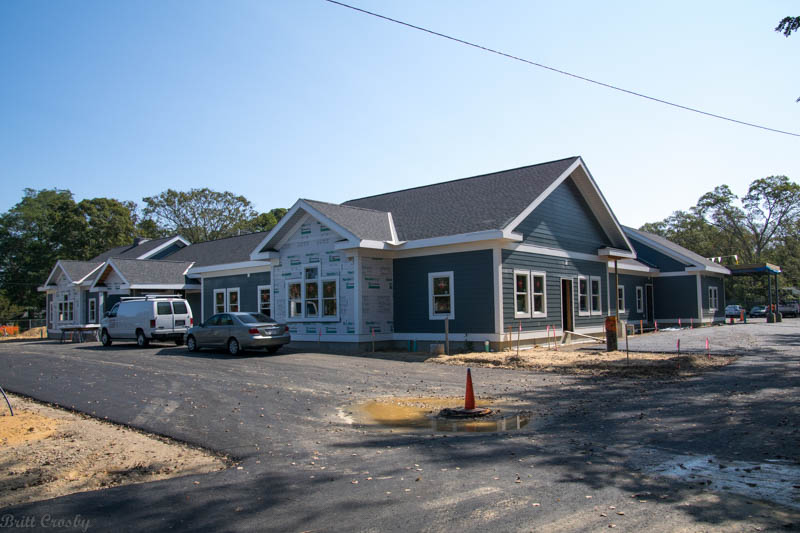 Photos September 13, 2017
Temporary Police Station at 139 Main St, Orleans

Sandwich Stations Approved
Police and Fire Stations Approved
SANDWICH VOTERS APPROVED STATIONS
Sandwich has needed to upgrade its emergency services facilities for decades.
The police station and 3 fire stations are all inadequate having been built in
the 1970s. A proposal to build a new Police and Fire Headquarters station
and build a new fire sub station was rejected in 2013.
The town went back to the drawing board.
On May 2, 2016 voters approved funding to move forward with a new Police
Station at Cotuit Road & Quaker Meetinghouse Road.
They also approved building a new fire station on that site to replace the
1970s Forestdale Fire Station 3 which is currently on Route 130.
While no funds were approved for headquarters on Route 6A downtown,
funding was approved to make the East Sandwich Fire Station 2 ready
for staffing. It was built in the early 1970s as essentially a garage with
no living quarters of facilities for staffing.
East Sandwich Station 2 to be renovated and made inhabitable for staffing.
Forestdale Station 3 to be replaced by a new station at Cotuit Road &
Quaker Meetinghouse Road with a new Police station. The station was
first staffed in 1993 as that section of town has grown considerably.
The combination Fire and Police Headquarters originally proposed in
2013 which was rejected at the time.
Photos September 8, 2017
Cotuit Road & Quaker Meetinghouse
Future Station 3 / Fire & Police HQ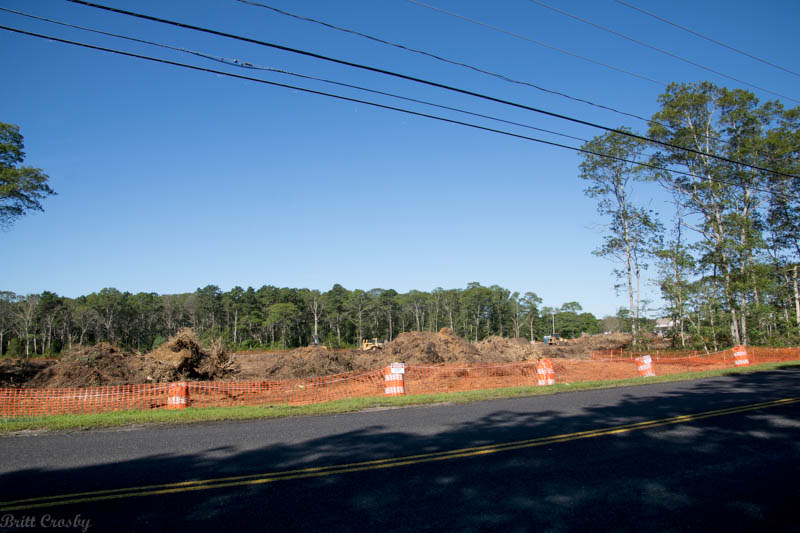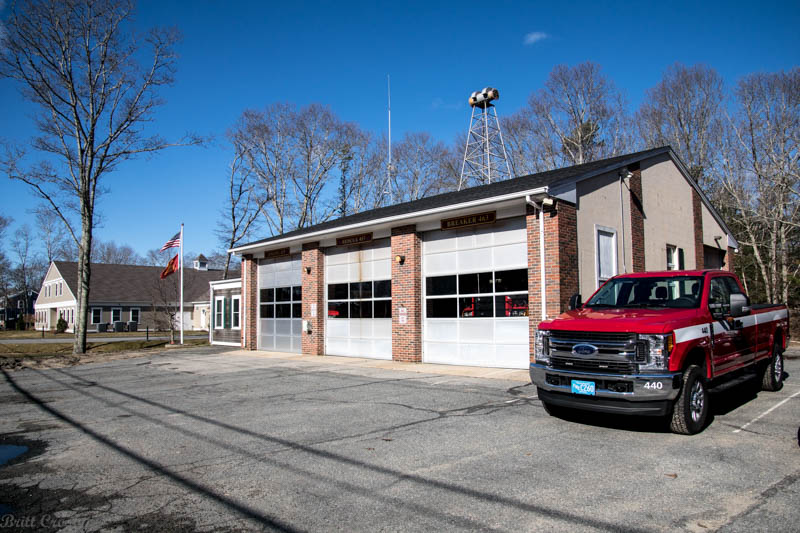 Present Sandwich Station 3
March 2017 photo
East Sandwich closed prior to renovations.
Photos Aug 16, 2017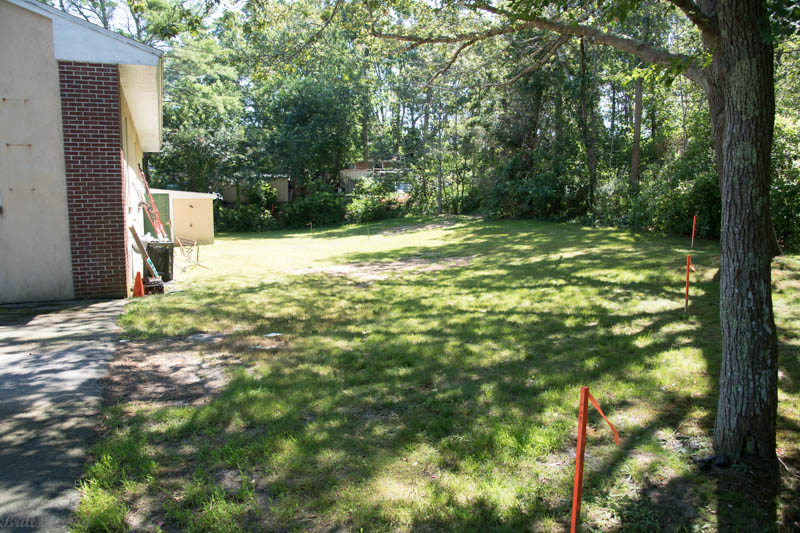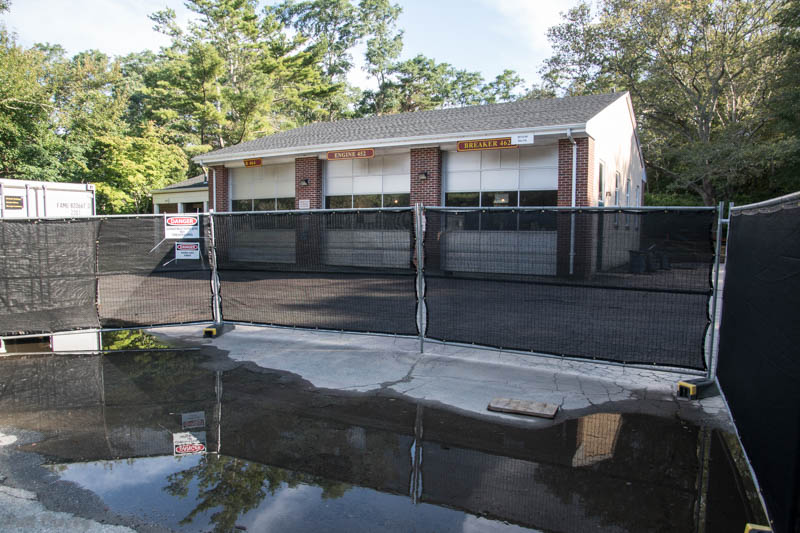 East Sandwich Station 2
Closed for renovations
Photos Sept 7, 2017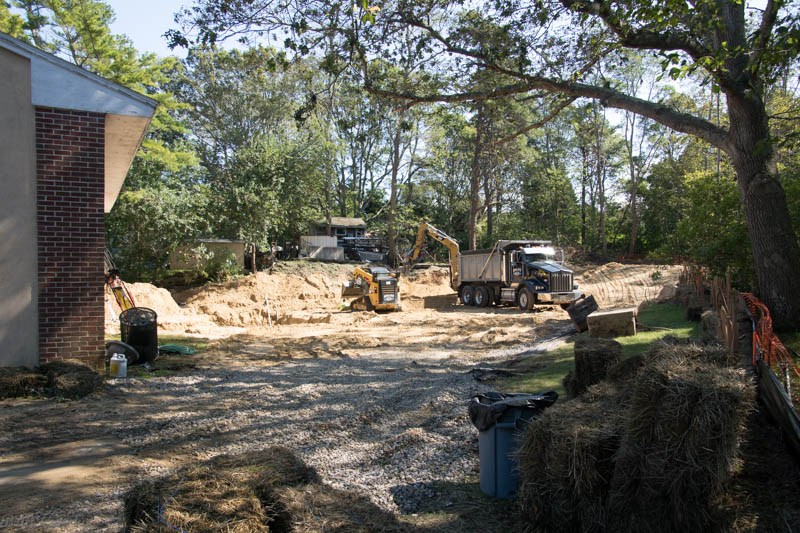 Photos September 25, 2017

Sandwich Station "19"
Sandwich Fire Department
The Sandwich Fire Department has moved their Foam Tanker 465
into a stall in Building 19 at the NRG Canal Power Plant.
The Foam Tanker had been stationed at East Sandwich Station 2
but insufficient staffing and a need for apparatus space
made the relocation to the power plant necessary.
The tanker was designed with the power plant in mind
many years ago. It was special called to the recent gasoline
tanker rollover and spill at the Bourne State Police rotary
in March 2015.
March 2015

Wellfleet Police Station
Wellfleet Police Station Renovations
Wellfleet voters approved approximately $7.5 Million to renovate the former
Wellfleet Fire & Police Station at 36 Gross Hill Road in November 2016.
In March 2017 work began on the building which will take advantage of
space formerly used by the fire department to increase space needed for
police operations. The building had to be vacated during construction to
the Wellfleet PD moved up the street temporarily. The construction is
expected to be completed around September 2018.
The original facility, a combined Police and Fire Station was first opened
in 1983. The Fire Department outgrew the space and moved across the
street to a new Fire Station in 2009.
July 2017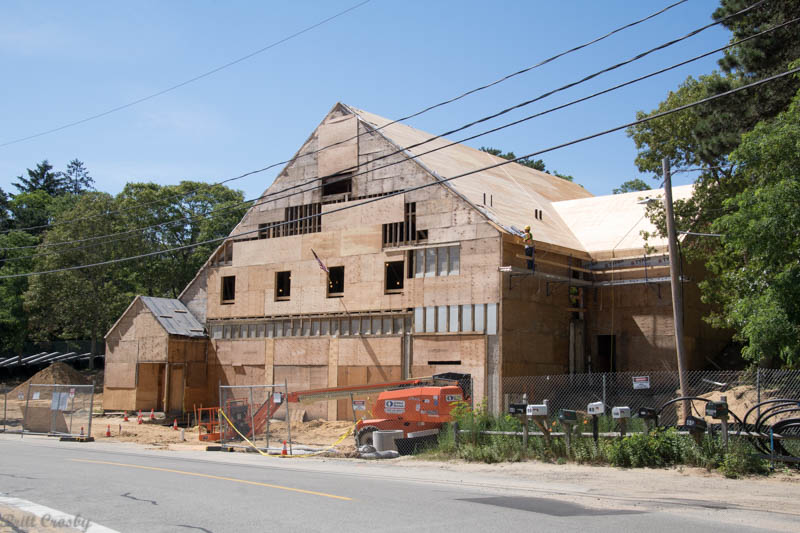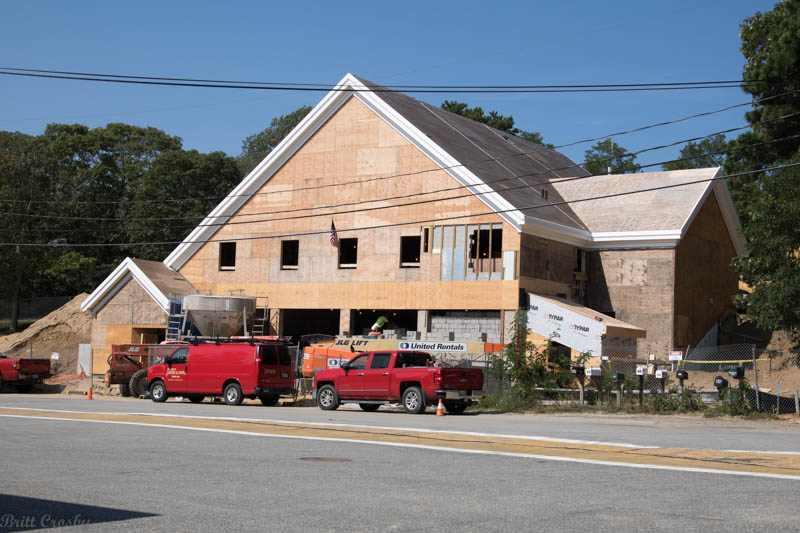 Photos Sept 13, 2017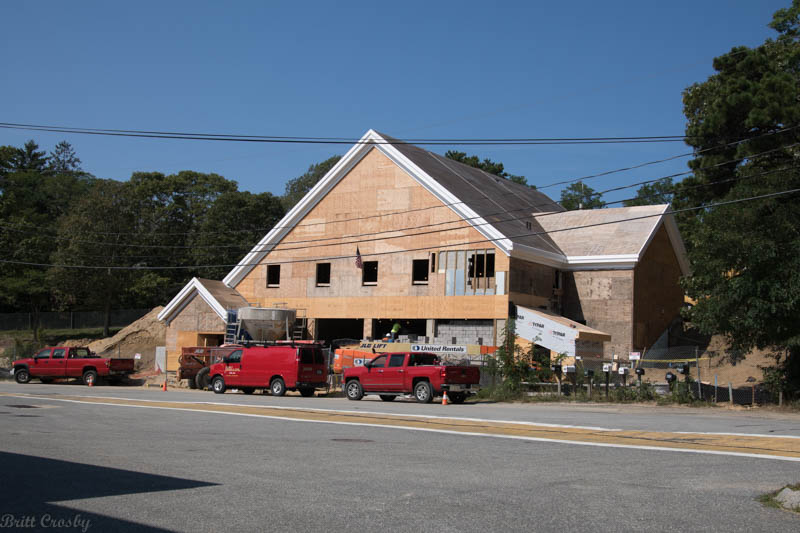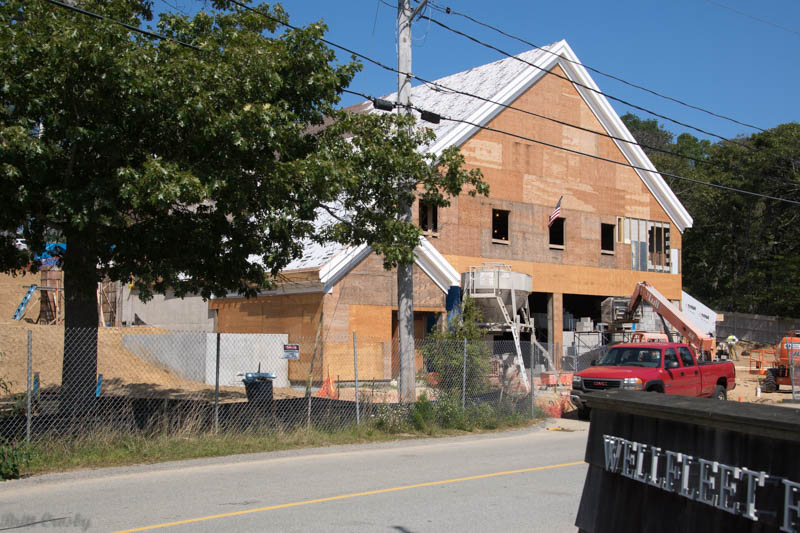 Chilmark Fire Dept
Chilmark Fire Department
The "Beetlebung Corner" Chilmark Fire Station was built in the 1930s
and has been added onto a couple times. It is little more than a garage
next to the Chilmark Town Hall.
A committee has been formed to look into the options for a new
public safety building that could house modern fire and ems apparatus
and possibly the police department.
See the recent article regarding this facility.
CHILMARK LOOKS AT FIRE STATION OPTIONS
March 2015