2010 YEAR IN REVIEW
Remembering Bobby J.
January 2, 2010
Memorial service for Harwich Captain Robert W. Johnson
More
New Osterville Fire Station
January 7, 2010
New Osterville Fire Station opened at 999 Main Street
replacing the original 1926 Osterville Fire Station.
More

Hyannis Iron House Fire
January 26, 2010
4 Alarm fire destroys The Iron House on Corporation Road
More

Provincetown New Ladder Truck
January 2010
Provincetown's fleet of Ferrara is complete with addition of new Ladder 192.
More
6th Annual Chile Challenge
March 14, 2010
Eastham Fire Department took 1st Place in People's Choice
at 6th Annual Firefighters Chili Challenge in Hyannis.
More

Massive Fire Destroys Onset Landmark
March 29, 2010
A massive 5 Alarm fire destroyed the former Ocean Spray Cranberry Warehouse on Cranberry Highway.
More

Brewster Fire Chief Roy Jones Retired
April 16, 2010
Brewster Fire Chief Roy E. Jones III
Retired after 29 years as chief.
Former Dennis Fire Chief Paul Tucker served as interim chief until
the Brewster Fire Chief Robert Moran started in October 2010.
Graduation Day
May 15, 2010
Anna Maria College graduation held in Worcester.
Finally completed B.S. Fire Science degree.
Over a dozen Cape fire department members graduated with M.S. and B.S. degrees.
Sandwich Firefighters Injured
May 31, 2010
A Memorial Day 3 Alarm house fire injured 2 Sandwich firefighters in a "backdraft"
type explosion.
More

New Cape Cod Seashore Station
June 2010
The new fire station at the Cape Cod National Seashore opened.
A new Tender 279 also went in service.

Menemsha Coast Guard Boathouse Burns
July 15, 2010
A massive fire destroyed the USCG boathouse in Mememsha on Martha's Vineyard.
The pier was also severely damaged. (USCG Photo)
Vineyard Times Story
YOU TUBE Video of Fire
Cataumet House Fire
August 2, 2010
Bourne Fire Department was assisted by area departments when a shore side
cottage was destroyed in a 2 alarm fire on Squateague Harbor Road.
More

Falmouth Brush Breaker Delivered
July 2010
Falmouth took delivery of its new Brush Breaker 18
built by V-Tec

Air Force One Visits Cape Cod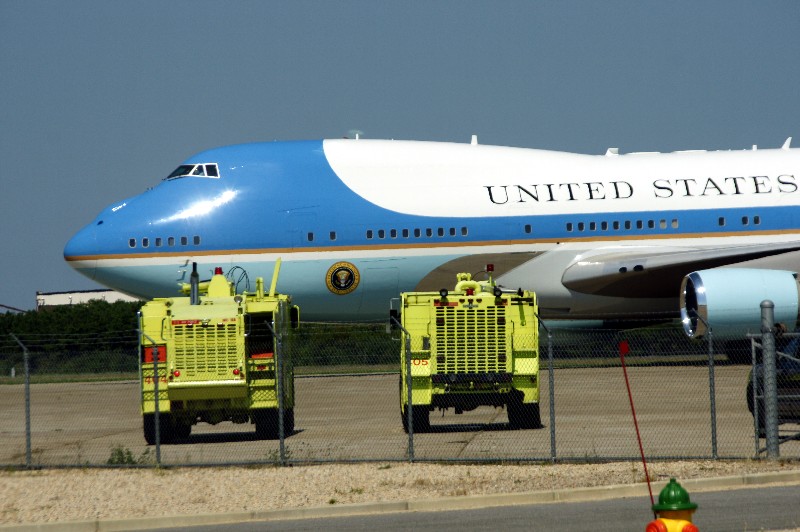 August 19, 2010
President Obama arrived at Mass Military Reservation with Air Force One for a Vineyard vacation.
More

COMM Deputy Chief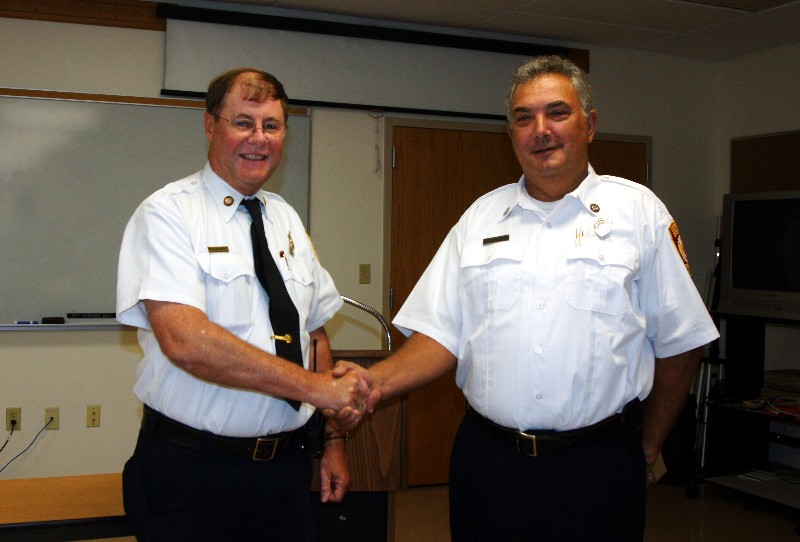 September 2010
COMM Fire Chief John Farrington congratulates new Deputy Chief Phil Field.
Deputy Field replaces retired Deputy Craig Whiteley who served as Deputy since 1989.
Hurricane Earl Threatens Cape Cod
September 3-4, 2010
Category 2 Hurricane Earl passed close by Cape Cod over night.
More

Tisbury Emergency Services Facility
September 2010
Architectural rendering of the new Tisbury Fire / EMS Station now under construction
at 251 Spring Street in Vineyard Haven
Expected to open in summer 2011
Oak Bluffs Opens Fire Museum
September 2010
The 1929 Maxim Engine 2 is now restored and housed in a new fire museum at the
Oak Bluffs Fire Headquarters.
More

Last Mack Retires
September 2010
The last of the Cape Cod Mack CF engines retired.
Harwich's 1976 Mack Engine 68 (originally E4 / E69)

James Silva Passes
September 22, 2010
Former Sandwich EMS Officer Jimmy Silva passed away

Falmouth Fire Chief Retired
October 8, 2010
Falmouth Fire Chief Paul Brodeur retired after 13 years as Falmouth FD's Chief.
Deputy Chief Mark Sullivan assumed duties as Acting Fire Chief.
Cotuit 3 Alarm Fire
October 20, 2010
A 3 alarm fire struck a large home on Old Post Road, Cotuit.
More

MMR Army National Guard
October 2010
MMR Army National Guard unit takes delivery
of 2 new Pierce Oshkosh Hewatt water tenders

Brewster Fire Chief
October 2010
Fire Chief Robert Moran begins duties as the new fire chief in Brewster
Captain Cabral Retired
October 2010
Dennis Captain Paul "Umack" Cabral retired
after 44 years in the fire service.
More

Yarmouth Deputy Kelleher Retired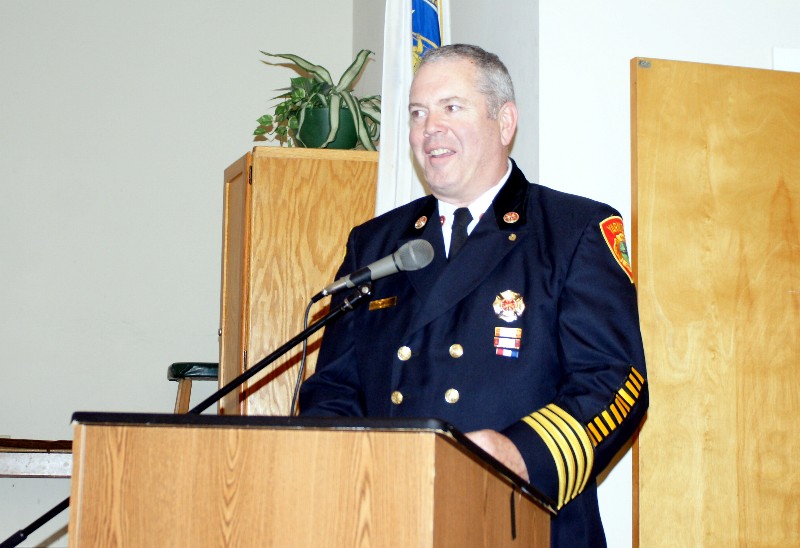 November 10, 2010
Yarmouth Deputy Fire Chief Robert Kelleher retired after serving in the fire service
since 1973. Captain Phil Simonian was promoted to take over as Deputy Chief.
More

Hyannis Boat Fire
November 24, 2010
Hyannis Fire Boat 808 operates at its first boat fire at the
Oyster Harbors Marina on Pleasant Street in Hyannis.
More

Yarmouth Red Rose Inn
December 12, 2010
Yarmouth struck 3 alarms for a fire that destroyed the Red Rose Inn
on New Hampshire Ave. in West Yarmouth during a nasty storm.
SEE VIDEO

New COMM Engines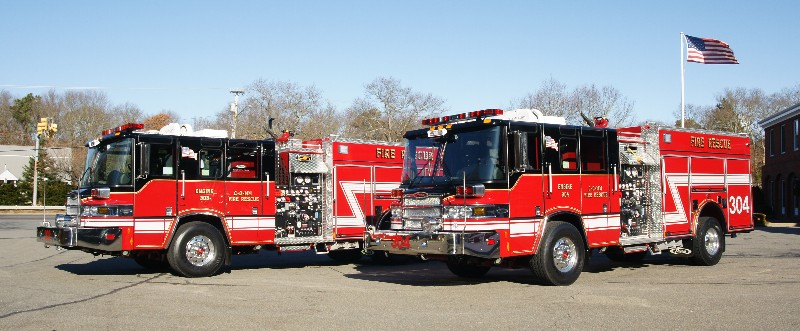 December 2010
COMM Fire took delivery of two new Pierce Quantum engines
that will replace Engine 303 and Engine 304.
More

CapeCodFD.com
2010 Year in Review
Throughout the year, Fire and EMS personnel on Cape Cod respond to over 55,000 incidents.
Only a few of these incidents are displayed in this 2010 Review.
Thank you all for your 24 / 7 / 365 service.
Stay Safe in 2011!