CapeCodFD.com

FEATURE PHOTOS
Just for fun

[ Home ]
[2007] [2008] [2009] [2010] [2011] [2012] [2013] [2014] [2015] [2016]
[2017] [2018] [2019]
~ 2010 ~

DECEMBER 2010

"11 Years Ago"
Worcester Cold Storage
6 Firefighters Died
December 3, 1999
Britt photo.
NOVEMBER 2010
"Riviera Beach Maxim"
Firehouse Expo
July 2007
Britt photo.
OCTOBER 2010
"Autumn Cross"
Steeple rises above colorful tree in Holden, MA
October 2010
Britt photo.
"Sailing Sunset"
Bay Lady, P-Town
June 2008
Britt photo.
SEPTEMBER 2010
"Cottage City Clouds"
Spectacular September Afternoon in Oak Bluffs
September 2010
Britt photo.
"P-Town Patriot"
Provincetown Engine 190
September 2010
Britt photo.
AUGUST 2010
"Let Freedom Ring"
Air Force One visit to Cape Cod
August 19, 2010
MMR Engine 410 bell
Britt photo.
"Fire Patrol"
1946 Dodge Power Wagon Brush Breaker
Originally Falmouth Car 30
Served on Naushon Island from 1980 to 2009.
Now privately owned in Bourne.
Britt photo.
JULY 2010
"Hyannis 808"
Hyannis Fireboat Training

JUNE 2010
"Engine 2"
Mack pumper at Lynnfield
June 12, 2010
Worcester Firefighters Memorial
Franklin Street Fire Station
Site of the "Worcester 6" Dec 3, 1999 fire.
MAY 2010

"The Big Stick"
Harwich Firefighters training with the newly refurbished Ladder 66
on May 17, 2010
APRIL 2010

"Protecting the West"
Yarmouth Ambulance 54 and Engine 45
Yarmouth station 3

Hood Ornament
Bourne Breaker 129
From Wareham 2007 100th Anniversary
MARCH 2010

Wareham Maxim
from 2007 100th Anniversary

Wareham Firefighter hands cat rescued from fire
over to owner at house fire on Dangelo Road.
March 9, 2010

FEBRUARY 2010

Hyannis Firefighter Barry "Bullet" Pina
First in on Iron House 4th Alarm
Jan 26, 2009

JANUARY 2010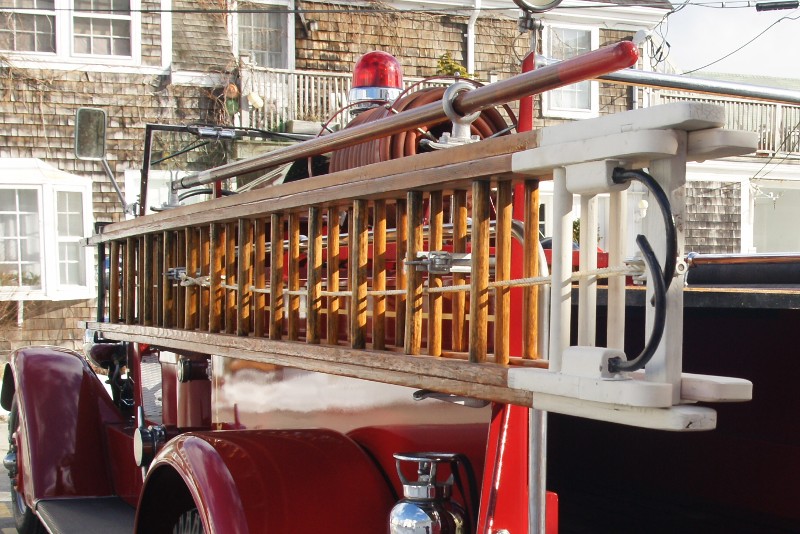 "Wooden Ladders"
Provincetown's 1936 American LaFrance Pumper
Originally Engine 4
B. Crosby Jan 2010

Alex and Robyn
Jan 2010