CapeCodFD.com
Maxim Motors Fire Apparatus
Middleborough, Massachusetts
[FEATURES]
[Maxim 1] [Maxim 2] [Maxim 3] [Maxim 4] [Maxim 5] [Maxim 6] [Maxim 7] [Maxim 8] [Maxim 9]
33 Images
A Special Profile
Maxim Ladder Trucks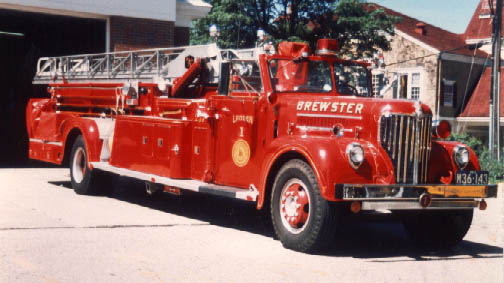 Brewster Fire Department's first aerial ladder was this 1950's 75' Maxim. Purchased by Brewster in the mid 1980's,
the former Fairhaven, Mass Ladder 1 served as Brewster Ladder 1 (L237) until 1993.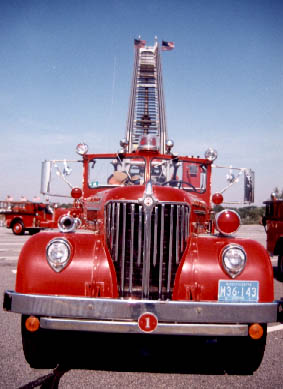 Brewster Ladder 1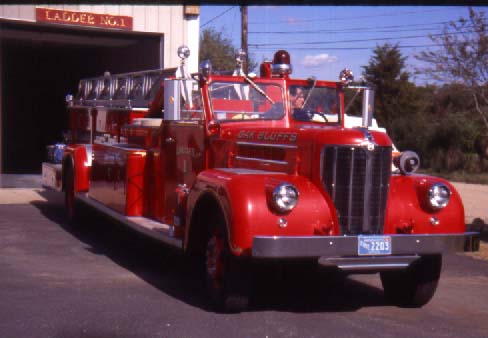 Oak Bluffs Ladder 1 is a 1958 65' Maxim.
Oak Bluffs Ladder 1 (L551) still serves the Vineyard town.

A 1940's Maxim city service ladder truck built for Middleborough, MA.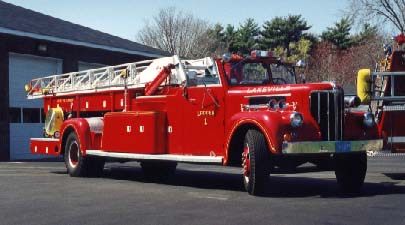 Lakeville Fire Department operates this 1955 Maxim S opencab 75' Aerial.
Formerly Middleborough Ladder 1.
Rochester, MA bought this 1955 Maxim 75' Aerial Ladder in 2003
from Freetown fire department. It was formerly Lakeville L1 and
before that it was Middleborough's Ladder 1.




1955 Maxim 75' aerial. Wareham Ladder 2.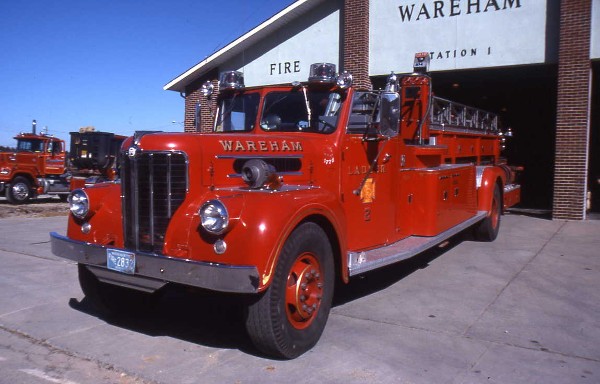 Wareham Ladder 2
This 1955 Maxim 75' aerial was originally Wareham Ladder 2.
It became Marion Ladder 1 in 1987.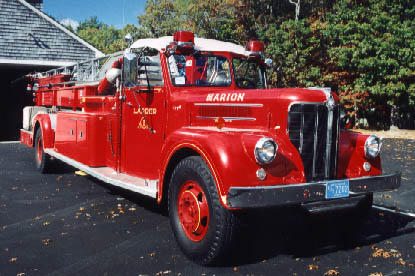 Marion Ladder 1.
Falmouth Ladder 2 1938 Maxim city service
(Howie Smith collection)
Falmouth Ladder 2's 1938 Maxim City Service Ladder truck.
The first Aerial ladder to serve on Cape Cod was Falmouth's
1949 Maxim 75' Ladder 1. It was the only ladder on the Cape until
Hyannis bought a ladder in 1968.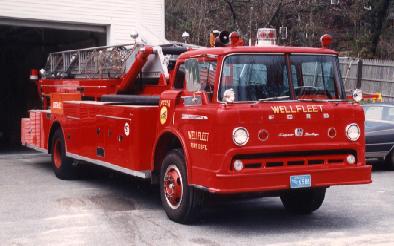 Wellfleet Ladder 97.
This 1962 Ford Super Duty / Maxim 75' Aerial Ladder became Wellfleet's first ladder truck
in 1990 when it was purchased from Nantucket Fire Department.
Tisbury Ladder 1 (L651) is a 1960 Ford / Maxim 65' aerial.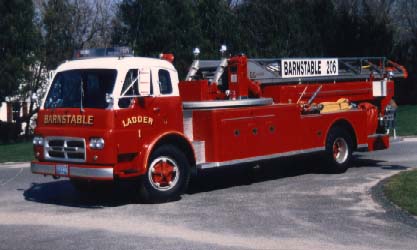 Barnstable's first aerial ladder originally belonged to Ashland, Mass.
The 1961 International / Maxim 65' aerial served Barnstable from the mid 80's
until retired in 1992.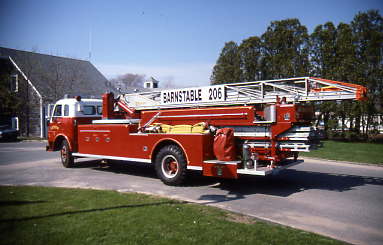 This classic Maxim "S" Model belongs to Orleans Fire Department.
Ladder 1 (L176) is a 1974 Maxim 85' aerial with a 1000 gpm pump.

Orleans refurbished Ladder 176 in 2002.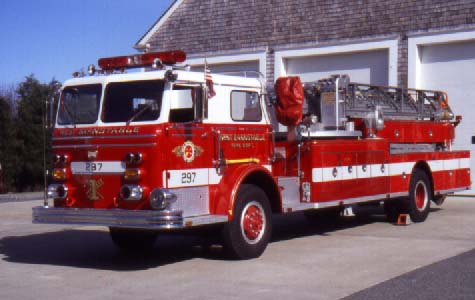 West Barnstable Fire Department operates this Maxim "F" 75' aerial as Ladder 297.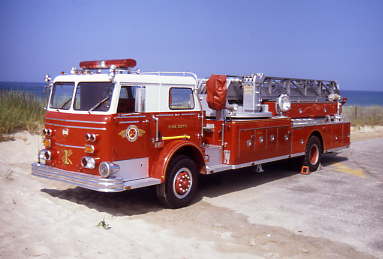 West Barnstable Ladder 297 at Sandy Neck.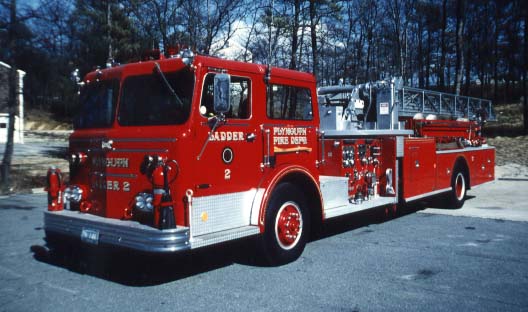 Plymouth Fire Department's 1971 Maxim 100' aerial is also a 1000 gpm/200 gallon quint.
It served as Ladder 1 until 1987 when it bacame Ladder 2. It retired in 1997.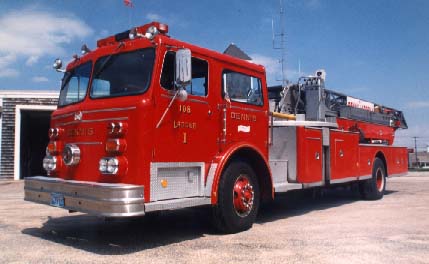 Dennis Ladder 1 (L108) was a 1975 Maxim "F" 100' aerial. It retired in 1994.
Centerville-Osterville-Marstons Mills (COMM) Ladder 1 (L314) was a
1976 Maxim "F"100' aerial ladder. It was sold in 2002 to
the Lakeville Fire Department.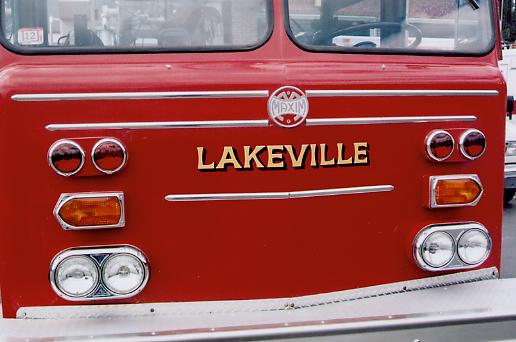 Lakeville Ladder 1
1976 Maxim, now 75' Aerial Ladder Truck.
Purchased in 2002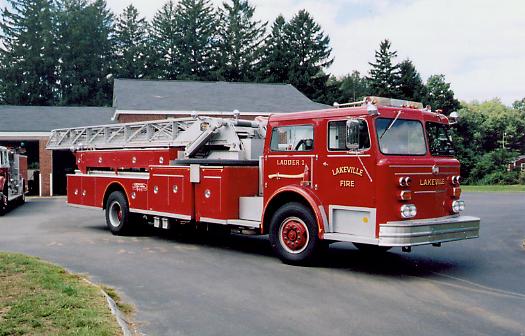 Lakeville Ladder 1
1976 Maxim, now 75' Aerial Ladder Truck.
Formerly COMM L1.
Without question one of the most unique of the Cape's aerial ladders is Provincetown Ladder 192.
It is a 1996 Ford CF8000/Middleboro Fire apparatus with a 1961 75' Maxim aerial ladder
and a 1970 Hale 1000 gpm pump. The aerial came from a 1961 Central Falls, RI truck.
PTown Ladder 192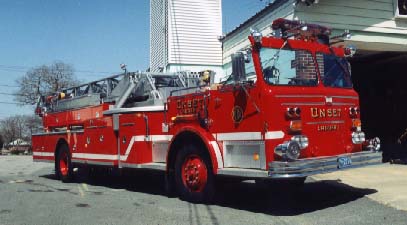 Onset Ladder 1. 1972 Maxim F open cab 85' Aerial.
Refurbished in 2000.
Onset Ladder 1 with a canopy top.
Middleborough Ladder 1 is another of Maxim's last apparatus.
Maxim Fire Apparatus Profiles
by
CapeCodFD.com
2000-2003