New Vehicles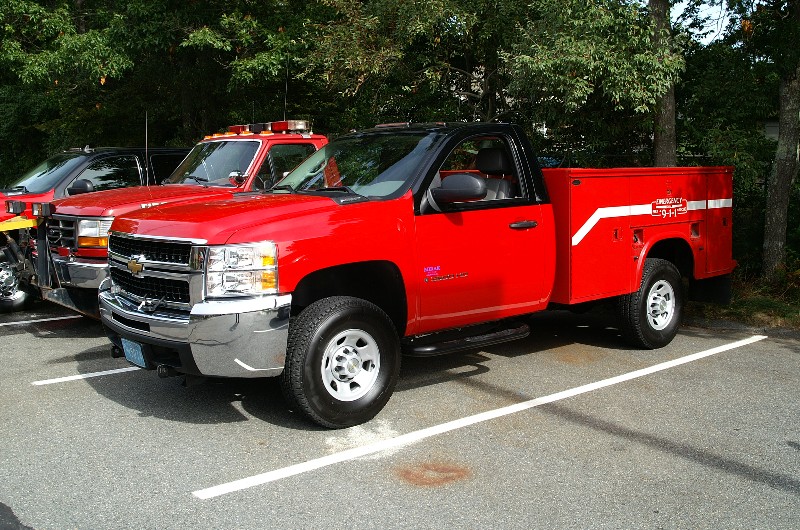 Car 322
2008 Chevy 3500 4x4 / 2004 Omaha utility body.
Vehicle was originally 1992 Ford F250. Serves as mechanic vehicle
with lift gate. Oct 2007



Car 323
2008 Chevy 2500 Pickup for EMS Officer.
Oct 2007



New Shift Command Vehicle



COMM C321
2007 Chevy Suburban
in service March 2007



New COMM Engine 305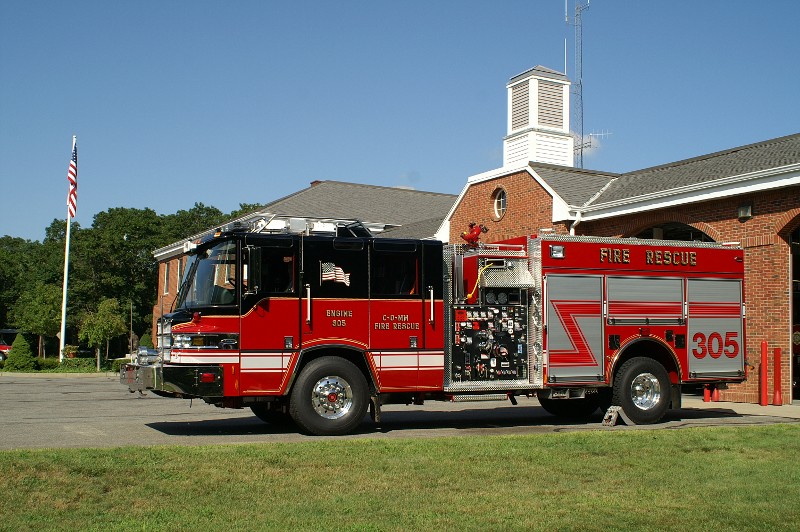 Engine 305
New COMM FD Engine 305, 2006 Pierce Quantum Tak4 1500/750/25A/40B
Pumper went in service at Marstons Mills Station 3 Sept 27, 2006.
It has a larger generator, Husky 12 foam system, deckgun, 1600'4" LDH,
Jaws spreader, hard suction hose.


COMM Lighting Plant


COMM FD now has a Magnum 6000w Generator / light tower.
Five of these units are now distributed throughout the town's fire depts.
Oct 2005


NEW COMM DEPUTY CAR


Car 320
2005 Chevy Tahoe 4x4 Deputy Chief Car




COMM APPROVES NEW APPARATUS
COMM District meeting on May 17, 2005 approved a new Engine. The new
engine will replace the 1983 Mack Engine 305. It is expected that this new engine
would be assigned to either station 2 or 3 and the 1987 Pierce would become the
backup at Station 1. It is expected that the new engine would be similar to E306
with less compartments and a few other changes.
Voters also approved a new Deputy Chief vehicle to replace the 1996 Chevy Blazer
and
funding for a new brush breaker if matching funds are received from a grant.
The 1967 Maxim brush breaker 316 is difficult to repair and get parts for
and need to be replaced.


NEW COMM RESCUE PUMPER


Engine 306
COMM Engine 306 is a 2005 Pierce Quantum Tak4 1500 gpm Rescue Pumper
with a 500 gallon tank. It is equipped with the Husky 10 foam system with a 25 gallon
class A tank and 40 gallon Class B foam tank. The engine has a 15,000w hydraulic
generator with a telescoping light tower and pre-connected hydraulic Jaws of Life
tools. It has a deckgun and will carry 1200' of 4" LDH as well as an assortment of
rescue and firefighting equipment. It arrived in April 2005 and will go in service
after training. The new engine will serve as the department's heavy rescue pumper
replacing Engine 305. The 1983 Mack E305 will become the mutual aid / reserve
engine at Station 1. The 1975 Mack E302 will be retired.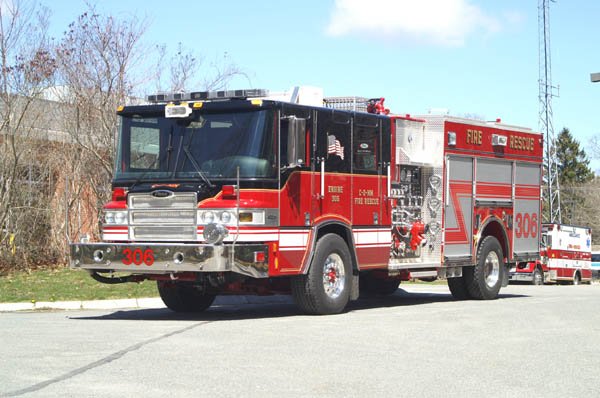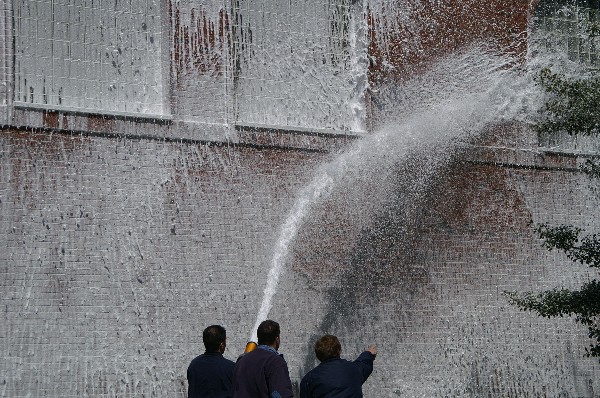 Class A foam training.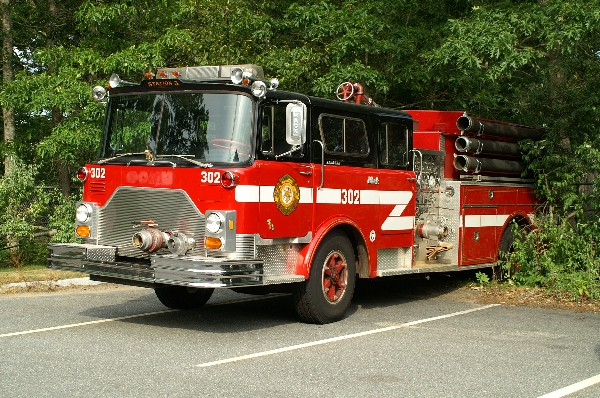 COMM Engine 302 was retired upon Engine 306 going in service.
The 1975 Mack 1250/1000 pumper was put out to bid and sold.
August 2005


Time for Paint.... Again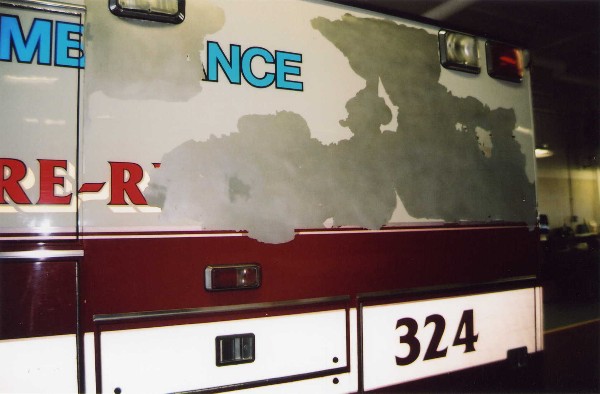 Rescue 324
The 2000 Freightliner / ALF Aero Medic Master ambulances are being sent out one by one
to be repainted for the 2nd time since going in service. Problems with paint have plagued the
ambulances. Rescue 326 was repainted in early 2005. Rescue 324 is to go for paint in March 2005
followed by Rescue 325 upon the return of 324. A loaner ambulance has been acquired and has
been assigned as Rescue 327 for temporary duty.




Rescue Boat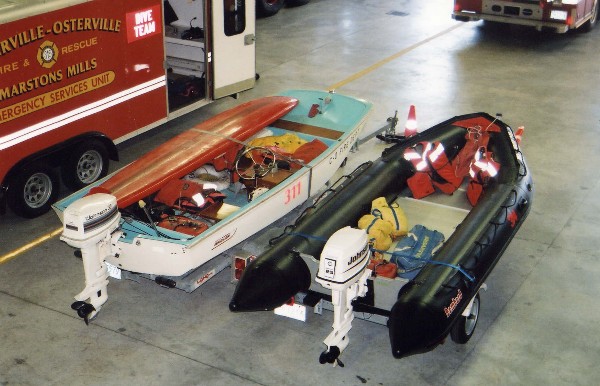 Boat 314
2002 Rigid Hull 21' Inflatable boat with Johnson 25 hp added to front line duty
at the Centerville Station.




New Chief Car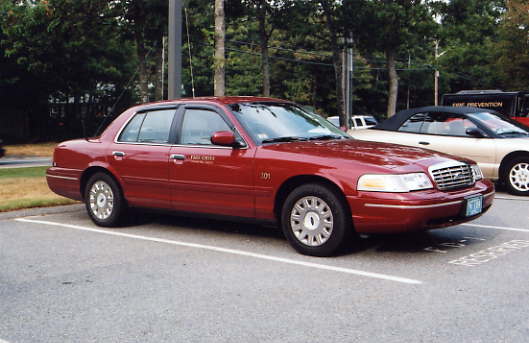 Car 301
2003 Ford LTD Crown Victoria
Fire Chief Car

New Rescue Pumper Approved
Voters approved the purchase of a new Rescue Pumper for the COMM FD
at the annual meeting held on June 17, 2003.
Plans are to design a rescue pumper to run from Headquarters to all MVAs, etc...
This would be a Class A pumper with rescue style compartments for preconnected
jaws tools, etc. This engine would officially replaced Engine 302 (1975 Mack)
that will be retired. The present rescue engine (305) would become a structural
engine at headquarters.

Fire Damaged Ambulance

COMM Firefighters working at Station 3 (Marstons Mills) had to do some quick
scrambling on the evening of Feb 12th when Rescue 326 caught fire in the
engine room. A fire started under the hood and was advancing rapidly when
discovered. The fire was extinguished before it could extend to the structure
but did cause considerable damage to the ambulance, and minor damage to
E-304 that was parked next to it. COMM R-325 had been relocated to the
Mills Station with no ambulance currently at Centerville.
All Rescues are back
in service and repainted April 1, 2004
COMM Radio Changes Jan 2003
A new rigid hull inflatable boat has been added... Radio "314"
The Dive Trailer, formerly 329, has been reassigned as ... Radio "315"
The Fire Prevention Truck, formerly 308, has been reassigned as.... Radio "328"

COMM Engine Refurbished
x

Engine 303
The 1987 Pierce Arrow is now Engine 303.
November 2002
Includes 950 gallon poly tank, new diamond plate, new paint, etc...
Now assigned to Osterville.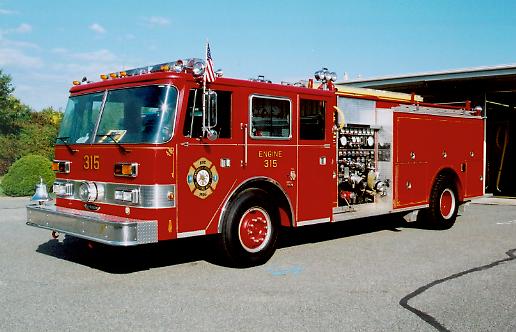 Engine 315
August 2002
Apparatus Changes Oct 2002
Engine 302 (75 Mack) and Engine 305 (83 Mack) are now at Station 1.
Engine 303 (87 Pierce) is at Station 2 and Engine 304 (94 Pierce) is at Station 3.
Ladder 307 (2001 Pierce Quint) will continue to run 1st due at Station 1.
Forestry Engine 306 (68 Inter/Maxim) has been taken out of service permanently.
The new hovercraft iwill be in service following training. Nov 2002.
The new Fire Prevention Pickup Truck is numbered 328...replaced 308.
This is part of the renumbering plan. Unit 309 will eventually become 329.
COMM 328
Nov 2002


COMM Engine Refurbished


Engine 305
May 2002
1983 Mack CF600 Pumper
1250 gpm / 1000 gallon
This engine was recently refurbished by EJ Murphy.
All the diamond plate was replaced, rust was repaired,
the entire truck was repainted, including the black roof and reflective stripe.
The department seal will be placed on the door.


Engine 305 before refurbishing.