A Tribute to the Bulldog of all Fire Trucks
Page 16 - Macks In Action
Mack Fire Apparatus

CapeCodFD.com
- Special Feature -
[PREV] [FEATURES] [NEXT]
[Page 1] [Page 2] [Page 3] [Page 4] [Page 5] [Page 6] [Page 7] [Page 8]
[Page 9 ] [Page 10] [Page 11] [Page 12] [Page 13] [Page 14] [Page 15] [Page 16] [Page 17]

By Britton W Crosby
March 2001 - Updated March 2005
32 Mack photos on this page



TOP PHOTO
Brockton Tower 2 - Mack/Baker Aerialscope operating at a huge mill fire in the city.
---
Brockton, Mass Engine 7 working at a 3rd alarm.
Brockton Squad A working at at the 3rd alarm. Mack aerial scope of Ladder 2 raised behind S-A.
New Bedford, Mass Ladder 4 was a Maxim aerial pulled by a Mack Tractor.
Operating at a general alarm lumberyard fire in Acushnet mid 1980's.
Providence Ladder 1 - Mack Scope at a Code Red in 1990
Providence Tower Ladder 2 operating in 1986
Providence apparatus at a Code Red in 1996.
Providence Engine 10 Mack at fire in 1996
Providence Tower 2 operating
Providence Tower 2 in 1986
Providence Special Hazards Mark R in 1986
1983 Mack CF600 of Centerville-Osterville operating at
a training fire.
COMM Engine 315 - 1975 Mack and Ladder 314 - 1976 Maxim ladder.
3rd alarm house fire in 1986.
Brockton Tower 2 operates in the heart of a huge Mill fire in 1994
Mack engine from Avon, Mass on mutual aid into Brockton operates at 1994
mill fire.
Brockton, Mass 1994
Brockton Tower 2
Brockton Engine and Tower
Brockton Engine 2 Mack
Harwich, MA Mack Engine 69 at a multiple alarm fire in 1980s
Harwich Mack Engine 69 at a lumber yard fire in 1992
Harwich Engine 69, KD Wood Products 1992
Harwich Ladder 66 operates ladder pipe 1992
Harwich Ladder 66 and Dennis Ladder 1
Harwich Engine 69 and Ladder 66 operating 1992
Harwich Engine 69 cab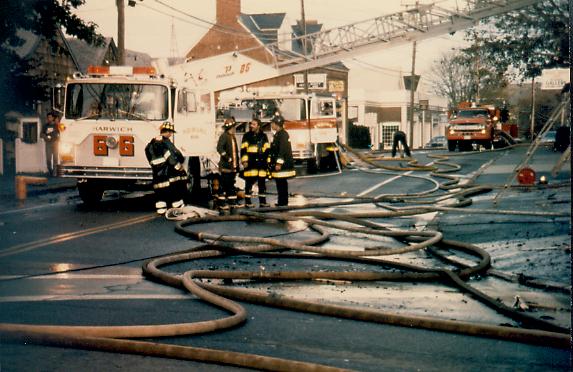 Harwich Engine 59 and Ladder 66 operate at Chatham fire
Harwich units at the Chatham 3rd alarm in 1980s
Harwich Ladder 66 in Chatham
Harwich Ladder 66 at sunrise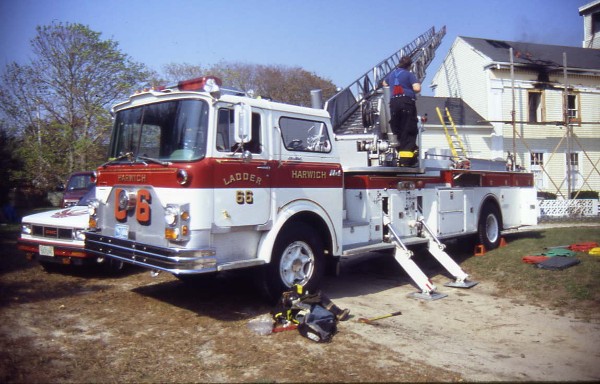 Harwich Ladder 66 at a fire in Harwich
Harwich Engine 69
Mack Fire Apparatus