Make a Home Escape Plan
Knowing how to get out of a fire quickly and safely is very important! One way to learn how to do this is to develop a Home Escape Plan. Ask your Mom, Dad, or a grown -up to draw a floor plan of your home on a piece of paper with all windows, doors and smoke alarms. Next, map two different ways to escape each room in the house. After your map is done, choose a meeting place outside your home. Your meeting place should be in the front of the house at a stationary object like a tree or mailbox. After your Home Escape Plan is done, practice the plan at least twice a year.
Click on the link below to download a printable version of a grid to make your Home Escape Plan, Courtesy of the National Fire Protection Agency.
Know what to do if your clothes catch on fire
As careful as we can be, accidents can still happen. Knowing what to do if your clothes catch on fire can save your life. First, Remain Calm and Don't Panic! Next, STOP what you are doing, DROP to the floor, COVER your face, and ROLL to smother the fire and put it out. By acting quickly you can prevent the fire from getting any bigger and save yourself from getting hurt.
Remember: STOP - DROP - COVER - ROLL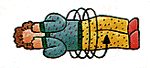 Know the difference between Good Fires and Bad Fires
Some fires are good fires and some fires are bad fires. You should know the difference between the two. Good fires are fires that a grown-up might make in a fireplace or woodstove to keep us warm in the winter. Another good fire might be a campfire or a fire in certain grills that a grown-up might need for cooking food. Bad fires are started when children play with matches and lighters. Children can get hurt badly if they play with matches and lighters. The best thing to do is if you see matches or a lighter, leave them where they are and tell a grown-up right away.

Always tell a grown-up right away if you see matches or a lighter so they can put them in a safe place.
Know how to dial 9-1-1 in an emergency
Dialing 9-1-1 on a telephone will connect you to a dispatcher that can get you police, fire or medical assistance. It is important to know that this is an emergency telephone line and should only be used for emergencies. When you call, the dispatcher will ask you some questions. They will ask:
1. What is the location of your emergency?
2. What type of help do you need?
3. What is your name?
4. What is your call - back number?
Some of the reasons you might need to call 9-1-1 are to report a house fire, to request medical assistance if someone is sick or injured, to report that someone is hurting you, to report a motor vehicle accident where someone is hurt or needs police assistance, or to report a robbery. If you're not sure if your call is an emergency, dial 9-1-1 anyway and if it isn't, the dispatcher will be able to redirect the call.
Some of the reasons NOT to call 9-1-1 are if you need help with your homework, if you need directions, if you had a disagreement with a friend or family member or if you just wanted to see what happens when you dial 9-1-1.
Calling 9-1-1 is for EMERGENCIES ONLY !!!!!