CapeCodFD.com
CAPE COD BRUSH BREAKERS
HISTORY - IN REVIEW
Brush & Forest Fire Apparatus History
BARNSTABLE COUNTY

~ THE STORY OF ~
~ CAPE COD BRUSH BREAKERS ~
PAGE 1
Page Updated March 8, 2022
Cape Cod Brush Breaker
Barnstable County Forest Fire Service No.1 - 1957 Ford/Maxim

PAGE CONTENTS
M - Map
01 - The Cape Cod Forest Fire Problem
02 - Historical Cape Cod Forest Fires
03 - One Large Cape Cod Forest Fire - 1946
04 - Cape Cod Forest Fire Jumped Route 6 - May 1965
05 - Plymouth County Forest Fires
06 - Some More Recent Forest Fires
07 - The Fire Danger - Firefighter Memorial
08 - Fire Prevention - Only You!
09 - Public Education - Smokey Bear
10 - Spotting Fires - Fire Towers
11 - Spotting Fires - Fire Patrol Planes
12 - Locating Fires - Fire Patrol Trucks
13 - Early Firefighting - By Hand
14 - Early Fire Apparatus
15 - First Brush Breakers
16 - Barnstable County Brush Breakers
17 - State Forest Fire Trucks
18 - On The Islands - Brush Trucks
19 - Plymouth County - Brush Trucks
20 - Brush Breakers Working
21 - The Hey Day of Brush Breakers
22 - Tankers and Other Support Apparatus
23 - Forest Fire Training
24 - Small, Medium, and Large Brush Trucks
25 - The Newest Brush Trucks
26 - The END TIMES
MAP
CAPE COD & THE ISLANDS
BARNSTABLE COUNTY

BARNSTABLE COUNTY
Barnstable County is the historical and official name for the land commonly called Cape Cod.

The County is comprised of 15 individual Towns. Each of those towns have smaller Villages and communities. Most local government is on the Town level, but there are also several Fire Districts that also have local governing powers. In addition to the municipalities, there are also (or have been) several County, State and federal agencies that have provided fire service over the years. Some of the agencies that served at one time, are no longer operating but have historical significance.

Today, there are 14 Town Fire Departments, 5 Fire District departments, a State Fire Department and State Forest Fire Department, and a Federal National Seashore Fire Service.


THE ISLANDS
"Cape Cod and The Islands" is often the way the area is referred to. The Islands are the two major islands and their associated smaller islands that make up two more Counties.

Martha's Vineyard Island is also known as Dukes County. It is comprised of 6 Towns, each having its own municipal governments and services. The State also has a presence at the forest on the island. The Elizabeth Islands, near but not considered part of Martha's Vineyard is also included in Dukes County.

Nantucket Island is also known as Nantucket County. The single town of Nantucket occupies the island.

Cape Cod and The Islands are grouped together as District 1 within Massachusetts.


PLYMOUTH COUNTY
Located adjacent to the Cape Cod & Islands region, just "off Cape" is Plymouth County. Plymouth County is also made up of a number of individual Towns and a couple Fire Districts that provide fire protection to their communities.

Plymouth County is State District 2 and includes State Forest Fire protection. Historically, there have been many large forest fires in Plymouth County that utilized resources from Barnstable County via mutual aid agreement.

FOREST FIRES
Historically, Southeastern Massachusetts has experienced many large brush and forest fires. The pine and scrub oak woodlands, as well as the climate and other conditions, have made the area highly prone to serious fires over the years.

These large fires led to the development of a number of significant improvements over the years. Many of the first communications (radio) systems in the area were to deal with brush and forest fires. Organized Mutual Aid Systems also developed to enable large responses to major fires.

Perhaps one of the most unique improvements was the development of special firefighting apparatus that was designed to reach and extinguish forest fires, often in remote areas, before they could reach and impact more inhabited areas. These apparatus came to be known as Brush Breakers.

BRUSH BREAKERS
This feature focuses on the unique type of fire apparatus known as the "Cape Cod Brush Breaker." The earliest motor vehicles that were equipped with water tanks, pumps, and the front mounted steel bars that unofficially define a brush breaker were built on Cape Cod. Brush Breakers are not limited to Cape Cod. There are many Brush Breakers across Southeastern Massachusetts, and even in other states, sometimes called something else locally.

The development of Brush Breakers over time has varied from community to community. While the basic design concepts are the same, some of the local preferences and favored design features have been specific to certain departments. Trucks have been built on small, medium, and large platforms. Some have been built brand new from the ground up, while others have been built on used military or other chassis.

In addition to the Brush Breakers, a host of support vehicles and equipment are used with Brush Breakers to battle forest fires. Tankers, forestry trucks, specialized engines, airplanes, fire towers, and various other things complete the forest firefighting system.

THE BATTLES
The history of Brush Breakers and Forest Fires, is much like the history of wars and battles. Each major fire occurred for particular reasons, was effected by specific weather and terrain, required unique strategies and tactics, and of course utilized various equipment such as Brush Breakers.

Fires may be known by their origin, or year, or results. The apparatus that served at the time played specific and direct roles in "The Battles" to control these major fires. The study and appreciation of these apparatus can be fascinating.

This feature examines many of the apparatus that fought those battles, and continue to serve today.

1 - THE CAPE COD FOREST FIRE PROBLEM

WILD FIRES
Forest fires can rage through pitch pine and scrub oak forests.
Cape Cod has had to learn to deal with these fires for many years.

Cape Cod, the Islands, and other parts of Southeastern Massachusetts have a long and infamous history of battling grass, brush, and forest fires each year. The Spring is considered the typical "fire season" as new under brush and grasses begin to grow, weather warms and dries out the fuels, and prevailing warm Southwest winds increase.

Over the years the Cape Cod area has experienced many serious brush and forest fires.

2 - HISTORIC CAPE COD FOREST FIRES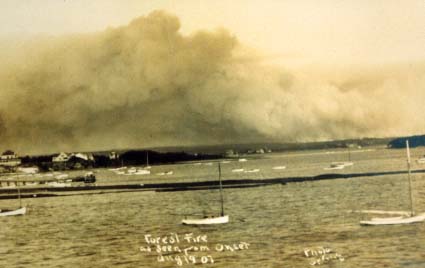 HISTORIC FIRES
Some fires have a larger impact than others. Some of the largest and more significant
fires over time have been remembered as the "Historic Fires" while many more have
been forgotten with time.
Aug 1907 Cape Forest Fire as seen from Onset.

There have been many large, historic brush and forest fires in Southeastern Massachusetts. Many of these on Cape Cod, but also many in Plymouth County. These fires had great impact of firefighting and the equipment used to battle these fires.



3 - ONE LARGE CAPE COD FOREST FIRE - 1946

1946 CAPE COD FOREST FIRE
The April 1946 Forest Fire burned about 15,000 acres over 5 days.

A 1946 Forest Fire in the upper Cape burned for 5 days, from April 19 - 23. It covered about 15,000 acres and destroyed 10 structures. A documentary film was made showing the progress and response to the fire including the use of brush breakers of that time. Fire equipment from at least 45 Cities and Towns in Eastern Massachusetts helped battle the fire.
4 - CAPE COD FOREST FIRE JUMPED ROUTE 6 - MAY 1965

FIRE JUMPED THE MID-CAPE HIGHWAY
The May 1, 1965 Forest Fire burned thousands of acres and jumped Route 6 in Sandwich.

Conditions were just right to fuel a fast moving forest fire that raged from the middle of the Camp Edwards / Otis Massachusetts Military Reservation, jumped the Mid-Cape Highway Route 6, and burned into Sandwich Village. The blackened forest it left behind was visible for a number of years.
5 - PLYMOUTH COUNTY FOREST FIRES

HISTORIC PLYMOUTH FIRES
Map showing some of the historic Plymouth County Forest Fires.

There is a map inside the Myles Standish State Forest District 2 Headquarters that show some of the many significant fires that have struck Plymouth County over the years. Fire crews with brush breakers and other apparatus came to Cape Cod many times over the years. In return, many crews with Brush Breakers also came from Cape Cod to help out fighting fires in Plymouth County.
6 - SOME MORE RECENT FOREST FIRES

PAVE PAWS FIRE IN 1988
The PAVE PAWS Forest Fire burned on April 22, 1988.
The fire consumed about 1600 acres.

Some of the more recent large fires took place in the late 1980s. Among these is the April 1988 fire that burned around the PAVE PAWS radar facility on April 22, 1988. The fire required help from Plymouth County.

Photos taken from Fire Patrol Plane P-18.

7 - THE FIRE DANGER - FIREFIGHTER MEMORIAL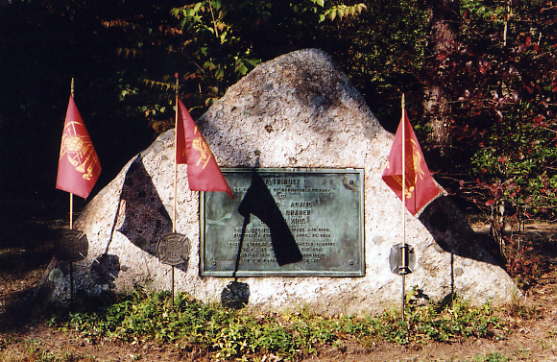 FIREFIGHTER MEMORIAL
A simple Firefighter Memorial on Route 130 in Sandwich remembers the loss of life
of 3 firemen during a forest fire in Camp Edwards on April 27, 1938.
Fighting forest fires can be very dangerous.

A forest fire on April 27, 1938 burned out of the Camp Edwards National Guard Camp, eventually covering a 5 mile wide by 12 mile long area toward Sandwich into what would be the Shawme Crowell State Forest. Three of the firemen who battled the blaze were trapped, burned, and killed by the fire. The memorial remembers Thomas Adams, Ervin Draber, and Gordon King who were lost that day.
8 - FIRE PREVENTION - ONLY YOU!

FIRE PREVENTION
The prevention of forest fires became a major effort after a 1928 National Study
looked at the Cape Cod Forest Fire Problem.

"Only you can prevent forest fires."
9 - PUBLIC EDUCATION - SMOKEY BEAR

Smokey Bear

Public education and fire prevention go hand in hand.
10 - SPOTTING FIRES - FIRE TOWERS

Fire towers, like this one in Barnstable in 1919, were staffed by spotters who
overlooked the Cape and other areas looking for smoke as fires started.

Fire towers became a vital part of combating forest fires. The earlier the fire could be detected and reported, the sooner it could be contained.
11 - SPOTTING FIRES - FIRE PATROL PLANES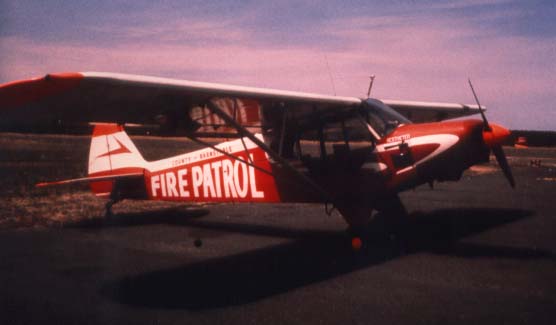 Barnstable County Fire Patrol Plane P-18

Barnstable County and Plymouth County both operated Fire Patrol Planes for many years. Going back to at least 1954, and perhaps before, these planes could provide assistance in locating fires and advising chiefs and personnel on the ground how to safely access them.
12 - LOCATING FIRES - FIRE PATROL TRUCKS

Fire Patrol Trucks were also a vital aspect of battling wild fires.

Before many fire departments were staffed, there were staffed Fire Patrol trucks that would be in contact via radio with fire towers and the fire patrol plane and often reached fires first. Shown here around 1958 at the Marstons Mills Airport are the Town of Barnstable Patrol truck 210 and the State Patrol Truck Car 3, as well as some chiefs.
13 - EARLY FIREFIGHTING - BY HAND

In the beginning, fires were fought by hand

Many of the largest fires were fought before there were many motor vehicles
14 - EARLY FIRE APPARATUS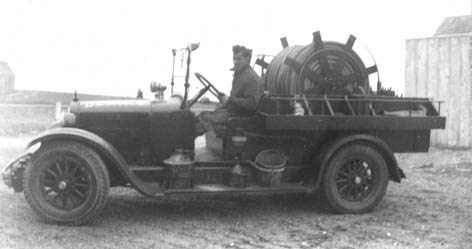 Photo
Info
15 - FIRST BRUSH BREAKERS

Photo
Info
16 - BARNSTABLE COUNTY BRUSH BREAKERS

Photo
Info
17 - STATE - FOREST FIRE TRUCKS

Photo
Info
18 - ON THE ISLANDS - BRUSH TRUCKS

Photo
Info
19 - PLYMOUTH COUNTY - BRUSH BREAKERS

Photo
Info
20 - BRUSH BREAKERS WORKING

Photo
Info
21 - THE HEY DAYS OF CAPE COD BRUSH BREAKERS

Photo
Info
22 - TANKERS AND OTHER SUPPORT UNITS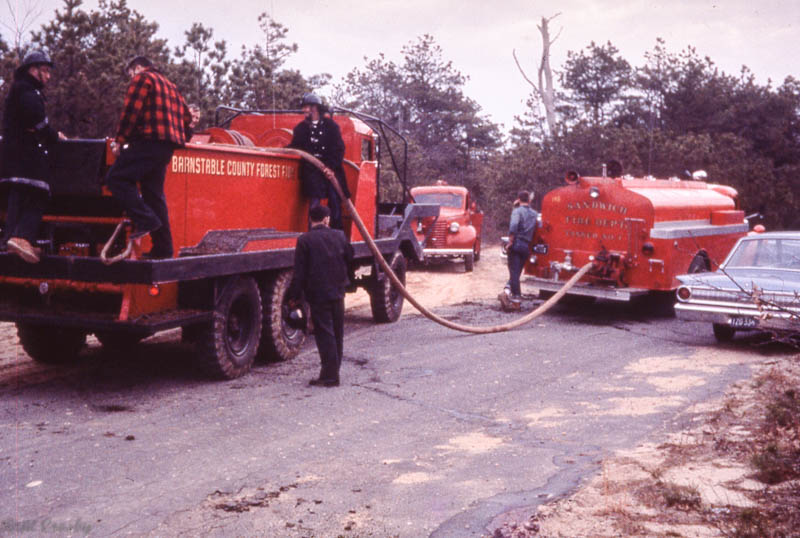 Photo
Info
23 - FOREST FIRE TRAINING

Photo
Info
24 - SMALL, MEDIUM, AND LARGE BRUSH TRUCKS

Photo
Info
25 - SOME OF THE NEWEST BRUSH BREAKERS

Photo
Info
26 - THE END TIMES

Photo
Info