The conditions could not have been better (or worse) for a serious forest fire on May 1, 1965. It had been dry and warm. The fire hazard classification was HIGH. All fire towers were up and keeping a sharp eye on the woods. Shortly after noon, temperatures in the area were about 75 degrees and the prevailing Southwest wind was blowing about 35 mph.

At about 12:54 hrs, fire towers picked up a smoke out on the Base (Camp Edwards/Otis AFB). The towers lined the fire up in the area of Forestdale - Pocasset Road near the impact area. Otis Fire Department was responding. The fire progressed as follows.

12:54 hrs - Brush Fire is Reported in area of FORESTDALE - POCASSET ROAD in Otis

13:01 hrs - The BOURNE FIRE TOWER Reports the fire is MOVING FAST.
Otis had 2 Breakers Responding.

13:03 hrs - The Bourne Fire Tower Updates A LOT OF FIRE THERE.

13:06 hrs - The Bourne Fire Tower Updates LOOKS REAL BAD.
State Car 2 - District Fire Warden - Requests 7 or 8 Brush Breakers and
4 or 5 Tank trucks. Yarmouth Mutual Aid Center KCD 246 handles request.
Apparatus Dispatched and Responding included:
County Breaker C-15 from North Falmouth
Sandwich Breaker B-142 from Sandwich
Sandwich Breaker B-143 from Sandwich
County Breaker C-14 from West Barnstable
Mashpee Breaker B-250 from Mashpee
Mashpee Breaker B-254 from Mashpee
Bourne Breaker B-130 from Bourne
Bourne Breaker B-128 from Bourne
Town of Barnstable Breaker B-216 from Osterville
Falmouth Tanker 35 from East Falmouth
Sandwich Tanker T-148 from East Sandwich

13:12 hrs - Mashpee Fire Chief Peters Car 251 Reports ON LOCATION -
REQUESTED 8 - 10 MORE BRUSH BREAKERS - NOW!

13:12 hrs - Barnstable County Fire Patrol Plane P-18 in the area Reports 40 - 50 ACRES BURNING
AND SPREADING FAST!

13:15 hrs - Fire Reached WOOD ROAD and is SPREADING FAST.

13:15 hrs - BOURNE FIRE TOWER put in Request for ADDITIONAL TRUCKS
Additional apparatus included:
County Breaker C-12 from Dennis
Harwich Breaker B-65 from Harwich
Barnstable Breaker B-204 from Barnstable
Town of Barnstable Breaker B-217 from Cotuit

13:20 hrs - Calls made to PLYMOUTH COUNTY for 15 MORE BRUSH BREAKERS and
10 TANK TRUCKS - PLUS ALL OF DISTRICT 2 TRUCKS

13:25 hrs - The fire reached and CROSSED JEFFERSON ROAD and was rapidly heading
for GIBBS ROAD.
- A plan was quickly made to MAKE A STAND ON ROUTE 6.
- The State Police were asked to CLOSE ROUTE 6.
- A Request went out for ALL AVAILABLE PUMPERS and TANK TRUCKS to
ROUTE 6 and ROUTE 130.
- A Request to PLYMOUTH COUNTY for ALL AVAILABLE PUMPERS & TANKS
TRUCKS to Stage on BOURNE/SANDWICH LINE.

13:30 hrs - The fire about to CROSS GIBBS ROAD.
Patrol Plane P-18 Reports DOUBT IT CAN BE STOPPED AT ROUTE 6!

13:45 hrs - The fire CROSSED GIBBS ROAD and HEADING FOR MID-CAPE HIGHWAY.

14:20 hrs - The FIRE JUMPED ROUTE 6 with Many Trucks on the road.

14:40 hrs - Orders made for ALL PUMPS and TANKERS to ROUTE 6A SANDWICH VILLAGE

15:30 hrs - The fire is FINALLY STOPPED at SANDWICH VILLAGE

22:30 hrs - Apparatus Released from Mutual Aid

The fire burned several thousand Acres of forest in about 2:45 hours. The blackened area was visible from Route 6 for years until new growth filled in. It came very close to burning right into the most congested and historic part of Sandwich.

Photos and information on the fire came from several sources including Dennis Newman and Gordon Peters.
The May 1, 1965 fire burning rapidly northward towards Sandwich.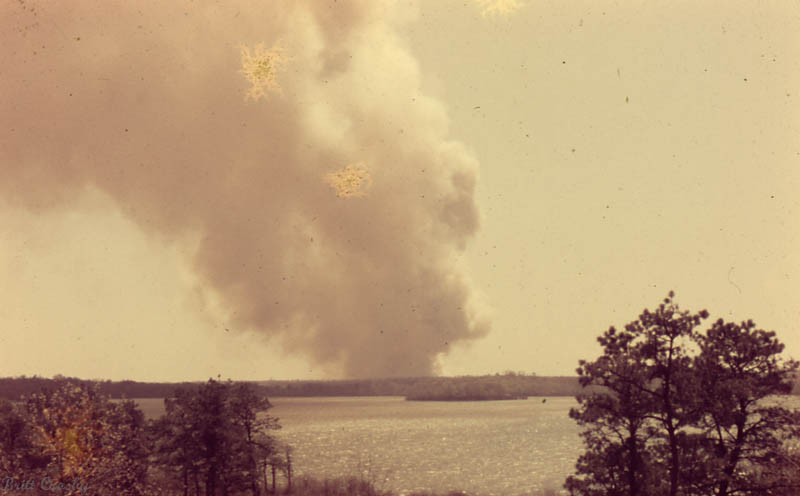 Looking over the Canal towards Sandwich from Bourne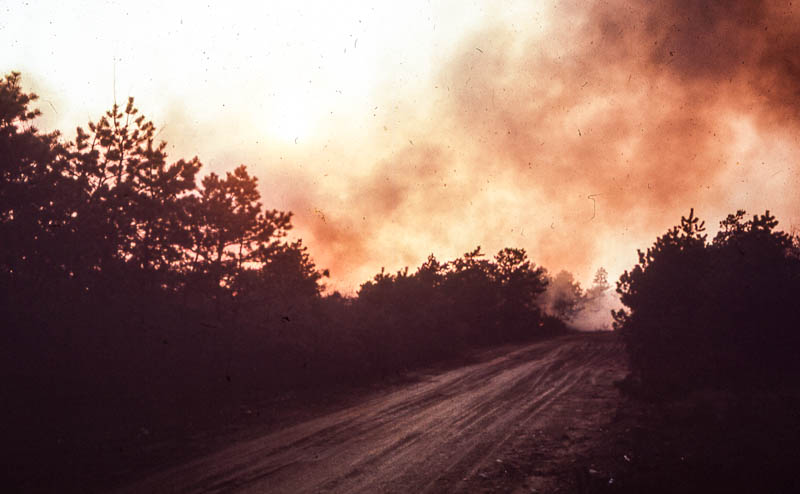 The fire easily jumped several of the natural breaks and roads within the heavily wooded forest.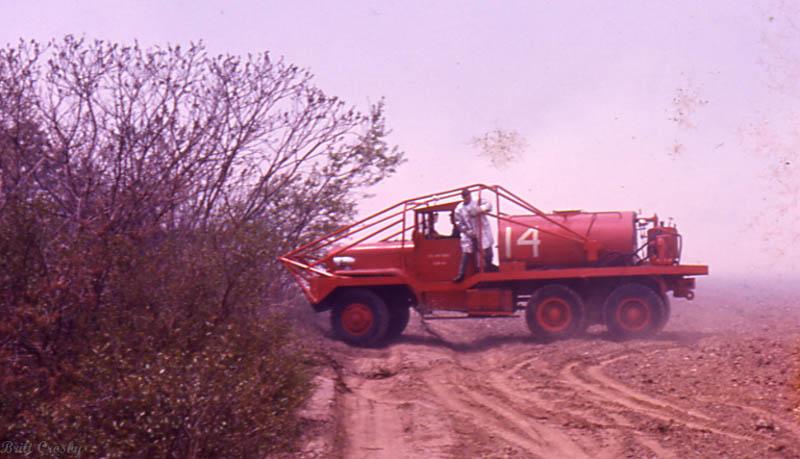 Otis Brush Breakers attempt to catch up with the fire.