CapeCodFD.com
CAPE COD BRUSH BREAKERS
HISTORY - IN REVIEW
Brush & Forest Fire Apparatus History
BARNSTABLE COUNTY

~ THE STORY ~
~ CAPE COD FOREST FIRES PROBLEM ~
PAGE 2
Page Updated March 8, 2022
Cape Cod Forest Fires
Historically some of the fastest spreading and most dangerous fires.

PAGE CONTENTS
M - Map
01 - The Cape Cod Forest Fire Problem
02 - The State Takes Action in 1923
03 - Forest Fires Are Not A New Problem
04 - Cape Cod Forest Fire Jumped Route 6 - May 1965
05 - Plymouth County Forest Fires
06 - Some More Recent Forest Fires
07 - The Fire Danger - Firefighter Memorial
08 - Fire Prevention - Only You!
09 - Public Education - Smokey Bear
10 - Spotting Fires - Fire Towers
11 - Spotting Fires - Fire Patrol Planes
12 - Locating Fires - Fire Patrol Trucks
13 - Early Firefighting - By Hand
14 - Early Fire Apparatus
15 - First Brush Breakers
16 - Barnstable County Brush Breakers
17 - State Forest Fire Trucks
18 - On The Islands - Brush Trucks
19 - Plymouth County - Brush Trucks
20 - Brush Breakers Working
21 - The Hey Day of Brush Breakers
22 - Tankers and Other Support Apparatus
23 - Forest Fire Training
24 - Small, Medium, and Large Brush Trucks
25 - The Newest Brush Trucks
26 - The END TIMES
MAP
CAPE COD & THE ISLANDS

Cape Cod, The Islands, and much of Southeastern Massachusetts have a long history of wildland brush, grass, and forest fires dating back to the 1700s.

1 - THE CAPE COD FOREST FIRE PROBLEM

FIRE CONDITIONS
The woodlands of Cape Cod and Southeastern Massachusetts are historically prone
to serious forest fires. The pitch pine and scrub oak trees grow well in the sandy soil.
When the weather is right, typically in the Spring and Fall, strong Southwesterly winds
along with dry conditions and thick under brush fuels can create explosive fire conditions.
For many years fires would burn hundreds, or even thousands of acres.
As motorized vehicles developed and fire fighting techniques improved, the ability
to reach and stop many of these fires improved.
Once ground fires create enough heat and reach the thick tree tops, the forest fire is "crowning" and can move rapidly from tree to tree. Hot burning embers are often carried ahead of the fire by strong winds setting new spot fires that develop into larger fires themselves as the fire spreads and consumes all that is in front of it.
Fires threaten overhead power lines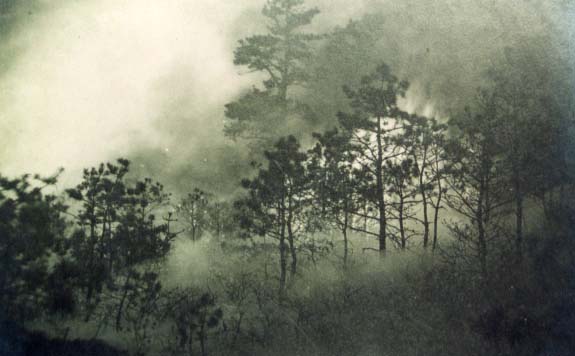 2 - STATE TAKES ACTION IN 1923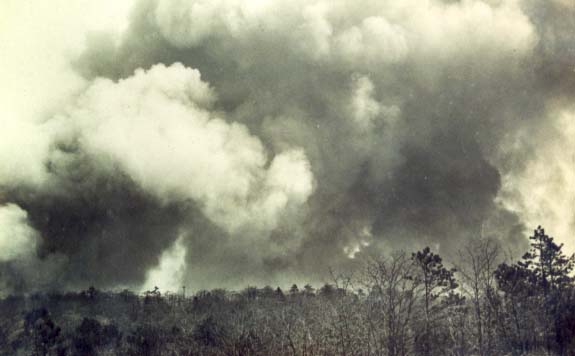 1923 STATE TAKES ACTION
Many fires are small and easily extinguished, while others given the right location and weather
conditions can grow into huge fires that may burn for days producing thick clouds of smoke
that cover the area.

MAY 30, 1923 FOREST FIRE
On May 30,1923 a fire began in the woods in Pocasset village. By the end of the day, it was thought that the fire was out. By morning however, it picked up again, burning through the day. Once again, it was believed that it was under control by nightfall, only to flare up again and again for 7 days.
When finally over, an area of approximately 25,000 acres, between Pocasset village, Sagamore, Sandwich, East Sandwich, and South Sandwich had been left blackened.
STATE CONSERVATION TAKES NOTICE
The State Commissioner of Conservation stated that "something was radically wrong" adding that the fire could have been contained to about 1,000 acres if it had been properly handled since it was not even a "fire day."
SHAWME STATE FOREST CREATED IN 1923
Following the May 30, 1923 fire, the state purchased hundreds of acres of burned over forest in Bourne and Sandwich and created the Shawme State Forest in 1923. The name was changed in 1938 to the Shawme-Crowell State Forest, honoring Lincoln Crowell for his long dedication to the Cape's forests. Crowell was killed in 1938 when the patrol truck he was in was struck by a train in Brewster.
NATIONAL FIRE PREVENTION PROGRAM 1928
"A concerted national fire prevention program (dealing with wildland fires) did not follow, until two experiments in 1928.... The Cape Cod Forest Fire Prevention experiment and the Southern Forests Education campaign... The Cape Cod program involved 110,000 acres of scrub oak and pitch pine. The experiment was intended to compare the costs of prevention and pre-suppression with those of suppression...."
This statement in "Fire in America" by Stephen J. Pyne c.1982, demonstrates how serious the forest fire situation on the Cape was at that time. The Smokey the Bear program grew out of those early fire prevention efforts.
The use of aircraft to locate and observe forest fires goes way back. Here a bi-plane can bee seen flying in the area of a large forest fire.
A great effort to combat these types of fires began in the 1920s and 1930s as vehicles and techniques improved.


3 - NOT A NEW PROBLEM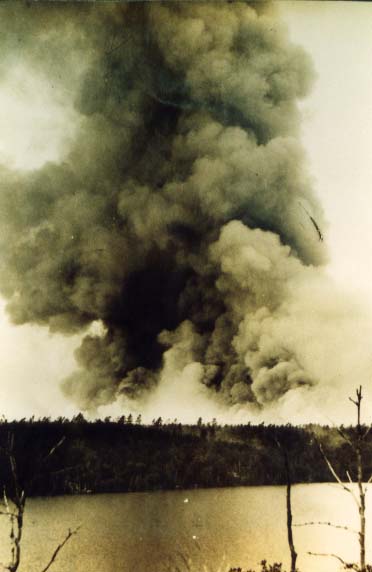 Large Forest Fires are not a new problem.

THE DARK DAY OF 1780
In 1780, an early morning lightning storm started a fire in the woods. Clouds of dark smoke filled the sky to the west of Sandwich in what was called "The Dark Day."

FIRE THE WOODS
The native "Indian" inhabitants of the land that would one day be known as Cape Cod had learned to "fire the woods" each year, usually in April. What would be considered a "prescribed burn" today was the common practice to clear the under brush, burn off the grass, and tree seedlings. This prevented many fires from spreading into forest lands.

Early Americans learned from the natives and continued the practice keeping large areas of forest lands clear of thick under brush that fuels fires.

FIRES HAPPEN
The reality is that for various reasons, often man made, forest fires have frequently struck the Cape Cod area over the years. Many of these fires could be considered the "Historical Fires" while many more smaller fires have been routinely battled each year by fire fighters using a variety of techniques and equipment.
4 - CAPE COD FOREST FIRE JUMPED ROUTE 6 - MAY 1965

1965 Fire jumped Route 6 in Sandwich

A rapidly moving forest fire that started in the Otis/Camp Edwards Military Reservation raged to and jumped over the Mid-Cape Highway (Route 6) in Sandwich on May 1, 1965. It scorched and blackened many acres of forest visible for a number of years.
5 - PLYMOUTH COUNTY FOREST FIRES

Map showing some of the historic Plymouth County Forest Fires.

There is a map inside the Myles Standish State Forest District 2 Headquarters showing some of the many significant fires that have struck Plymouth County over the years.
6 - SOME MORE RECENT FOREST FIRES

The PAVE PAWS Forest Fire burned in the 1988.

A large fire known as the PAVE PAWS Fire occurred on April 22, 1988. It burned about 1600 acres around the radar site. Photo taken from Fire Patrol Plane P18.
7 - THE FIRE DANGER - FIREFIGHTER MEMORIAL

Firefighter Memorial Route 130 in Sandwich

A forest fire on April 27, 1938 burned out of the Camp Edwards National Guard Camp, eventually covering a 5 mile wide by 12 mile long area toward Sandwich into what would be the Shawme Crowell State Forest. Three of the firemen who battled the blaze were trapped, burned, and killed by the fire. The memorial remembers Thomas Adams, Ervin Draber, and Gordon King who were lost that day.
8 - FIRE PREVENTION - ONLY YOU!

The prevention of forest fires became a major effort.

"Only you can prevent forest fires."
9 - PUBLIC EDUCATION - SMOKEY BEAR

Smokey Bear

Public education and fire prevention go hand in hand.
10 - SPOTTING FIRES - FIRE TOWERS

Fire towers, like this one in Barnstable in 1919, were staffed by spotters who
overlooked the Cape and other areas looking for smoke as fires started.

Fire towers became a vital part of combating forest fires. The earlier the fire could be detected and reported, the sooner it could be contained.
11 - SPOTTING FIRES - FIRE PATROL PLANES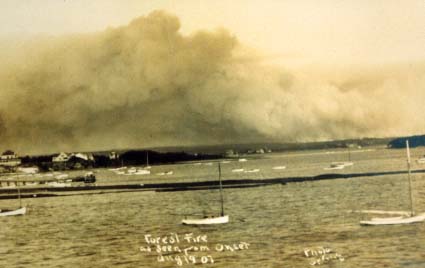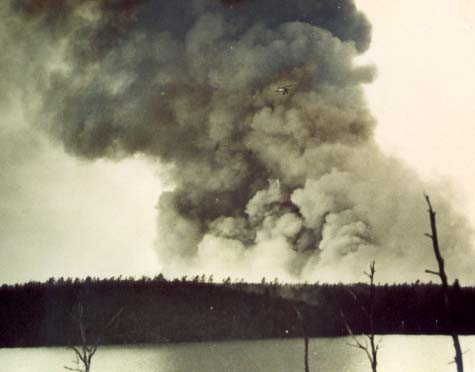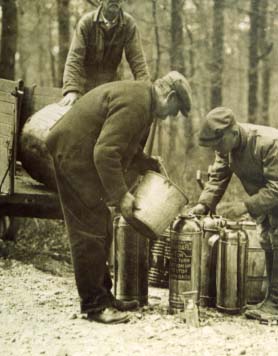 Barnstable County Fire Patrol Plane P-18

Barnstable County and Plymouth County both operated Fire Patrol Planes for many years. Going back to at least 1954, and perhaps before, these planes could provide assistance in locating fires and advising chiefs and personnel on the ground how to safely access them.
12 - LOCATING FIRES - FIRE PATROL TRUCKS

Fire Patrol Trucks were also a vital aspect of battling wild fires.

Before many fire departments were staffed, there were staffed Fire Patrol trucks that would be in contact via radio with fire towers and the fire patrol plane and often reached fires first. Shown here around 1958 at the Marstons Mills Airport are the Town of Barnstable Patrol truck 210 and the State Patrol Truck Car 3, as well as some chiefs.
13 - EARLY FIREFIGHTING - BY HAND

In the beginning, fires were fought by hand

Many of the largest fires were fought before there were many motorvehicles
14 - EARLY FIRE APPARATUS

Photo
Info
15 - FIRST BRUSH BREAKERS

Photo
Info
16 - BARNSTABLE COUNTY BRUSH BREAKERS

Photo
Info
17 - STATE - FOREST FIRE TRUCKS

Photo
Info
18 - ON THE ISLANDS - BRUSH TRUCKS

Photo
Info
19 - PLYMOUTH COUNTY - BRUSH BREAKERS

Photo
Info
20 - BRUSH BREAKERS WORKING

Photo
Info
21 - THE HEY DAYS OF CAPE COD BRUSH BREAKERS

Photo
Info
22 - TANKERS AND OTHER SUPPORT UNITS

Photo
Info
23 - FOREST FIRE TRAINING

Photo
Info
24 - SMALL, MEDIUM, AND LARGE BRUSH TRUCKS

Photo
Info
25 - SOME OF THE NEWEST BRUSH BREAKERS

Photo
Info
26 - THE END TIMES

Photo
Info