OTIS FIRE DEPARTMENT
The Massachusetts Military Reservation was established by the Governor in April 1935. Shortly after in 1935, the US War Department approved the acquisition of 200,000 acres of land in the Upper Cape towns of Bourne, Sandwich, Falmouth and Mashpee for the purpose of a Training Camp for the Army's 26th Yankee Division National Guard.
A private contractor named Walsh Construction was brought in to build the Camp which included a small unpaved airfield. A small Fire Brigade was formed with 3 apparatus, including a retro-fitted 4 speed 750 gallon "Liberty Truck" tanker and two leased pumpers.
In July 1938 the camp was dedicated as Camp Edwards, named after Major General Clarence Edwards, a former Commander of the Yankee Division. The airfield was named Otis Field, in memory of 1st Lt Frank "Jesse" Otis, a Boston native killed in a plane crash in 1937.
In 1940, the Federal government leased the base from Massachusetts and rapidly expanded its size and scope in preparation for what would become World War II. Over 1,500 structures were constructed within months and three 7,000 foot long paved runways were created.
The fire brigade then included 51 civilian firemen under the command of Fire Chief Clarence Gibbs. The brigade operated for 125 days from September 1940 to January 1941 when construction was completed. The camp was then turned over to the U.S. Army. It is believed that a "brush breaker" was built for the Camp sometime before the camp was turned over to the Army.
A Fire Department was established for the enlarged base. Elmer H James was selected to be the first Fire Chief. Charles F Dooling and Clarence Gibbs were appointed as Assistant Chiefs. Those three civilian supervisors then hired 6 experienced civilian hosemen/firefighters to become instructors for the 71 soldiers assigned to the base fire department.
Apparatus assigned to the 5 base fire stations included, the Liberty Tanker and "old brush breaker" from the Walsh Construction days, along with 8 new pumpers and a chief's car.
The 1946 movie shows a military green brush breaker of distinct design that carried a < 1 > on its door. It is believed this may have been the "old brush breaker" on an early 1940s Chevy military chassis. It is also believed that this truck ultimately became Bourne Fire Department's No.7. Otis also built a larger brush breaker in 1944.
TOWN OF BARNSTABLE FOREST FIRE DEPARTMENT
The Town of Barnstable established a Forest Fire Department as early as 1922. In 1937, Barnstable built its first "brush breaker" on a 1937 Ford COE chassis. The truck was built in Osterville by Fire Chief Bernard S Ames and Carl Starck and was put in service in early 1937. It carried about 800 gallons of water and could pump and roll with all wheel drive. The truck had steel bars welded on it to protect the truck and enable it to break a trail through the woods to reach a fire. The Barnstable truck was one of the first Cape Cod Brush Breakers and was housed in the Osterville Fire Station.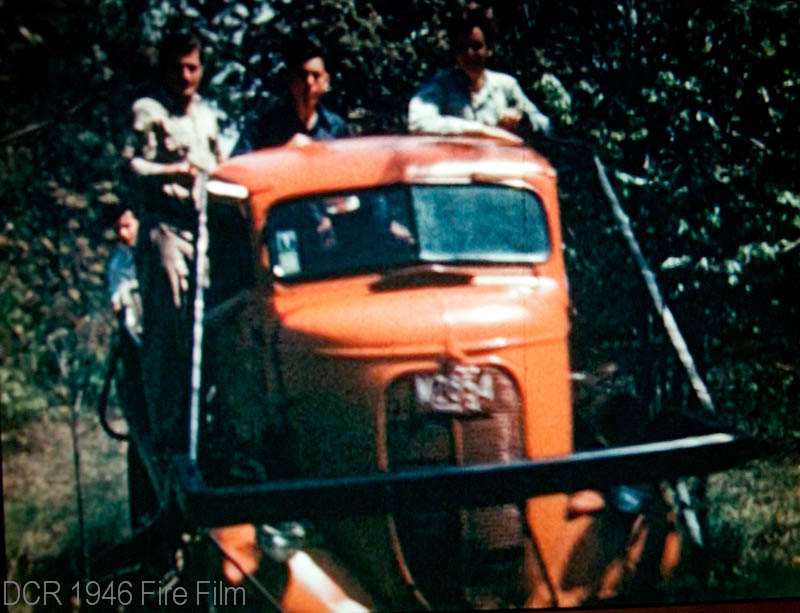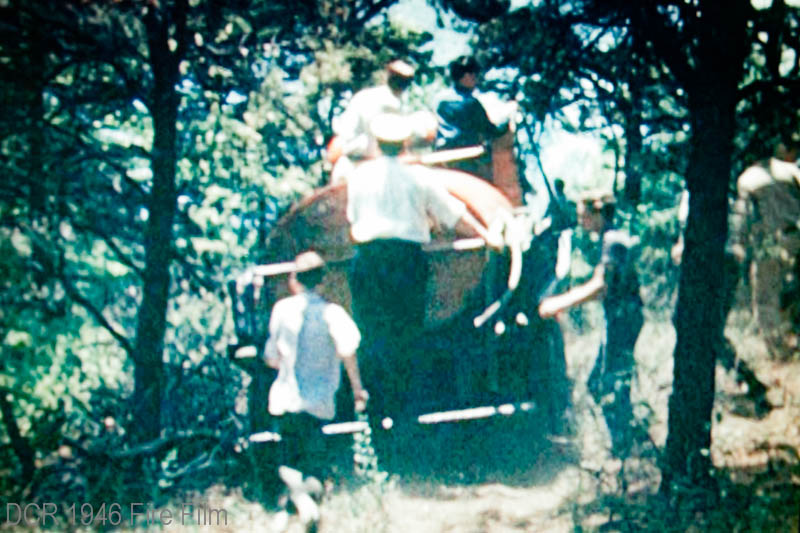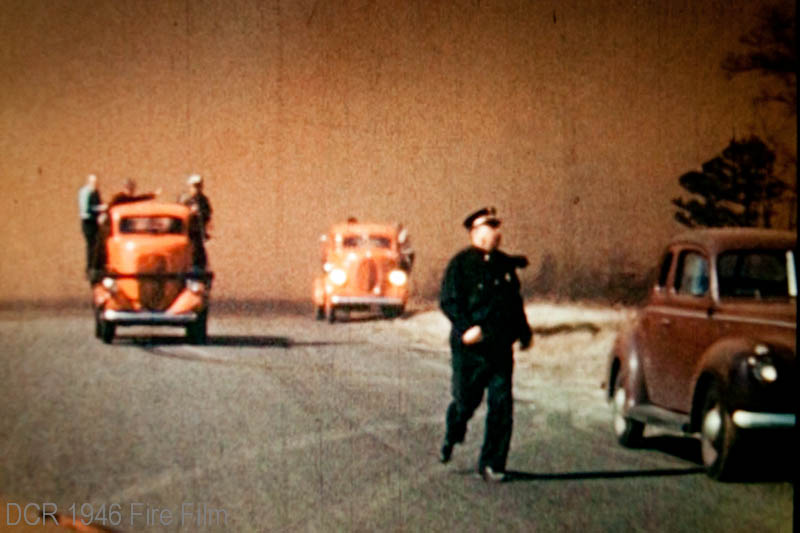 The Town of Barnstable Brush Breaker responding in to the 1946 fire.
Town of Barnstable Breaker operating in the woods.
Town of Barnstable Breaker closest truck.
SANDWICH VOLUNTEER FIRE DEPARTMENT
The Sandwich Volunteer Fire Department built a brush breaker in 1938. It was on a Ford COE chassis and carried approximately 1000 gallons of water.
STATE FOREST FIRE DEPARTMENT
The State Department of Conservation built a brush breaker for Myles Standish State Forest in Plymouth/Carver in 1939. The Ford 6x6 chassis was manufactured by Robinson Boiler Works in Cambridge. It carried 1000 gallons of water and could pump & roll. The unique push bar design was used on several other brush breakers. The District 2 Plymouth County breaker was called 2-5.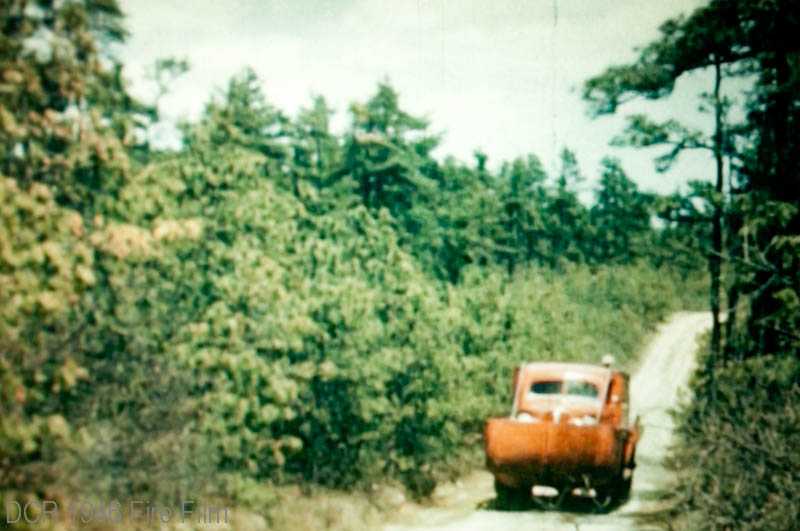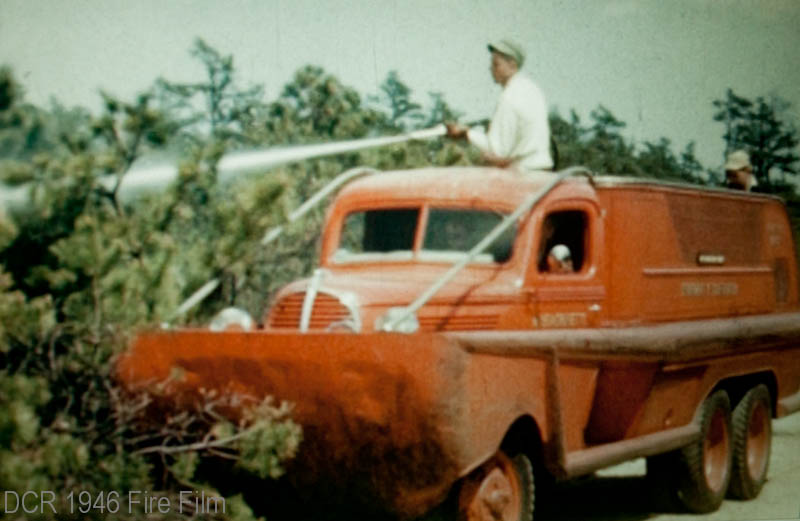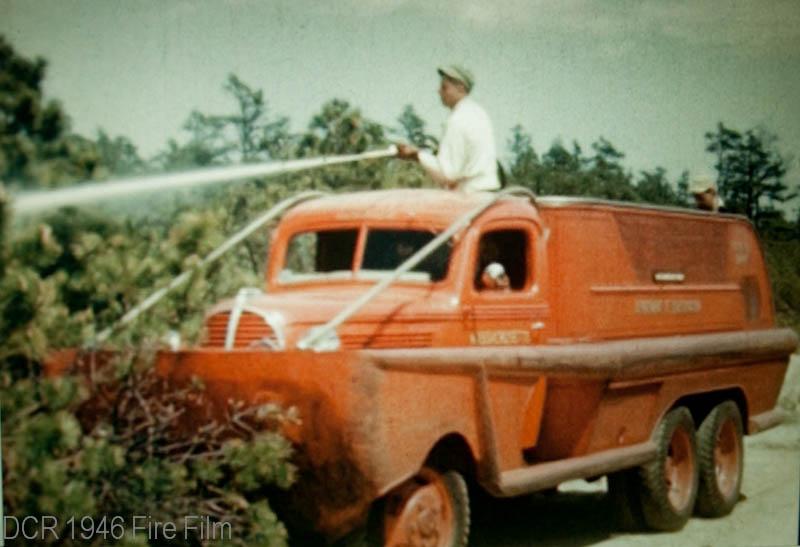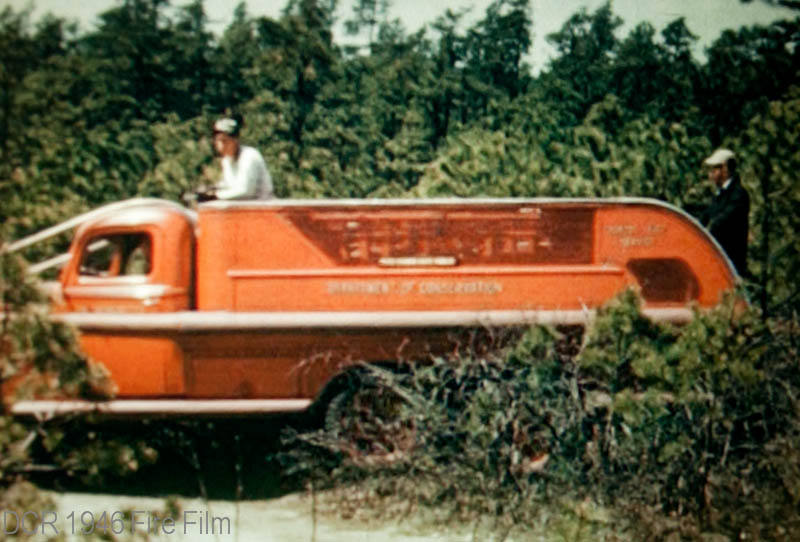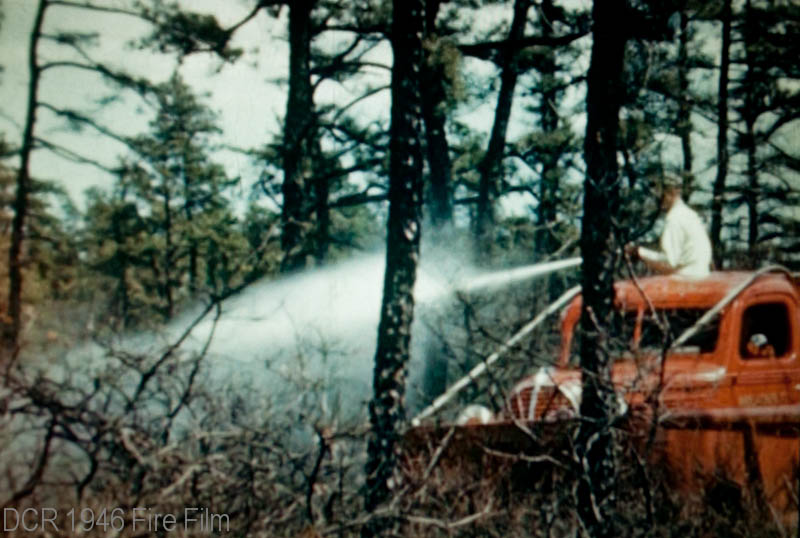 BARNSTABLE COUNTY FOREST FIRE DEPARTMENT
The Barnstable County Forest Fire Department built its first brush breaker in 1939 on a Ford COE chassis. The truck was called No.1 and assigned to the Cotuit Fire Station until 1942 when it was reassigned to the Falmouth Fire Department.
The County built its second brush breaker, called No.2, on a 1942 Ford COE chassis. Robinson Boiler Works in Cambridge built both No.1 and No.2 and they look very similar. The 1942 No.2 was assigned to Cotuit and is shown responding from that station in the movie. Both trucks would have gone to the 1946 fire.
The movie shows volunteer firemen running into the Cotuit Fire Station and responding with the Town of Barnstable Forest Fire Patrol Truck and the 1942 Barnstable County Brush Breaker No.2.