CapeCodFD.com
CAPE COD BRUSH BREAKERS
HISTORY - IN REVIEW
Brush & Forest Fire Apparatus History
BARNSTABLE COUNTY

~ THE STORY ~
~ LOCATING FIRES - PATROL TRUCKS ~
PAGE 13
Page Updated January 26, 2022
Cape Cod Brush Breaker
Barnstable County Forest Fire Service No.1 - 1957 Ford/Maxim

PAGE CONTENTS
M - Map
01 - The Cape Cod Forest Fire Problem
02 - Historical Cape Cod Forest Fires
03 - One Large Cape Cod Forest Fire - 1946
04 - Cape Cod Forest Fire Jumped Route 6 - May 1965
05 - Plymouth County Forest Fires
06 - Some More Recent Forest Fires
07 - The Fire Danger - Firefighter Memorial
08 - Fire Prevention - Only You!
09 - Public Education - Smokey Bear
10 - Spotting Fires - Fire Towers
11 - Spotting Fires - Fire Patrol Planes
12 - Locating Fires - Fire Patrol Trucks
13 - Early Firefighting - By Hand
14 - Early Fire Apparatus
15 - First Brush Breakers
16 - Barnstable County Brush Breakers
17 - State Forest Fire Trucks
18 - On The Islands - Brush Trucks
19 - Plymouth County - Brush Trucks
20 - Brush Breakers Working
21 - The Hey Day of Brush Breakers
22 - Tankers and Other Support Apparatus
23 - Forest Fire Training
24 - Small, Medium, and Large Brush Trucks
25 - The Newest Brush Trucks
26 - The END TIMES
MAP
CAPE COD & THE ISLANDS
BARNSTABLE COUNTY

BARNSTABLE COUNTY
Cape Cod is located in southeastern Massachusetts. Historically and officially, Cape Cod is also known as Barnstable County. There are 15 towns within Barnstable County. Within those towns there are many smaller villages and communities. These towns and villages are served by a number of municipal, state, and federal fire departments and agencies. Over the years there were a number of town, county, and federal fire departments and agencies that no longer serve. Most of these departments and agencies have battled forest fires over the years and are recognized within this feature.

THE ISLANDS
The area is often referred to as Cape Cod & The Islands. This also includes the two major Islands of Martha's Vineyard and Nantucket. Both are counties themselves. Martha's Vineyard is Dukes County and Nantucket is also a County. Several departments and agencies also provide firefighting on each of the islands.

PLYMOUTH COUNTY
Located adjacent to the Cape Cod & Islands region is Plymouth County, also made up of a number of towns, districts, and agencies serving their communities. All have also been involved in fireghting forest fires over the years.

BRUSH BREAKERS
This feature focuses on the Cape Cod Brush Breaker fire apparatus, but the effort to battle forest fires over the years involves much more that just those apparatus. Some structural fire apparatus was adapted over the years to battle brush and forest fires. Larger tankers are frequently used to re-supply and support the operation of other apparatus at major fires. Spotting, reporting, and locating fires quickly over the years included the use of fire towers, airplanes, forest fire patrol trucks, and other means.

FOREST FIRES
The Mutual Aid System, including sharing of large numbers of apparatus and personnel, was developed and utilized many times during large brush and forest fires in each of the Counties. Common radio channels and unit numbering were designated in large part to improve operations during these large incidents.

This feature addressing each of these topics and more to put into perspective the importance of Brush Breakers, and all other aspects of battling Forest Fires in the Cape Cod & Islands area.
1 - THE CAPE COD FOREST FIRE PROBLEM

Forest fires raging through pine forest.

Cape Cod and other areas of Southeastern Massachusetts are known for the many serious brush and forest fires that struck communities over the years.
2 - HISTORIC CAPE COD FOREST FIRES

Historic forest fires raged across Cape Cod many times.
Aug 1907 Fire

Going far back in history, large forest fires have impacted communities and industries.
3 - ONE LARGE CAPE COD FOREST FIRE - 1946

The 1946 Forest Fire burned about 15,000 acres

A 1946 Forest Fire in the upper Cape burned for days. It covered about 15,000 acres. A documentary film was made showing the progress and response to the fire including the use of brush breakers of that time.
4 - CAPE COD FOREST FIRE JUMPED ROUTE 6 - MAY 1965

1965 Fire jumped Route 6 in Sandwich

A rapidly moving forest fire that started in the Otis/Camp Edwards Military Reservation raged to and jumped over the Mid-Cape Highway (Route 6) in Sandwich on May 1, 1965. It scorched and blackened many acres of forest visible for a number of years.
5 - PLYMOUTH COUNTY FOREST FIRES

Map showing some of the historic Plymouth County Forest Fires.

There is a map inside the Myles Standish State Forest District 2 Headquarters showing some of the many significant fires that have struck Plymouth County over the years.
6 - SOME MORE RECENT FOREST FIRES

The PAVE PAWS Forest Fire burned in the 1988.

A large fire known as the PAVE PAWS Fire occurred on April 22, 1988. It burned about 1600 acres around the radar site. Photo taken from Fire Patrol Plane P18.
7 - THE FIRE DANGER - FIREFIGHTER MEMORIAL

Firefighter Memorial Route 130 in Sandwich

A forest fire on April 27, 1938 burned out of the Camp Edwards National Guard Camp, eventually covering a 5 mile wide by 12 mile long area toward Sandwich into what would be the Shawme Crowell State Forest. Three of the firemen who battled the blaze were trapped, burned, and killed by the fire. The memorial remembers Thomas Adams, Ervin Draber, and Gordon King who were lost that day.
8 - FIRE PREVENTION - ONLY YOU!

The prevention of forest fires became a major effort.

"Only you can prevent forest fires."
9 - PUBLIC EDUCATION - SMOKEY BEAR

Smokey Bear

Public education and fire prevention go hand in hand.
10 - SPOTTING FIRES - FIRE TOWERS

Fire towers, like this one in Barnstable in 1919, were staffed by spotters who
overlooked the Cape and other areas looking for smoke as fires started.

Fire towers became a vital part of combating forest fires. The earlier the fire could be detected and reported, the sooner it could be contained.
11 - SPOTTING FIRES - FIRE PATROL PLANES

Barnstable County Fire Patrol Plane P-18

Barnstable County and Plymouth County both operated Fire Patrol Planes for many years. Going back to at least 1954, and perhaps before, these planes could provide assistance in locating fires and advising chiefs and personnel on the ground how to safely access them.
12 - LOCATING FIRES - FIRE PATROL TRUCKS

Fire Patrol Trucks were also a vital aspect of battling wild fires.

Before many fire departments were staffed, there were staffed Fire Patrol trucks that would be in contact via radio with fire towers and the fire patrol plane and often reached fires first. Shown here around 1958 at the Marstons Mills Airport are the Town of Barnstable Patrol truck 210 and the State Patrol Truck Car 3, as well as some chiefs.
PATROL TRUCKS
In simpler times, not all towns had fire departments. Those that did had volunteer fire departments. The danger and importance of forest fires was far more significant to most communities than building fires in those days. Some towns, the County, and the State each staffed patrol trucks (pickup trucks with firefighting capability) at least seasonally. Forest Fire Departments were equipped to respond to grass, brush, and forest fires, as well as the occasional building, car, or dump fire.

Inside the cab roof of some patrol trucks were topographical maps just like the towers and fire stations had. A patrol truck would monitor the radio and be gievn the lines from the towers to check on smokes. Sometimes they verified that the smoke was simply a chimney or back yard pit. Other times they would arrive first at fires and begin extinguishment before the fire department arrived. Usually this was for brush fires, but the same would apply to vehicle and building fires.

Patrol trucks were still active into the 1980s in some areas.
FOREST FIRE PATROL
A forest fire department vehicle in 1930 in Edgartown on Martha's Vineyard.
FOREST FIRE PATROL
This 1938 Ford patrol truck was operated by the Town of Barnstable Forest Fire Department.
FOREST FIRE PATROL
This patrol truck belonged to the Bourne Fire Department.
STATE FIRE PATROL
The early state of Massachusetts Department of Conservation Forest Fire Patrolman Henry Perry patrolled the Lower Cape from the 1920s to the 1950s. His last patrol truck was this 1942 Chevy.
COUNTY FOREST FIRE PATROL
Barnstable County operated a Forest Fire Service including patrol trucks that would respond around the county depending on where they were needed. The vehicles also served as a form of advertising and education with signs indicating the fire danger for the day and the need for permits to burn.
WORKING TOGETHER
The battle to protect the Cape from forest fires was a group effort with everyone doing their share. Local fire departments, town patrol trucks, county patrol trucks and a county airplane, and the state all worked cooperatively. The Barnstable and County patrol trucks are shown here with the fire plane at the Marstons Mills airfield c.1950s.
BARNSTABLE FOREST FIRE PATROL
The Town of Barnstable's Forest Fire Department operated several vehicles in town, but the headquarters and majority of equipment was house at the Osterville Fire Station. This patrol truck was known as "210" on the radio. It carried a little more than 100 gallons of water and had some basic hose and tools.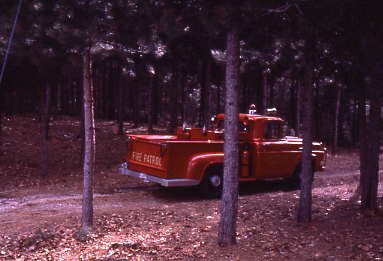 BARNSTABLE FOREST FIRE PATROL
When not specifically fighting fires or patrolling, the patrolmen would clear fire roads and do what they could to reduce fire problems. If a fire at the dump or a woods fire happened, they were already on the air and ready to respond.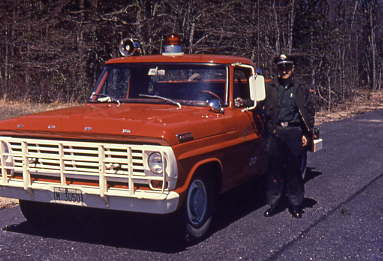 BARNSTABLE FOREST FIRE PATROLMAN
Barnstable Forest Fire Patrolman with the 1967 Ford Patrol Truck 210.
SANDWICH FIRE CHIEF
Sandwich Fire Chief Fred Alvesi actually used a 1960s Ford patrol truck as the chief's vehicle. He was more likely to respond to and get to fires before the on call volunteers could.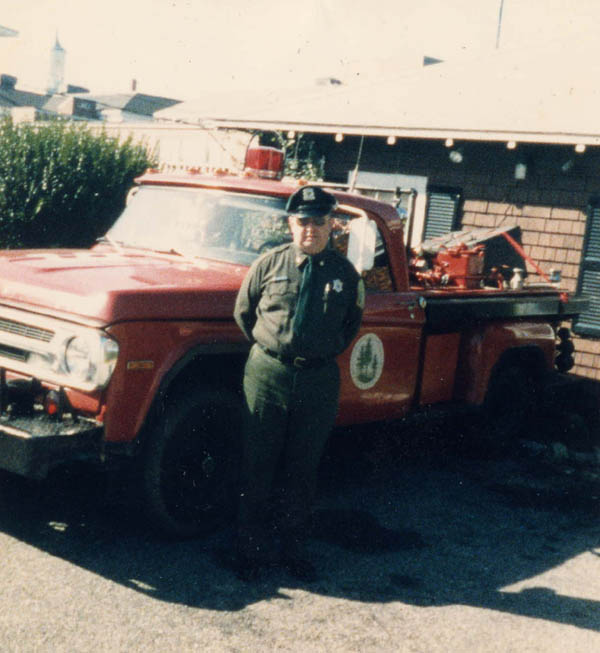 STATE FIRE PATROLMAN
State Forest Fire Department Lower Cape Patrolman Peter Martin with the 1960s Dodge patrol truck.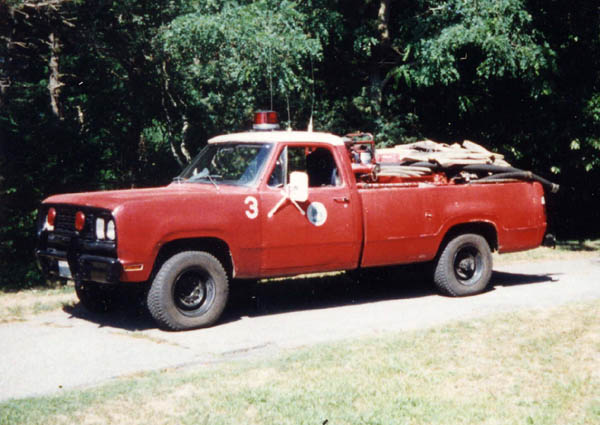 STATE PATROL 3
State Forest Fire Department Lower Cape Patrol Truck 3 in the 1970s. Patrol trucks and other fire apparatus were often previously used military vehicles. Below, Patrol 3 made a visit to Naushon Island and is shown with the 1946 Dodge brush truck that was the only fire truck on the island for many years. It was originally a Falmouth brush truck.
13 - EARLY FIREFIGHTING - BY HAND

In the beginning, fires were fought by hand

Many of the largest fires were fought before there were many motorvehicles
14 - EARLY FIRE APPARATUS

Photo
Info
15 - FIRST BRUSH BREAKERS

Photo
Info
16 - BARNSTABLE COUNTY BRUSH BREAKERS

Photo
Info
17 - STATE - FOREST FIRE TRUCKS

Photo
Info
18 - ON THE ISLANDS - BRUSH TRUCKS

Photo
Info
19 - PLYMOUTH COUNTY - BRUSH BREAKERS

Photo
Info
20 - BRUSH BREAKERS WORKING

Photo
Info
21 - THE HEY DAYS OF CAPE COD BRUSH BREAKERS

Photo
Info
22 - TANKERS AND OTHER SUPPORT UNITS

Photo
Info
23 - FOREST FIRE TRAINING

Photo
Info
24 - SMALL, MEDIUM, AND LARGE BRUSH TRUCKS

Photo
Info
25 - SOME OF THE NEWEST BRUSH BREAKERS

Photo
Info
26 - THE END TIMES

Photo
Info