CapeCodFD.com
ON THE ROAD AGAIN!
FLORIDA
WINTER 2019
January 28, 2019 to April 23, 2019
Posted Dec 18, 2019
| 1-Trip South | 2-Winter Home | 3-Family | 4-Fire Stations | 5-Fireboats | 6-Florida Fun | 7-The Trip Home |
5 - FLORIDA FIREBOATS
MIAMI FIREBOAT 15
The ongoing effort to find and photograph fireboats brought me to Miami
on February 6, 2019 to check out the new Miami City Boat.
The Miami City boat is passing in front of the Miami-Dade Fire Rescue Fireboat station.
Some of the private yachts in Miami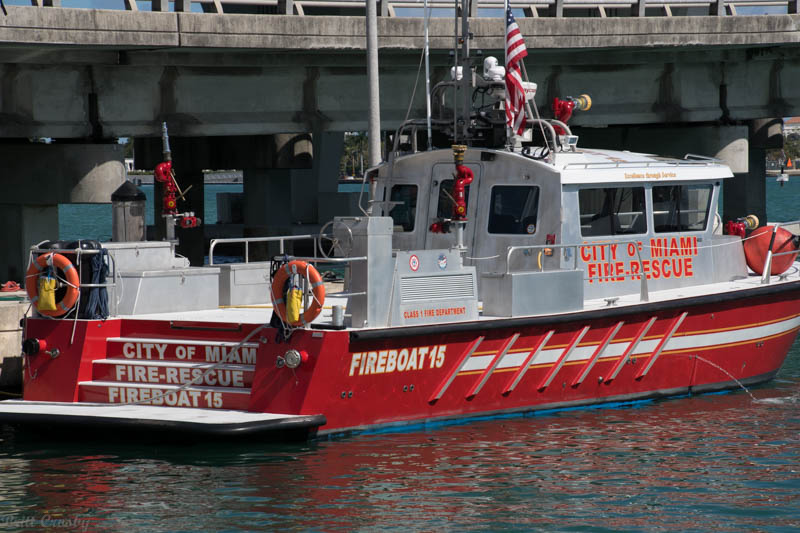 The new boat replaced this older boat.
Fireboat crew quarters.
Miami City small boats.
DELRAY BEACH
Many Florida departments have small boats.
BOYNTON BEACH
Small boats
BOCA RATON
One of several small boats in Boca Raton.
Clewiston, FL Boat
Englewood Fire Department boat "under the big flag pole"
TAMPA FIREBOAT
The "Patriot" as it looks now with a new paint scheme.
In previous years it was all painted, but required much maintenance.
| 1-Trip South | 2-Winter Home | 3-Family | 4-Fire Stations | 5-Fireboats | 6-Florida Fun | 7-The Trip Home |
ON THE ROAD AGAIN!
FLORIDA
WINTER 2019

CapeCodFD.com
2019