No.1
OSTERVILLE FIRE STATION
MY HOMETOWN FIREHOUSE
Then and now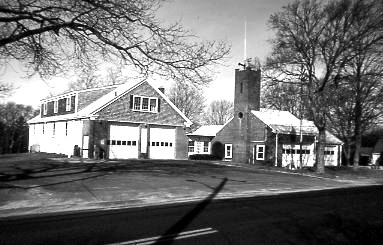 Osterville Fire Station
C.O.M.M. F. D.

Centerville-Osterville-Marstons Mills Fire Department



A TRIBUTE TO THE OSTERVILLE FIRE STATION
PAST AND PRESENT


Planning for a new Osterville Station
began around 2006 with a study of possible
site changes, needs, architectural concepts
and eventually plans. Funding was approved
in FY-08 and preparations made to begin
building in the summer of 2008 on the
site of the old station. The department needed
to maintain service in Osterville and made plans
to share a storage building at the water department
just up the road during the construction period.
The new station would feature three bays,
but unlike the Marstons Mills Station 3,
would not be drive through because
of the slope of the lot.
Drawing shows the outline of the old station and
the pink colored area of the new station.
A new parking lot would be located behind the station.

First floor
First floor plan shows the apparatus bays and
primary living areas. A basement located under
the living area would have access from the
rear at ground level.
A mix of brick and shingled side walls would help
the large building fit into the neighborhood.
This is the north side (Fire Station Road) of the
new station in architects drawings.
The old Osterville Station at 999 Main Street
was officially closed on July 11, 2008.
Engine 304 and Ambulance 325 and some
essentials were moved up the road to the
water department's building at 1238 Main.
Temporary Station 2
1238 Main Street
Moved in Tuesday July 22, 2008
A house trailer that formerly served the Yarmouth
Fire Department at West Yarmouth while their
new station was being built was placed on site.
Personnel had to cross the gap between the
two buildings for about a year and a half.
Engine 304 backing into the temporary quarters.
The old station with site preparation under way.
July 27, 2009
The old station.
The lawn never looked this way before!
July 27, 2009
The old station
July 27, 2009
Once out of the old station, the sign went up and the
site was fenced off to protect the site.
The Osterville Station
On August 7, 2008 being prepared to be torn down.
The old station coming down.
August 15, 2008
The old station coming down.
August 15, 2008
It didn't take long to bring down the old brick station.
The old station coming down.
August 15, 2008
The old station coming down.
August 15, 2008
August 20, 2008
The original old station is gone.
Next will go the 1962 engine room.
By August 31, 2008 the old station was gone
and the site was clean and prepared for the
new station to begin.
Site prepared for new building
August 31, 2008
Tribute
Osterville Fire Station
CapeCodFD.com 2010