PROVINCETOWN AMBULANCE
PROVINCETOWN AMBULANCE 594
2021 Ford F550 / Osage Type I Ambulance
First of Provincetown's ambulances to display a new
series (594-597) of radio numbers.
Sept 2021

YARMOUTH ENGINE
YARMOUTH ENGINE 42
2021 Pierce Enforcer Rescue Pumper
1500/750
Sept 2021

BARNSTABLE CAR
BARNSTABLE CAR 212
2021 Chevy Tahoe 4x4 SUV
Future Duty Officer Car
Sept 2021

WEST BARNSTABLE LADDER - BACK IN SERVICE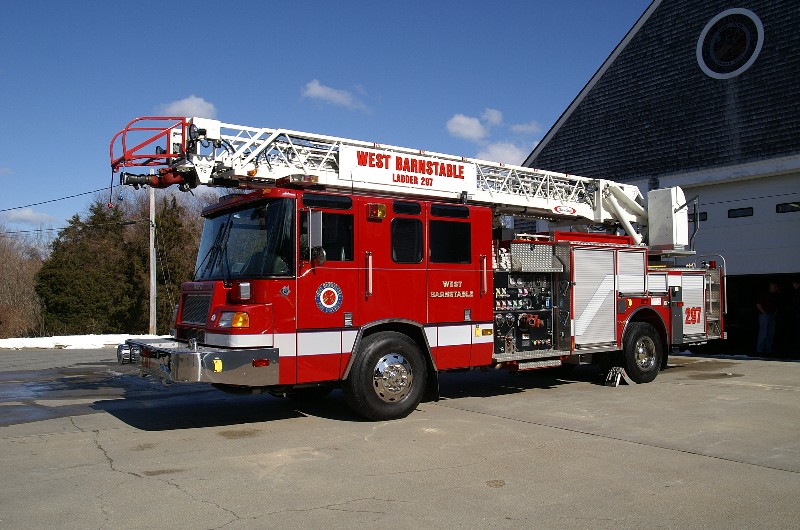 WEST BARNSTABLE LADDER 297
The 2006 (2002) Pierce Quantum 1500/400 75' Quint Ladder
Was taken out of service for mechanical reasons about 2 years ago.
Repairs have been made and it is BACK IN SERVICE!
Sept 2021

ONSET BOAT
ONSET MARINE 1
2021 (2005) Safeboat 25' Boat
Aug 2021

CAPE COD CANTEEN
CANTEEN 4
Earlier this year, a former Sandwich Ambulance was donated to the
Special Signal Fire Association that for many years has
operated the Providence Canteen service covering RI
and Southeast Mass. In June, "Canteen 4" was placed
in service covering the Cape Cod area. The unit is currently
housed in the East Harwich Fire Station and will likely
respond to many fires and incidents to come.
July 2021



HYANNIS UPDATE
HYANNIS NUMBERING
Those who have been following Hyannis recently are aware that
the department uses a computerized voice CAD dispatch program
to dispatch calls. In conjunction, ambulances were renumbered
essentially with the newest being A-1 (right) and the oldest being
A-4 (left). Typically A-1 gets the first call. A-2 the next, etc...
County numbers are still used on mutual aid, but no longer
displayed on the exterior of the vehicles. Instead, placards
bearing the unit's assignment that particular day are used.
Shop ID numbers bearing the unit's original county number
and year are used for tracking the actual vehicle over time.
A-1 (831) = Shop ID 8252019
A-2 (832) = Shop ID 8282017
A-3 (833) = Shop ID 8312015
A-4 (834) = Shop ID 8272005
ENGINES RENUMBERED
With the recent delivery and placing in service of the newest Engine,
a 2021 Pierce Enforcer as "Engine 2" (822), the department did
a little renumbering with the engines similar to what they did with
the ambulances. The County radio numbers are no longer displayed
on the exterior of the engines. Instead, a placard system, similar
to the Ambulance system, displays a simple [2] [3] [4] or [6] on
the vehicle based on its assignment on a given day.
IN HONOR
of the 1927 Ahrens Fox "Engine 1" and 1949 Mack "Engine 5"
still maintained by Hyannis, those numbers have essentially
been retired as active vehicle numbers for decades.
The new Engine 2 (822) replaced the oldest 1992 Foam Engine 2,
"Any Time. Any Where. Any Job" across the front,
which has been retired.

The remaining engines, have been reorganized to number them
in order by age, with the newer units having the lower numbers
similarly as the ambulances. Putting their BEST FIRST.

The 2011 Pierce Arrow - originally Engine 6 (826) is being
assigned the #2 role and is thus going to carry the [3] placard
effectively becoming Engine 3 (823).
The 2005 Pierce Arrow - originally Engine 3 (823), being the
third oldest, gets reassigned as Engine 4 (824?) with the [4]
placard. Hyannis has not had an Engine 4 for many, many
years. The last unit to carry Engine 4 was actually the old
Heavy Rescue when it first came in the 1980s before being
called Rescue 1.
Late last year, Hyannis picked up a used 1996 Pierce Engine
that started out in Cambridge as a Squirt and then served
the City of Chelsea for a number of years. This "new"
fourth Engine for Hyannis, being the oldest current engine,
gets the largest number [6] as Engine 6 (826).
For the score card....
Engine 2 (822) = Shop ID 8222021
Engine 3 (823) = Shop ID 8262011
Engine 4 (824) = Shop ID 8232005
Engine 6 (826) = Shop ID 8241996
HYANNIS ENGINE 6
The 1996 Pierce, formerly Cambridge/Chelsea, now in service
with Hyannis. The day the photo was taken, the future Engine 3 (823),
formerly Engine 6 (826), Shop ID 8262011, was out of service.
So the new Engine 4 (824?), Shop ID 8232005, was moved up
one position becoming [3] instead of [4] for a few days.
So naturally, the new Engine 6 (826), Shop ID 8241996,
(even though it was never actually ever officially Engine 824),
likewise moved into the Engine 4 [4] position, until Engine 4
goes back in service, and Engine 6 becomes Engine 6 again.

This may seem a little confusing, to some, but once everyone gets
used to it, and nothing goes out of service, it should be....
Well.... keep a score card.
I have to!
DISCLAIMER
I think I got it all correct.
But I'm not sure.
July 31, 2021

KINGSTON TOWER
KINGSTON TOWER 1
(2021) 2005 E-One 100' ms Tower
2000 gpm / 300 gals
Not yet in service.
Temporary truck until new Smeal 100' ms Tower
is delivered in late 2021/early 2022.
Originally Perth Amboy, NJ Ladder 3
July 2021

HYANNIS CARS
HYANNIS CAR 7
2021 Dodge RAM Pickup Training Captain
former C7 reassigned to Car 9
2017 Dodge Durango
June 2021

CARVER TANKER
CARVER TANKER 1
2020 Kenworth T880 / Pierce Pumper-Tanker
1000 gpm / 3000 gals
Arrived June 22, 2021

WAREHAM BRUSH BREAKER
WAREHAM BREAKER 404
Military 5ton 6x6 / 2021 Fire-1
250/750
June 2021



LAKEVILLE PICKUP
LAKEVILLE CAR 3
2020 Ford F150 4 door Pickup
June 2021

WELLFLEET BEACH VEHICLE
WELLFLEET BEACH RESCUE
The Wellfleet Ocean Safety Lifeguard Polaris TX1000 tracked beach ATV
located at Wellfleet Fire Station.
June 2021

BOURNE FORESTRY
BOURNE FORESTRY
A former military Humve that had been with the Aquinnah FD for a few years
was recently moved to the Bourne Fire Department who is expected to turn
it into a Forestry Truck utilizing a skid unit pump & tank.
June 2021

CHILMARK ENGINE
CHILMARK ENGINE 123
(2019) 1997 Ford F450 / Southern Coach 500/300 Mini Pumper
June 2021

EDGARTOWN ENGINE
EDGARTOWN ENGINE 223
(2020) 2012 Ford F550 4x4 /E-One 1250/280/20 Mini-Pumper
June 2021

EDGARTOWN FORESTRY
EDGARTOWN SQUAD 230
2020 Ford F550 / Bulldog CET Utility 250/300/10 Forestry
June 2021


MARTHA'S VINEYARD AIRPORT ARFF
MARTHA'S VINEYARD ARFF 941
2019 Oshkosh Global Striker 4x4 1500/1500/210/450lbs ARFF
June 2021

OAK BLUFFS CAR
OAK BLUFFS EMS CAR OSCAR 93
2020 Chevy Tahoe EMS Car
June 2021

TISBURY AMBULANCE
TISBURY AMBULANCE TANGO 90
2019 Ford F-550 4x4 / Demers Type I Ambulance
June 2021

TISBURY ENGINE
TISBURY ENGINE 622
2018 International / KME 1500/1000/30A Pumper
June 2021

WEST TISBURY CAR
WEST TISBURY CAR 710
2018 Chevy Tahoe Fire Chief
June 2021

WEST TISBURY ENGINE
WEST TISBURY ENGINE 722
2018 KME Panther 1250/1000/30/20 Pumper
June 2021

MARION SQUAD
MARION SQUAD 1
2020 Ford F350 4x4 Pickup
Community Service Unit
May 2021


CHATHAM CAR




CHATHAM CAR 181
2021 Chevy Tahoe Fire Chief Car
May 2021


CHATHAM CARS




CHATHAM CAR 391
2020 Chevy Tahoe Deputy Chief Car
May 2021

CHATHAM CAR 392
2012 Chevy Tahoe
Was Chief C181 - Now Fire Prevention C392
May 2021
CHATHAM CAR 390
2015 Ford Interceptor
Was Deputy C391 - Now Utility Car 390
May 2021

YARMOUTH BOAT


YARMOUTH MARINE 563
Safeboat got a new paint job for 2021
May 2021

ONSET BOAT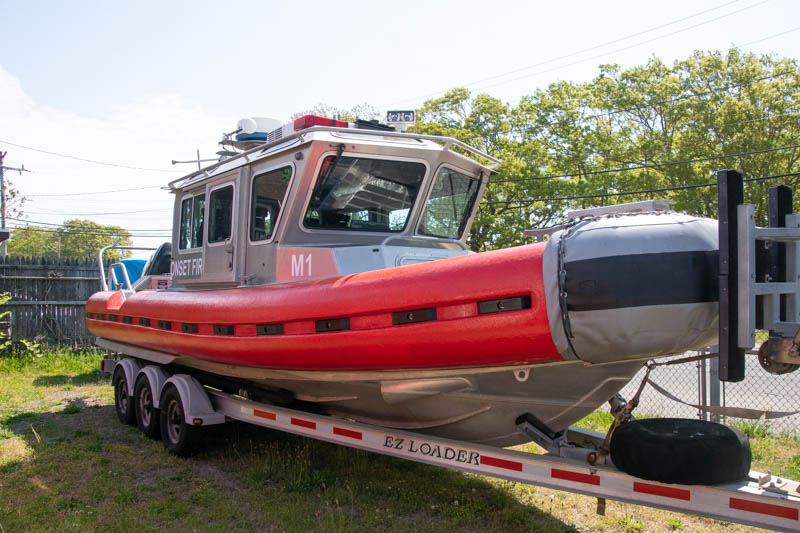 ONSET MARINE 1
The Onset FD is ready for summer with it Safeboat.
May 2021

HYANNIS ENGINE
HYANNIS ENGINE 822 - ENGINE 2
2021 Pierce Enforcer 4 dr 1500/750/30 Pumper
May 2021

HYANNIS ENGINE
HYANNIS ENGINE
1996 Pierce Saber 1250/500 Pumper
Originally Cambridge E8 with 55' Squirt
More recently Cambridge FD
Hyannis acquired late 2020
Planned as spare/4th Engine
May 2021

PLYMOUTH ENGINE
PLYMOUTH ENGINE 4
2021 Emergency One Cyclone
1500/1000/30
April 2021

DCR DISTRICT 2
DRC DISTRICT 2 - TANKER 1
2021 Mack Granite / Fouts Bros 500/2200 Tanker
April 2021


DENNIS AMBULANCE
DENNIS AMBULANCE 107
2020 Ford F550 4x4 / Horton Type I Ambulance
April 2021

FALMOUTH LADDER
FALMOUTH LADDER 26
2021 Pierce Arrow XT Ascendant 107' Aerial Ladder
Also to serve as Heavy Rescue Truck
The new Truck replaced former Ladder 26 & Heavy Rescue 31.
In Service April 22, 2021


OUT OF SERVICE
The new truck replaced the 1991 Emergency One 110' Ladder Truck 26
and the 1987 Ford/EVF Heavy Rescue 31.


SANDWICH TOWER OUT OF SERVICE
SANDWICH TOWER 1 (450)
1996 Sutphen 1500/500 95' Aerial Tower
Has been taken OUT OF SERVICE due to mechanical issues.
Replacement still unclear.
April 2021

JOINT BASE ARFF
JOINT BASE CAPE COD FOAM 404
2020 Oshkosh Striker 4x4 1500 ARFF Truck
2000 gpm / 1500 gallons / 210 Foam / 500 lbs PKP
April 2021


JOINT BASE ARFF
JOINT BASE CAPE COD FOAM 405
2020 Oshkosh Striker 6x6 3000 ARFF Truck
2000 gpm / 3000 gallons / 420 Foam / 500 lbs PKP
April 2021



JOINT BASE FORESTRY
JOINT BASE CAPE COD FORESTRY 422
2020 International CV 4x4 / Rosenbauer Type 6 Forestry
250 gpm / 300 gallon / Foam "CAFS"
April 2021


JOINT BASE ARMY NATIONAL GUARD FORESTRY
JOINT BASE ARMY NATIONAL GUARD FORESTRY 601
2020 International CV 4x4 / Rosenbauer Type 6 Forestry
250 gpm / 300 gallon / Foam "CAFS"
April 2021


MARION TANKER
MARION TANKER 1
2021 Peterbuilt/Emergency One Tanker
1000/2500
April 2021

MARION BREAKER
MARION BREAKER 124
1978 Ford F750 / Farrar 250/750 Breaker
Formerly Wareham B403
(2 older Marion Breakers both Out of Service)
May 2021

MARION
Former Wareham Breaker 403 - 1978 Ford/Farrar 250/750
observed behind Marion Station.
April 2021


MATTAPOISETT PICKUP
MATTAPOISETT UNIT 1
2020 Chevy Pickup Truck
April 2021
MATTAPOISETT UNIT 2
2008 Ford F150 Pickup Truck
(formerly Unit 1)
May 2021

ORLEANS CARS
ORLEANS CAR 179
2020 Ford Interceptor SUV Deputy Chief Car
April 2021
ORLEANS CAR 167
2013 Chevy Tahoe Utility Vehicle
(Was Car 179)
April 2021

FALMOUTH CAR
FALMOUTH CAR 12
2020 Ford Expedition Deputy Car
Jan 2021


FALMOUTH PICKUP
FALMOUTH CAR 27
2020 Ford F250 Pickup Truck
Jan 2021


ONSET ENGINE
ONSET ENGINE 1
KME Panther 2000/750/40 Rescue Pumper
Jan 2021

ONSET ENGINE
ONSET ENGINE 2
2003 HME/Smeal 1500/750/25 Pumper
Refurbished in 2020
Jan 2021