CapeCodFD.com Special Feature



Features Previous Next
Crosby Yacht Yard Fire Posted 01/03/2004. Updated Dec 5, 2012
Photos by Britton Crosby

Fire was already through the roof and fully involving the large wooden shed #3 before apparatus arrived.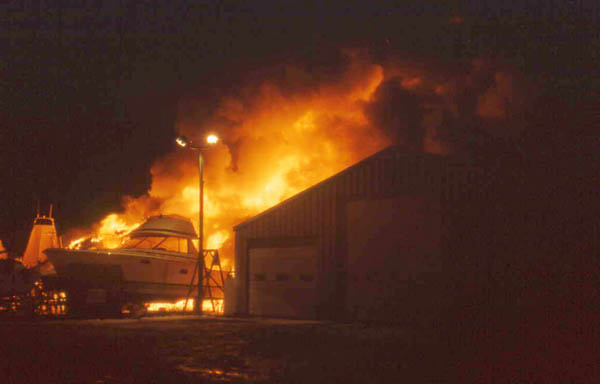 Side 1 (Side A) of the complex as fire extends to boats stored outside the shed.

The main door of the big shed on side 1. Roof collapse had already occurred before apparatus arrived just
minutes after the fire was reported.

Side 1 of the big shed.

Arriving apparatus dropped large diameter feeder lines and went to work with large lines and master streams.


Fire was visible in the sky from miles around.

Ladder 307 was the second fire truck to arrive and set up on side 1.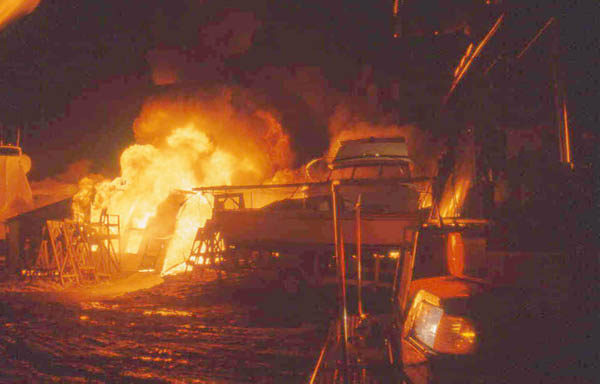 Ladder 307 begins to set up for water tower operations.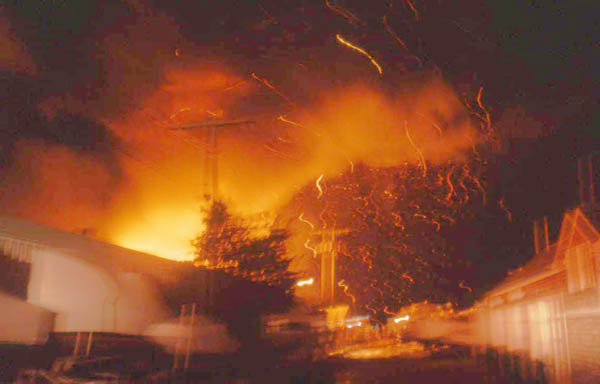 The fire brand problem was extreme as shown here looking down Cockachoiset towards the water. Miraculously,
none of these embers ignited any of the exposures, although burnt pieces of shingles were found on lawns in
Cotuit, over 2 miles away by air.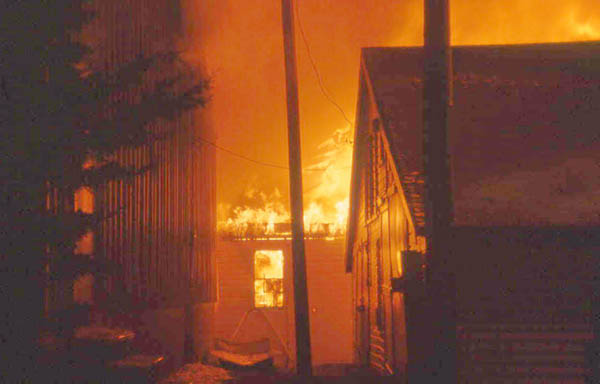 As shed 3 was nearly fully involved, the radiant heat was directly effecting shed 4 (left) and shed 2 (right). It
was not long before these two buildings were also involved.


The water side of the big shed 3 was also fully involved and had partially collapsed.


The water side (side 3) of Shed 3 with the travel lift of Oyster Harbors Marine in the background.

Sparks and burning embers of all sizes fall into the bay, on docks, and across to Little Island.


Shed 3 fully involved.
OSTERVILLE, MA. Wednesday, December 10, 2003 2131 Hours

The First Alarm was transmitted at 2131 hours. Assigned apparatus included:
C301 - Fire Chief John Farrington, Command side 1, arrived prior to apparatus
C320 - Deputy Chief Craig Whiteley, Side 2 O.H. Marine sector command
C321 - Duty Officer, Lt Brady Rogers, Side 4 exposures sector
E304 - 1st to arrive from Station 3 with a crew of 2, side 1
L307 - 2nd to arrive from Station 1 with a crew of 4, side 1
E303 - 3rd to arrive from Station 2 with a crew of 3 (first due unit delayed due to amb call)
pumped hydrant Bridge street to E304
E305 - 4th to arrive from Station 1 with a crew of 4, OH Marine sector
E302 - 5th to arrive from Station 1 with crew of 4, Nauticus Marine exposure
E263 - Cotuit Engine on linebox, operated OH Marine sector
R326 - Arrived with 303, crew of 1
R324 - Arrived with a crew of 3 (responded back from hospital)
S322 - Pickup truck with 3 members