CapeCodFD.com


COMM FIRE RESCUE
THE PASSING OF COMMAND



Chief John M Farrington Retires
Chief Michael Winn Sworn In
June 28, 2013
[ P1 ] [ P2 ] [ P3 ] [ P4 ] [ P5 ] [ P6 ]
June 28, 2013 will be remembered as a big day at the COMM Fire Department.
Well over a hundred attended the ceremony paying tribute to Chief John Farrington
upon the completion of 48 years as a member of the fire department, the last 40 years
as fire chief.
In addition, Kathy Loveridge, Chief Farrington's Administrative Assistant
for the past 28 years, was recognized as she is also retiring.
Unable to attend the event, but also soon to retire is long time department
member and Deputy Chief Phil Field.
COMM Fire Department's new Fire Chief Michael Winn was sworn in and
welcomed by the public, friends, family, and the membership of his new department.
This feature looks back at Chief Farrington's career and the events of the day.
Administrative Assistant Kathy Loveridge started out 28 years ago
in the old Osterville Fire Station in a very tiny office space next to the
chief's office and just off the break room. For many years she was the
only staff person, managing payroll and all the other aspects of the department.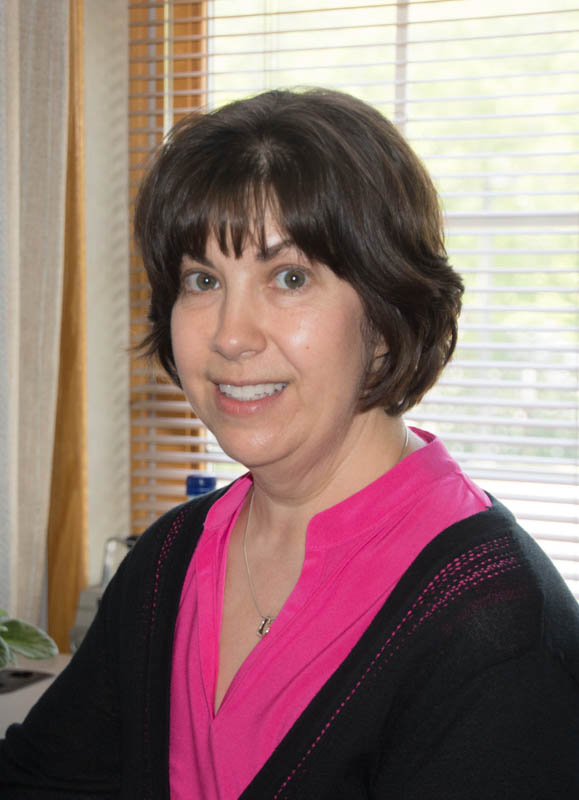 Kathy officially retired on June 28, 2013 along with her long time boss.
Kathy with Deputy Field and Chief Farrington.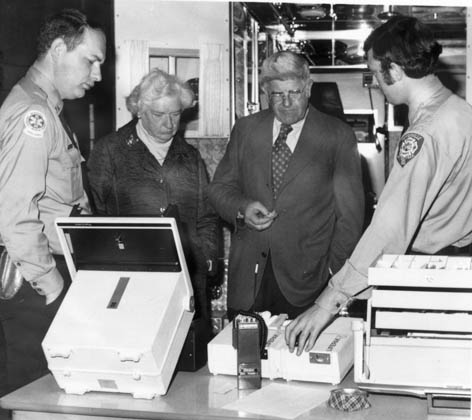 COMM FD has only had 2 fulltime Deputy Chief's to date.
Craig Whiteley (left) who served as one of the departments early
fulltime personnel, one of the first paramedics in Class I, as Captain, and as
the first Deputy Chief from 1989 until his retirement in 2010.
Phillip Field (right) was hired by the Centerville-Osterville FD in 1974.
He was also in paramedic class I. He later achieved Captain and in
2010 was promoted to Deputy Chief. Deputy Field will retire in July 2013
after 39 years of service.
Captain Field taking command of a house fire in Centerville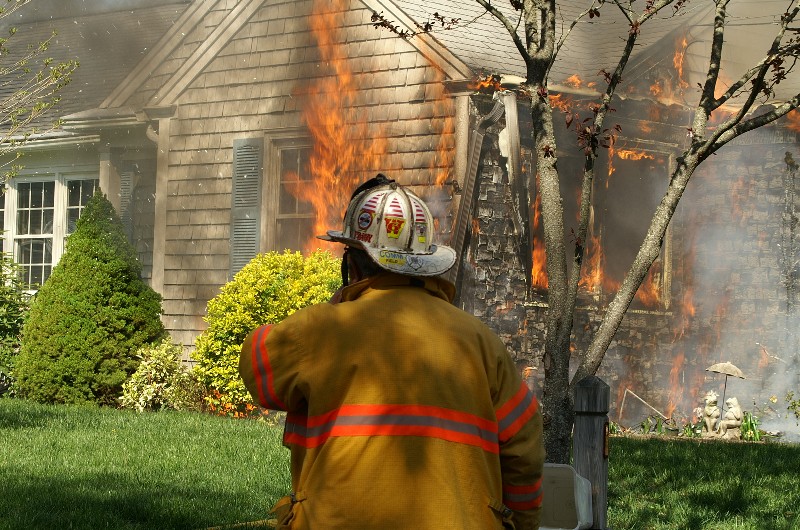 Deputy Phil Field on Sept 6, 2010.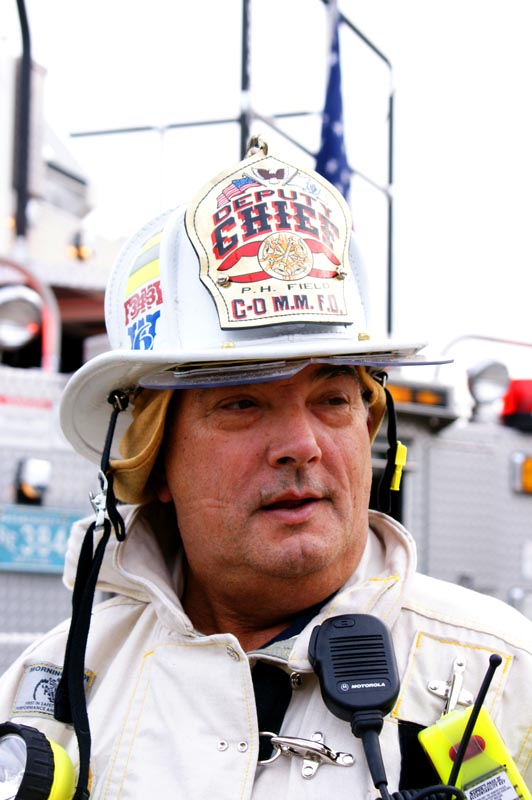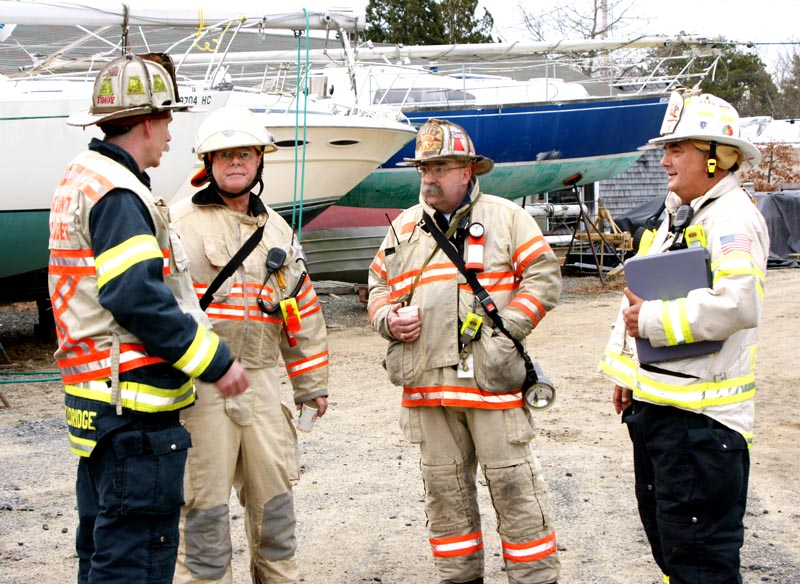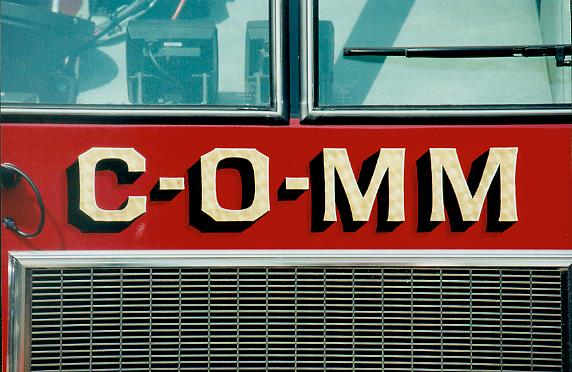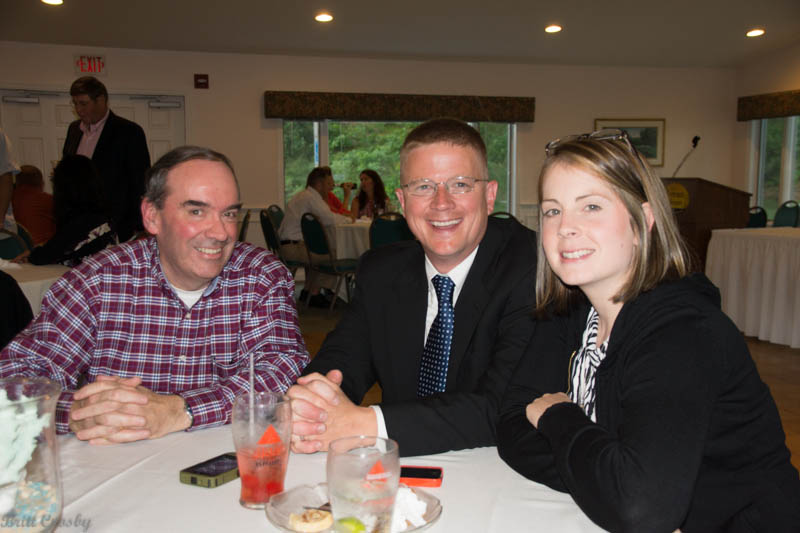 The search for a new fire chief began in the winter of 2013.
Out of 52 applicants, a handful were interviewed and the list was narrowed to the final two candidates.
The Fire Chief in Greenfield, Massachusetts was among the final two.
Fire Chief Michael Winn was unanimously selected to become the next COMM Fire Chief.
Chief Winn, his wife Amanda, and Fire Commissioner Ed Riley were welcomed to a "get to know you"
event on June 14, 2013.
Chief Farrington, his wife Susan, Chief Winn, and his wife Amanda.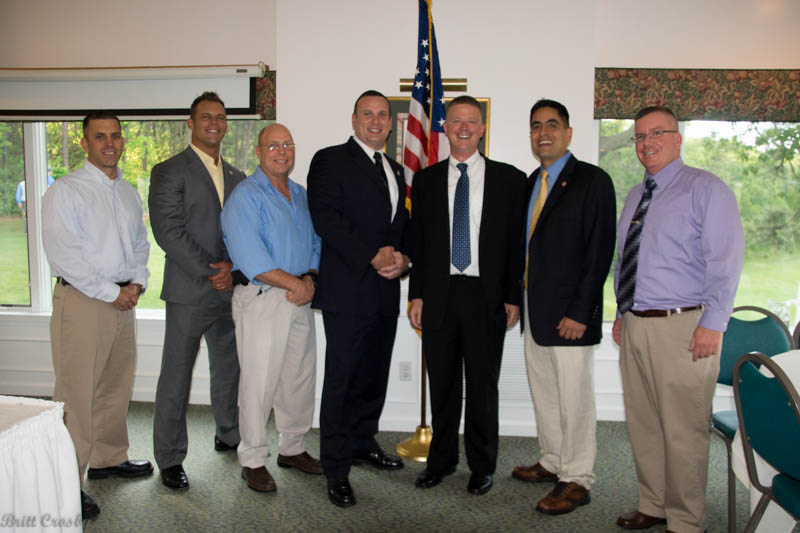 Chief Winn with members of the Executive Board of Local 2346.
Chief Farrington with members of the COMM Dispatchers Local 1.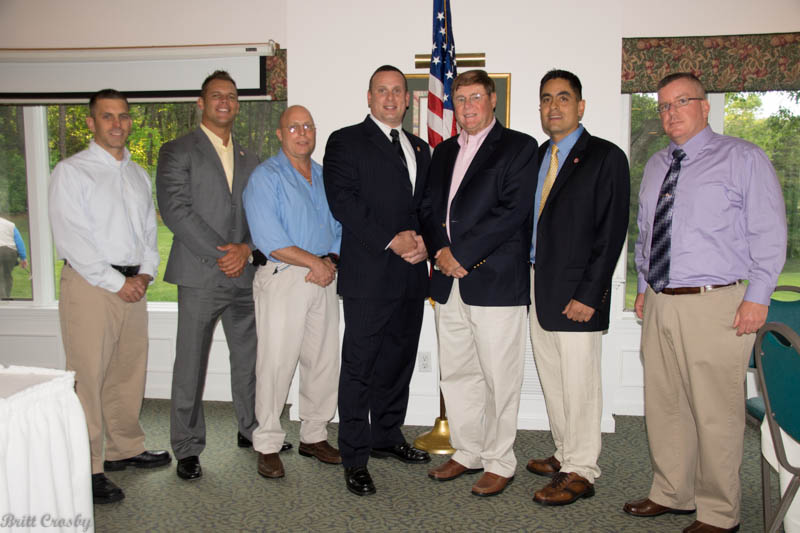 [ P1 ] [ P2 ] [ P3 ] [ P4 ] [ P5 ] [ P6 ]
CapeCodFD.com
2013