CapeCodFD.com

BARNSTABLE MUNICIPAL AIRPORT


AIRPORT DISASTER DRILL 2012

< PREV ] [ Home ] [ Features ] [ NEXT>
[ P1 ] [ P2 ] [ P3 ] [ P4 ] [ P5 ] [P6 ]
Posted Oct 20, 2012

AIRPORT DISASTER DRILL
Barnstable Municipal Airport in Hyannis was the site of some excitement on
Thursday October 18, 2012.
A simulated plane crash brought the ARFF crew from BMA and
fire rescue crews and apparatus from across the Cape as
part of the drill required at the airport every 3 years.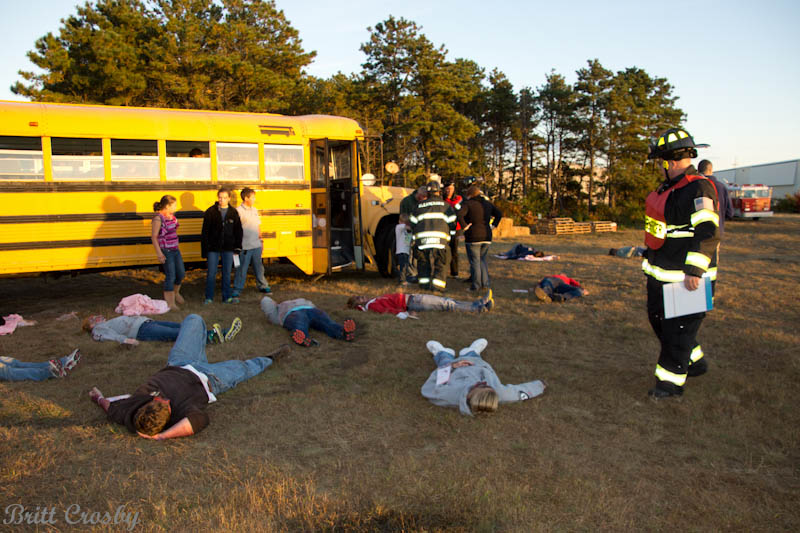 MASS CASUALTY INCIDENT
This feature shows some of the preparation for the drill, and then
follows the action as crews activated various aspects of the disaster plan.
ARFF and initial fire apparatus managed fire control and extinguishment.
EMS Crews managed a Level 3 Mass Casualty Incident (MCI).
Rescue crews utilized the Jaws of Life and other heavy rescue equipment
to stabilize vehicles and extricate patients from a simulated airplane fuselage.
A water supply was established using drafting tanks and tankers.
Police established a command port.
The Coast Guard participated with a plane and helicopter.
Cape Cod Hospital received simulated patients.
Barnstable County Control & CMED handled mutual aid and
EMS communications.

SUMMARY
In all, some 37 patients were cared for.
Dozens of fire apparatus and ambulances came from 13 Departments.
Well over 100 personnel participated in the 4 hour exercise.
DEPARTMENTS
Barnstable Municipal Airport (BMA) ARFF
Hyannis, Barnstable, COMM, West Barnstable, Cotuit,
Yarmouth, Dennis, Harwich, Brewster, Chatham, Orleans, Eastham,
and Sandwich.
SEE PAST DRILLS
September 2009
October 2003



PREPARATION
Barnstable Municipal Airport (BMA) in Hyannis is the largest and busiest airport
on Cape Cod. It is one of the busiest airports in Massachusetts.
The airport built a new terminal and control tower since the last major drill in 2009
SEE 2009 DRILL
ARFF equipment is in the Operations Building across the airport from the control tower.
ARFF equipment includes (2) ARFF crash trucks and (1) Rapid Intervention Vehicle.
Airport Crash Truck 820 is a 1992 emergency One Titan III
1250 gpm / 1500 gals / 200 AFFF / 450 Lbs PKP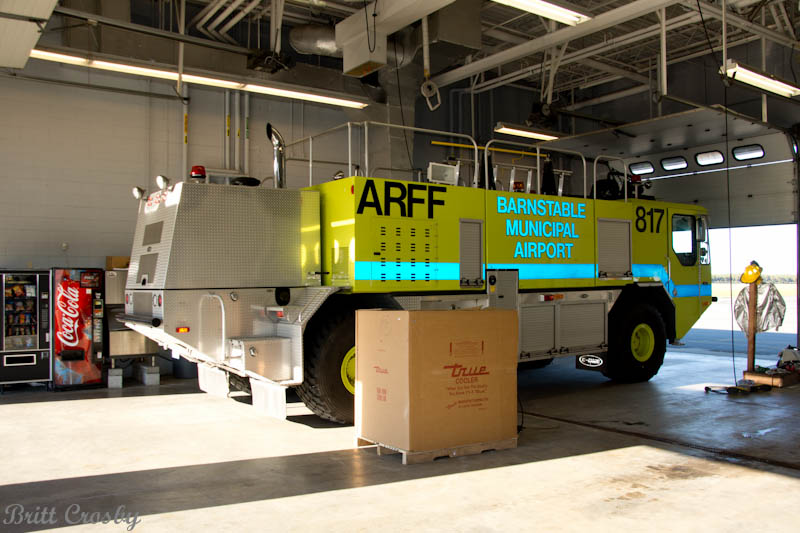 Airport Crash Truck 817 is a 2006 Emergency One HPR
1500 gpm / 1500 gallons / 2000 AFFF / 500 PKP
Airport 816 is the Rapid Intervention Vehicle
1999 Ford F450 - 100 ARFF mix and 450 Lbs PKP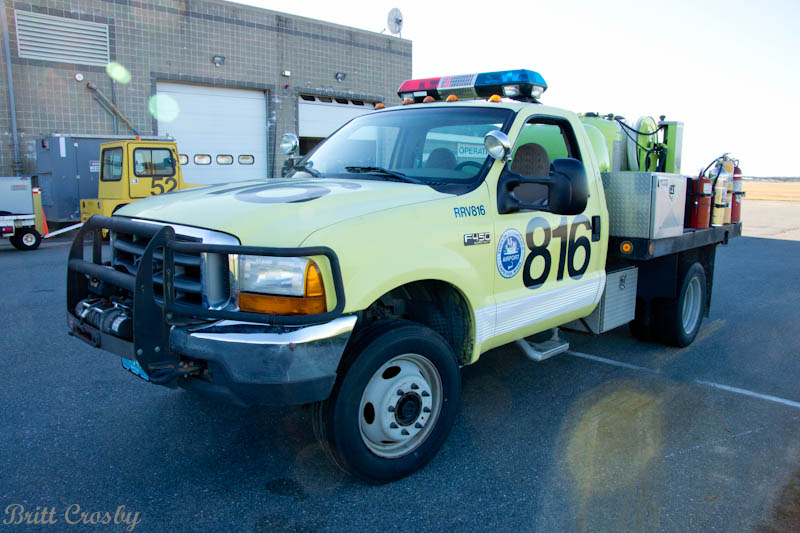 The "crash scene" was at the northern end of the East Ramp.
A school bus and numerous vehicles were set up to represent
an aircraft crash scene.
Barnstable Municipal Airport ARFF Specialist Michael Kondracki
coordinates all aspects of the drill and has done so for at least the last
three major drills.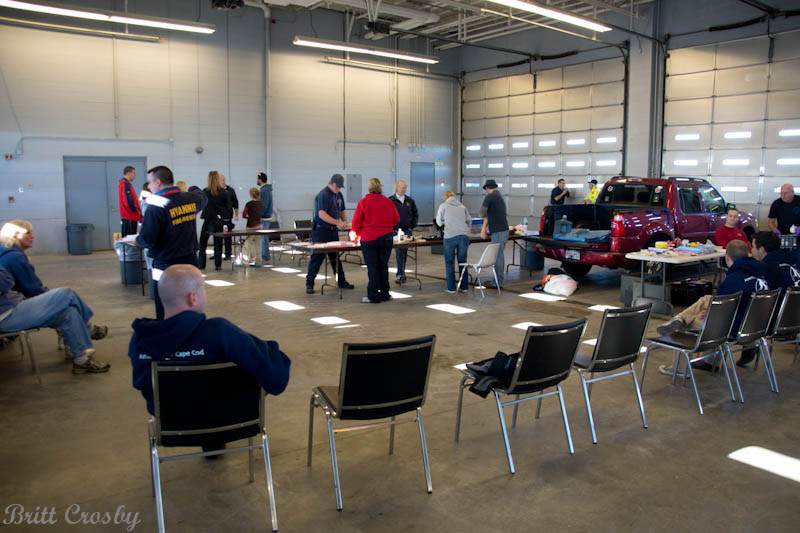 A couple hours before the 5:00 PM "crash time", some 37 victims were moulaged
with realistic injuries and make-up to simulate various injuries.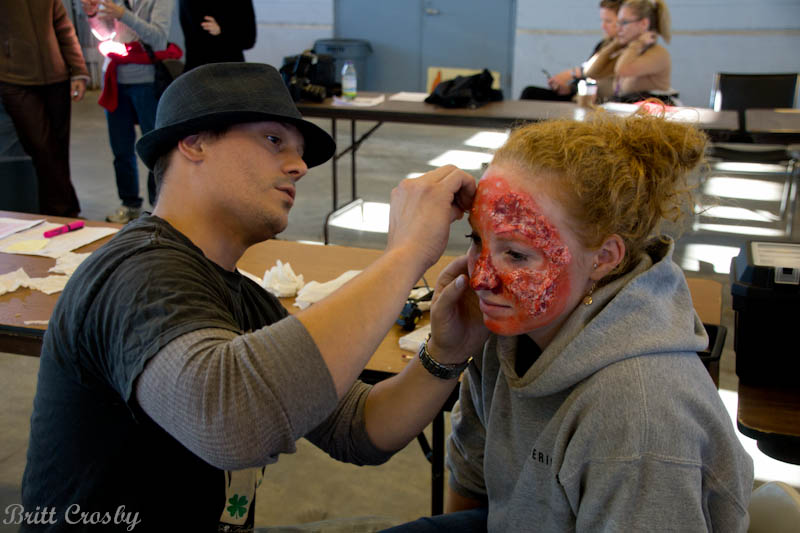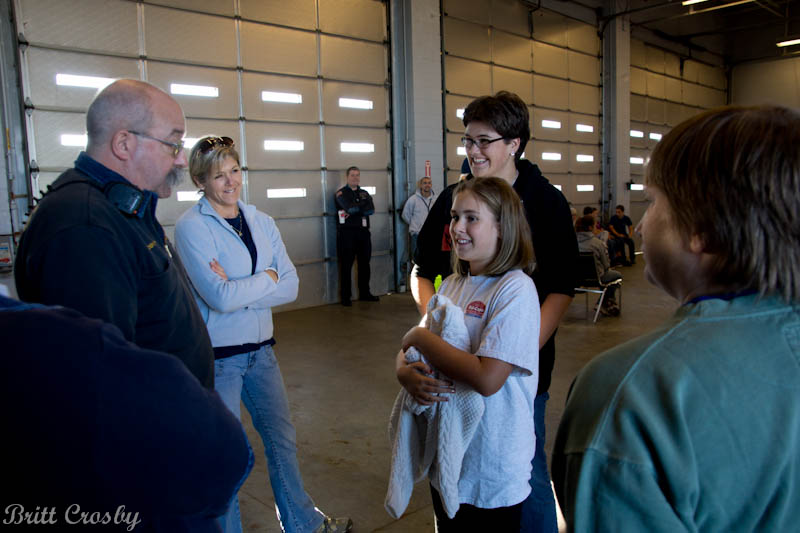 Deputy Chief Dean Melanson briefs victims on safety procedures.
Cape & Islands EMS Director William Flynn hands out "injuries" to victims.
Keeping track of everyone involved.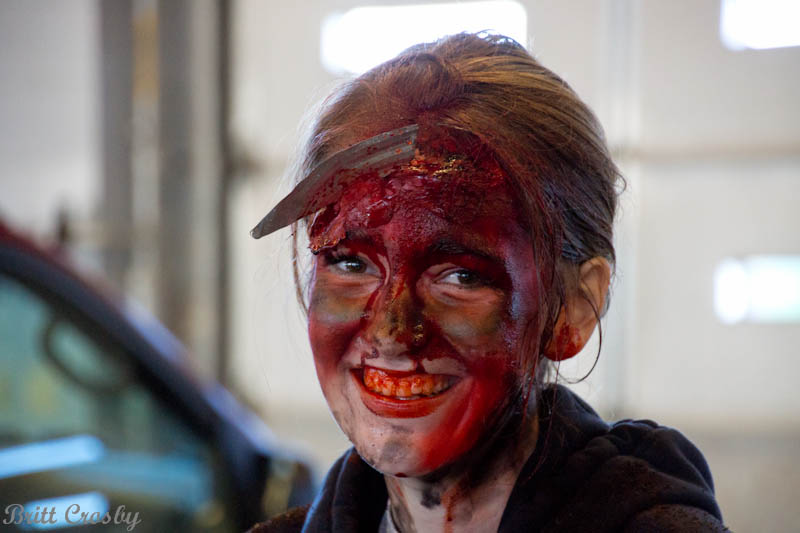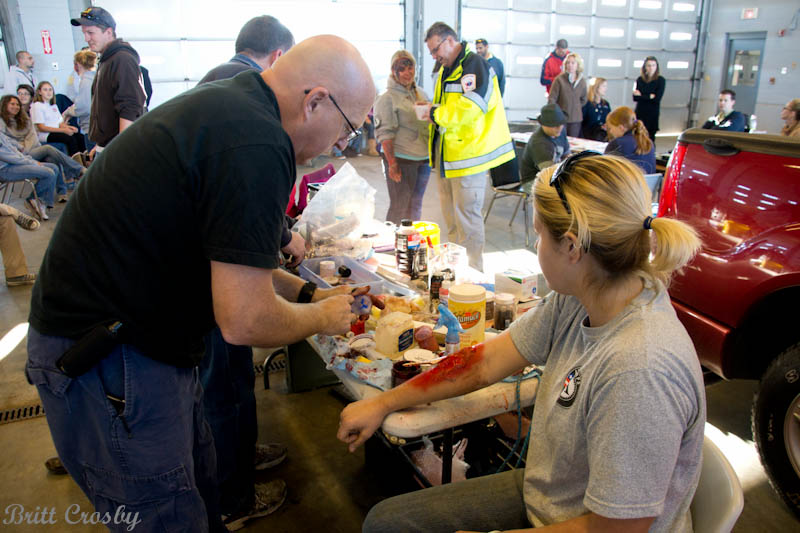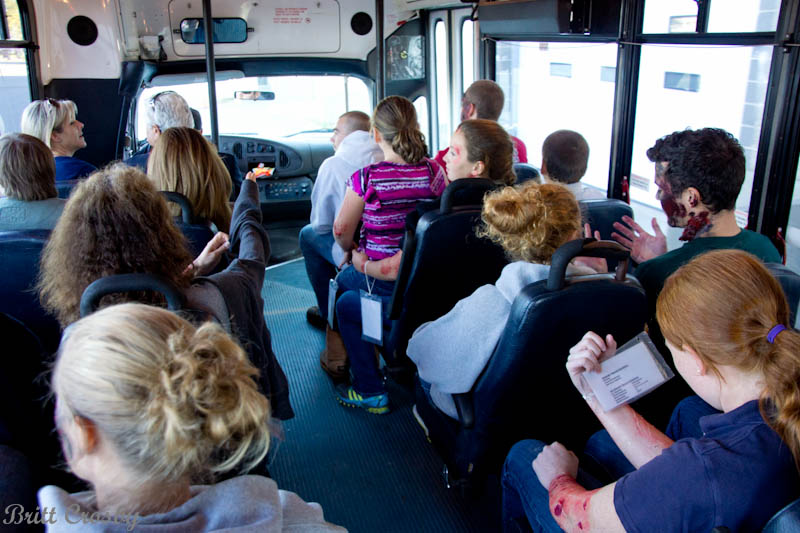 Victims transported out to the crash scene to await their rescue.
John's Dogs arrives to provide food for participants once the drill is over.
Local and State Police officers participating.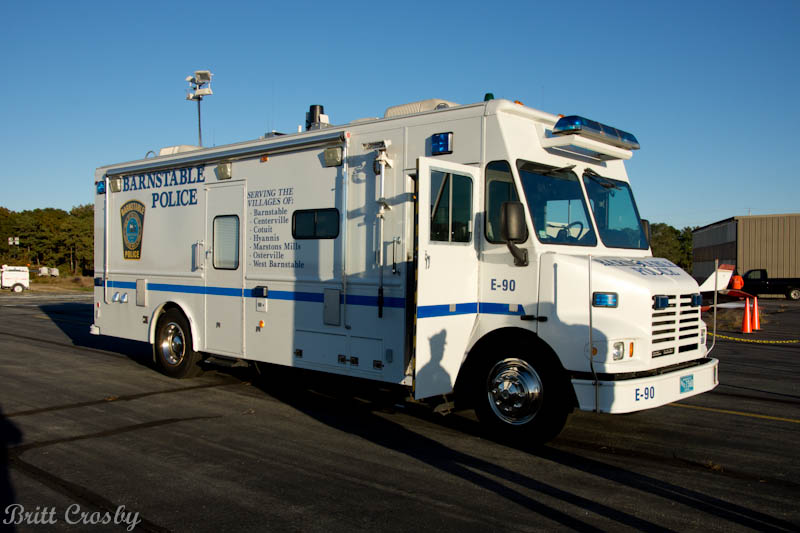 Town of Barnstable Police Command Port.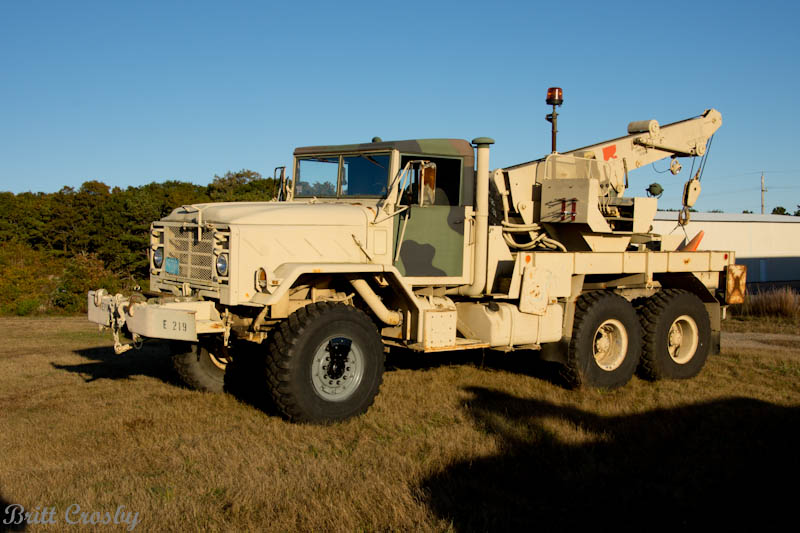 Hyannis Heavy Utility 824
Deputy Chiefs from Harwich, Orleans, and Eastham Fire Departments serve
as safety officers.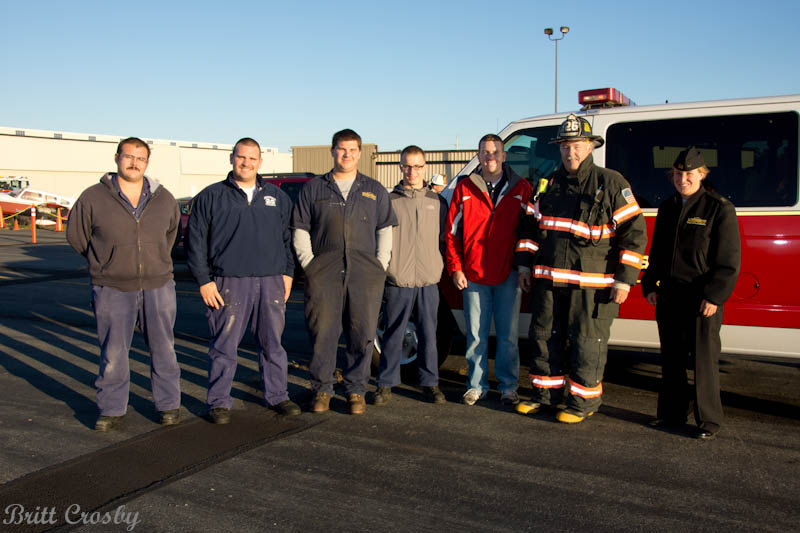 Mass Maritime Academy cadets
Victims awaiting their placement on scene.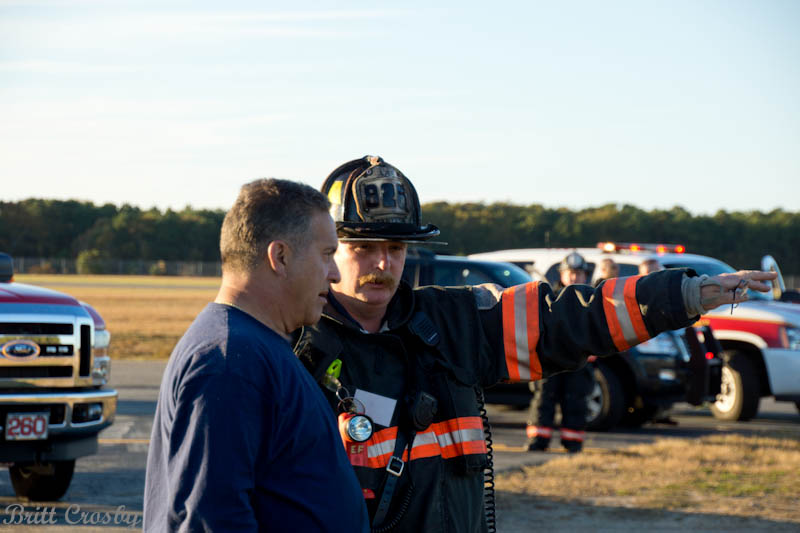 Hyannis Capt Eric Farrenkopf organized the drill
EMS observers will critique the drill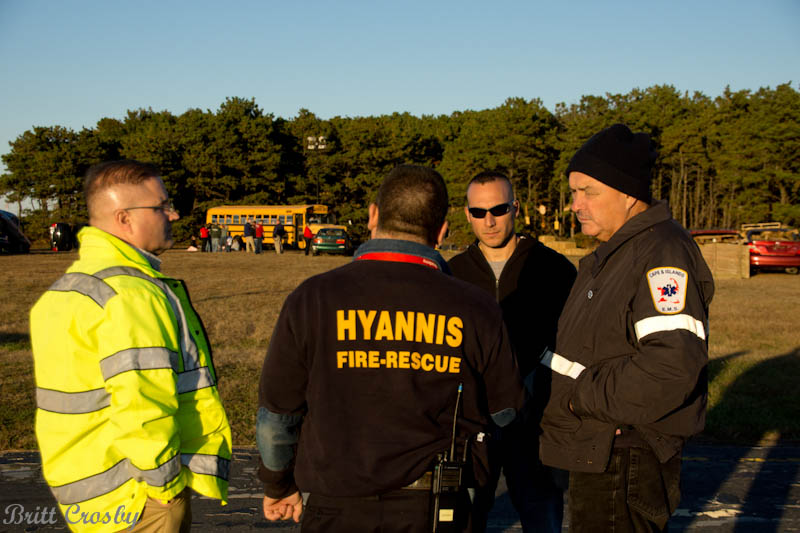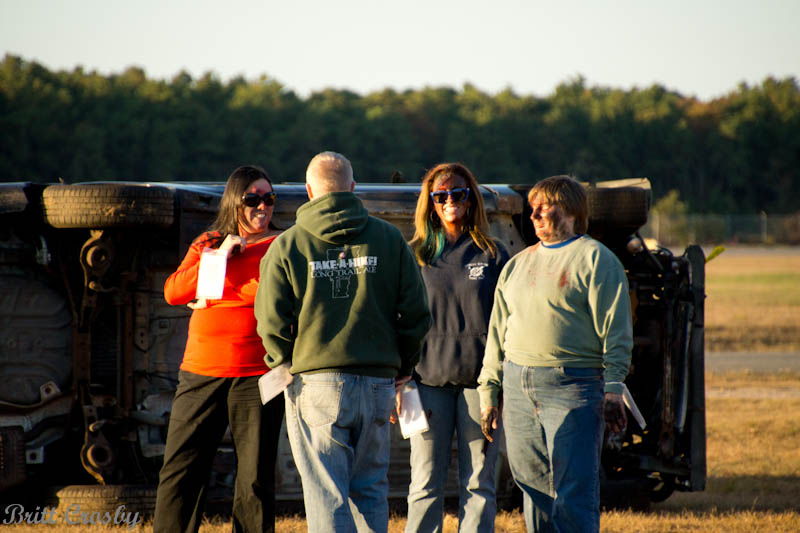 BARNSTABLE MUNICIPAL AIRPORT
DISASTER DRILL 2012
< PREV ] [ Home ] [ Features ] [ NEXT>
[ P1 ] [ P2 ] [ P3 ] [ P4 ] [ P5 ] [P6 ]


CapeCodFD.com
2012