F.D.N.Y.
Riding with the Bravest
March 29 & 30, 2001
and
April 12 & 13, 2001
Photos Britton Crosby
(FDNY Museum) (The Bronx) (Watkins Street Station) (Brownsville Apparatus) (10-75 ALL HANDS) (More 10-75) (Firefighters)
(Brooklyn Communications) (FDNY Firehouses) (More FDNY Units)
6 - FDNY 10-75 All hands on Pitkin Ave, Brooklyn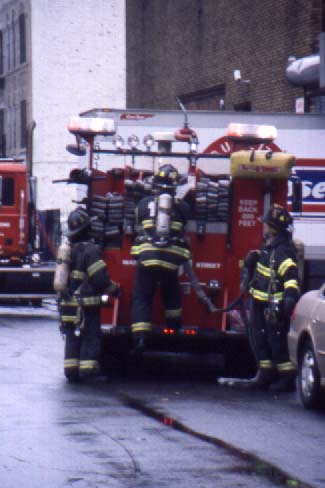 Brooklyn phone alarm for a fire reported on floor #2 of this 5 story apartment building on Pitkin Ave at the corner of Christorpher Street.
This building is about 1 block from the Watkins Street Station. On arrival two women could be seen on the fire escape 3rd floor side 1.
The fire is on the 2nd floor (see darkened windows) just below the people on the fire escape. Engine 231 is first due and positions
around the corner on Christopher Street.... stretches a line in side 2 to the fire floor.
E231 on Christopher Street. Truck 120 takes the corner of Pitkin and Christopher.
Next arriving units responding up Pitkin from the east. Engine 332, Hook & Ladder 175, and Engine 290.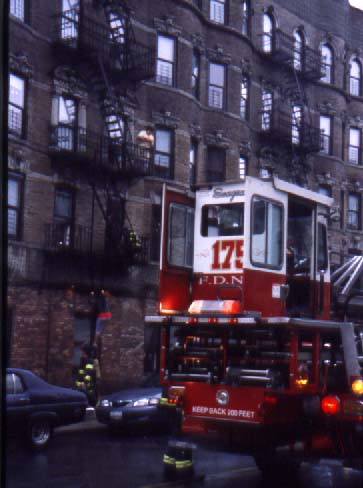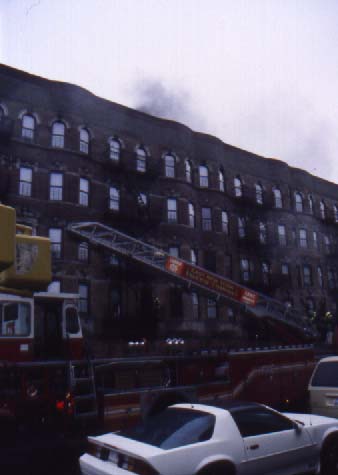 Outside vent crew of Truck 120 assists people on fire escape as Ladder 175 arrives and sets up.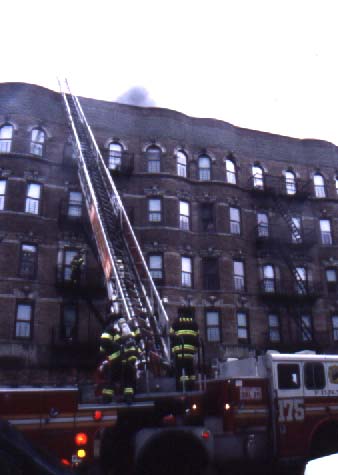 Ladder 175 puts aerial to roof and then to the 3rd floor fire escape to remove occupants to safety.
L175 member goes to roof as black smoke vents from airshaft. One apartment on floor 2 is fully involved.
Smoke rises from roof of building as All Hands is transmitted by Battalion 44.
"East New York Trucking Company" (L175) assists the woman down the aerial.
Windows broken out of fire apartment.
Truck 120 and Ladder 175.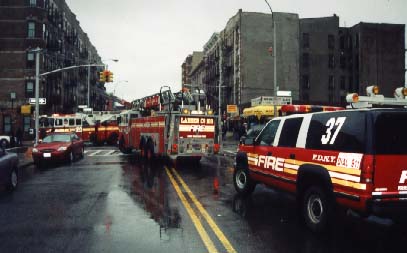 Battalion 37 and Ladder 103 (FAST TRUCK)
(NEXT)