Scanners I've Loved

Fond memories... of fun scanner listening
by Britt, a scanner geek for many years!
Scanner Photos from N7OLQ Sanner Photo Gallery
This guy's site has a picture of almost every scanner!
You need to check it out ... it brought back a lot of memories.
I borrowed some of his images to tell my scanner story.


MY RADIOS

ROSS 5 BAND
My earliest fire radio monitoring was done on a
ROSS AM-FM-PB1-AIR-PB2
5 band radio that could be used ac or on batteries.
Listening to fire radio...33 mhz bands in those days
(early 1970's) was not too bad in my view...
with the exception of the need to have constant open squelch
to hear anything.... (drove my poor parents crazy!).
I could hear most of the area fire departments with the
radio set in the middle of the band somewhere around 33.70.
Those were the gold old days!


REGENCY E-10
Anyway, sometime around 1973 or so I think, I bought my first
scanner. It was a Regency 10 channel crystal scanner
that worked great!


This is what it looked like.
I labeled the channels for the local departments
that were all on 33. mhz and the police in the 155s.
It lasted a long time and was quite reliable.
BEARCAT 210
When Bearcat came out with the programmable Bearcat 210
10 channel scanner... I was on it !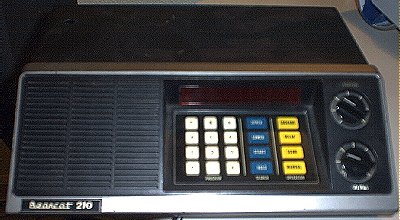 It only had 10 channels but was a great step forward for listening.
It too lasted a long time... but finally when it finally died it wasn't able to
be fixed.
BEARCAT 250
Bearcat followed with the BC250 I believe it was.
It had 50 channels in 5 banks of 10 programmable channels.
It was programmed full of good stuff as many departments had gone off of 33.70
to their own frequencies by the late 1970's and early 1980's.
This scanner eventually made its way to my car and then back into the
house. It still works and is in my office, even though the volume and ability to
program it are no longer great.
BEARCAT 20/20
Next came the Bearcat 20/20 scanner.
This radio had two programmable banks of 20 channels each.
It started in the house, but also spent time in my car early on.
I remember taking trips and thinking how great it was that I could program
the 2nd bank for "down the road." A quick switch of the A to B
made it possible to listen to the next area along the way.
It had some limitations but was still a good unit and is still
working (barely audible) in my office.

The BC 20/20 looks kind of like this one.... slightly different.
BEARCAT 800XLT
When the police in the area switched to the 800 mhz band in the 1980's / 1990's
the Bearcat 800XLT was the radio of choice. It had two banks 1-20 and 21-40
that could be programmed, offered Priority, and was pretty easy to use.


I had a number of problems with it over its career. The display tended to fade, it
had a few other problems and was not the most reliable scanner I ever had.
I still use it and it works like crap at the moment... no offense to anyone who
has one that still works. We actually had a few at the firehouse as well and
found them to be pretty unreliable overall.... oh well, was good when it worked.
REALISTIC PRO-2004
From here, I guess I moved further into the programmable scanner world
with a jump to the Realistic Pro-2004.


The Pro-2004 was a great step forward and went right into my car on the dash.
300 channels with 10 banks of 30. It could handle almost any frequency.
The touch pad was great in the car and wasn't too distracting to control
or program while driving somewhat safely. It is also living a quiet retirement in my
office now. The display they say can't be fixed and its lost some of its pep.
But I got a lot of mileage out of it and still consider it one of my all time favorites.
BEARCAT 950XLT
Another fairly popular radio for mobile use at the time was the Bearcat 950xlt.




(Missing a picture of this one)
The Bearcat 950xlt is a little mobile radio with 5 banks of 20 for a total
of 100 channels. Nothing fancy, but it worked ok in the wife's car for a while
(at least it worked when I was in the car if you know what I mean....)
It somehow didn't get installed in her new car and lives in my office
among the other misfits and works ok for what I use if for.
REALISTIC PRO-2022
For whatever reason, I needed another scanner and bought a Realistic
Pro 2022 for the house. It has 10 banks of 20 channels.
This radio works pretty well and has been reliable, but never became
a favorite for some reason. I guess its a little slow and doesn't have
some of the fancier features.


It works pretty well however and serves a role in the house today still.
BEARCAT 8500XLT
A BIGGER and BETTER scanner came out and bumped the Pro-2004 out of my car.
The Bearcat 8500 is programmable (obviously), has 20 banks of 25 channels
with the first 250 channels being in banks A-J and the others in 1-0 banks
under the number key pad. The A-J banks offered the ability to Alpha Tag
the channels which was an instant draw in the car where I would now be able
to travel and switch to pre-programmed areas. It also offered some
CTCSS capabilities to deal with skip and separate departments on same
frequencies overriding each other.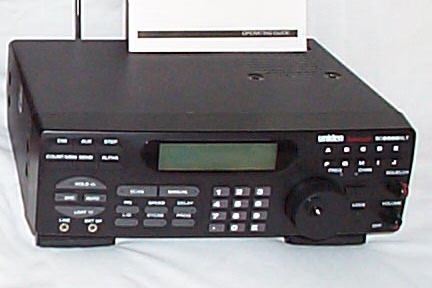 The display is a little hard to see in bright sun but it is a great radio.
It is pretty easy to us in the car and is easy to program.
It lives on my car dash still.
BEARCAT 9000XLT
I liked the alpha display and the BC8500 so much, when the upgrade version
by Bearcat came out...the BC9000xlt...I got one for the house.


The Bearcat 9000xlt is a nice scanner and has a prominent role as a primary
listening device in the house. I like the alpha display and count on it daily.
It has been very reliable and works great.
BEARCAT 3000XLT
Having a pretty good supply of base / mobile scanners at this point,
I ventured into the Portable area of scanners.
I shopped around a little and ended up with the Bearcat 3000xlt.
This radio has some nice features. It is programmable, has 20 banks of 25 channels
for a total of 500 channels, and has a 10 priority channel option.
It has limited 30 mhz capability because of the short antenna
but works well in range. One of my favorite features of the radio
is the ability to program FM radio stations into it.
I put it on my belt and listen to my favorite radio stations mowing the
lawn or whatever, and the priority cuts in when my FD or the
other priority channels talk....a great feature that got lost on the next
portable. I keep this one handy for storms and lawn mowing...
BEARCAT 860XLT
Lets see.... Well, I guess my next move was dumb, but seemed to make sense at the
time. I bought a little Bearcat 860XLT for the house.
It is pretty basic and works alright despite its limitations.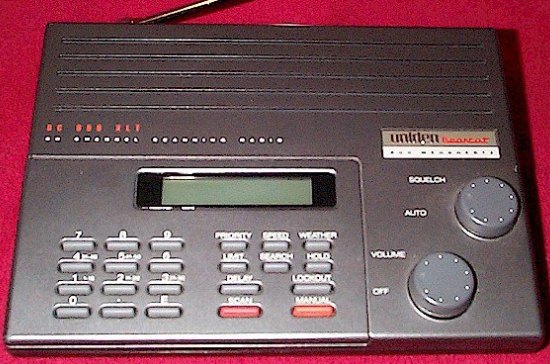 The BC 860xlt has 10 banks of 10 channels each.
It works ok. Nothing fancy.
BEARCAT 895XLT
Now, along comes the move to 800 mhz trunking on the Cape.
Suddenly, all my scanners are shaking in their cases, wondering if they
will hear anything. Fortunately, simulcasting and a desire to hear some
non-trunked channels have enable the older, less sophisticated units to
remain important.... it was scary for a while however, trying to adjust to the
rapidly changing technology.
My first 800 Trunk Tracker was purchased the day it came out I think...
The BC 895xlt has the ability to scan both Trunked and non-trunked radio
frequencies......uh, just not at the same time. This was an unfortunate reality
when I got the radio, but I decided to dedicate it to Trunk listening
and it has a primary duty today for trunk listening.
I have it programmed with fire and police (emphasis for me on FDs).


The BC895xlt is easy to use, comes in good, and the ability to use it for either
trunked OR conventional channels is handy at times.
While it lacks alpha tags....(I have a talk group list posted right next to it!)
it is a reliable radio and a good performer to date.
BEARCAT 245XLT
I found a need for a trunk tracker in my car, but liked the
BC8500 features as well, so I bought my second portable radio.
The Bearcat 245xlt was reasonably priced and has some
nice features. It scans fast, listens to both trunked and conventional
channels at the same time, has priorities, and with a battery
upgrade lasts about 8-12 hours on the battery.
It has ac power unit and cigarette lighter plug too.
Its my trunker in the car and goes with me almost any time
I want to listen to the action.



The Bearcat 245 is a great value for me.
The only feature it doesn't have that I liked in the
previous Bearcat portable is the ability to tune to
FM radio stations.... Why they took that out I
have no idea....
BEARCAT 780XLT
Finally, the present top of the line I believe is the Bearcat 780xlt.
This radio utilizes the Trunk Tracker III technology, has the ability to listen to
Trunked and conventional banks simultaneously.



The 780xlt is a powerful unit. It has more features than a human can realistically
grasp. It is confusing at times even for me, a scanner nut, to take advantage of.
Its good features however, make it an awesome scanner.
It trunk tracks, it does conventional simultaneously, it has alpha display,
it has turbo scan, it has CTCSS, it has 10 banks of 50 channels each,
it has 10 lists of 10 talkgroups in each bank for trunked channels,
it has fancy display features and is smaller than most other bases scanners.
A major feature is the ability to program the monster with the PC using
a variety of computer programs that are available. It is SO much easier
to program it using the laptop than by hand....it takes days to program
without the computer. I find a few little bugs from time to time and
haven't mastered the scanner completely yet, but am excited about it.
I originally thought I would end up with it in the car, but didn't put
it in for a couple reasons. First of all, it has a bright display and could be
a problem at night in the car. The other reason is that it is a little tricky to
use because of its complexity....for the car and the way I would want to
use it. I have brought it with me in a vehicle and found that it was
in fact a real nice radio on the road...some friends have it in their
vehicles and love the reception and features.

Of all my scanners, the 780 picks up better than any other. It seems to
have an ability to pick up signals father away than other scanners...
maybe the others are just old... I don't know for sure. But it is a great
radio and I got two of them now.
WAIT!!!.... There are 2 new scanners coming !!!!
As if things aren't bad enough, there are two new scanners coming out soon
that offer some great features if you are planning to purchase a scanner in the next 6 months
or so. Bearcat has an upgrade of the Bearcat 780xlt that also monitors Digital Trunked
channels....a new technology used by some cities including Baltimore.
BC785D

And a real good portable scanner looks like the new...
BC250D
It will have digital capability and many other features including trunk tracking....
It also has an alpha display...that alone will make it a great option.
Both are due pre-Christmas I believe.
See Scannerworld.com for details
ONLINE LISTENING
As if this isn't enough, I found a way to hear scanners online while I am
working on the website or just surfing the internet. There are
several scanner feeds online and maybe someday, I will be able to
monitor multiple cities beyond scanner reach simultaneously.
I already do in fact and find it fascinating
Some favorite ONLINE listening links of mine include....
Cape Cod Fire Departments
Tim Caldwell's site
Features all Cape area fire departments
Scan Cape Cod Live
Scott Halligans site
Features a wide variety of publics safety
channels, fire, police, marine, air, military, etc...
A good option for general listening
PLUS its got an Alpha display so you
can see who you are listening to !
Additional favorites found on the web include
The Bravest.com
FDNY feeds for Manhattan, Brooklyn, Bronx, and Queens.
There is no place like NewYork and if you enjoy and understand
anything about FDNY you can really have fun listening to
all the 10-75s, 10-92s, and 10-4 "K"s that you hear.
I keep a cheat sheet in front of me and a map of company
locations to I can figure out what I am hearing!
The Bravest also carried Providence FD channels 1-3 and
Boston FD channels. For some reason neither Providence
or Boston are heard on The Bravest.... too bad for now.
I really enjoy hearing Providence FD and miss the live feed
although I think there may be another feed for it that I haven't had
much luck with lately.
The Boston area has a couple good options.
Metro Boston FD Scanner
This is Ted Pentigast's site
It is a Live365 feed with some 80 Boston area fire departments.
Scan Boston.com
This site is pretty cool.
It has Boston area news articles and other resources.
Additionally, it has an imbedded Bearcat 780xlt
display playing a wide variety of Boston Metro
public safety channels. Its a great option for
background listening for me.
Greater Providence RI Scanner Feed
This is a great site for scanner listening. It covers a vast area
including the entire Providence metro area, the Boston Metro
area, most of southeastern Massachusetts including the cities
of Fall River, New Bedford, and Brockton, plus some feed
coming in from the Worcester area. This is a very powerful
site with an alpha display.

TAC9
A real time paging network for breaking news and emergencies
across the country. There are a few links as well to live radio feeds
including BOSTON FD ch.1,2,3,4 and others.

There are other options and one of the best place to find links
to them is at
NEFNN.com
They maintain a big list of departments across the country that are
on the web LIVE.


My Scanner Frequency Lists you can print
Cape Cod
The Islands
Plymouth County
Bristol County
People are always asking me to help them program
their scanners. I put my scanner frequency lists here so
you can have the same frequencies and 800 talk groups I have.
ONE MORE THING YOU NEED TO CHECK OUT....
Scan Cape Cod and Scan Massachusetts
Scott Halligan knows more about scanning and the
new technology, including PC programming and
stuff than anyone around. I recommend you get
familiar with his site, his message boards, and
the resources he offers for scanner listening.
Listening to scanners has been a part of my life for so long, I don't know
what its like to not have one within reach or listening range.
I enjoy the hobby and recommend it to others.
I hope you enjoy listening as much as I do.
See you at the Big One !
Happy Listening !!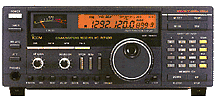 Scanner Sites for the wife
N/A
lol