CAPE COD BRUSH BREAKERS
1980's The Latest Generation 1990's
* A PICTORIAL HISTORY *
By Britton Crosby
January 2001
Massachusetts DEM District 1 covers Cape Cod with Breaker 6, one of the newest breakers on Cape.
DEM Breaker 6 was built on a 1972 AM Genral 2.5 ton military chassis with bodywork built in Vermont by V-TEC in 1998.
It has a 350 gpm pump and 750 gallon tank. It has a Class A foam pro injection system and 20K lb winch.
DEM Breaker 6 rear view.
DEM Breaker 6 with Patrolman Robert Crocker.


Sandwich Fire Department Breaker 142 (B 442 now) is a 1000 gallon breaker.
Placed in service in 1980, it is built on a 1967 5 ton Kaiser Military chassis.
The Last County Brush Breaker
West Barnstable got this brush breaker in 1982 to replace its 1958 County Breaker.
It has a 1967 International military chassis and barwork by Ted Young.
This breaker with its 1000 gallon tank was the last of the County breakers.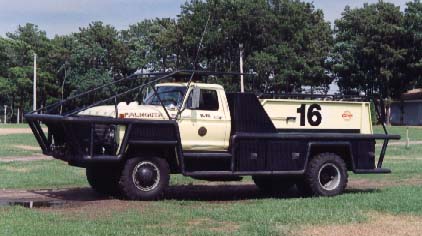 This 1982 Ford breaker is owned by Falmouth Fire Department. B-16 was called Breaker 30
when delivered by Farrar with its 750 gallon tank.
No fewer than seven breakers stage at sunrise at this Massachusetts Military Reservation (Otis) the morning after
a 2500 acres fire in anticipation of flare-ups. Breakers pictured include: Bourne B130, State B6 and B5, Mashpee B354,
West Barnstable B295, COMM B316, and Sandwich B142.
The view from behind the wheel of COMM FD's Breaker 316 following State Breaker 5 during wet down
of hot spots at Otis on April 1, 1986
Brush Breakers are designed to make their own path when necessary.
Smaller trees up to several inches in diameter are no match for the large breakers.
Trees as large as a foot in diameter can be taken down if there is no way around them.
Occasionally root balls can cause a breaker's wheels to lose traction. Most breakers
are equipped with chain saws and powerful winches to free themselves from being hung up.
The damage done to the woods by breakers is, in most cases, less than that which a fire
will do if left to burn wild. The type of Terrain, rocks, rivers and wetlands, fire fuel levels, and
other factors dictate appropriate use of this technique.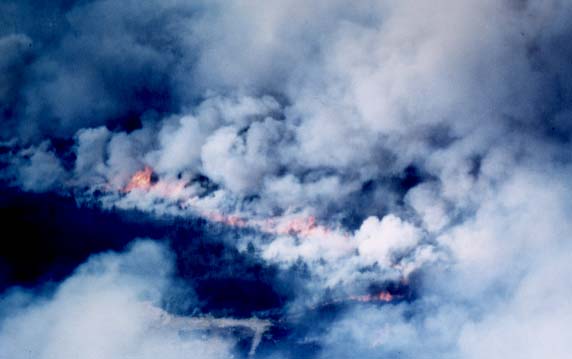 Large forest fires can be very destructive and dangerous. This photo taken from the Fire Patrol Plane
during the "Pave Paws Fire" of April 22, 1988 shows the flames reaching 60'-100' in the air and
the thick smoke produced by the fire.
The "Pave Paws" military radar site in the northern part of the Massachusetts Military Reservation (Otis)
is seen at the right in this photo. This fire burned intensely towards this vital military installation.
The clearing around the facility prevented any damage. The fire however, continued to burn past the
facility consuming over 2000 acres within a couple hours.
Side fire burns slowly towards the powerlines. Should a wind shift occur, this flank would become the headfire and
endanger anyone in front of it.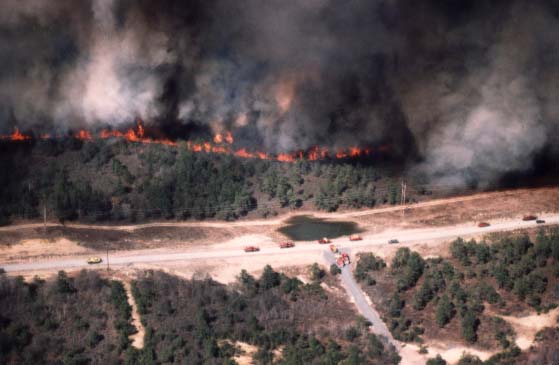 About a dozen fire apparatus, breakers and tankers, are staged on the power lines to prevent the fire from jumping this fire break.
If the fire direction and intensity were to change, , the fire could easily jump the 100-150 foot wide fire break.
Fortunately, it did not.
Bourne and Otis breakers extinguishing hot spots in the burn.
When side fire turns to headfire smoke darkens and thickens.
Snadwich Breaker 442 operates from the safety of a service road within the impact area at Otis.
This fire in the Otis area easily jumped this narrow fire road before being contained. Placing personnel and
apparatus in front of such a fire is dangerous. The safest attack is to come in from behind the fire and
work on extinguishing side fire until the headfire can be reached and knocked down. This takes a
coordinated effort and air communications make a big difference. Wood Road fire April 19, 1986.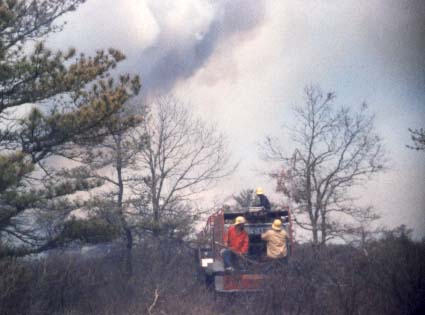 Conditions on the back of brush breakers during firefighting can be pretty nasty.
Heat, smoke, dust, briars, fallen trees, and a host of other hazards from the rough ride make
this a dangerous, yet memorable experience for firefighters.
Otis Breaker 8 (408) was built in 1995 by the Otis Firefighters on a 1983 AM General
military 5 ton chassis. It carried 950 gallons of water.
Otis Breaker 9 (409) was also built in 1995 by Otis Firefighters. It is on a 1976 Gibson
military chassis. This also has a 950 gallon tank.
Brewster Fire Department received this 1994 Ford F350 Forestry truck built by EJ Murphy.
It has a 300 gallon tank, 300 gpm pump, Class A foam and a host of rescue and other equipment.
Chatham Fire Department placed this 300 gallon Ford forestry truck in service in 1996.
This 1991 International / Metal Masters forestry truck is assigned to the Cape Cod National Seashore.
F-277 has a 500 gallon tank, 175 gpm pump, and Class A foam.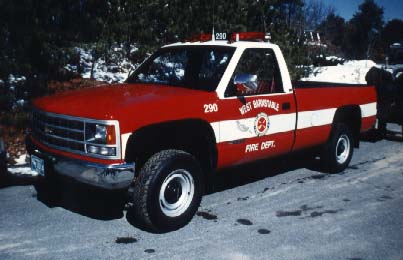 West Barnstable's Patrol 290 is a 1989 Chevy 2500 Pickup Truck with a 170 gallon skid tank.
Middleborough's 1989 International / Maxim Brush Breaker.
Marion Breaker 2 (124) is a 1000 gallon monster built on a military chassis.
x
Plymouth Forestry 172 is a 1990 International / EJ Murphy 750 gallon brush breaker.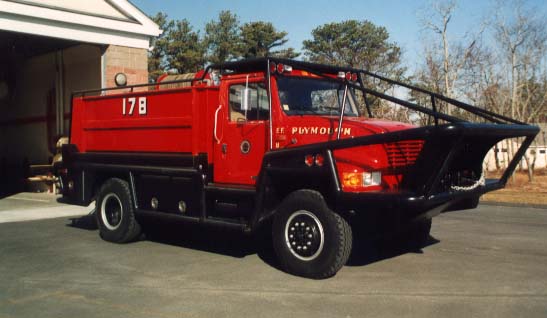 Plymouth Forestry 178 is a 1992 International / EJ Murphy 600 gallon brush breaker.
Plymouth Forestry 179 is a 1993 International / EJ Murphy 600 gallon Brush Breaker.
Forestry 174 is a 1992 International / EJ Murphy 750 gallon brush breaker assigned to South Plymouth.
Plymouth's newest... Breaker 173 is a 1999 International / EJ Murphy 250 gpm / 750 gallons.
Presently assigned to North Plymouth Station 7.
Carver Fire Department upgraded its brush breaker fleet in the late 1990s.
Breaker 28, assigned to South Carver, is a 1999 International built by EJ Murphy.
Carver Breaker 28 has a 250 gpm pump and 750 gallon tank.
It has a diesel engine and automatic transmission.
Breakers 27, 28, and 29 are all very similar...one at each of Carvers 3 stations.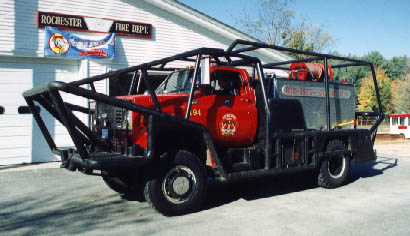 This brush breaker was built for the Rochester Fire Department. It is a 1984 Chevy 4x4,
with barwork and bodywork built in 1990. Breaker 194 carries 800 gallons and has (2) 250 fire pumps.
Onset built this 350 gallon light duty brush breaker in 1997.
In 2000, Onset placed this 800 gallon brush breaker in service as Breaker 147.
New breakers continue to be built.
This one has been under construction for a couple years at the Sandwich Fire Department.
The Cotuit Fire Department has ordered a new breaker on an International chassis being built by EJ Murphy.
It is expected to go in service in spring 2001.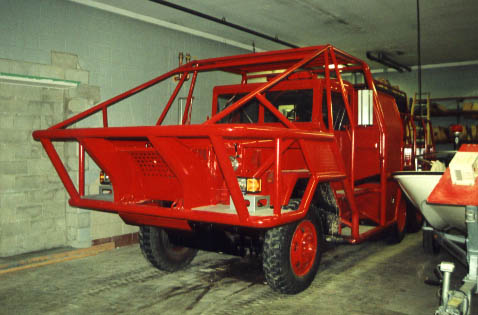 Mashpee built this new Breaker 353 on a 1971 AM General Mil 6x6 2.5 ton chassis in 2001.
250 gpm / 500 gallons / Class A foam system.
More Pages of Brush Breakers
1920's The First Generation 1930's
1940's The Second Generation 1950's
1960's Third Generation 1970's
NOTE
Photos in this series are from various sources
including fire department and personal collections.